When Is the Best Time
Lanzarote is all about volcanoes. This unique landscape is beyond belief, a place out of the world with 156 volcanos and more than 300 craters. You have to experience this fascinating island by yourself. See how the lava shaped the land and how different it looks depending on the time of the eruptions. An entire quarter of Lanzarote is covered with lava.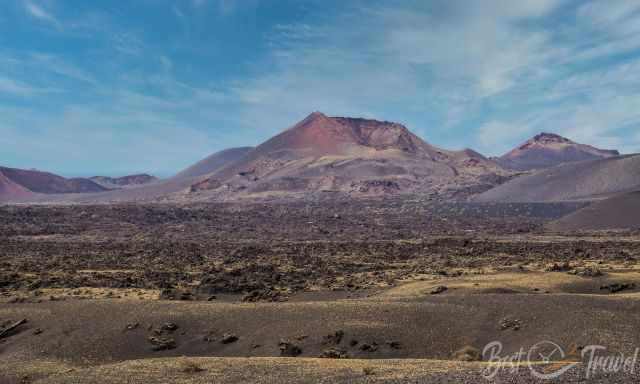 I try to answer all questions for Timanfaya and describe in detail my favourite volcano hikes. I give you insights into the history of Lanzarote and Timanfaya National Park.
Climate - Weather Timanfaya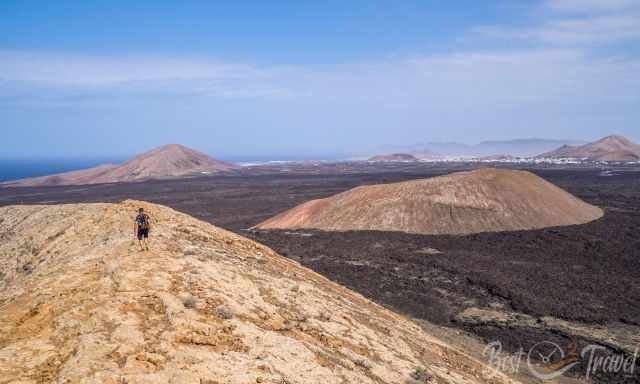 I visited almost all of the Canary Islands multiple times, and Lanzarote is IMO the warmest of all due to the volcanic surface. The black sea of lava from former times heats up the island, especially the National and Natural Park. Bear in mind if you wish to go hiking on the black lava surface, you may experience up to 30°C at midday.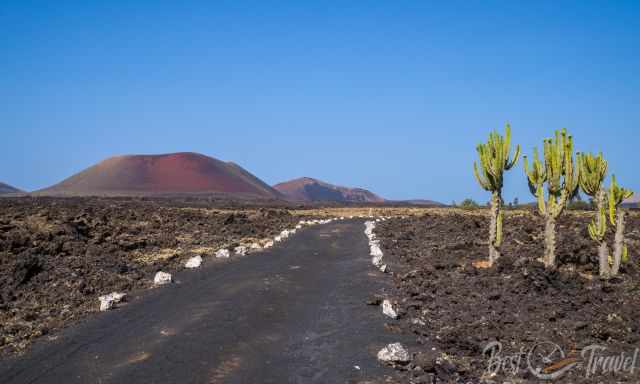 On very hot and windy days in the summer, it feels like being blown by a hairdryer. The wind transports the heat from the sea of lava. You need to drink plenty of water while hiking, usually more than you can carry. It doesn't occur often. Strenuous hikes are not recommended when this weather phenomenon occurs.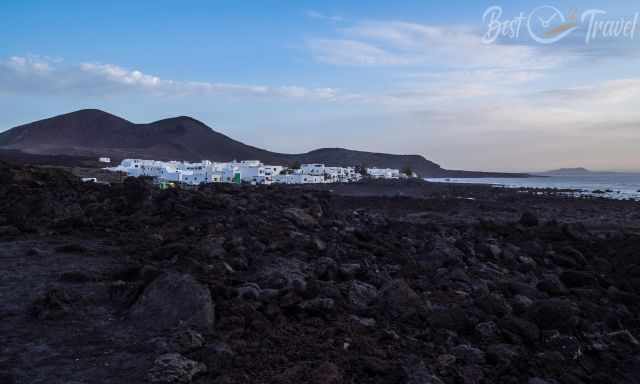 You may wonder why all houses in Lanzarote are white painted, but after a couple of days, you already know this is the only solution against the heat. The white colour reflects the sunlight and cools down the houses.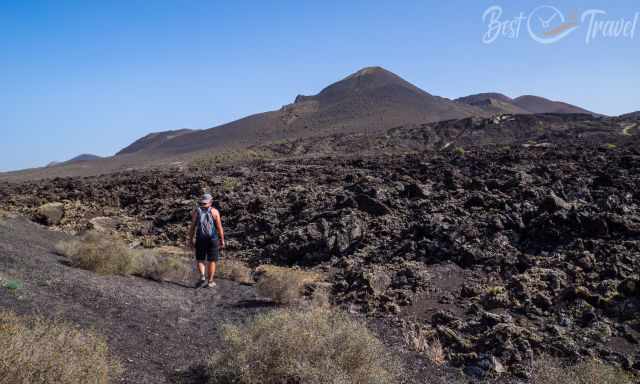 Lanzarote experiences more than 300 days of sunshine and less than 20 days of rain, and the amount of precipitation in Timanfaya is below 150 mm annually.  
The best time to visit Lanzarote for hiking volcanoes and Timanfaya is the "colder" season from November to April, with temps ranging from 20-25°C in the shade. 
Guided Tour to Timanfaya
These are my recommended tours via GetYourGuide with 24 hours advance cancellation policy. Thx for booking via my website! With your support, I am able to provide all information first-hand. Tour prices are at no extra cost!
Location and Tips
Lanzarote
Spain

There is the Los Volcanoes Natural Park and the Timanfaya National Park. Timanfaya itself is almost not accessible on your own. However, the Volcano Natural Park can be experienced by yourself. You can find all details for Timanfaya and volcano hikes into a crater or even to the top of a huge caldera rim.
Timanfaya National Park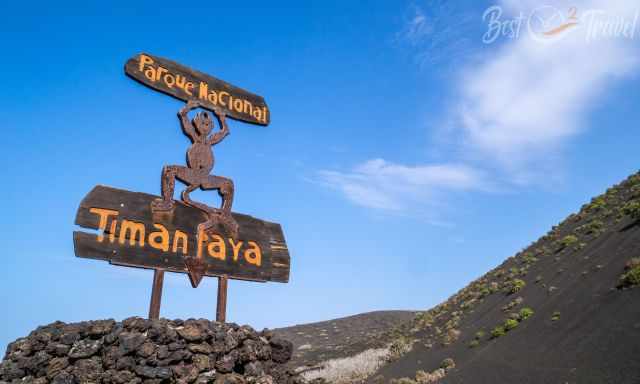 The Timanfaya National Park is located in the southwestern part of Lanzarote, the easternmost Canary Island and closest to the Sahara. Timanfaya became a National Park status in 1974 and the entire Lanzarote Island a UNESCO Biosphere Reserve status in 1993. It emphasizes the importance of this unique landscape. Your visit to Lanzarote is only complete if you explore the unique Mars-like landscape.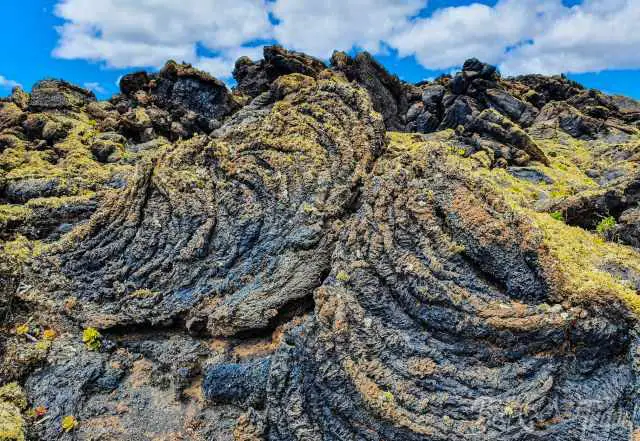 During the long and intense volcanic activity period for almost six years in the 18th century, valleys were filled with lava and disappeared. The soil got covered by a sea of lava, and a fascinating crater scenery emerged like nowhere else in Europe.
How to Get to Timanfaya?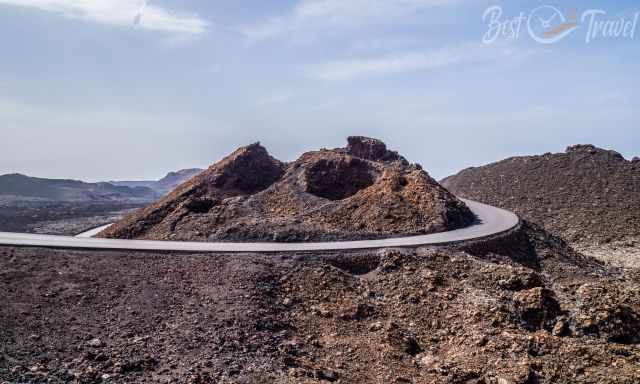 You can get to the heart of the National Park by rental car or guided tour only! There is no public transport available. If you book a guided tour, you don't line up on "cruise ship days". During these days, cars line up already far away from the entrance gate of Timanfaya for more than an hour.
Can You Walk Through Timanfaya National Park?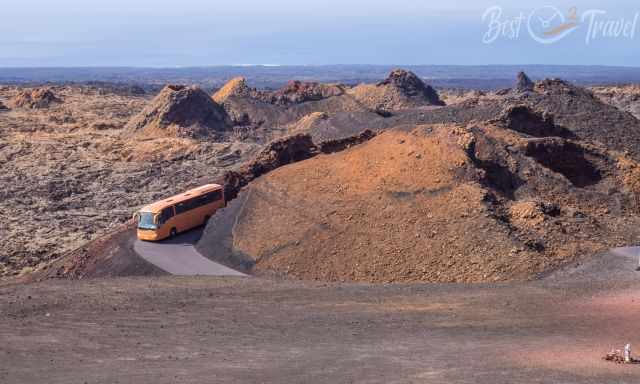 No, the heart of the National Park is accessible on a guided bus tour only. If you travel on your own, come early at 9 am before it gets crazy busy. The other option is to book a guided tour, and you don't have to line up with your car and for the bus tour inside.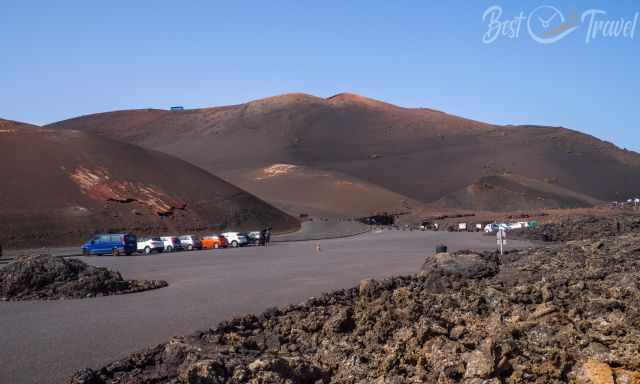 To experience Timanfaya on your own on your feet, there is just one guided trail to Montana Termesana, which last 3 hours and is 3.8 km long. If you like to do this outstanding hike a reservation of up to three months is essential! The reason we couldn't experience this part of Lanzarote but hopefully next time - Reservation National Park. (Follow the link and click on Timanfaya to get to the reservation document) Instead, we booked several tours by the best local tour company. More in detail at the end of the article.
Visitor Centre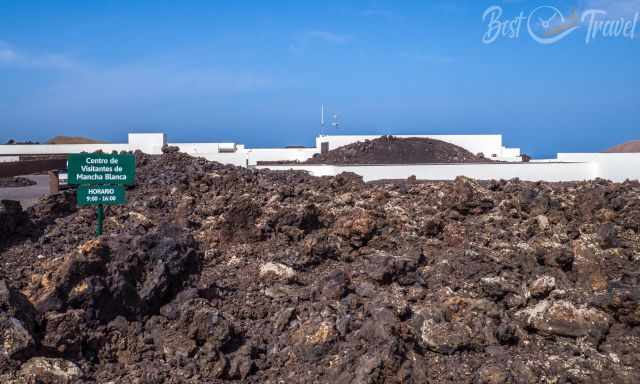 The visitor centre provides a gorgeous exhibition about the Canary Islands, Lanzarote in particular, volcanos in general, and the island's nature and wildlife. All aspects of volcanic activity are explained on information panels in Spanish, English, and German. You also get excellent views above the lava fields. It is also an interesting stop for families with children.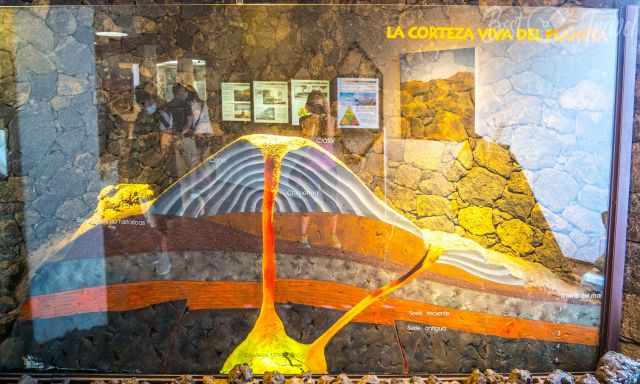 Films are shown in Spanish; you can either purchase headphones or bring your own for English commentary. Entrance free! The visitor centre is well worth a visit. Unfortunately, there isn't a cafe, just some beverages in the shop. The visitor centre and the outer part are fully accessible for wheelchairs.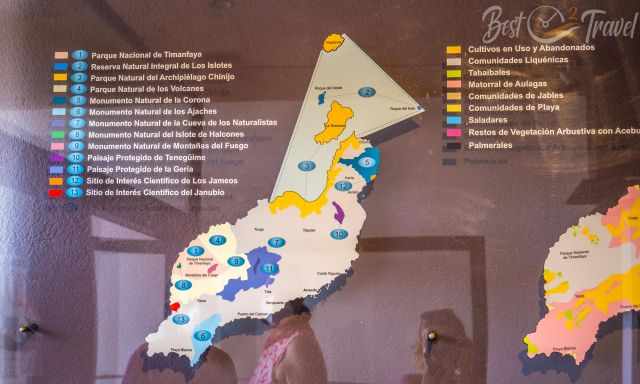 From the visitor centre to the entrance is a 6.8 km drive. You need a ticket to access the park by rental car or bus tour to enter the National Park. There is no public bus available. From the entrance to the "Islote de Hilario", the visitor area and restaurant, it is another 5 minutes drive.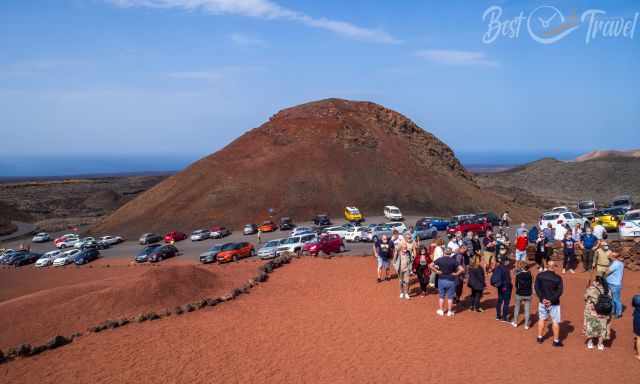 Buses depart into the heart of the Timanfaya National Park from here. It is breathtaking to see this landscape formed by many volcanic explosions.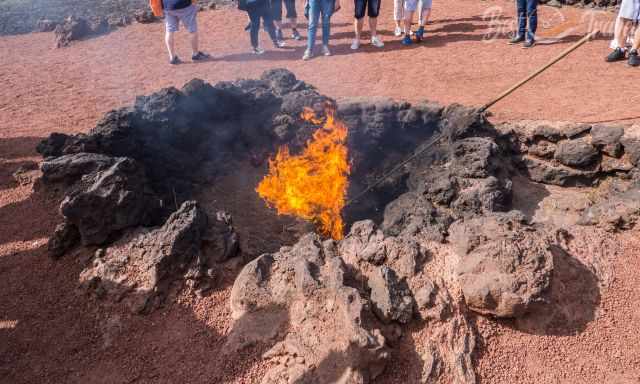 Every few minutes, demonstrations are held to show the heat of the volcanic area beneath the surface. It is more than 250°C hot, just 2 m deep and dried bushes burn in seconds. The meat is grilled ten meters above the volcanic heat in the restaurant. 
Entrance Fee Timanfaya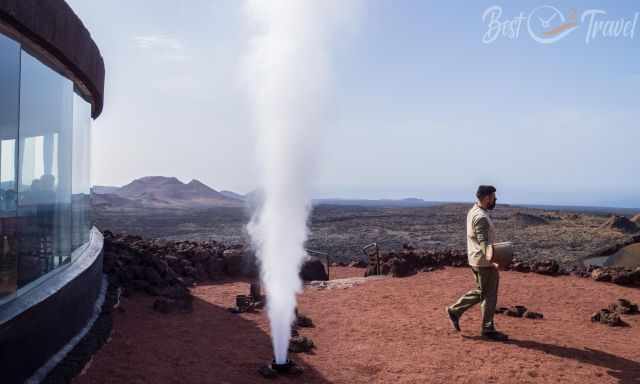 12 Euro per adult and half price for children. I recommend a combination ticket for different sights in Lanzarote, which is much cheaper.
Timanfaya Entrance Ticket
There is a combination ticket on offer. Ask for this if you plan to visit several sights in Lanzarote. We bought the combination tickets for four sights, and children pay half of the price. The ticket is valid for two weeks.
3 Sights for 23,50 Euro
4 Sights for 29,00 Euro
6 Sights for 35,00 Euro
Opening Hours Timanfaya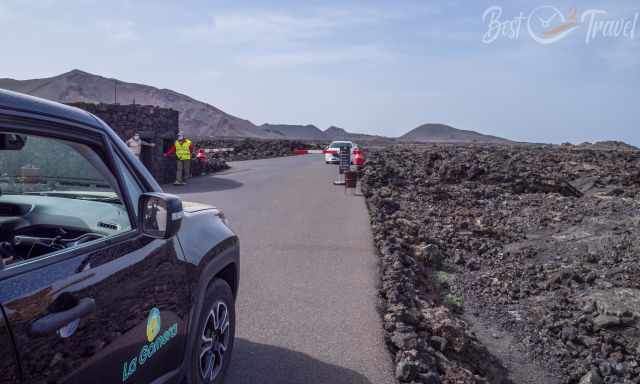 Although open from 9 am until 5 pm, the last access is already before 4 pm. They won't let you pass at the entrance gate if you arrive later.
Why is the Park Called Timanfaya?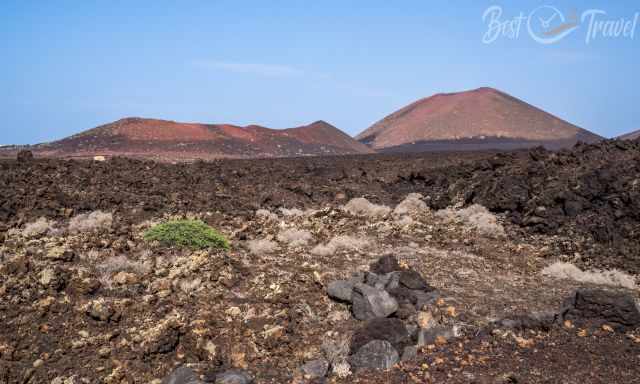 Timanfaya is not a volcano; it was one of the small villages destroyed by these heavy eruptions in the 18th century. Between 12-15 of those small housing areas got wiped out during this vast volcanic activity. This village was either written Timanfaya or Qimanfaya by the Guanches, the Aboriginals of the Canary Islands. Overall, 350 houses and farms were destroyed in Lanzarote.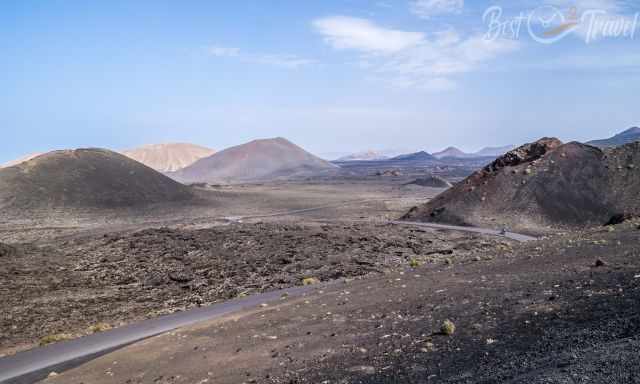 All volcanos have several names, one commonly used, usually one of the Guanches, and often a third name does exist. This makes it a little hard to find some of these locations with Google Maps. I always add a link for Google Maps locations for hikes and sights in Lanzarote.
How Old is Lanzarote?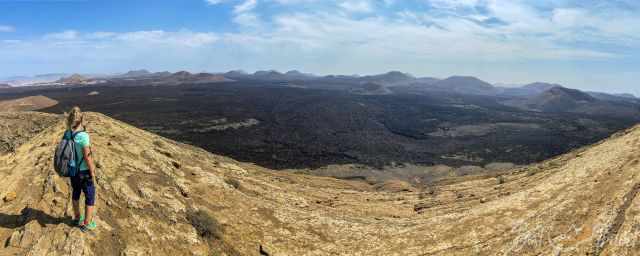 The geological history of Lanzarote started in the north roughly 11 million years ago. Although none of the volcanos is visibly active, it doesn't mean there isn't any volcanic activity. Usually, landscapes change through weathering; rain, wind, and ice.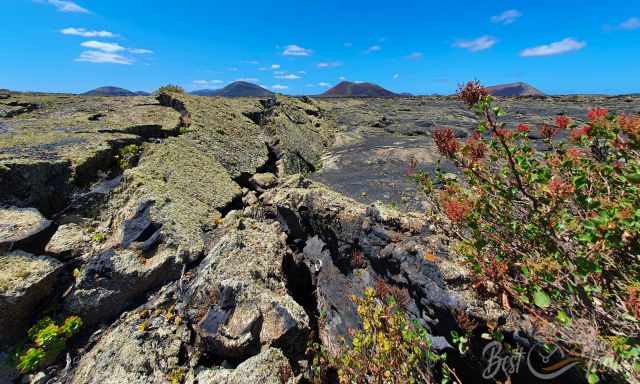 Also, in Lanzarote, the landscape and the caves are changing through weathering, but frost doesn't occur; instead, 2000 microearthquakes on average daily. These microearthquakes cause permanent friction between rocks and stones. We saw the results of these frictions during our cave exploration.
Facts About Timanfaya and Lanzarote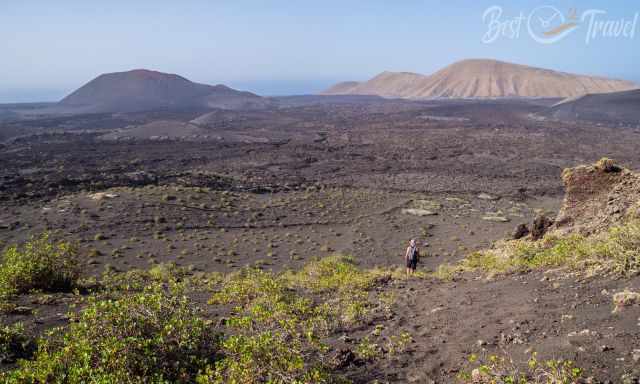 You may think Timanfaya is a place of desolation, but it is the opposite. Take your time and discover the volcanic National Park in all its beauty.
Before the devastating volcanic eruptions, Lanzarote was an island with fertile valleys and fields. The last explosions in Timanfaya, Lanzarote, took place for almost six years from 1. September 1730 until the end of April 1736 and again in 1824. A quarter of Lanzarote, 198 km², is covered with lava.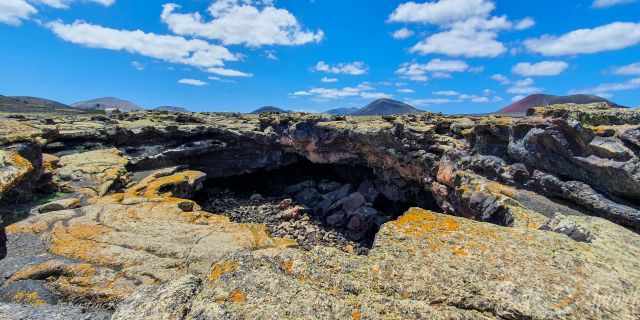 For almost six years, the explosions, earth tremors, and burning mountains didn't stop. Villages were destroyed, and in the end, the inhabitants, the farmers were forced to leave the perpetual fire island.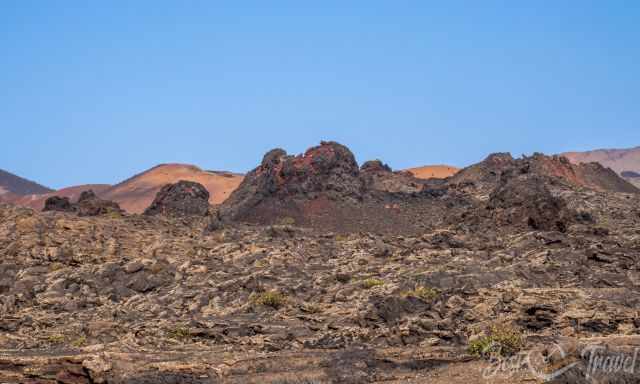 Many of these volcanoes are dormant but have not been active in the past years. The relatively smaller craters are extinct. This type of volcano explodes just once.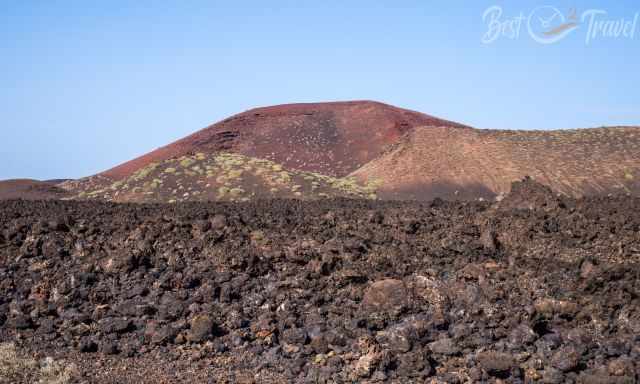 From the devastation, a Mars-like wild and colourful landscape emerged. Parts of it are protected in the 54km² big National Park. Timanfaya covers most of the important areas of these eruptions, including the volcano Chinero one of the last three active volcanoes in 1824. Through the most beautiful and well-known area, "Montanas del Fuego" - Mountains of Fire, a bus tour leads through. You can't go there in your own car nor are you allowed to leave the bus.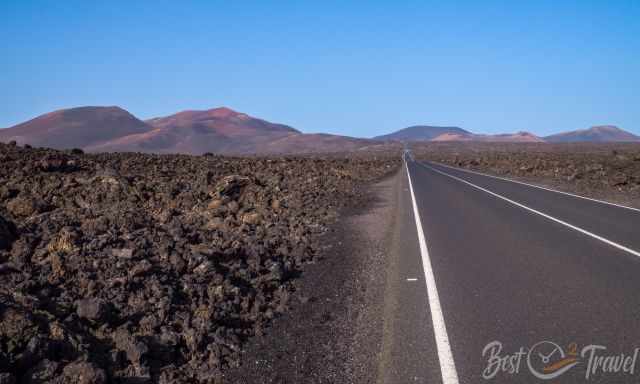 What makes Lanzarote unique is the type of lava which is the same as in Hawaii; a highly fluid basaltic lava over 1000°C hot. 90 % of the occurring lava worldwide is acidic because of the high amount of sulphur. Although the Canary Islands belong to Spain, they are part of the African continental plate. The lava was pressed to the African shelf with enormous power and got polluted.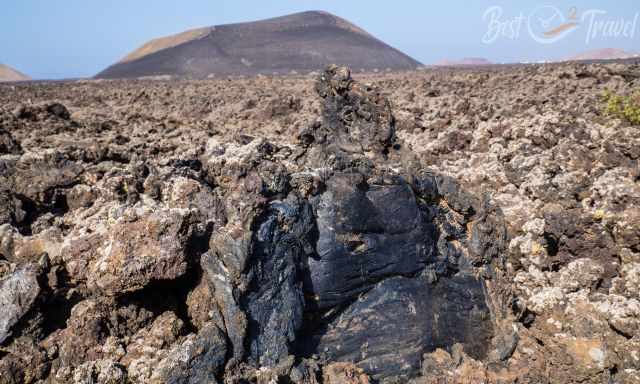 The lava changed from chemically acidic to chemically alkaline, and the amount of sulphur was minimized. However, acidic eruptions can also occur on the Canary Islands if the vent opens so much that lava from a deep depth gets easily thrown out, as it currently happened in La Palma.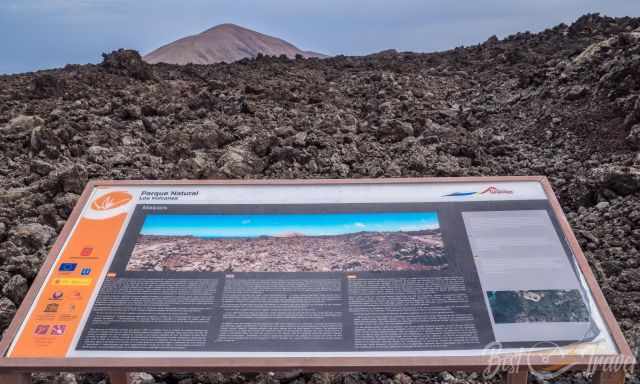 You may think it is dead land, "malpais" in Spanish. It describes the AA lava, which is a rough, loose, unsteady rock.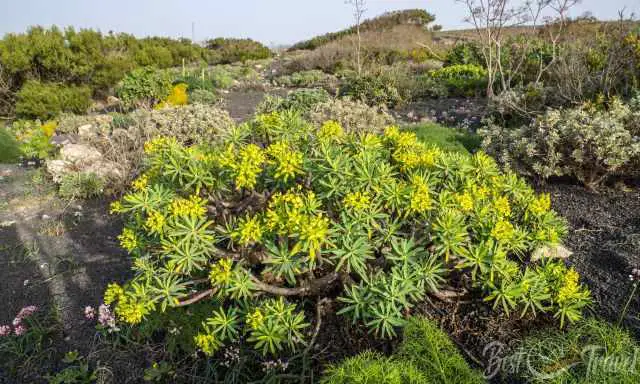 However, plants start to grow in the Picon and spread on the sea of lava. Picon can be found around volcanoes. It is volcanic ash from the last eruptions. It is also used around plants and for viticulture.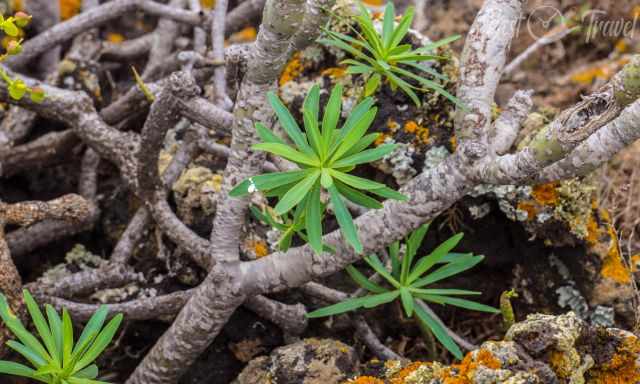 Be careful don't touch the leaves of the plant above. These leaves segregate a milky liquid that is poisonous if swallowed by accident. In former times the leaves were cooked and used as vegetables.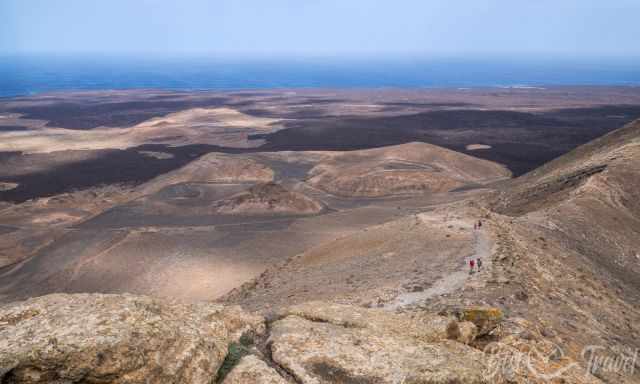 Islands called "Islotes" in the lava fields are not covered with black lava because of their higher elevation. The best know is the Islote de Hilario in Timanfaya.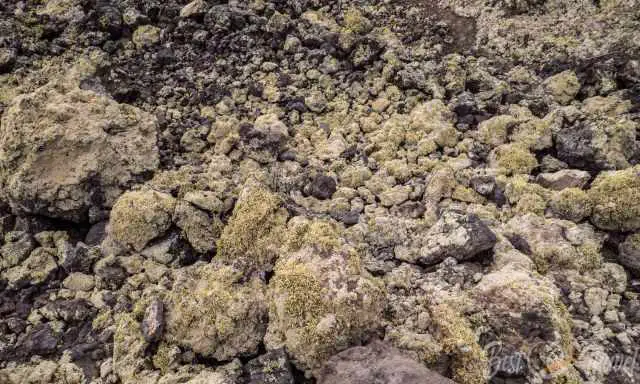 Roughly 180 different lichen species can be found on the lava. Lichens are a symbiosis of fungi and algae. The trade winds provide the lichens with humidity, spreading on the northeasterly side. These plants prefer cracks where more humidity is collected. Lichens are sensitive to the air quality growing in abundance away from high-trafficked roads.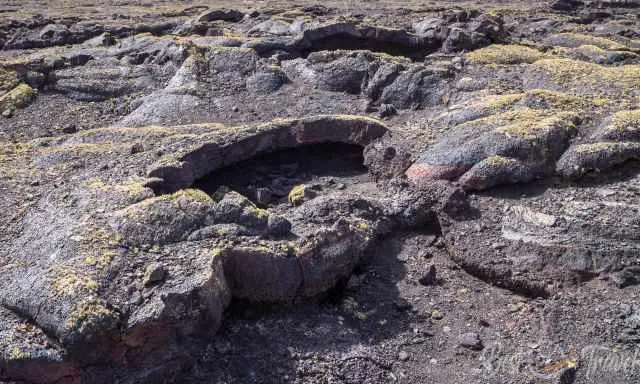 Please, stay on the trail. Walk where other people left their footprints. You never know if there is a hole or cave right under the surface; it can be treacherous, and you get injured. The second reason is that 43% of Lanzarote are bird protected zone. Some of these birds are ground breeders having inconspicuous nests which are easily overlooked and destroyed.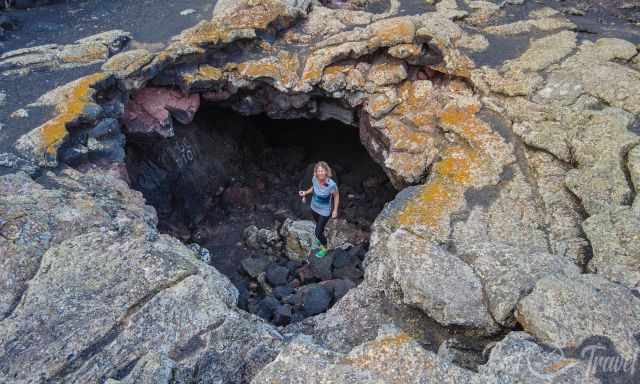 This is another lava tube in Lanzarote where we went on a guided tour with Lanzarote Feeling. Therefore, please be careful where you walk and never walk alone.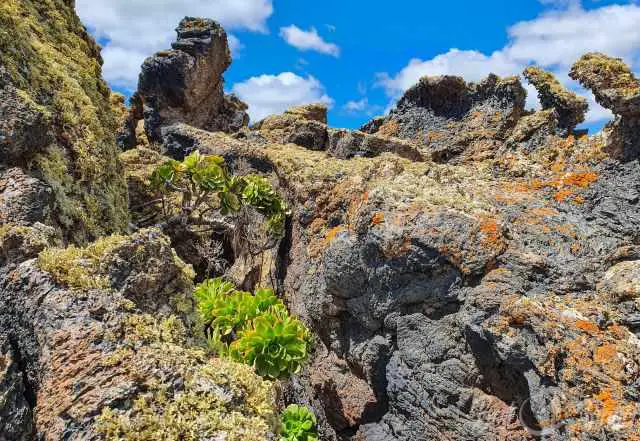 3 Hikes - 2 Accessible Volcanoes
Timanfaya is accessible on guided tours only! However, volcanos outside the National Park offer spectacular views and can be explored self-guided.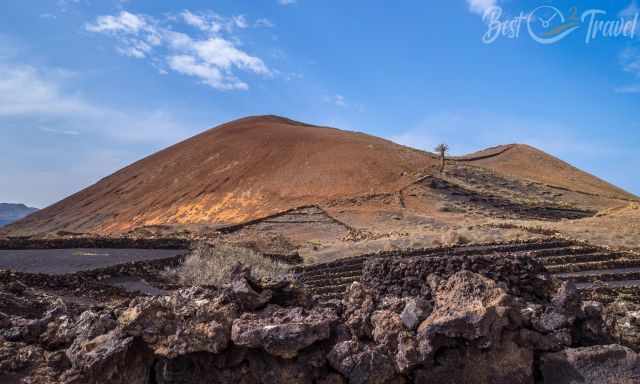 Montana Cuervo and Caldera Blanca are the two most exciting trails that give you a closer look at mother nature's sheer power. It is possible to do both hikes in one day, but bring a picnic or sandwich and plenty of water if you plan to do so. There is no shade on both hikes.
1 Montana Cuervo - Caldera de Los Cuervos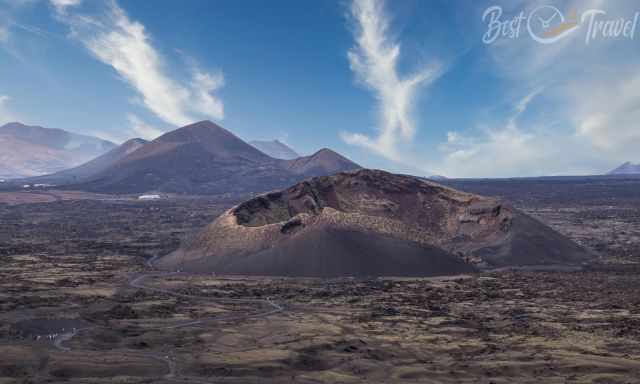 This is a fantastic example to see the destructive power of an extinct and collapsed volcano. Such volcanos with relatively small craters erupt once only. A part of the former crater wall was blown out and transported 150 m away, giving way for the lava flow and now for visitors.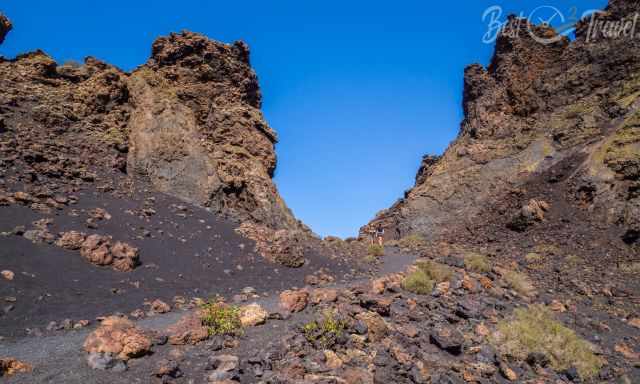 We were overwhelmed by its size and high walls inside the former vent, which once contained a lake of bubbling lava. This was the first erupting volcano on September 1, 1730, of the almost six-year period. Definitely one of the must-do walks in Lanzarote.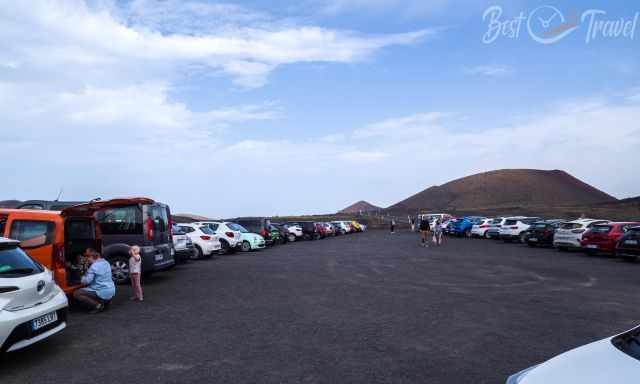 Parking Google Maps Location: There is huge free parking, but no restrooms are available.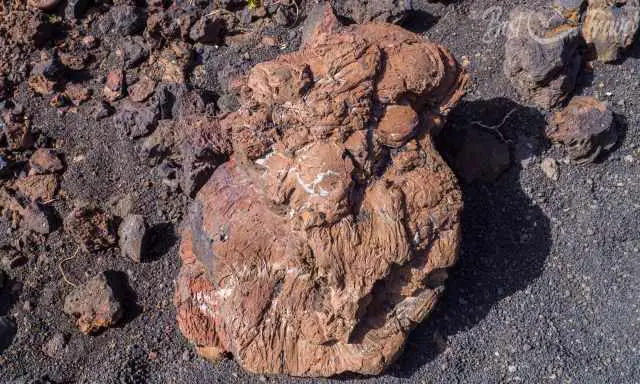 It is an easy circular trail leading around and into the crater, and it can also be done with children. Due to the gravel surface of the track, it is not suitable for wheelchairs and strollers. The ground is a little uneven, full of tiny black sharp pebbles, the picon. Take proper shoes to protect your feet from the gravel.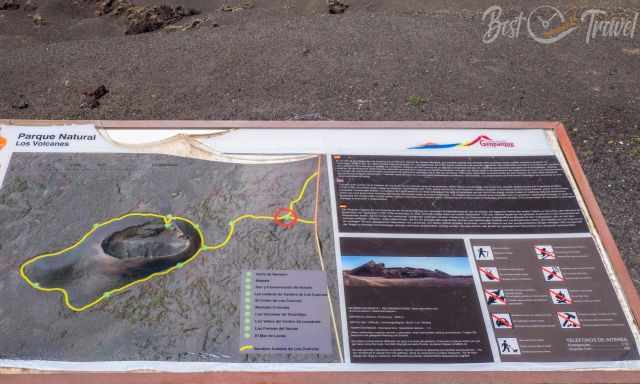 Duration: 1.5 hours – take your time and stop at the numerous information boards written in Spanish, English, and German.
Length: 4.5 km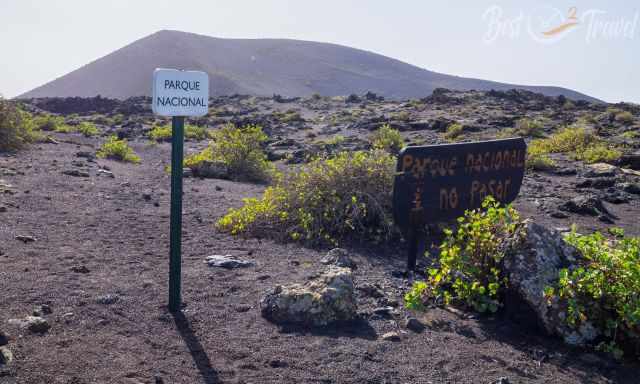 Please stay on the trails; otherwise, you may destroy the fragile landscape. Climbing to the crater rim is no longer permitted.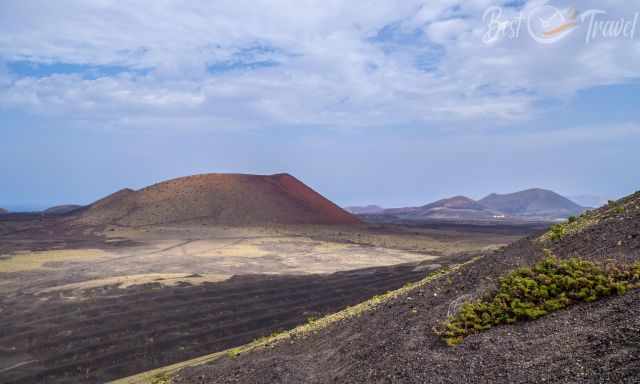 From the parking, you can also climb to the top of Montana Negra, the Black Mountain, with an elevation of 515 m. This volcano offers exceptional views of Montana Cuervo and colourful red Montana and Caldera Colorada, 469 m high. This bright red crater emerged at the end of the six years in April 1736 and can be climbed, too.
2 Caldera Blanca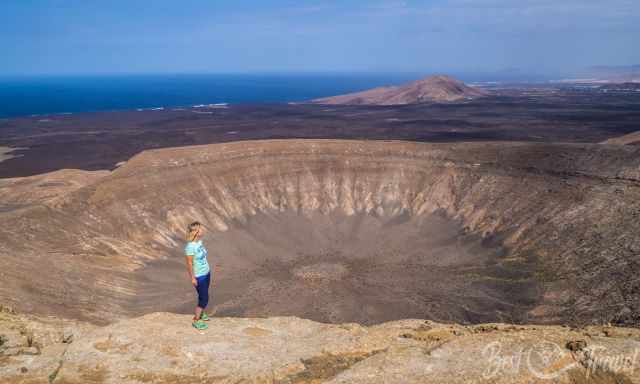 The caldera and summit hike takes three to four hours. The Caldera Blanca is located in proximity to the visitor centre and Timanfaya National Park. The landscape was formed by the long eruptions period in the 18th century. This track offers spectacular views of Timanfaya and the sea.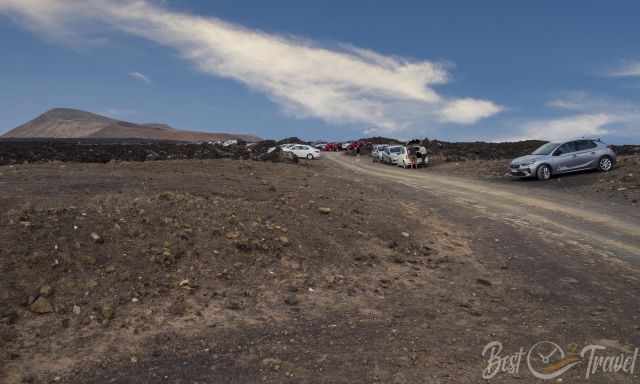 A rental car is needed to get here. You can either park your car close to Mancha Blanca shortly before the gravel road or continue carefully and slowly on this dirt road for 700 m to get to the trailhead, which we did. Parking Google Maps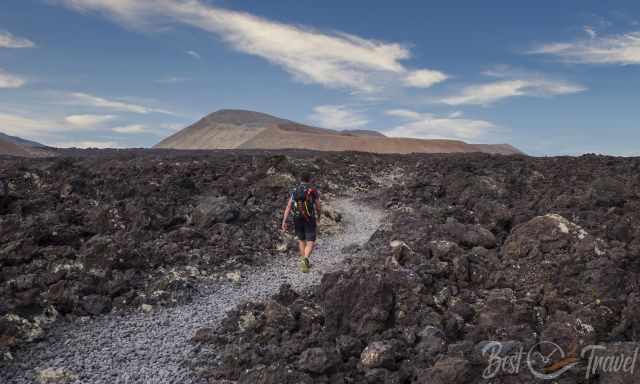 This hike is one of the few opportunities to experience the park at your own pace. You walk through a black lava field, the sea of lava straight forward to Caldera Blanca.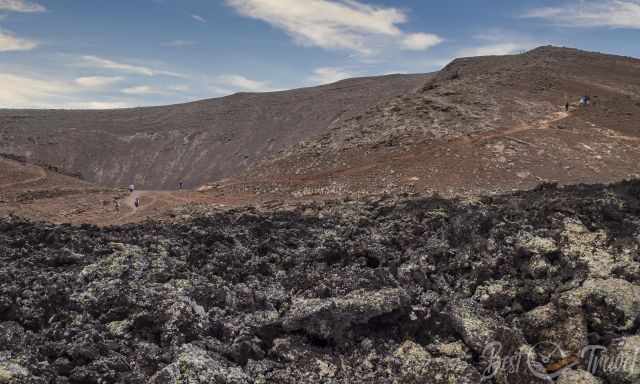 After 2 km, you reach a small accessible crater, "Montana Caldereta" shortly after another 1,6 km, you get to the caldera ascent.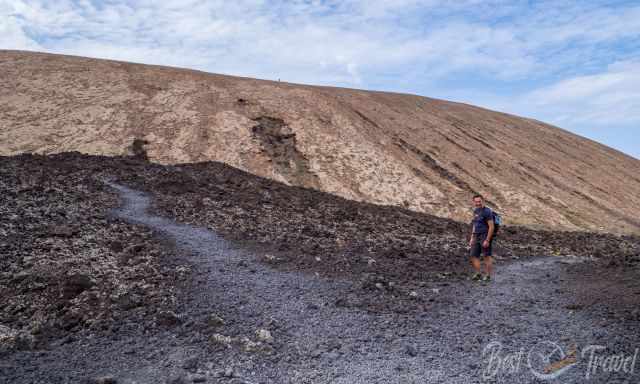 The trail leads counterclockwise around the Caldera Blanca and up to the rim of the massive crater on the western side. The trail is uneven and rocky, the reason it took us almost an hour for the 3,6 km.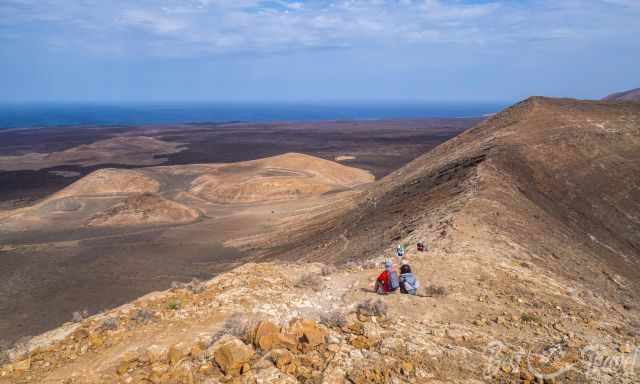 The ascent proceeds to the south bringing you closer to the caldera rim and then to the highest point. The views from this elevation to Timanfaya and Parque Natural de Los Volcanes are jaw-dropping.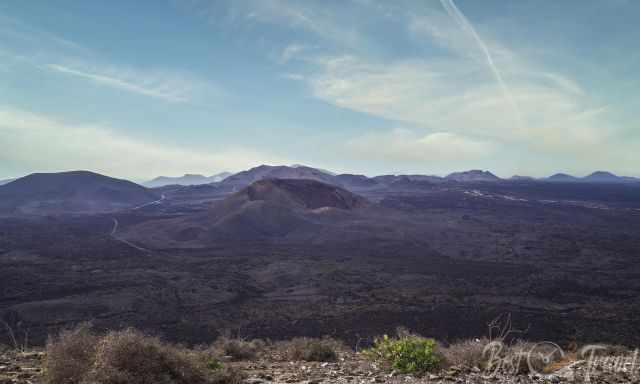 For me, the best lookout of the entire Lanzarote. We enjoyed our lunch here, sitting in the front row. You can't wish for better.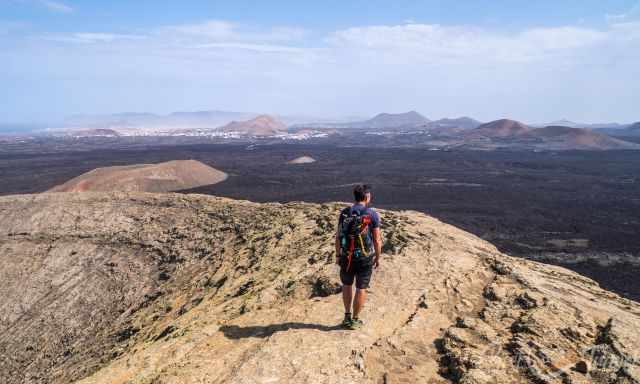 The trail continues along the caldera rim to the eastern side, where the descent starts.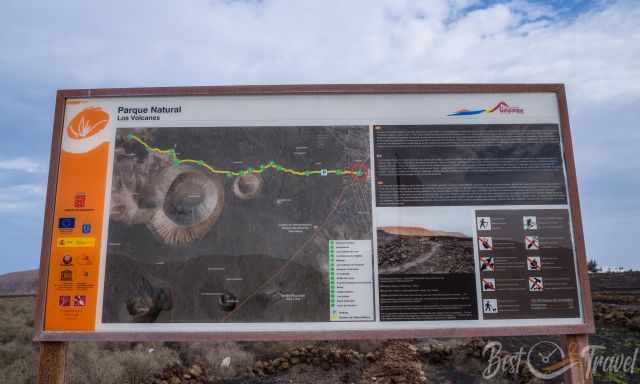 Length: 10,2 km
Elevation Gain: 367 m
Duration: 3-4 hours
Difficulty: Moderate
Highest Point: 451 m
Packing Checklist Caldera Blanca Hike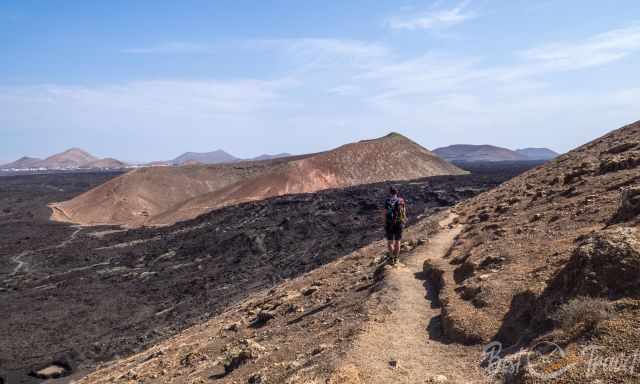 For wind protection, a vest or jacket may be needed on the crater's summit, especially in the colder season.
Wear proper hiking shoes; it is a bit slippery on the trail. Trainers work as well, but I was glad to have my trail running shoes with proper grip.
Plenty of water, roughly 1.5 l for each hiker; it is scorching while walking through the lava field, and you break a sweat. I always put electrolytes into the water.
Carry a sandwich or snack and fruits in the backpack. 
3 El Golfo Trail - Ruta del Litoral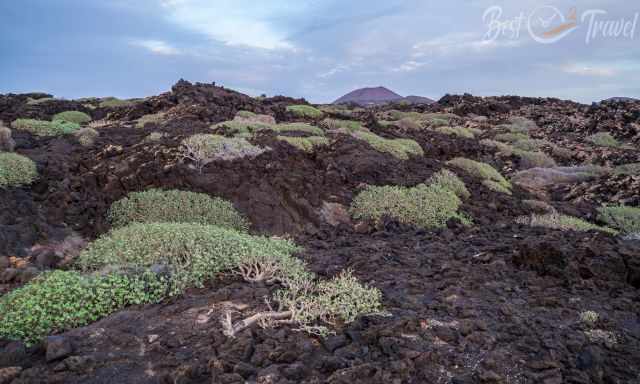 This is another excellent hiking track leading from El Golfo to Playa de la Madera along the rugged coast of Timanfaya National Park. The coast was formed by fast cooling lava when reaching the sea.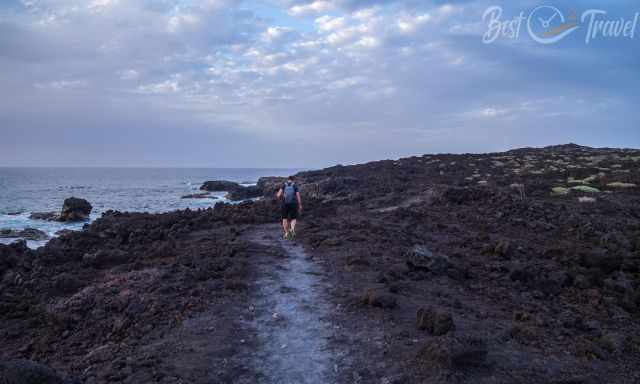 Walking the entire trail is a bit tricky because it is not a circular trail, and transportation has to be organized. We hiked a part of the trail until Playa del Paso to get a glimpse of this part of Timanfaya. The return trail back to El Golfo took us one hour.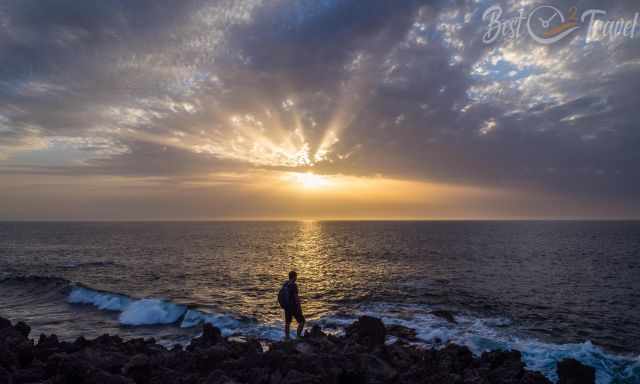 My suggestion; plan the fascinating hike through the sharp-edged lava in the afternoon, watch the sunset and enjoy dinner at one of the seafood restaurants in El Golfo. Parking trailhead Google Maps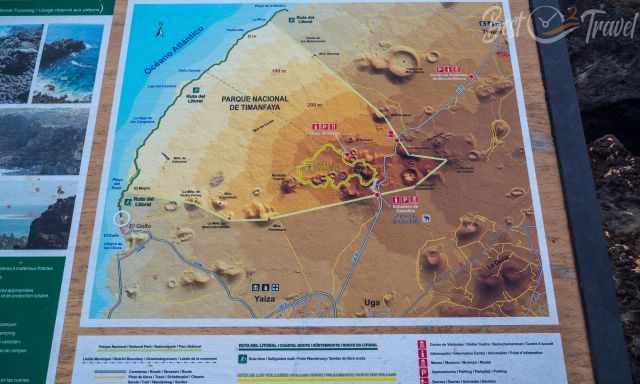 Length: 12,4 km one way
Elevation Gain: 195 m
Duration: at least 4 hours one way
Difficulty: Moderate because of the uneven surface; proper hiking shoes are recommended
Caves - Lava Tubes in Lanzarote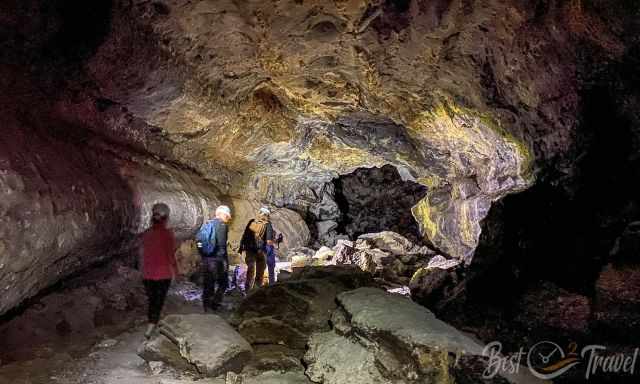 Where you can find volcanoes, there are also caves, and lava tubes which I describe in detail in my Caves of Lanzarote.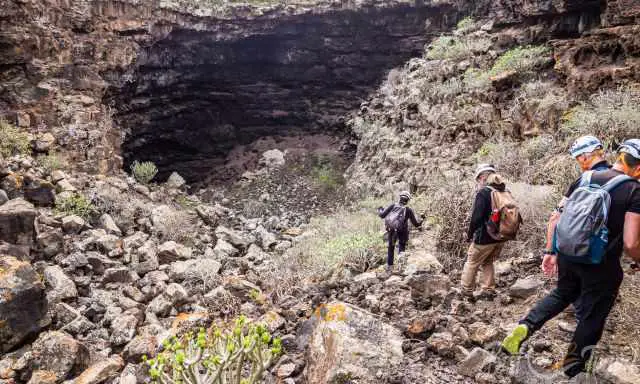 I want to thank Mash of Lanzarote Feeling for teaching me a lot about Lanzarote and the volcanoes. If you wish to experience Lanzarote with two knowledgeable, superb guides, I highly recommend Cordula and Mash from Lanzarote Feeling. They are both enthusiastic, answer all questions, and let you feel the real Lanzarote Feeling. Thanks, you made a difference! 
Do you want to obtain the usage right for my images? Contact me, but I will take action against picture theft.
These are my recommended tours via GetYourGuide with 24 hours advance cancellation policy. Thx for booking via my website! With your support, I am able to provide all information first-hand. Tour prices are at no extra cost!