When Is the Best Time
Anaga is a magnificent part of Tenerife, a hiker's paradise in lush vegetation you won't expect if you have visited the dry south before. What makes Anaga unique is the type of forest which occurs here. The inhabitants have a huge understanding of their environment; they do not lumber the valuable forests which develop clouds.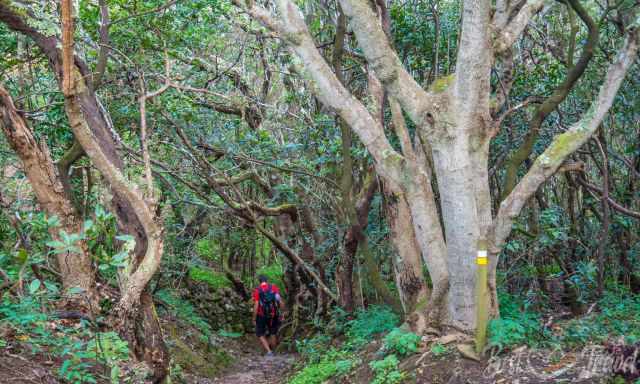 These primary forests with laurisilva, savin juniper and other plants are endemic to the Canaries, Azores, and Madeira. 
Weather Anaga Rural Park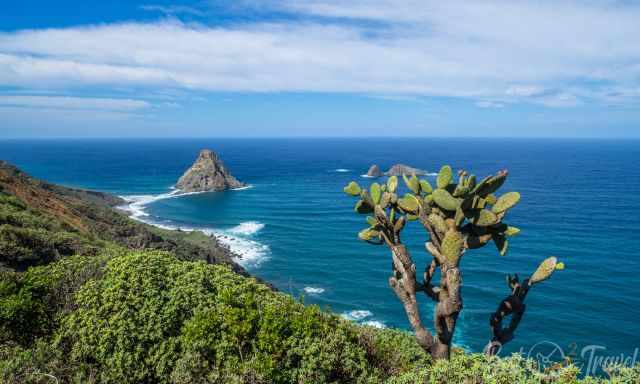 There is a saying, "Where there is rainforest, there is rain", and so true, but this makes the difference in providing a unique landscape in the Parque Rural de Anaga. The cloud forest provides rain which made life possible in the mountains, and the fertile slopes were used for agriculture and in Taganana for viniculture in the 17th and 18th centuries.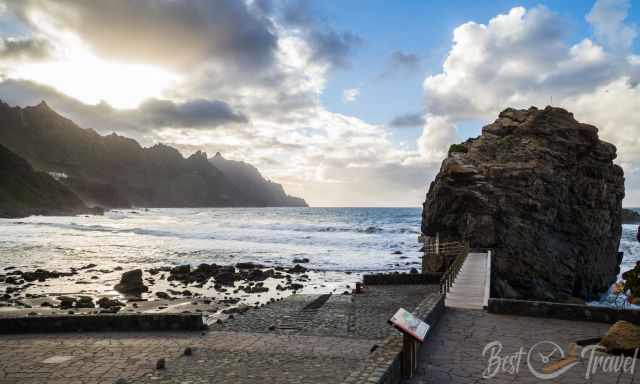 You can hike in the Anaga Rural Park throughout the year. Summer can be hot, reaching almost 30°C, but it is the driest time. The winter is notorious for frequent showers and overcast days. It is the wettest season with the most precipitation in November, with day temps ranging from 10°C during rain to 20°C if it is sunny.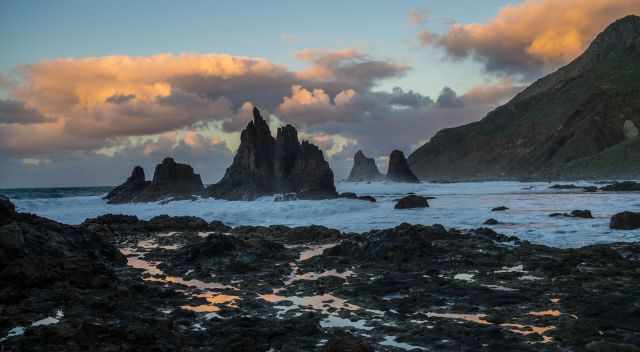 The best time for hiking in the Anaga mountains and along the Anaga coast is in spring and autumn, from March until June and September and October. October is still a great month but expect increasing rainfall.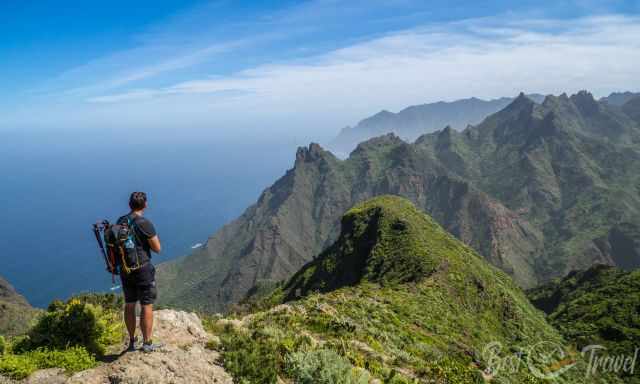 However, we visited Tenerife and Anaga multiple times in the winter and checked the weather forecast daily to pick out the best days for Anaga. Therefore, we always had an awesome time with pleasant day temps and a blue sky for hiking. Weather forecast
 
These are my recommended tours via GetYourGuide. Thx for booking via my website! With your support, I am able to provide all information first-hand. Tour prices are at no extra cost!
Location and Tips
Tenerife, Anaga
Spain

You can easily hike in the Anaga Park for weeks, but usually, the vacation lasts for one or two weeks only. I like to introduce you to the three most beautiful hikes in the Anaga Rural Park. Anaga became a UNESCO Biosphere Reserve in 2015 because of its biodiversity in flora and fauna.
1 Chamorga – Roque Bermejo – El Draguillo PR TF 6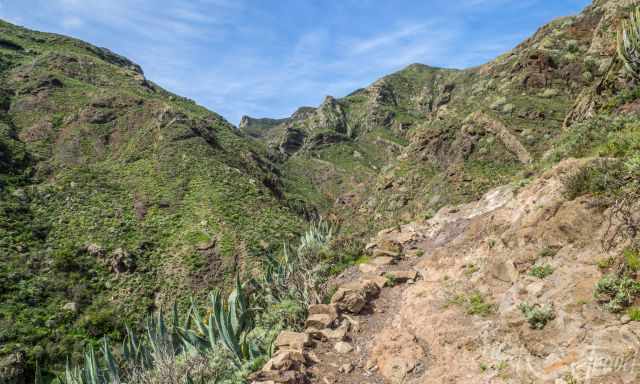 For me, the most picturesque trail of all in the Anaga Massif on the eastern tip of Tenerife. I am always fascinated by the beauty on this trail. If you are limited in time, this hike is my top recommendation! It is a circular trail that starts in Chamorga, the biggest village in the northeast and a dead-end road. Locus Map Hiking Route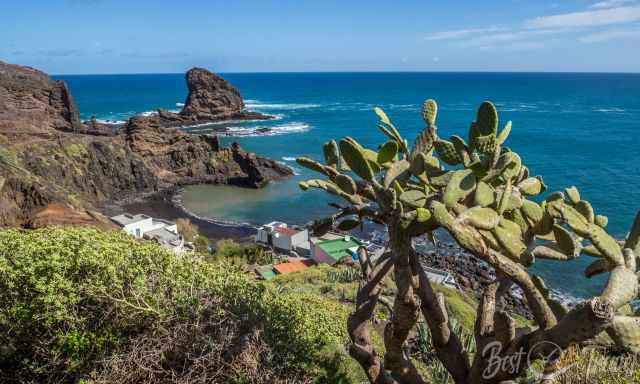 Distance: 13 km 
Elevation: 815 m
Duration: 5-6 hours
Parking Trailhead Google Maps 
Because of the narrow roads, we parked a the entrance of the village.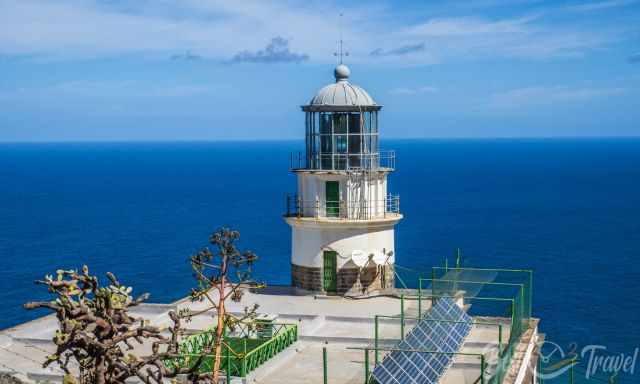 Descending through a canyon parallel to a stream to the lovely small village of Roque Bermejo located at sea. The trail continues along this stunning coast, passing by the Faro de Anaga, which is not open to the public at 247 m above sea level.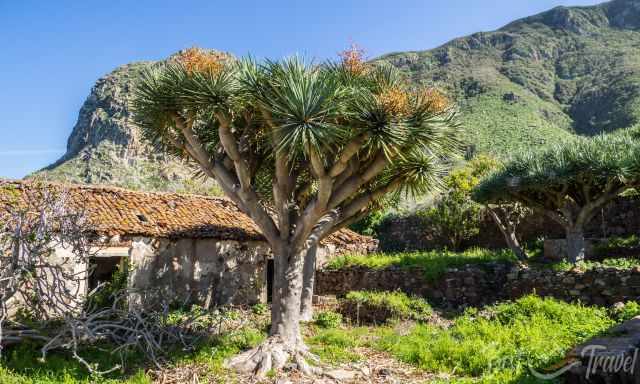 It is an exposed trail, narrow in some parts and offers breathtaking views of the coast. Another stellar picture stop is a remote village known as Las Palmas de Anaga, a natural heritage site since 2014. The inner courtyard of this old hacienda gets retaken by nature and two dragon trees. The former fields are transmitted into a forest of prickly pears.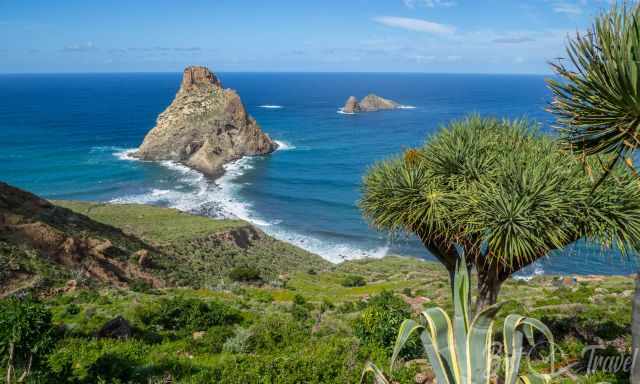 Continue on the coastal trail, and soon after, you see some bigger rocks close to the shore. Roque de Anaga and the second one in 800 m distance are nature protected areas, and it is prohibited to access these rocks. They are the remanets of eroded volcanic vents and are inhabited by sea birds now.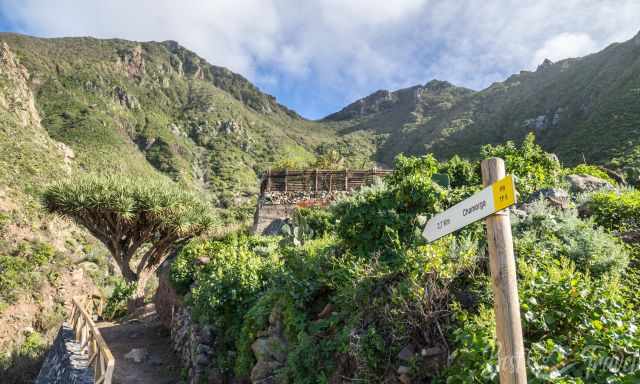 The trail ascents at a dragon tree to the left in the village of El Draguillo. This small village has officially three residents, but lots of hikers pass by. It is a steep path leading through a thick cloud forest back to Chamorga.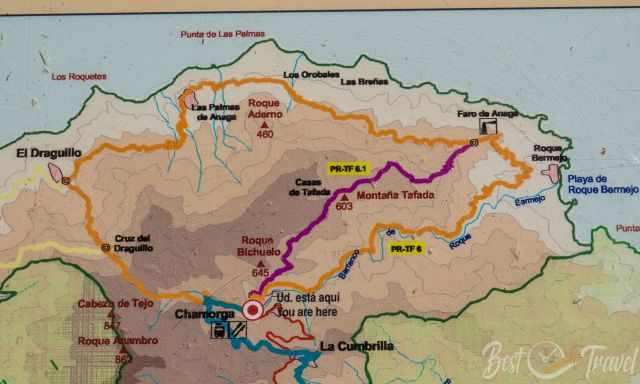 An alternative is; to continue from El Draguillo along the coast for 2 km to the exceptional Benijo Beach and then back to Chamorga – add another 4 km.
2 Afur – Tamadite – Taganana PR TF 8 or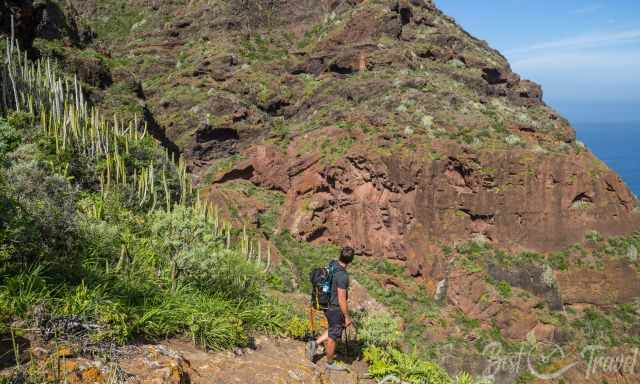 The circular trail from Afur to Playa Tamadite and Taganana is one of the most popular trails, which we have already hiked several times. Locus Map Hiking Route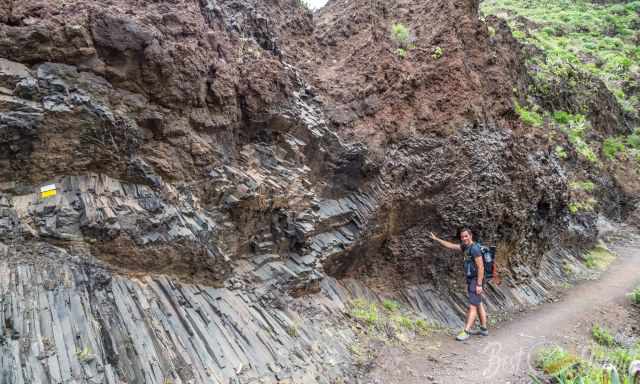 You can start the hike either in Afur or in Taganana. The slopes around Taganana have been traditionally used to grow grapes for viticulture in the 17th and 18th centuries.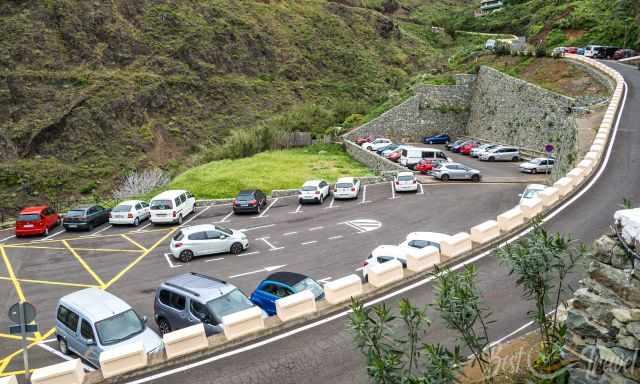 Anaga is wetter than the rest of Tenerife but experiences lots of sunshine, too. The wine from Taganana was traded from Almaciga.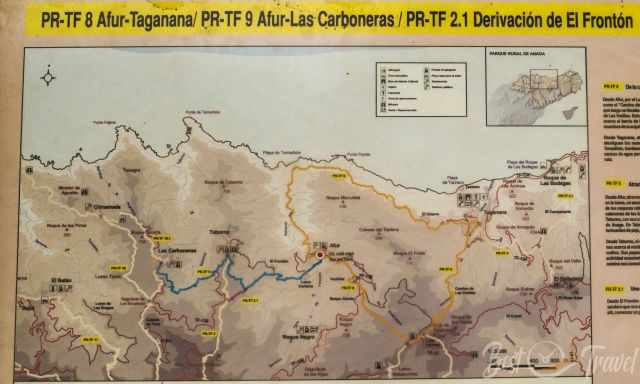 Roque Taborno - Playa Tamadite – Afur - part of PR TF 8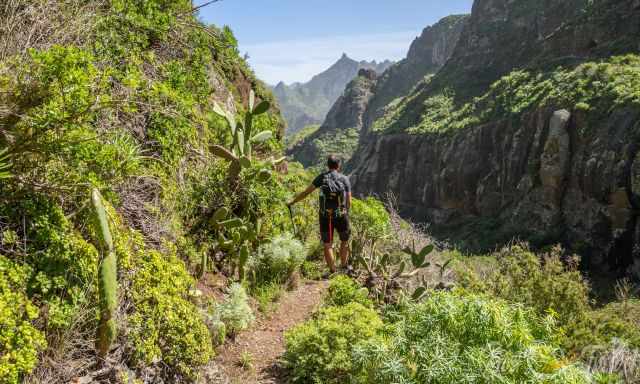 Therefore, we tried another route, a hidden gem in the Anaga Rural Park, which turned out to be even more spectacular than Masca. Locus Map Hiking Map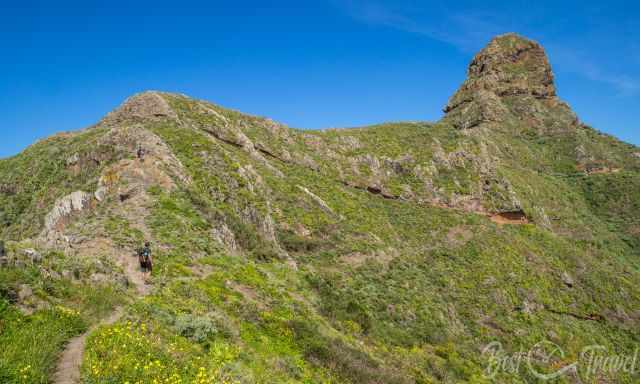 We started the round trail at Taborno village, direction Roque de Taborno. The village is located 589 m above sea level, and the view of the Anaga Mountain Range and Roque de Taborno is already worth coming here. We parked the rental car at the entrance of the village because of the narrow roads. Google Maps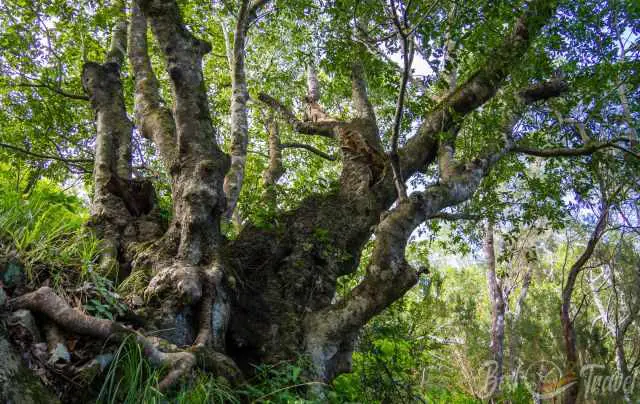 The pristine forest around Taborno and the vegetation in the Barranco de Palos Hincados are breathtaking, fantastic, and wild. This ravine can easily compete with Masca's beauty, but beside us, just a group of young residents hiked this steep track down.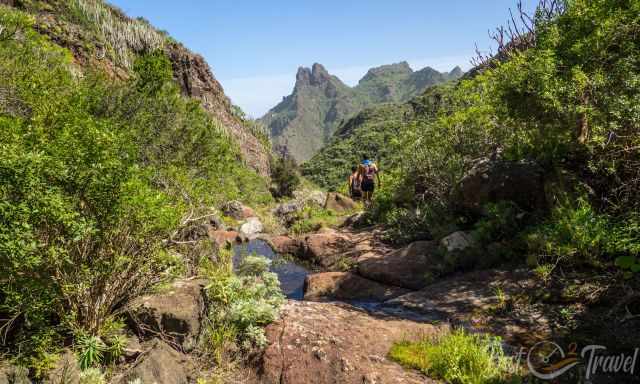 When we reached Playa de Tamadite, it wasn't any longer peaceful and tranquil; however, the walking path was awesome. From Tamadite, we hiked a while on PR TF 8 along the coast direction of Taganana, looking for a spot for our lunch.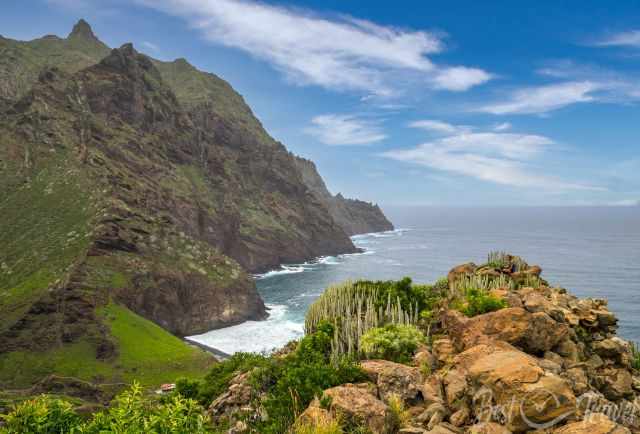 Afterwards, we went back to where the trail forks to climb up to Afur on PR TF8. This trail is very well maintained and wide because it is much more used. 
| | | |
| --- | --- | --- |
|   | PR TF 8 from Afur | From Taborno |
| Distance | 14 km  | 10 km |
| Elevation | 800 m  | 600 m |
| Duration | 5 h | 4 h |
3 La Punta del Hidalgo to Chinamada or Cruz del Carmen PR-TF 10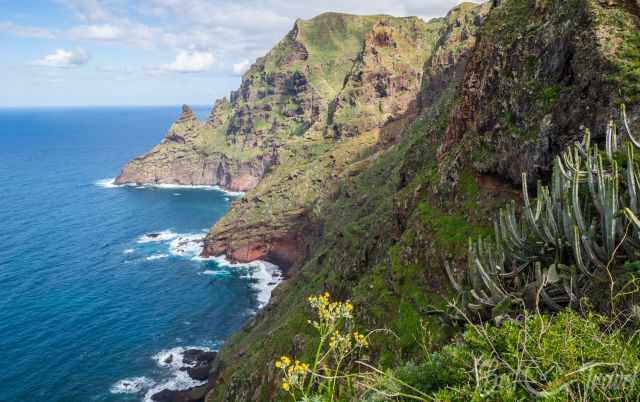 It is a fantastic hike, at the beginning along the wild and rugged coastline of Anaga later through the canyon. Locus Pro Hiking Trail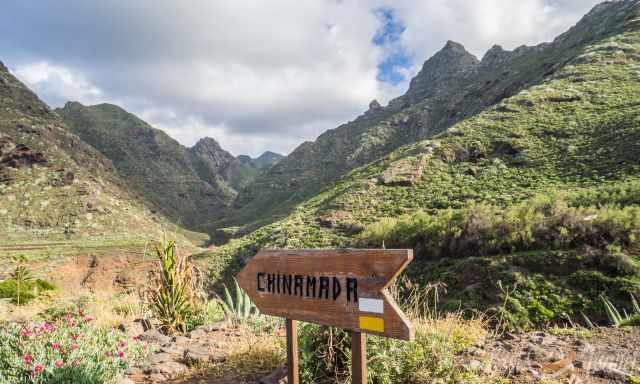 From Punta del Hidalgo, a steep and, in some parts, exposed hiking track leads through the canyon (Barranco del Rio) to Chinamada.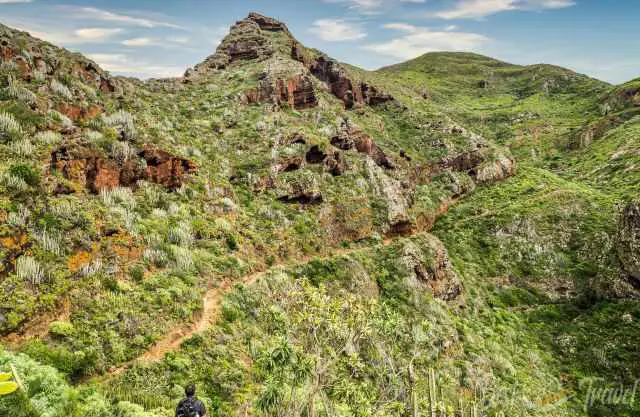 The walking path is mostly wide and sun-exposed, offering magnificent views of the sheer dropping cliffs, the rugged coastline of Anaga and the sea. 'The trail is well marked with a yellow and white sign.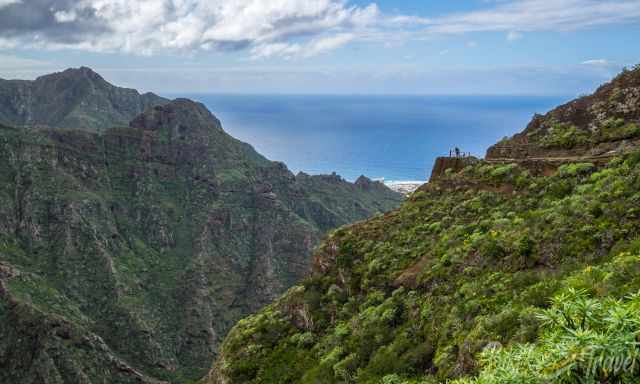 You can either walk to Chinamada, take an excellent home-style lunch in the "Restaurante La Cueva" and continue to Cruz del Carmen or walk the same way back. Another alternative is the bus line 105 back to Punta Hidalgo. The restaurant offers one of the best mojos I have ever eaten called "polvito". It is definitely worth planning a break here.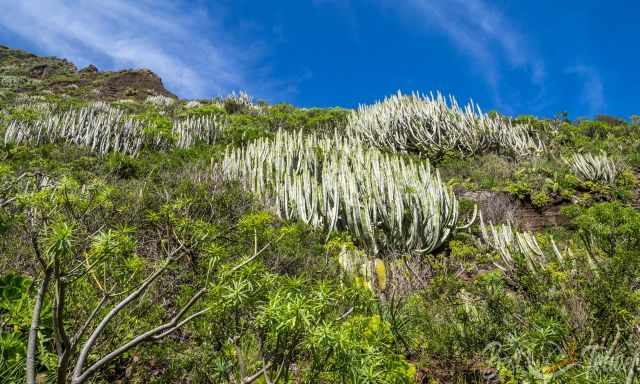 Distance: 5.3 km one way / 9.7 km
Elevation Gain: 600 m
Duration: 2 hours one way
Parking Trailhead: There isn't any real trailhead parking – just onside road parking. Google Maps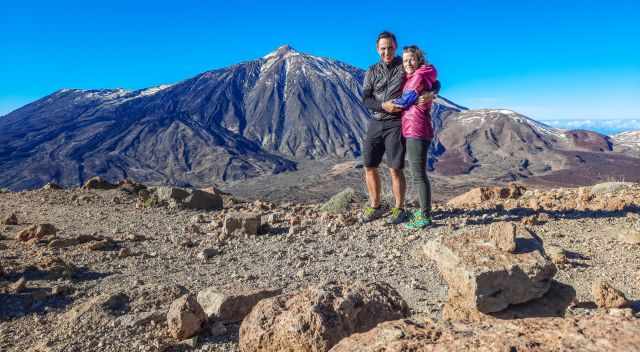 Do you like to get the best view of Teide on a moderate hike? Check out my detailed Teide Guide and enjoy one of the best views you can get in Tenerife.
Do you want to obtain the usage right for my images? Contact me, but I will take action against picture theft.