When Is the Best Time
Tenerife is an excellent destination to spot whales and dolphins throughout the year. There are an estimated 400 pilot whales along the deep sea-water canyon in depths of 1000-1200 m. They are usually spotted between Puerto Colon and Los Cristianos in the direction of La Gomera. Usually, you never get disappointed on a whale and dolphin-watching tour in Tenerife.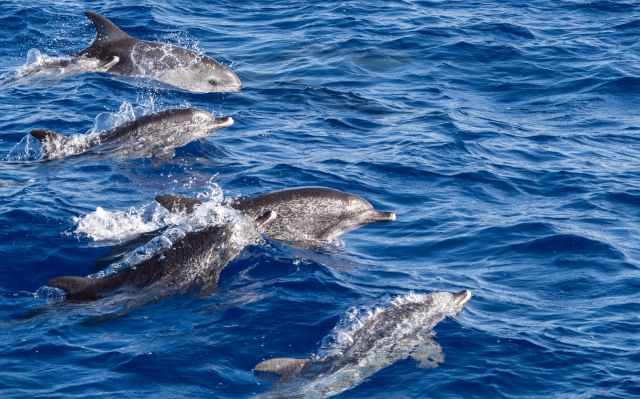 Also, dolphins occur in this area at a depth of roughly 500 m, therefore closer to the coast. The best time to spot migratory whales in Tenerife is from November to February. Pilot whales and dolphins are almost guaranteed year-round. Tenerife, the Canary Islands are located in the Atlantic Ocean along their migratory route in the wintertime.
Tenerife Whale Watching Seasons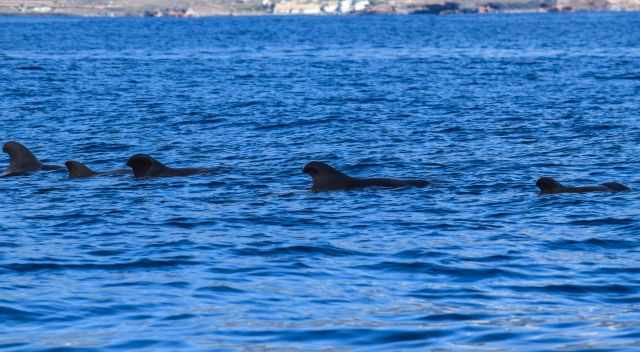 I visited Tenerife already multiple times. My last visit to Tenerife was in 2022. It is almost guaranteed to spot cetaceans on these trips. Most common are the pilot whales, which actually belong to the dolphin family and different species of dolphins. 
Winter: November – February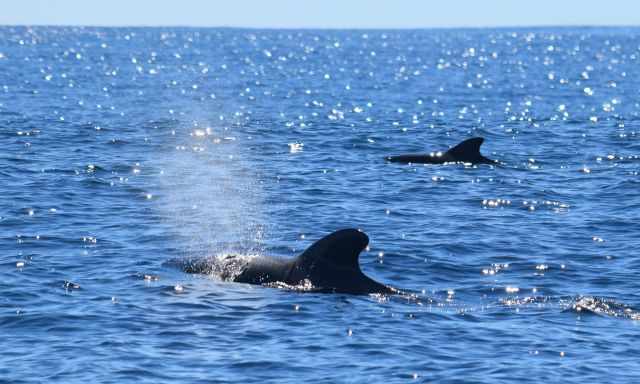 The winter is the main whale-watching season in Tenerife. There is a chance to spot migrating humpbacks and finbacks. Finbacks are occasionally seen where the canyon has a depth of 3000 meters.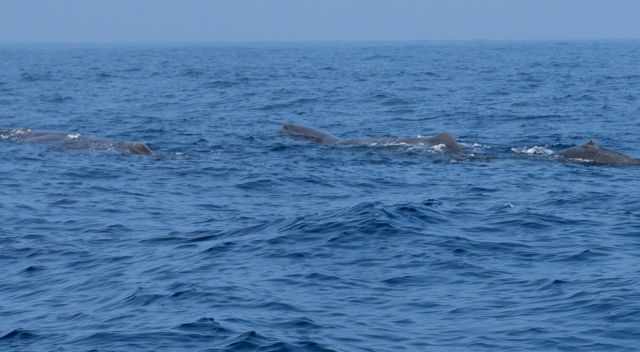 Blue whales are frequently mentioned, but from my own experience, they almost do not exist around the Canary Islands. You definitely spot pilot whales, dolphins, and with a little luck, humpbacks or finbacks.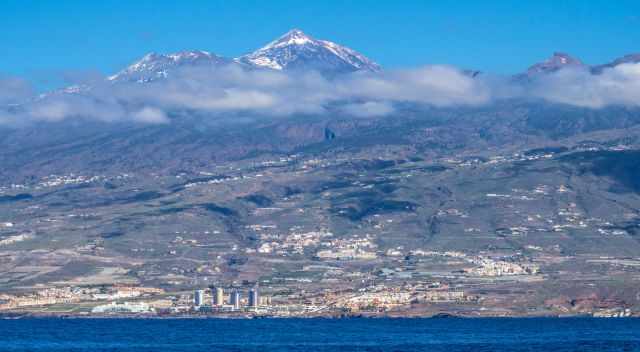 The winter is a pleasant time in Tenerife, with day temps ranging between 22-25°C. The sun is intense, especially on the sea. A hat, sunscreen, and a wind jacket are essential. It is frequently windy, which causes a higher swell. If you struggle with motion sickness, don't eat too much before the trip. 
Spring: March - May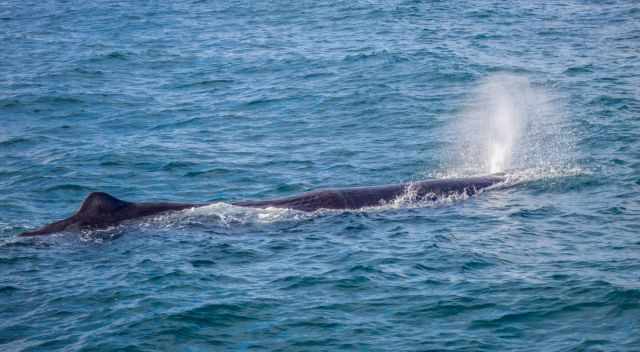 Most sperm whale sightings between March and May, although a population of estimated 240 residents, occur around Tenerife throughout the year. These whales can be seen resting on the surface between their deep dives of up to 3000 meters for their main prey, squid. However, they occur 3-5 km offshore, where the canyon has a depth of at least 2000 meters. It depends on the size and the power of the boat if you may spot them.
Nowadays, Bryde's whales are spotted more often already a few times at the beginning of March 2022.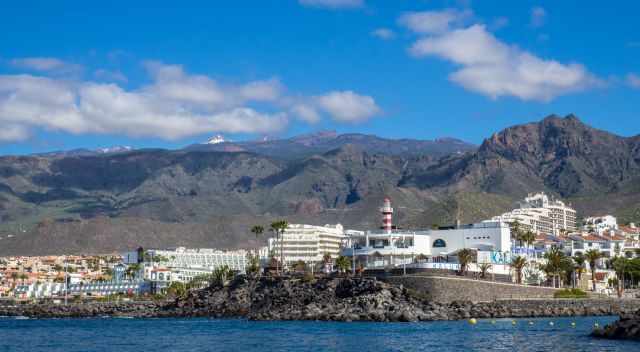 Spring temperatures are mild on average, around 23°C in the shade. It is warm during the day, and sun precaution is essential on the boat. Nevertheless, carry a wind vest in your bag. 
A visit to Tenerife is only complete with a boat tour. It is exciting being on such a trip you never know what happens the next minute. On top of the views of the coast and Teide from the sea are spectacular.
These are my recommended tours via GetYourGuide with 24 hours advance cancellation policy. Thx for booking via my website! With your support, I am able to provide all information first-hand. Tour prices are at no extra cost! You can find more tips and places to visit here in the Canary Islands.
Summer and Fall: June - October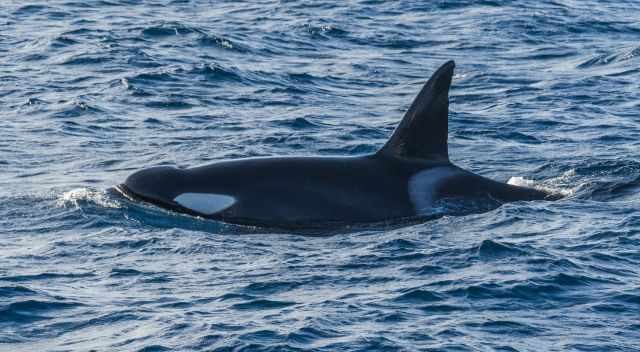 June to October are the warmest months of the year. With the increasing sea temperature, there is less food available. The reason that the whales migrate to richer feeding grounds like the poles. However, pilot whales are a unique dolphin species and fascinating to spot. On one of the tours, a huge male jumped out of the water and left us in astonishment.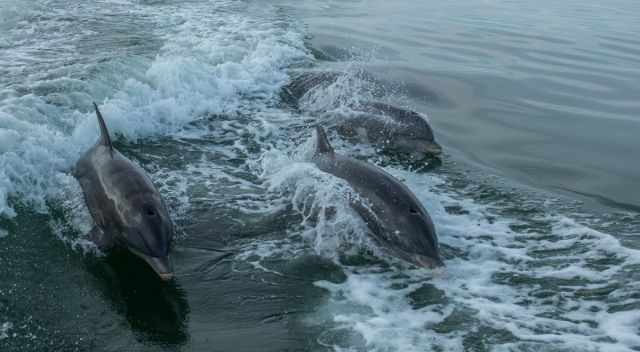 Pods of pilot whales and dolphins are frequently seen during whale-watching tours in summer. Occasion orca sightings in summer. These orcas are commonly spotted in the Strait of Gibraltar, hunting for tuna with whale-watching tours from Tarifa in July and August.
Location and Tips
Tenerife, Puerto Colon
Spain

Watching a whale or a dolphin is always an exceptional experience. Most tours depart in the south of Tenerife at Costa Adeje from Puerto Colon and Los Cristianos due to the proximity of the deep underwater canyon. There are also tours offered from Los Gigantes on the west coast of Tenerife. Los Gigantes is famous for its high cliff formations more than 800 m above the sea.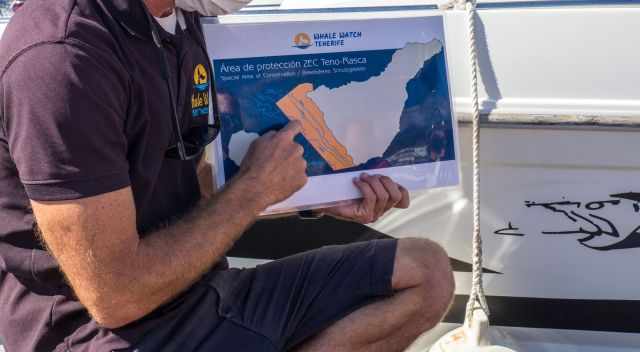 The entire boat trips are fantastic. You get an excellent view of Tenerife and Teide. The tour guides share their huge knowledge with you, explaining much about the different cetaceans and their behaviours. The tour operators for whale watching trips have different sizes of boats depending on the demand. Usually, around 80 boats are out to watch whales and dolphins in the peak season.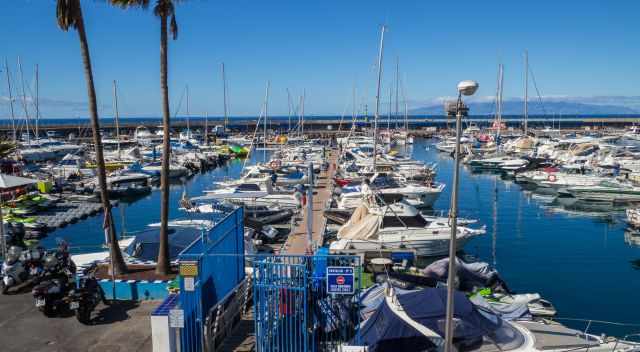 Luckily and finally, this area is a protected zone. Before, half of the tour boats were illegal and didn't care much about the distance to these vulnerable cetaceans. Thanks to the effort of some of the tour companies, respectful whale watching is the standard now. 
Cetaceans Overview – When Can You See Whales in Tenerife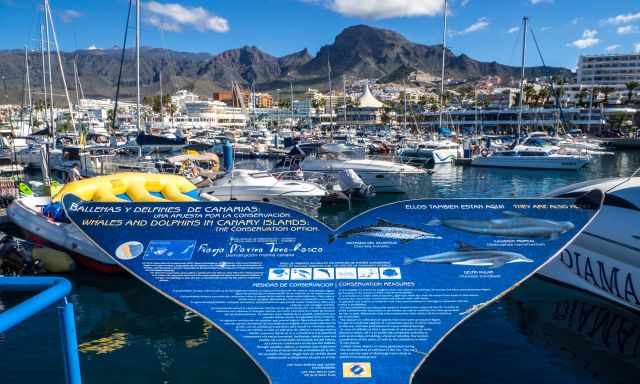 Most common and spotted throughout the year are the pilot whales and the bottlenose dolphins.
Short Finned Pilot Whales – Year-round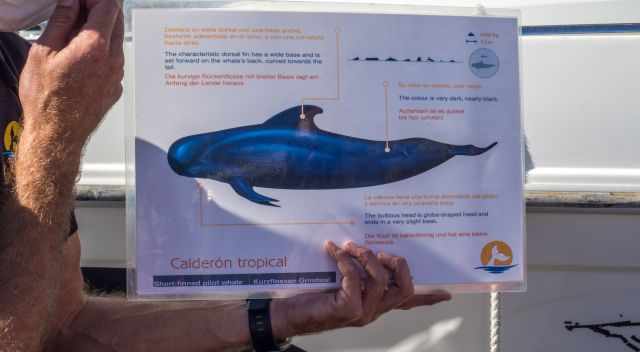 Actually, pilot whales belong to the dolphin family. They are the second biggest dolphin species. Tenerife and Tarifa are some of the best spots in the world to watch these cetaceans in high numbers up close. Their behaviour gave them the name pilot whale. The pod is guided by one pilot whale in front. 
Identification with their different dorsal fins
Lifespan of up to 60 years
Adult size 4-8 m – newborn max. 2 m
Weight up to 4 tons
Diving deep up to 800 m for squid for roughly 20 minutes, usually in the night.
Sperm Whales from March – May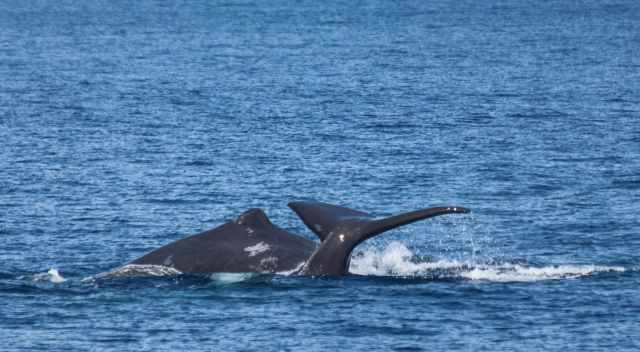 They are the largest toothed whale also with the largest brain of all. The blow can be already seen from far away. Diving up to 3000 meters deep for more than one hour. Coming to the surface for roughly eight minutes for breathing.
Males are up to 20 m long – females are smaller maximum of 12 m.
Average weight between 35-45 tons with a maximum of 65 tons.
Lifespan of 70-80 years.
The name was given from the spermaceti organ in the head. 
Finback Whales from November – February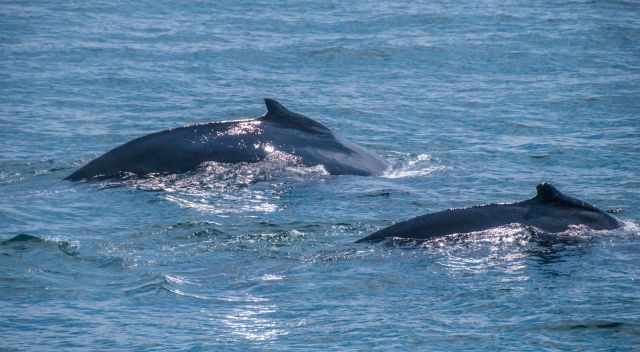 This deep underwater canyon causes currents to rise upwards; the containing nutrients and minerals feed school fish. These fishes are a feast for the finbacks. Finbacks are baleen whales which are filter feeders. They feed on plankton, crustaceans, fish, and squid. They are the second largest whale after the blue whale.
Length maximum of 27 m – newborns have an average size of 6.5 m.
Long lifespan of up to 90 years.
Usually, they travel solitary or in small pods.
Their blow is up to 5 m high and can easily be seen. 
They dive up to 450 m deep for roughly 15 minutes.
Orcas in summer in July and August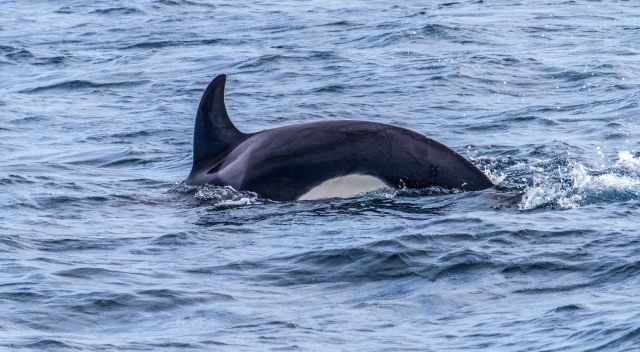 The orcas occur mainly in the Strait of Gibraltar in summer. Tours are offered from Tarifa. However, sightings occur due to the proximity of the Canary Islands. Orcas are the largest member of dolphins. They live in pods with up to 40 members. Males have a high, sword-shaped dorsal fin, and females curved. Orcas are highly intelligent, developing different hunting techniques. Orcas adapt easily to any sea temp either close to the equator or the poles.
Size of up to 10 meters.
Weight up to 10 tons.
Lifespan males 30-50 yeas – females 50-80 years.
Bottlenose Dolphins – Year-round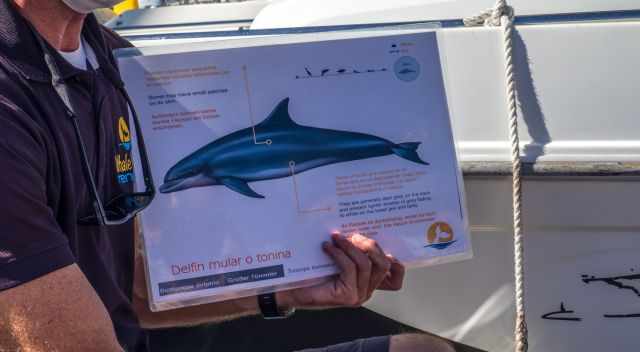 The dolphins occur closer to the coast. These dolphins have the same behaviour as the pilot whales; one eye and half of the brain is resting while the other part is active to continue breathing. 
Bigger than other dolphins; length 2-4 m.
Weight up to 500 kg
Lifespan in the wild of up to 50 years.
They dive several hundred meters deep.
Dolphins are social swimming in huge schools.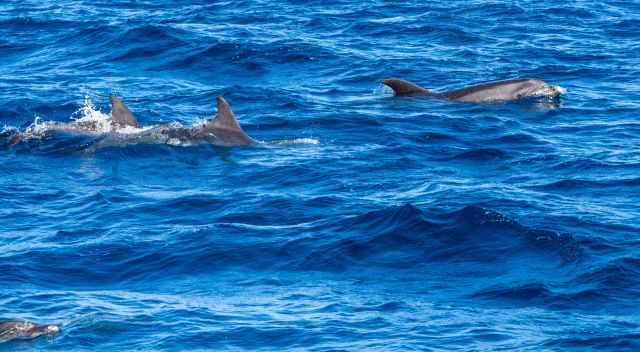 Occurring dolphin species around Tenerife are bottlenose dolphins, spotted dolphins, striped dolphins, and common dolphins.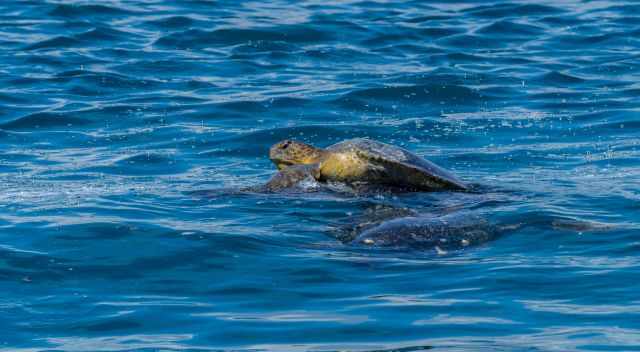 Also, turtles, loggerheads and green sea turtles occur in the Atlantic Ocean around Tenerife. Sometimes a turtle can be seen while basking (warming up) or even mating.
Packing List for the Whale Watching Tour
Water, but not too much; the smaller boats don't have a restroom available. 
Sun protection throughout the year; hat, sunscreen (my favourite to protect the face), sunglasses
Zoom Camera or and binoculars; however, some tour operators offer pictures to download after the tour.
Do you love to watch sunsets? Check out my favourite places for spectacular sunsets in Tenerife
Other Wonderful Activities by GetYourGuide
Do you want to obtain the usage right for my images? Contact me, but I will take action against picture theft.