When Is the Best Time
Lanzarote is a great destination throughout the year for those seeking sunshine, fantastic beaches, and a unique landscape. Lanzarote is one of the driest Canary Islands, experiencing precipitation in less than 20 days. Rain is more of a quick shower, and the entire amount of rain is a maximum of 150 ml. All mentioned temperatures are in the shade, so add some degrees in the sun.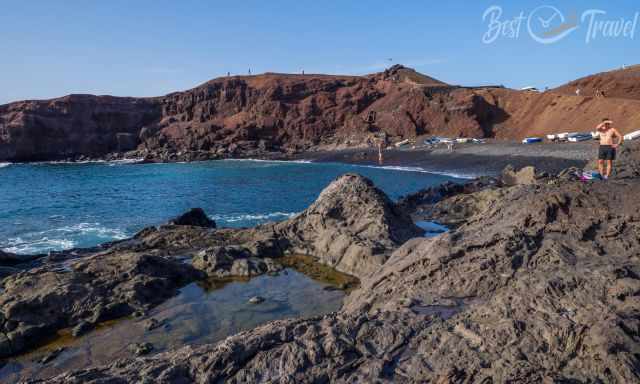 Trade winds cause a mild climate and constant pleasant temperatures the entire year. A real winter doesn't exist, feeling more like a lovely summer, but summer is not too hot because of the breeze. Average day temps are above 20°C throughout the year, excellent for sunbathing. I categorize the seasons slightly different to give you a better overview of what to expect in Lanzarote.
The peak season lasts from November to April (Easter holidays) when Europeans escape from their colder wintertime. During the school holidays in summer in July and August, Lanzarote, especially Costa Teguise, Puerto del Carmen, and Playa Blanca, get busy again like elsewhere in Europe. You only want to know the 7 Best Beaches? Check out my Table of Content below.
Weather and Sea Temperature for Lanzarote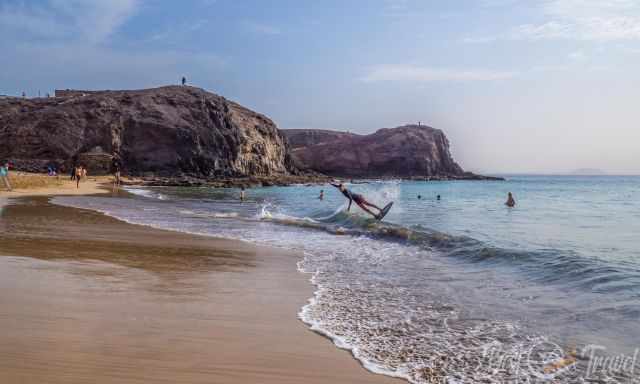 Like all Canary Islands, the south is a little warmer and drier than the north. Usually, there is always a light cooling breeze. 
Spring (March-May)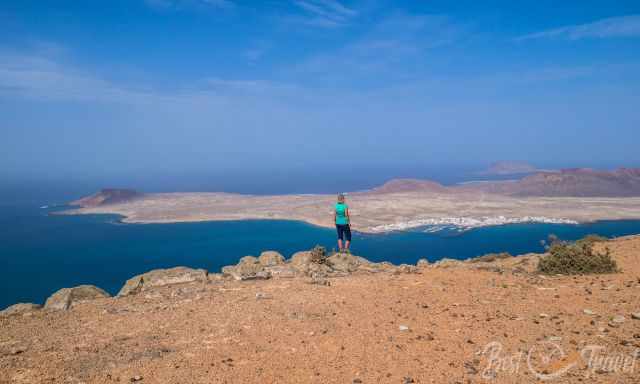 Spring is a lovely season day temps range from 23-25°C. A shower can occur in March and April, but nothing to worry about. May is already completely dry. Night temps are a little cool, around 15°C, and because of the wind, a jacket and trousers may be needed for the evening.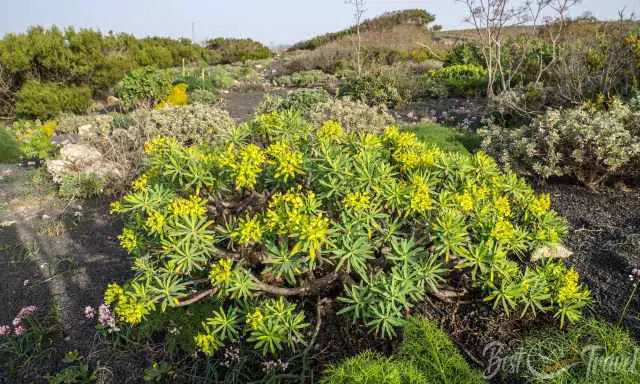 The sea is still cold from the wintertime, and the water temperature is around 18°C in March and abruptly warms up in mid-April reaching 20°C. 
Summer (June-October)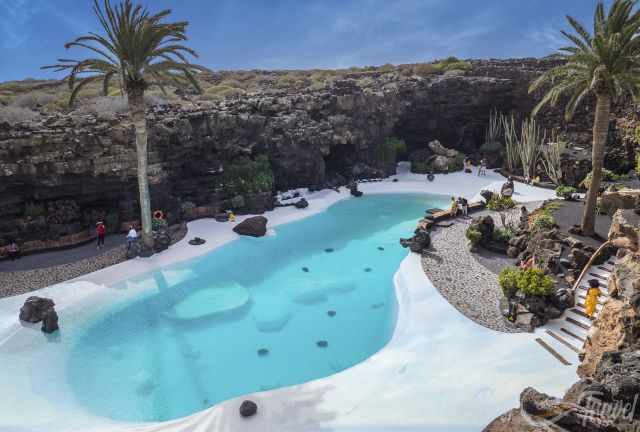 This is a real summer with day temps ranging between 26 and 29°C in the shade. Night temps are around 20°C; however, I would bring a jacket for the evening due to the wind. There isn't any rain; a first shower occurs in October. The sea temp is climbing from 21°C in June to 23°C in September and October. On scorching days the wind transports the heat from the hot lava fields, and it feels like being blown by a hairdryer.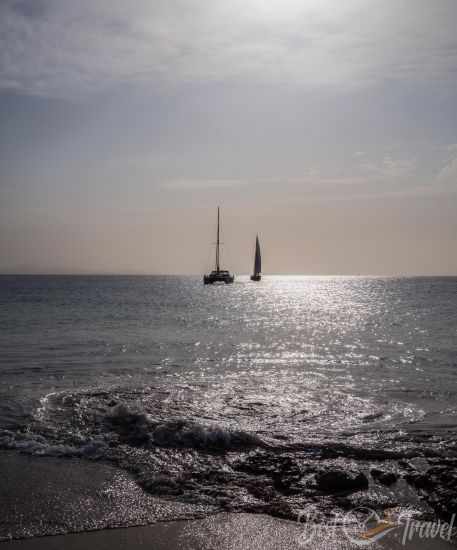 This weather phenomenon occurs for a couple of days only. In September, it is less windy. In October, the light during the golden hour is exceptional, something which you have to experience by yourself (tip by the local guide Mash).
Autumn (November)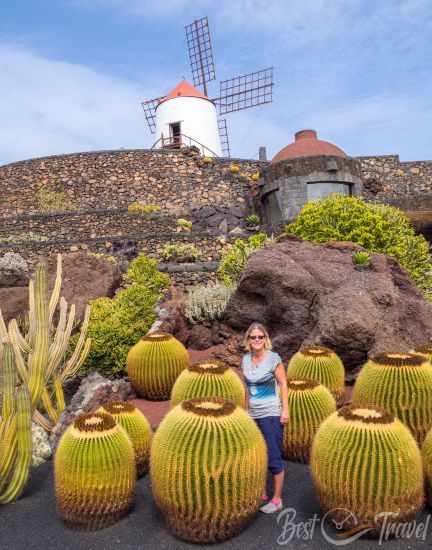 November is still warm at 24°C during the day and night temps around 17°C. A rain shower or two can happen, but there isn't any umbrella needed. The sea is still pleasant, around 22°C perfect though for swimming.
Winter (December-February)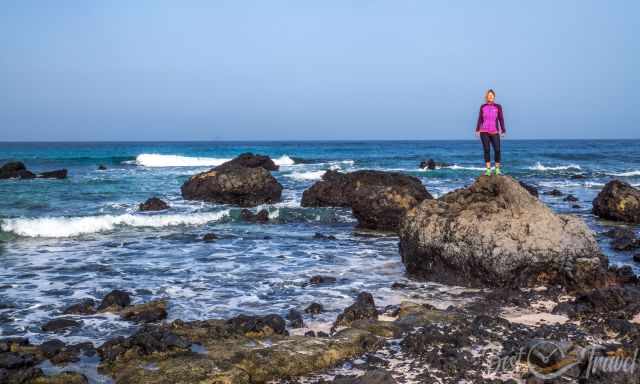 The winter is a busy season due to the pleasant temps above 20°C. It is cooler at night, around 15°C, but it is a little chilly because of the wind. I prefer a jacket and long trousers during this season. The sun shines on average for 7 hours daily. A shower can occur, most likely at the turn of the year.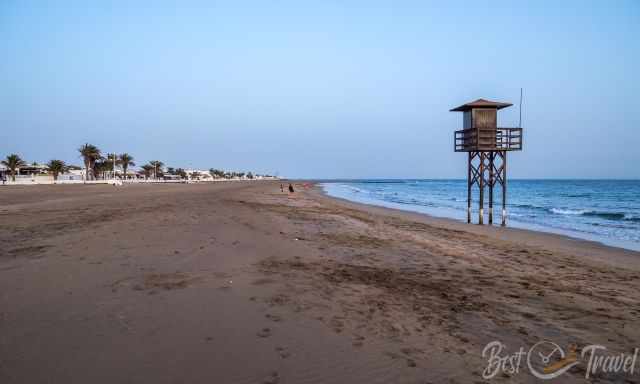 The sea temp drops below 20°C mid to end of December but is still bearable for swimming (IMO). Winter means "Calima" season; the visibility is poor due to the Sahara sand. The wind transports the Saharan haze to the Canary Islands, reaching Lanzarote first.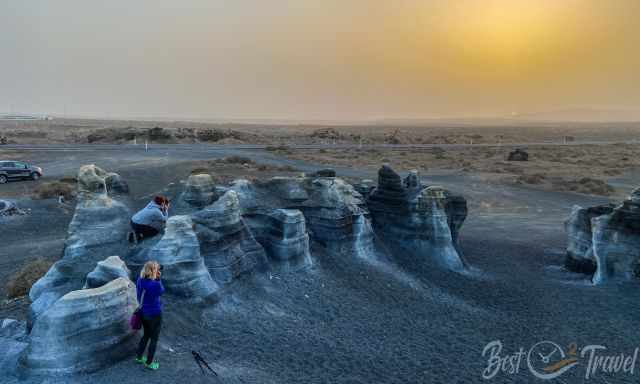 Usually, the Calima lasts for a couple of days, but 2022 was different. The calima was hovering over the archipelago for quite a while, with short interruptions from January to mid-March. Nevertheless, the temps are lovely, and due to the calima, it was a little warmer than usual.
Which is the Windiest Canary Island?
The windiest islands are Lanzarote and Fuerteventura; nevertheless, even in the winter, we enjoyed the breeze while hiking on the volcanic surface. Most beaches in Lanzarote are either wind-protected or have stony beach shelters.
3 Accommodation Tips
We visited Lanzarote already twice and we spent quite a while in Lanzarote to escape the cold winter in our home country. Before I book a hotel or apartment I always check the rating and the location. These tips are from my own experience from this winter 2022.
Costa Teguise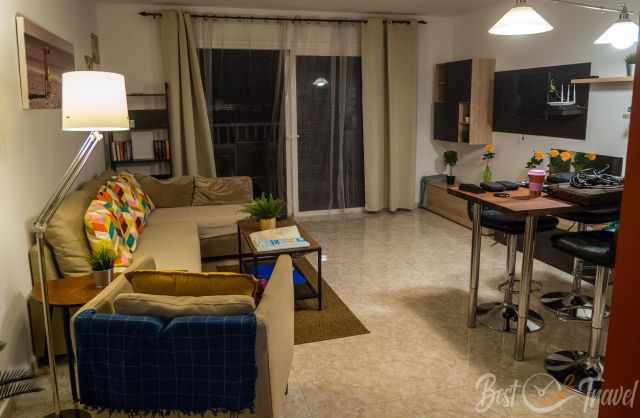 This apartment with two sleeping rooms was very well equipped, newly renovated, super clean, and spacious for a family of four. It is located in the centre of Costa Teguise, a five-minute walk to the beaches, and very quiet. It is situated on the upper level, therefore with an excellent view of the sea. We felt like being at home in this cosy accommodation.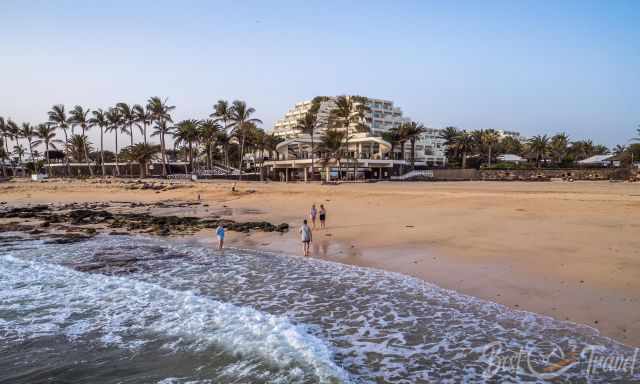 If you don't want to prepare any meal during your vacation instead of enjoying an excellent buffet for breakfast and dinner, this is my second recommendation. For me, this hotel has one of the best locations next to the sea but is within easy reach of all sights in Lanzarote. 
Playa Honda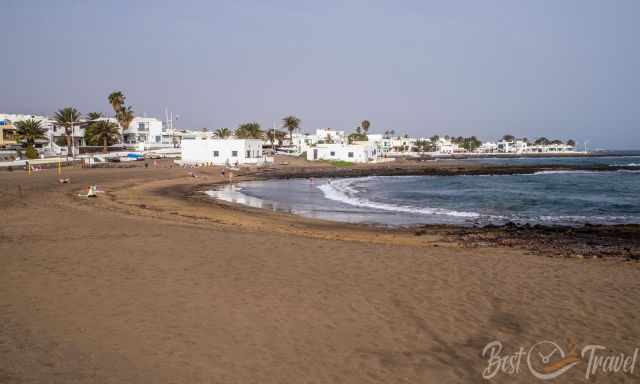 These apartments have a fantastic location within walking distance of the restaurants and bars but are not too close to get disturbed during the night. Watch the sunrise from your balcony or terrace or go swimming just in front of your rental home. They are close to the airport of Arrecife but really quiet. You even have an outdoor hot tub which I appreciated in the wintertime.
Camping Tip
The Papagayo campground will open on Easter 2022, and for the first time, it will remain open throughout the year. This site is quiet and beautiful located, and although accessible on a gravel road, only you can get there with your car or campervan if you drive carefully. Location Campground Google Maps
Location and Tips
Lanzarote
Spain

Although Lanzarote is most famous for its volcanos, the beaches are spectacular and beautiful. We didn't expect to find such awesome spots for swimming protected from the rough sea and currents in easy reach.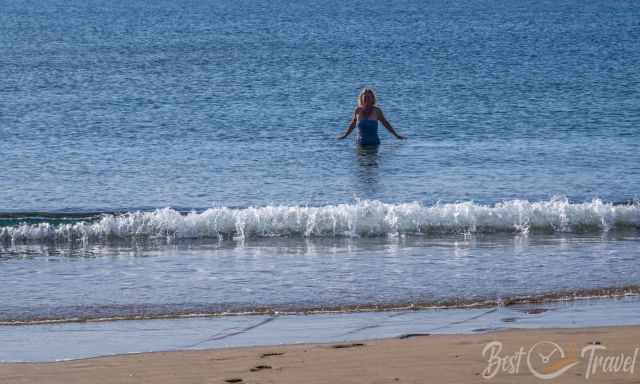 You can sunbathe and swim throughout the year in Lanzarote, also in the wintertime. These are my seven favourite spots spread around the island. Added is a Table of Content so that you can jump immediately to the beach you are looking for:
7 Must-Visit Beaches and Pools in Lanzarote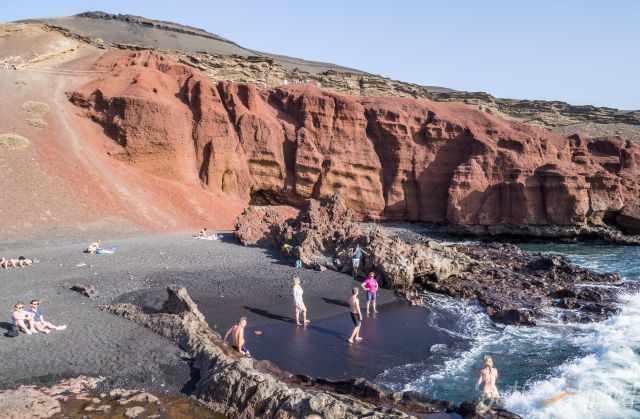 1 Famara Beach – Playa de Famara (Google Maps)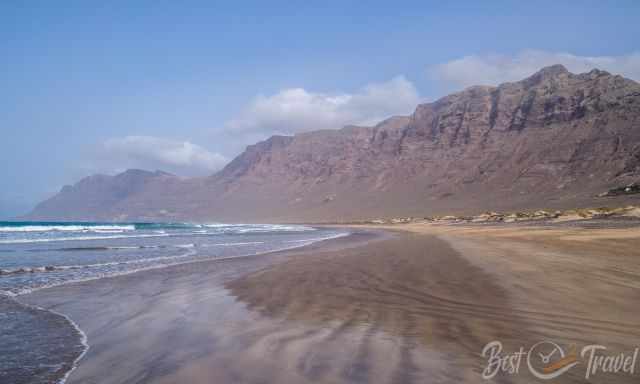 The yellow Famara Beach stretches for 2.5 km offering breathtaking views. The beach is excellent for a long walk or a bath. The high Famara Cliffs form a dramatic backdrop to Famara Beach and Dunes.
Famara is famous for its high waves and is an excellent spot for surfers. I would not recommend swimming here, but it is great fun playing with the waves in shallow water. It is quite a walk until the sea gets deep. Nevertheless, be careful with the currents.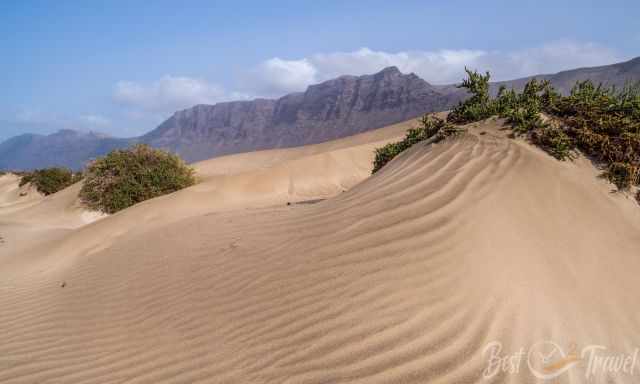 For me, the most beautiful beach; fantastic for a long walk in jaw-dropping scenery. Bring a snack or lunch and a cold beverage, and watch the surfers and kite surfers protected from the wind in stony beach shelters. Famara is also a great place to watch the sunset. Plenty of onside road parking is available, but no restrooms. There is a small supermarket just a two-minute drive to the village.
2 Papagayo Beach (Google Maps)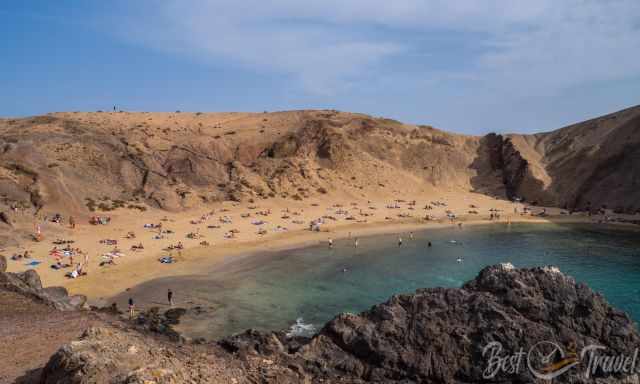 Beautiful beach with crystal clear water, also excellent for snorkelling. You would not expect such gorgeous beaches on an island where a quarter is covered with lava.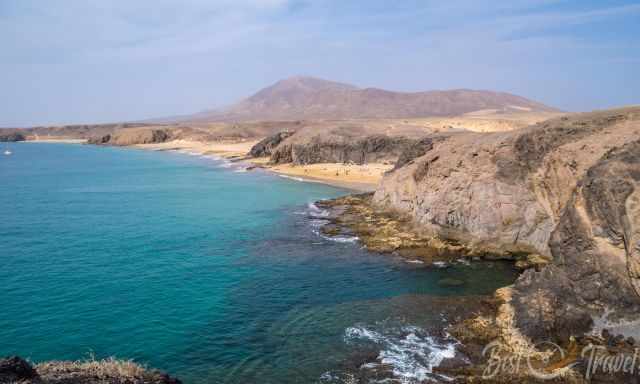 The four beaches, Papagayo, Playa Mujeres, Playa del Pozo, and Playa Caleta del Congrio, are protected from the wind in a nature park without any facilities. Swimming was fantastic but be aware of no lifeguard on duty.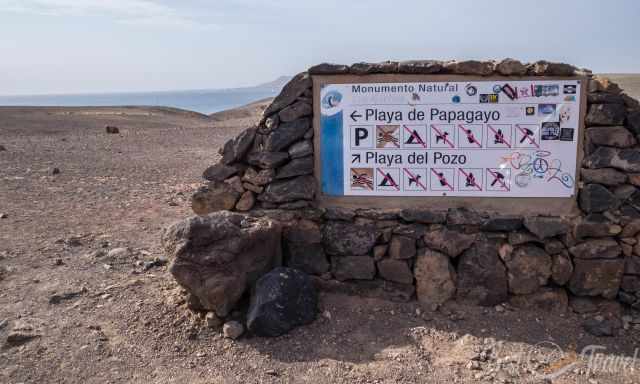 The entrance fee of 3 Euro per vehicle has to be paid at the gate; pedestrians and bikes are free of charge. It's a gravel, dusty, 6 km long road with potholes to these famous beaches. All beaches are signposted.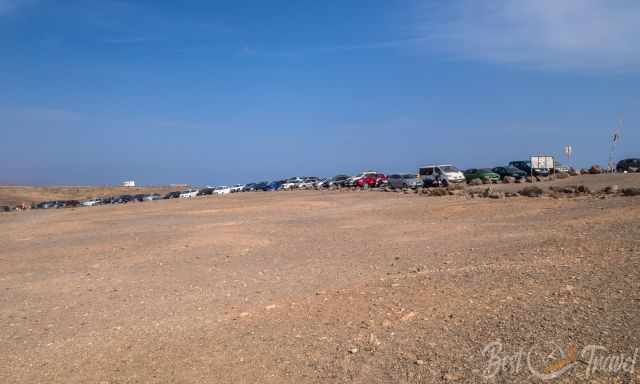 Huge car parks at each bay are available. One restaurant at the clifftop offers a spectacular view, but due to the location always busy. Restrooms are available for guests others have to pay a 1 Euro fee.
3 Malpais de Corona in the Northeast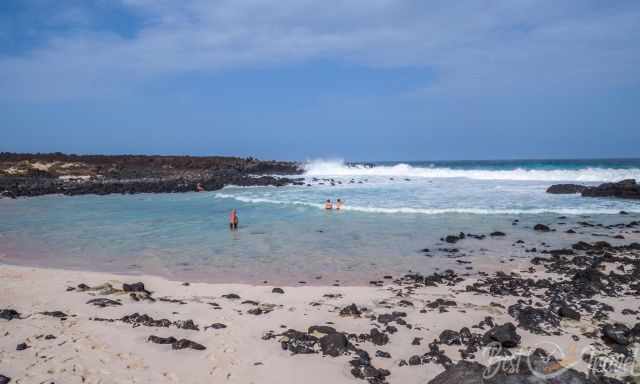 These pristine white sandy beaches protected from the sharp lava rocks look like a Caribbean paradise. The secluded beaches and bays are excellent for swimming. Huge waves crash against the outer lava formations. No facilities, limited parking for free, therefore no crowds. To be on the safe side, wear water shoes for swimming at all three beaches. 
La Caleta (Google Maps )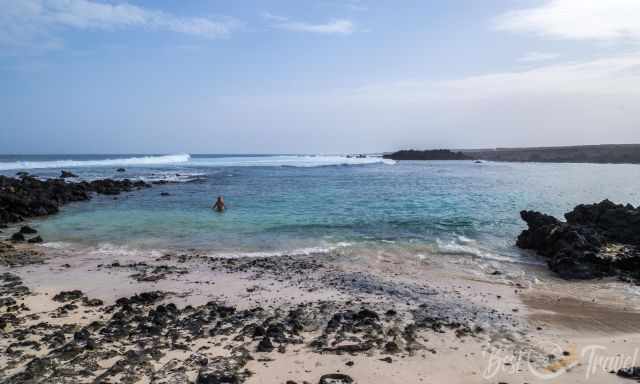 The crystal turquoise blue water and the white sand beaches are spectacular. Malpais de Corona means bead land, but it's a unique landscape with fascinating plants. It is a quiet beach and perfect for swimming—parking roughly one hundred meters before to the right.
Playa de Caleta del Mero (Google Maps Parking)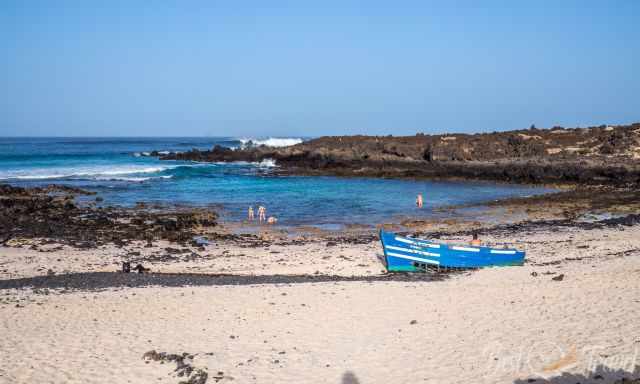 We were in awe of what a breathtaking landscape mother nature provides in this area—a picturesque beach with weathered boats and a great spot for swimming.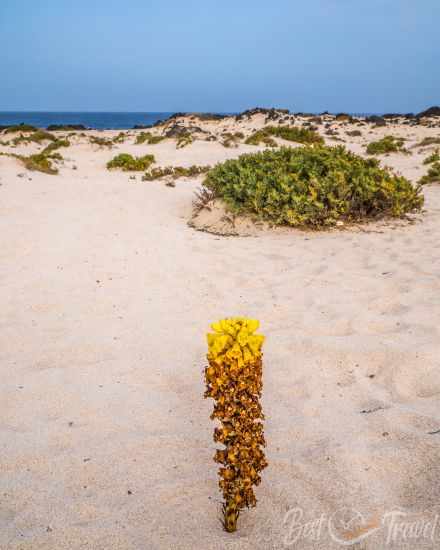 Due to the small amount of rain in the winter, different plants and flowers were in bloom in the dunes. Opposite the parking is the beach and protected bay. 
Playa Caleton Blanco Google Maps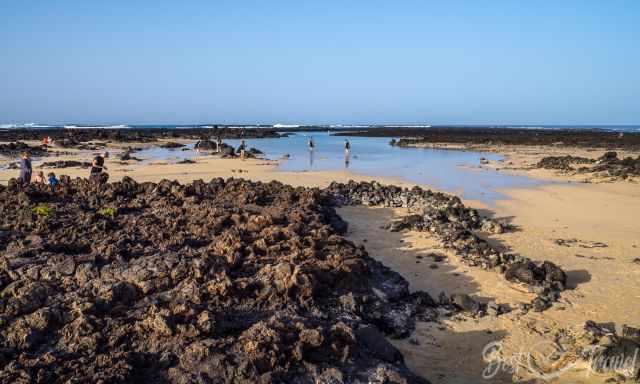 Playa Caleton Blanco is the most popular of the three and easier to access with a huge car park just in front. It's shallow water for 30-40 meters before it gets deeper.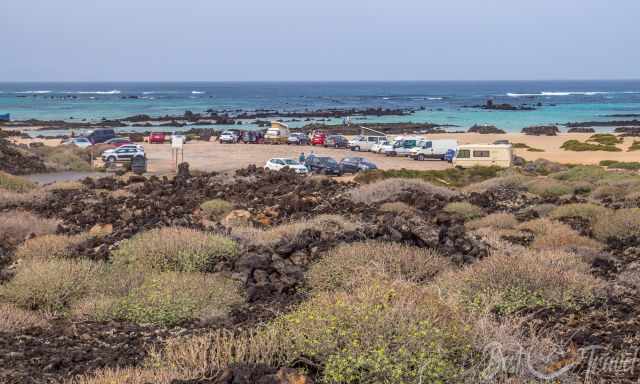 During low tide, even far more to walk. However, this beach, with its lagoon, is perfect for children. I recommend high tide for this lagoon.
4 Playa Honda (Google Maps)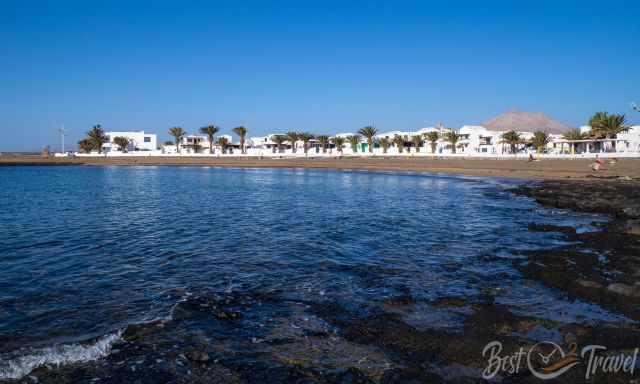 Playa Honda is ideally located in the island's centre, close to the airport but unbelievably quiet. Six clean beaches in different size from Playa Guasimeta at the Arrecife airport until Playa del Reducto are connected by a 6 km long seafront promenade that leads to Arrecife City.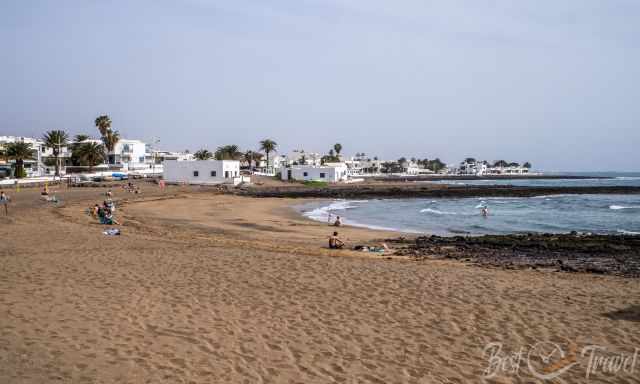 The longest stretch is Playa Honda. It is more of a residential area without the big resorts popular by locals using the promenade with great views of the sea for their exercises in the morning and evening.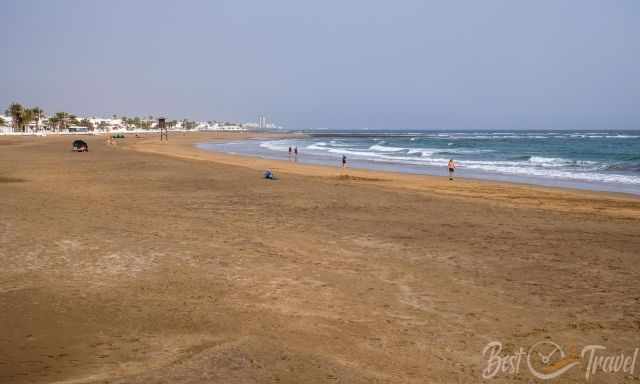 The promenade and beaches are less busy viewer tourists come to this area. The main beach Playa Honda is watched by lifeguards in the summer. During our stay in the winter, we went to Playa del Cable to swim in the protected bay daily. Showers are available at Playa Honda itself, perfect for getting rid of the sand before heading back. Along the promenade are a number of excellent restaurants and cafés.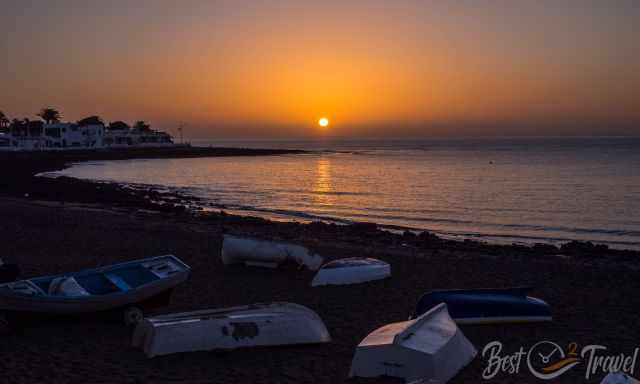 Playa Honda is also a magnificent place to watch the sunrise while enjoying your first coffee in the morning. Definitely one of my favourite places to be in Lanzarote. Sunrise and Sunset time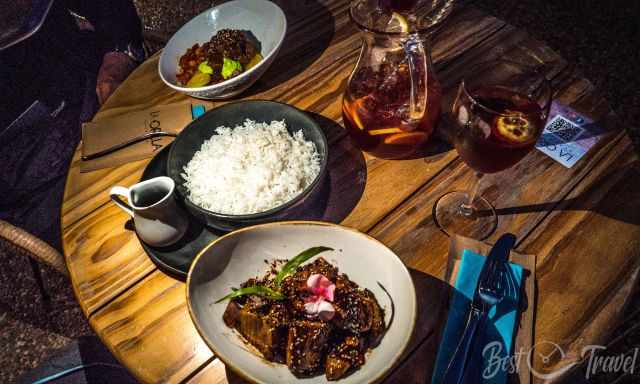 Don't miss out on La Orilla Beach Bar with its excellent fresh tuna bowl and, of course, cocktails.
5 Costa Teguise Beaches (Google Maps)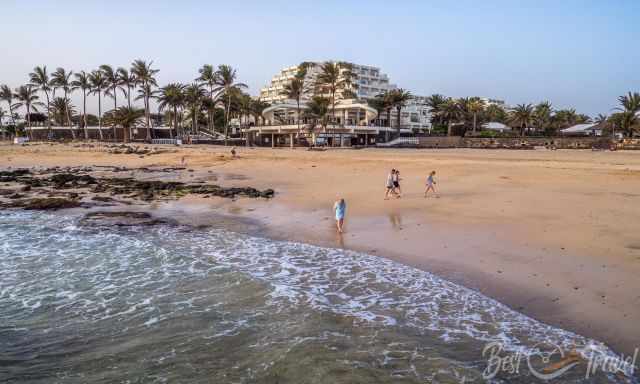 Costa Teguise is a popular destination, lively with some excellent resorts next to the sea and a long promenade. It is less busy than Playa Blanca but not less attractive, located in the middle of Lanzarote.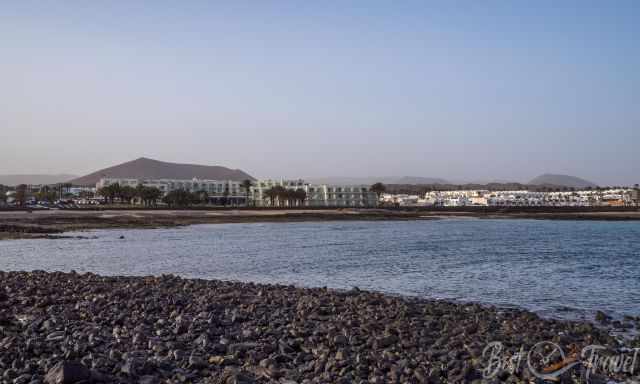 The five picture-perfect golden beaches are excellent for swimming. The main beach is Playa de las Cucharas with lifeguards on duty, and excellent for children.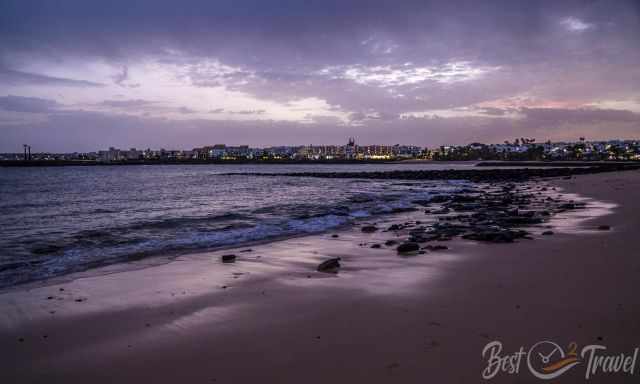 Restrooms and showers are available. Lots of cafes, shops, and bars are along the strip. It is the third-largest tourist area and is perfectly located to explore the main tourist attractions of Lanzarote.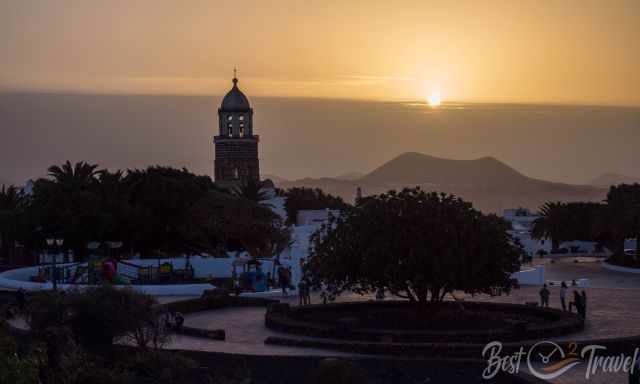 Costa Teguise was developed on purpose as an alternative to the south and to host more tourists in Lanzarote in the 70s and '70s, a ten-minute drive from Teguise.
6 Playa del Janubio (Google Maps)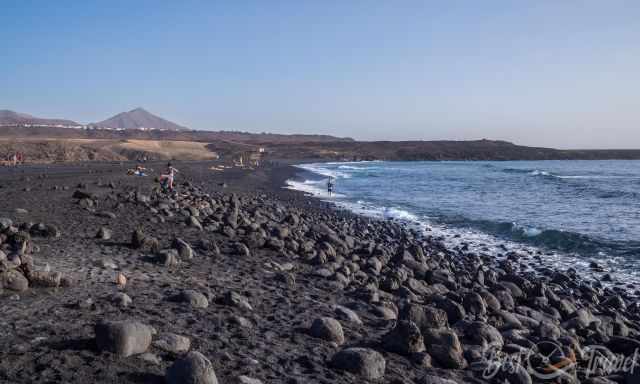 This is a small black pebble beach near the desalination "salinas". It is a beautiful spot to watch the sea and sunset. Olivine stones occur here on the pebble beach.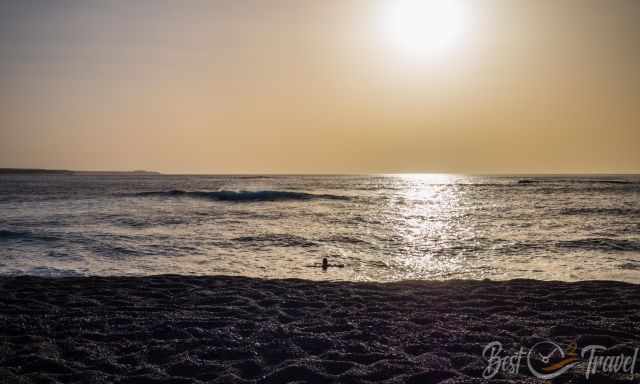 It is not safe for swimming due to the currents but excellent for a bath. Also, water shoes are essential here because of the bigger rocks in the sea. A huge gravel car park is available but without any facilities. Check out the sunset time for Janubio, and you also get to know when it gets dark in Lanzarote.
7 Los Charcones -  Natural Pools (Locus Pro)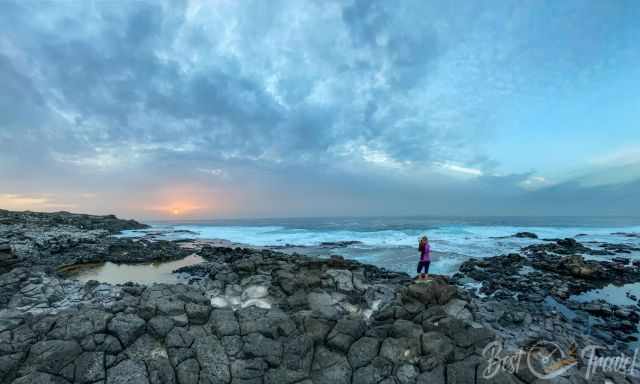 The pools are situated in the southwest, half an hour's drive from Playa Blanca. Watching the sunset at Los Charcones or swimming in the natural pools is otherworldly. Swimming or, rather, taking a bath in one of the pools is safe during low tide only on days with a low swell. Tide Times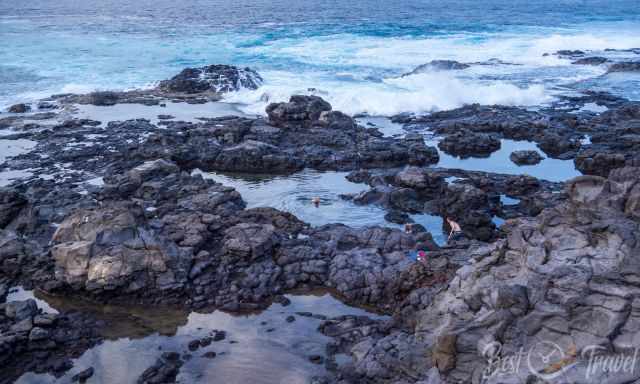 This is not a beach and definitely not recommended for children. Getting here by rental car is tricky on this bumpy gravel road. We had a jeep; therefore, we could reach this awesome place easily. Google is not updated and leads you the wrong way. These are one-way roads, and you have to make a U-turn on LZ 2 north to get back to the south and the access road.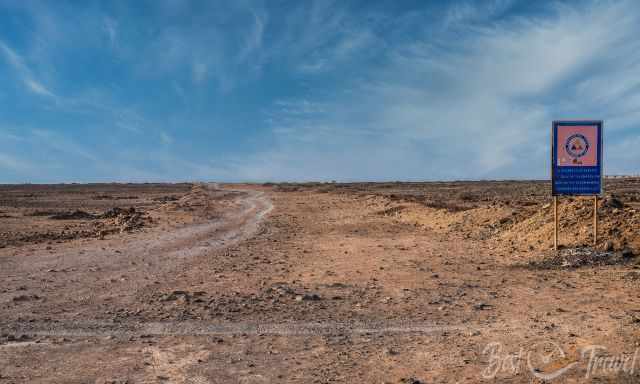 Entering these gorgeous natural pools is at your own risk. There are lots of pools along the coast. Even if it doesn't look dangerous, the waves are treacherous. The wind was too strong during our visit, and the waves were sometimes too powerful, smashing into the pools.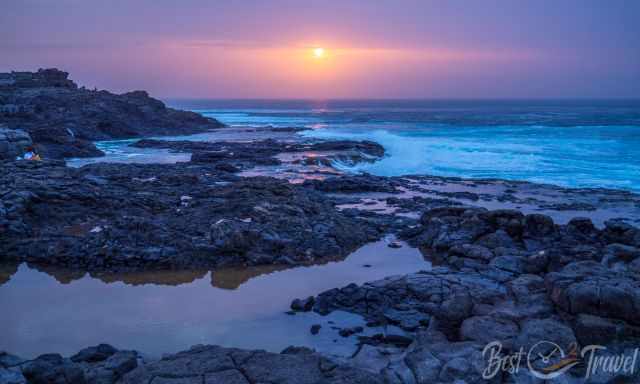 Proper shoes are essential for climbing over sharp volcanic rocks to the pools. We sat here for hours, watched the spectacular scenery and enjoyed the breathtaking sunset. For me one of the most fascinating places, especially on a windy day and on top of not being crowded due to the remote location.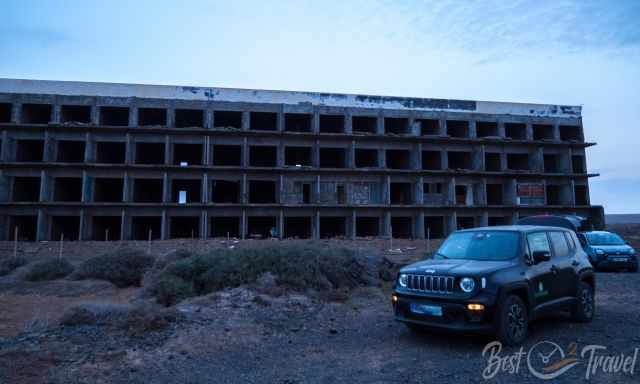 Parking alternative at the desalination plant and a 3 km – 45 minutes long walk. (Locus Map)
Top Tip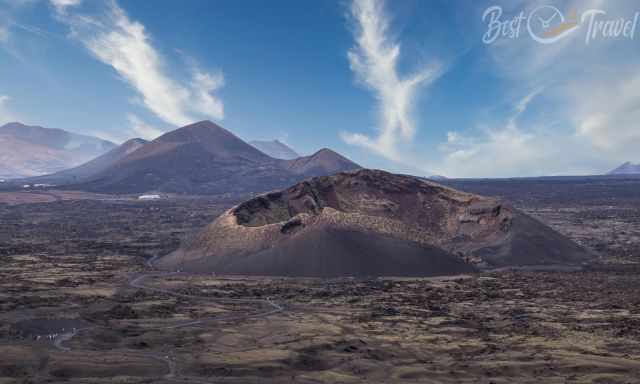 Do you want to obtain the usage right for my images? Contact me, but I will take action against picture theft.
These are my recommended tours via GetYourGuide with 24 hours advance cancellation policy. Thx for booking via my website! With your support, I am able to provide all information first-hand. Tour prices are at no extra cost!