When Is the Best Time
Experience the immense power and energy of volcanic activity that occurred 13-16 thousand years ago in Lanzarote. Go on a journey into the lava tube of Monte Corona one of the longest existing lava tube channels on earth.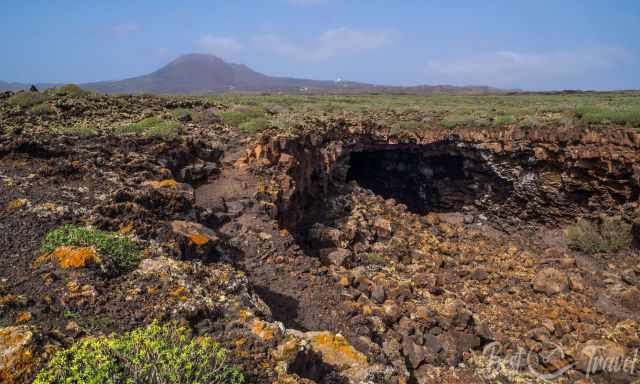 This cave emerged at Corona Mountain and ends deep in the sea. It is more than 8 km long but has several entrances. At some points, the top of the cave collapsed, giving way to this pitch-dark world. The two famous caves of this specific lava tube are Cueva de Los Verdes and Jameos del Agua. Both are beautiful and fascinating, which I describe here in detail, but there is a third and more exciting entrance.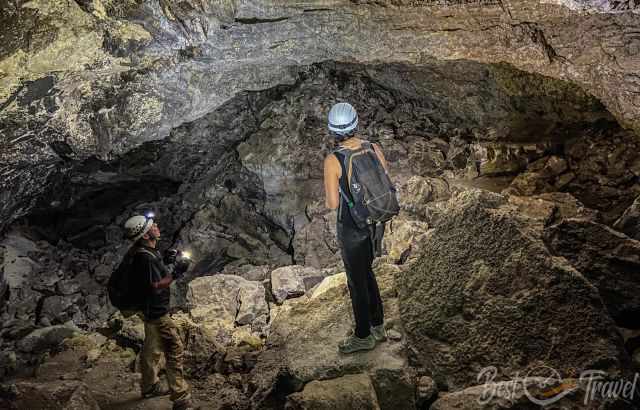 We were seeking the real cave experience in a very small group of such a lava tube. Entering the fascinating world to feel the real depth of Lanzarote is memorable. Learn more about the history of this unique island. I give you an overview of three different ways to experience the hidden beauty of Lanzarote. Let yourself be enchanted by this unique Canary Island and get hooked like we are now. Check out my Table of Content below.
Guided Tour to Timanfaya and Caves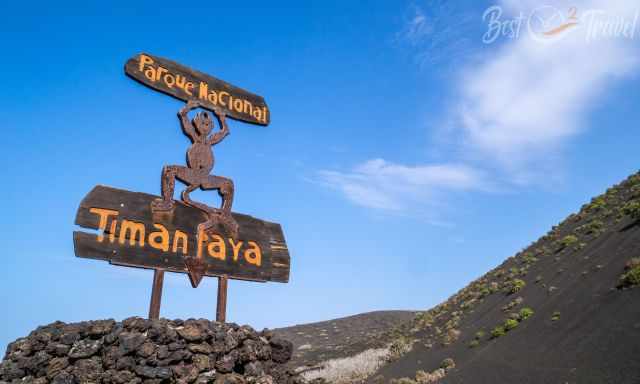 These are my recommended tours via GetYourGuide with 24 hours advance cancellation policy. Thx for booking via my website! With your support, I am able to provide all information first-hand. Tour prices are at no extra cost!
Location and Tips
Canary Islands, Lanzarote
Spain

Lanzarote has 156 volcanos and more than 300 craters, the reason for many caves - lava tubes spread around the island. Lanzarote is one of the most fascinating islands, not even above but also underneath the ground. Check out my Table of Content to jump immediately to what you are looking for.
What Causes Lava Tubes?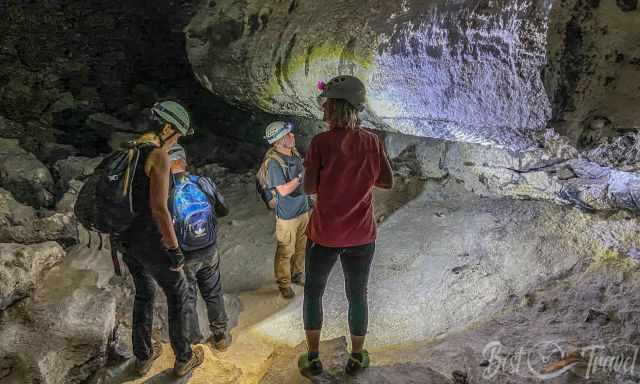 A lava tube gets formed when lava flows downhill from a volcano. The lava cools down as soon as it is exposed to the air, albeit inside, the lava flow remains hot and continues flowing. The surface of the tube is completely solidified, and when the lava flow stops, a lava tube - a cave is left.
Cueva de Los Verdes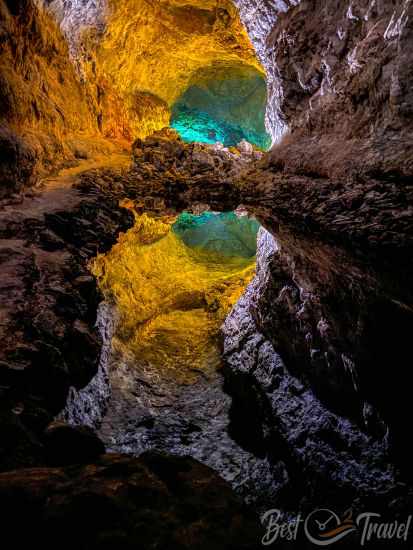 This is a Must-Do in Lanzarote if you are not claustrophobic. It is all about illusion, especially in this cave. The lighting is done pretty well; a hole just 20 cm deep appears like a depth of hundreds of meters. The highlight of this fascinating multilingual guided tour comes in the end. Markus and I were blown away by the imagination and beauty.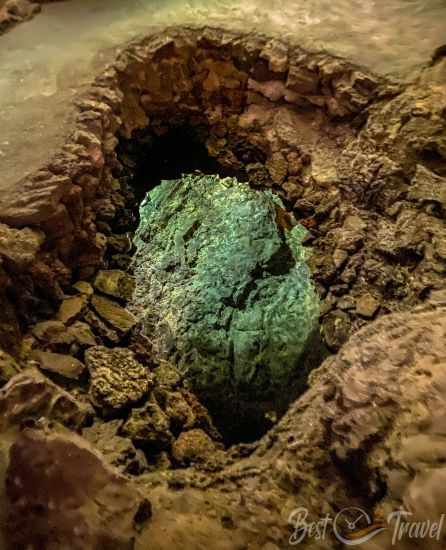 We did not want to leave just to soak in the fascinating scenery. The multilingual guides do an awesome job giving everybody plenty of time to enjoy and explain from where the cave originates. There are concerts held, and a grand piano is well-placed in this cave. Listening to a concert must be an outstanding atmosphere and sound.
Opening Hours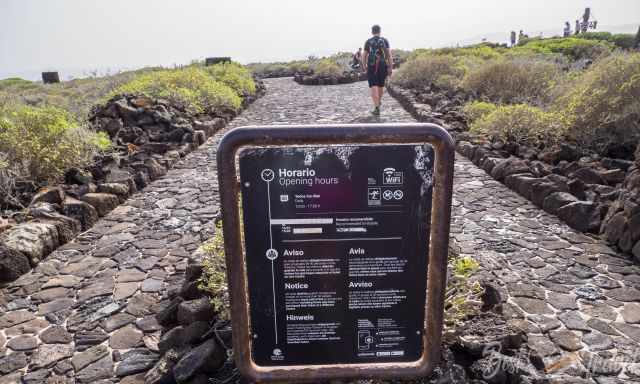 10 am – 5 pm, but the last tour starts around 4 pm. If you arrive after 4 pm, you may have missed the day's last tour.
Guided Tour Duration: Roughly 50 minutes – length less than one kilometre.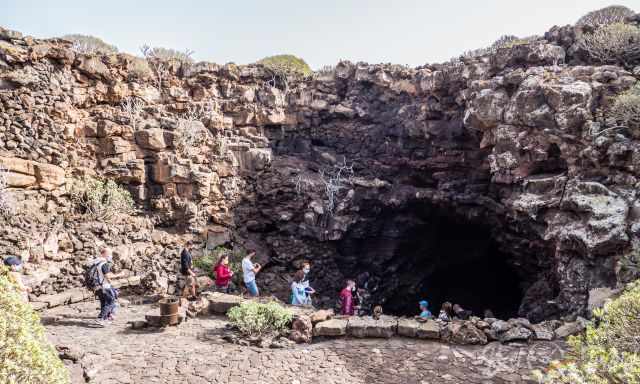 Waiting time, if it is not too busy, is roughly 15-20 minutes. If there is a cruise ship or even two in the harbour, the island is overrun and the first and the last tour of the day is less crowded, and the only ones I recommend
Entrance Fee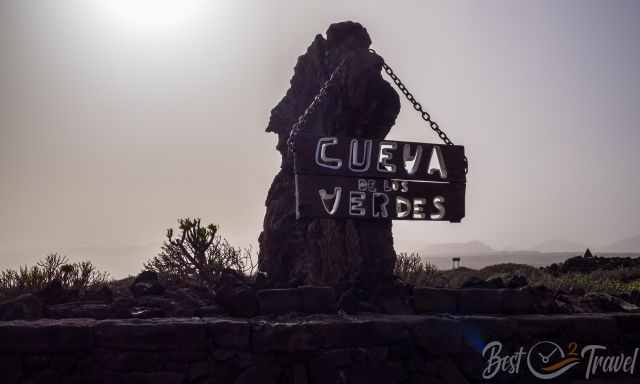 10 Euro for adults – I recommend a combination ticket for 3, 4 or 6 popular sights in Lanzarote. Children pay half of the price.
3 Sights for 23,50 Euro
4 Sights for 29,00 Euro
6 Sights for 35,00 Euro
Free Parking and restrooms are available
History of Cueva de Los Verdes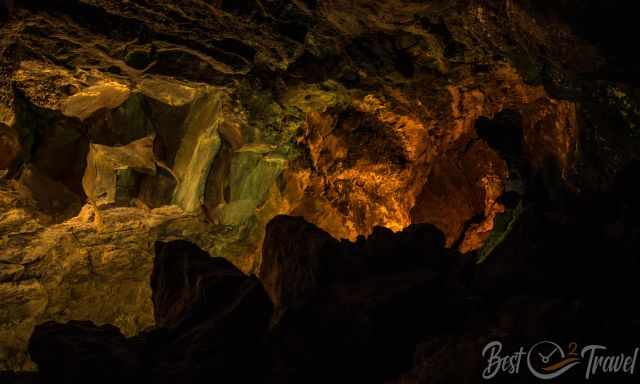 It is one of the collapsed entrances of the lava tube of Montana de Corona. It was used as a hideout by the residents seeking shelter from pirate attacks in the 16th and 17th centuries.
In the 1960s, Jesus Soto, an artist from Fuerteventura, made plans to remove the lava rocks inside and create a path making a part of it accessible to the public. Later he is working in close collaboration with Cesar Manrique. 
Jameos del Agua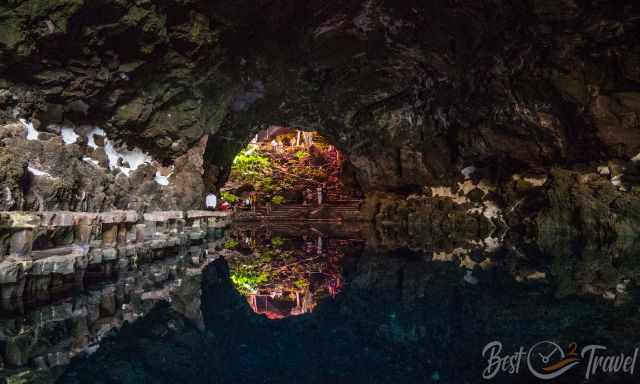 What a stunning and creative piece of art embedded in this ancient collapsed lava tube. There are concerts held, I assume, with an outstanding acoustic. Take your time and enjoy the beauty of this place which was built in 1960. You easily spend an hour here.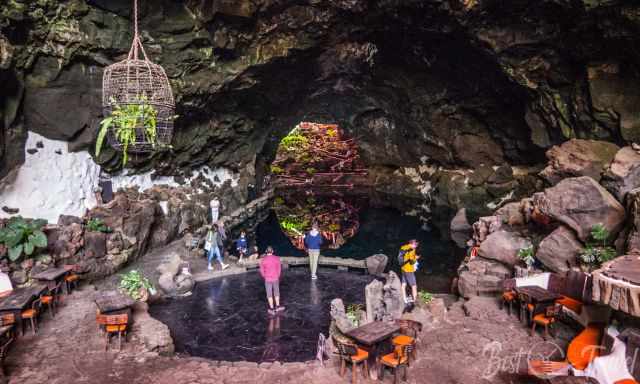 There are two cafés inside; one overlooks the "crab pond" and the other the Cesar Manrique pool and exit of the cave.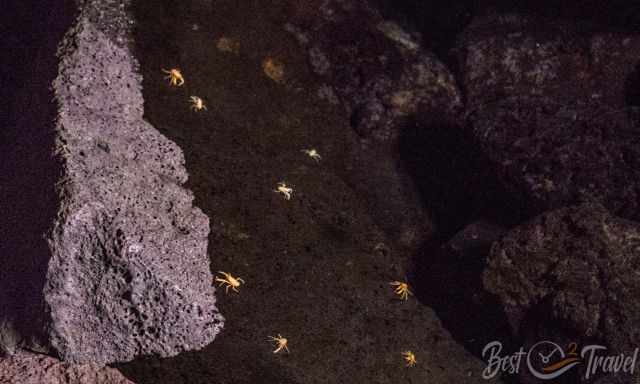 Inside the lava channel is a lagoon full of white spots; endemic blind albino crabs. The crabs are white and blind because of the missing light. 
Opening Hours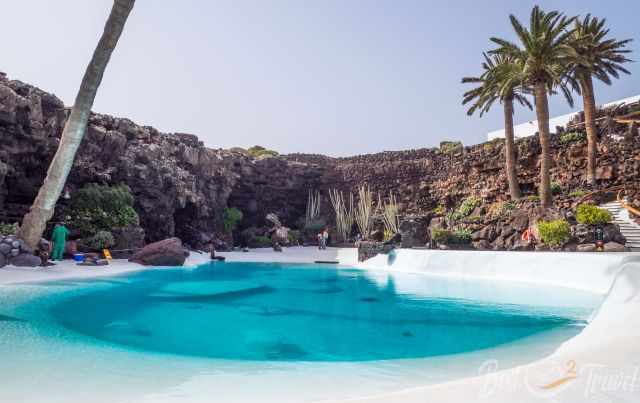 From 10 am – 5.15 pm - last access
Entrance Fee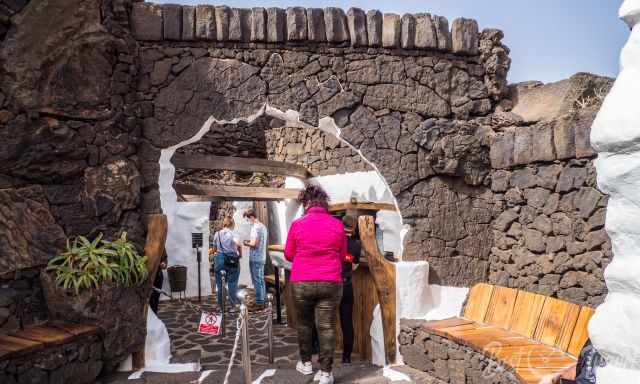 10 Euro or buy the Combination Ticket, which is mentioned in detail above.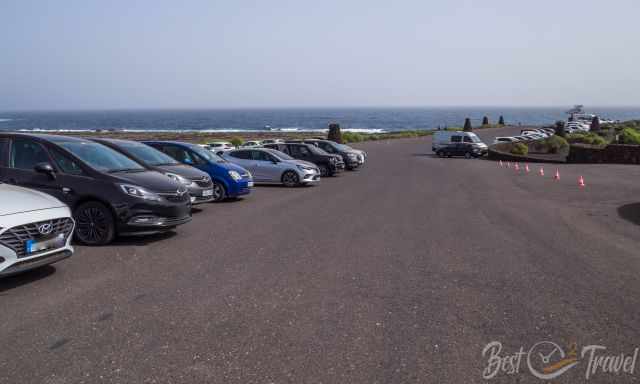 Free huge parking area and clean restrooms are available. It is one of the busiest places in Lanzarote. Arrive early when they open or around 2 pm lunchtime to avoid lining up.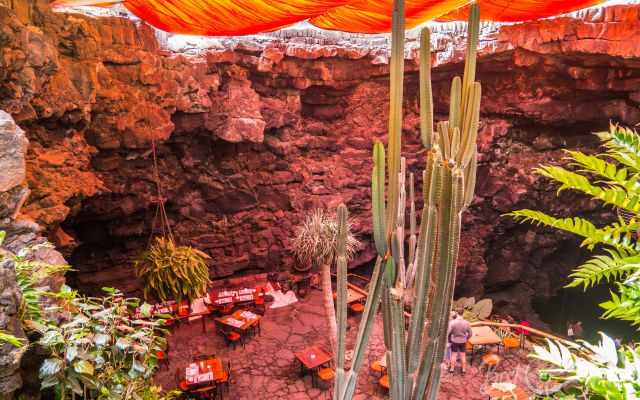 Dinner here at Jameos del Agua must be amazing but it has to be booked far in advance.
Guided Cave Exploration in the Malpais de Corona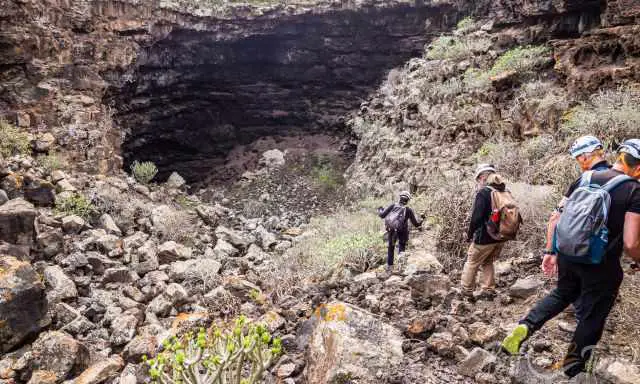 The Malpais de Corona is located in the northeast of Lanzarote. Malpais means bad land, but it is the opposite IMO. We entered the fascinating underground world with Mash and Cordula, two wonderful tour guides. We walked and climbed in a completely different world for more than 2 km –roughly 3 hours through an estimated 13-16 thousand-year-old lava channel.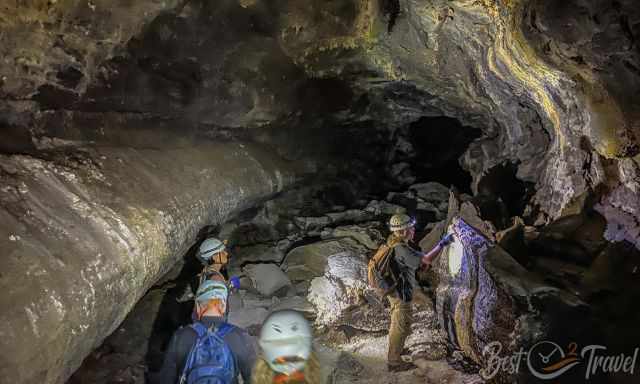 The lava tube ends far out in the sea, which is impossible. As soon as the lava hits the ocean, it cools down and solidifies. Therefore, the sea must have been lower when Montana Corona erupted and the lava tube emerged.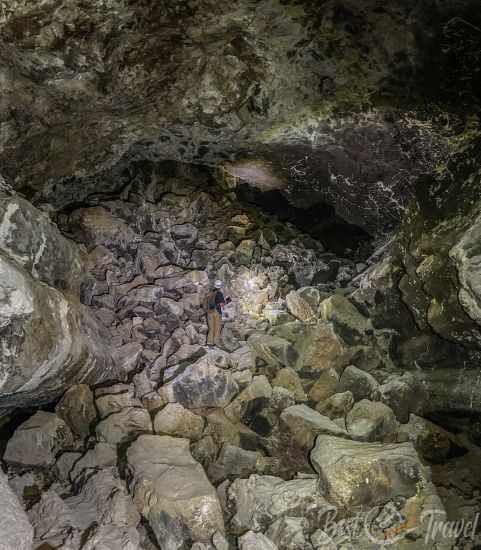 Because of the age and the constant microearthquakes, roughly 2000 daily, lots of rocks are along your path through the cave. Wearing a helmet is essential on this tour.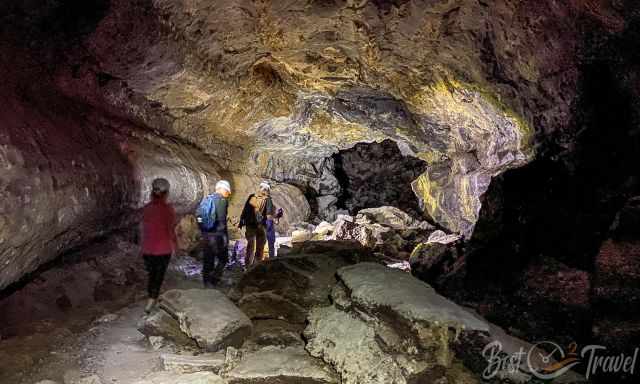 We hiked through this cave and a 200-year-old one from the last eruption in 1824. They look entirely different through weathering caused to the little amount of rain that seeps down and the microearthquakes.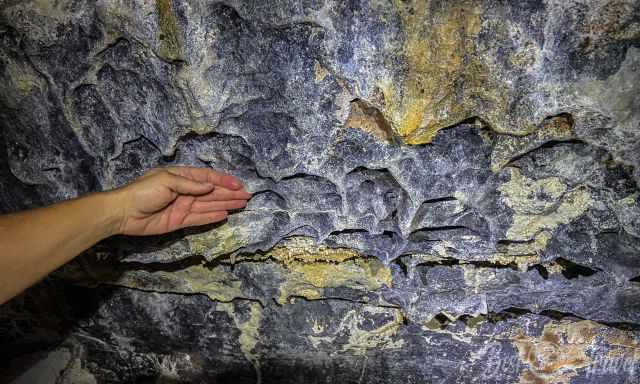 We marvelled at the different rock formations, the colours, just everything.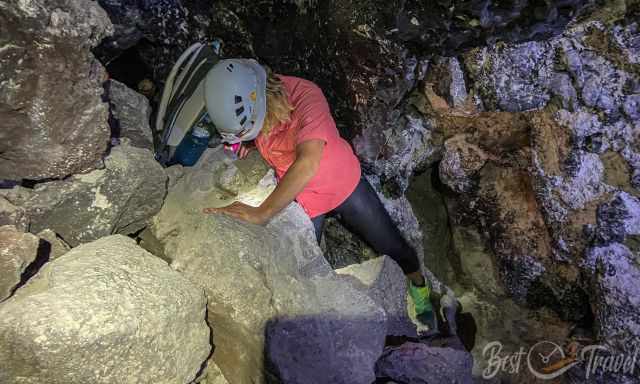 Climbing a rockslide up and through a narrow gap, the only way to continue is part of this experience. If you are claustrophobic, don't think about this cave adventure, but everybody else should go on to this exploration.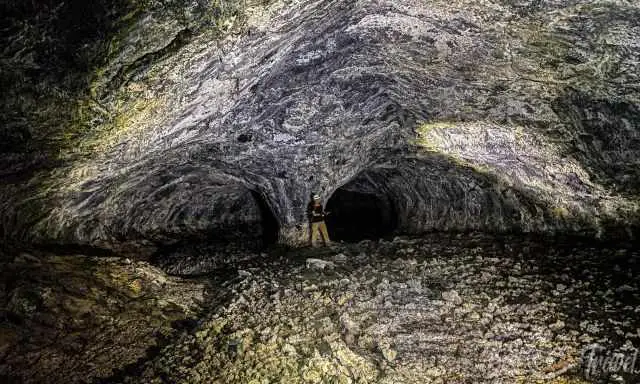 These guides do an excellent job acting responsibly towards their guests. Before you can book this tour, they check your skills and ask you to take part in a short tour through a broader and much younger cave. Also, this tour was outstanding.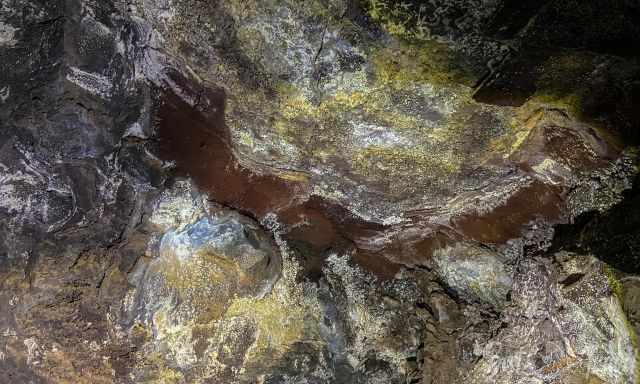 It is not recommended to go into this cave on your own. It is tricky to find the way through it; a helmet and torch are essential. We enjoyed the company of Codula and Mash and all their explanations. You can find more about these two specific cave tours on Lanzarote Feeling, which I highly recommend. 
These are my recommended tours via GetYourGuide with 24 hours advance cancellation policy. Thx for booking via my website! With your support, I am able to provide all information first-hand. Tour prices are at no extra cost!