When Is the Best Time
We visited the beautiful island of São Jorge to see the majestic Pico from the south side and to explore the "Fajãs". After only one day in São Jorge, this island had already done it to us with its beauty, sheer cliffs, lush vegetation, and impressive night active birds.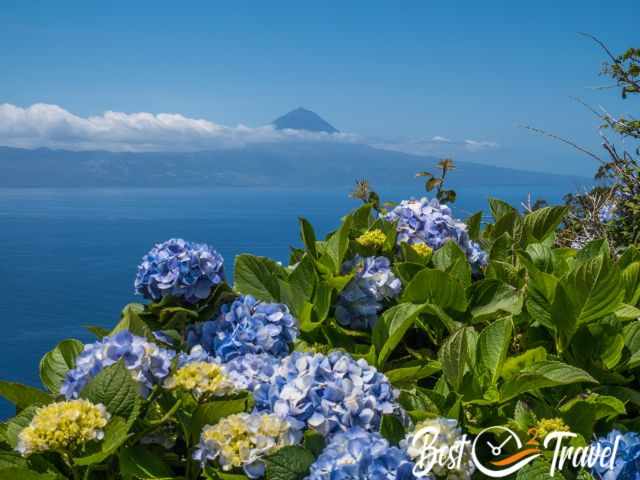 São Jorge is famous for its Fajãs, tiny headlands. There are estimated 50 to 70 Fajãs on the 53 km long and a maximum of 7 km wide island. Crossing the whole island takes only a little more than an hour's drive. 
Fajãs and Natural Swimming Pools of São Jorge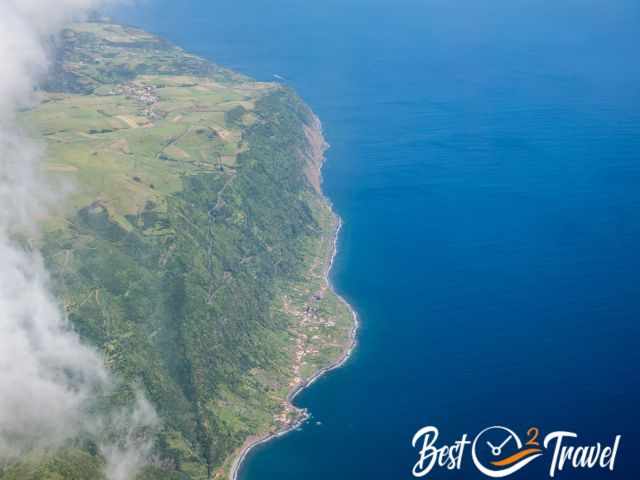 The Fajãs of São Jorge are unique and occur on this island. Fajãs are picturesque tiny coastal plains. The long-stretched silhouette of São Jorge is formed from a string of many volcanic cones. Instead of forming calderas, as on the other Azorean islands, the thousands of years of volcanic eruptions have caused the lava to flow directly along the steep slopes into the sea, cooling rapidly at the sea's surface. Erosion processes, such as the sliding of large debris masses or entire rock faces, had also contributed to the formation of isolated fertile plains.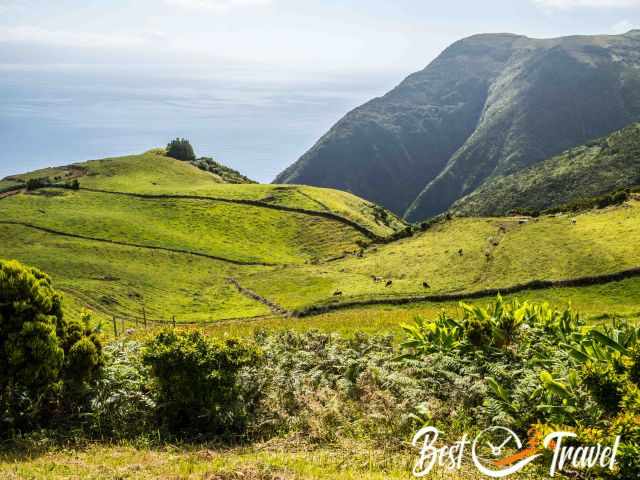 In the 15th century, São Jorge was mentioned for the first time when settlers inhabited the eastern tip of the island. The flat, small coastal plains made the settlement in São Jorge possible. It also turned out that these flood plains were extremely fertile with their own microclimate. However, the steep slopes formed an impossible wall to overcome.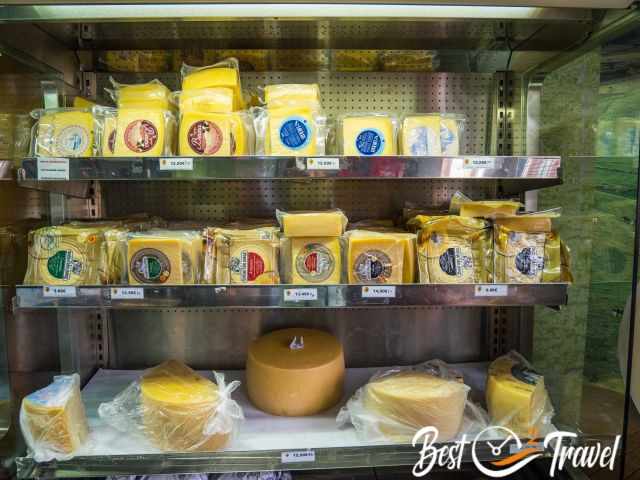 Almost everything planted on these Fajãs thrives here - coffee, wine, figs, bananas, fruits, and even tobacco. But there were no connecting roads; only boat transport to get from one Fajã to another possible.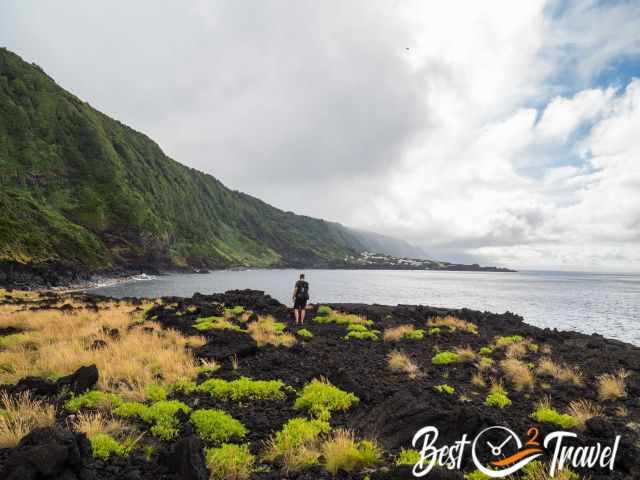 The first inhabited Fajãs were abandoned after heavy earthquakes in 1757 and later due to the lack of roads and electricity. With the immense New Year's earthquake in 1980, most of the houses got destroyed. Also, the magnificent World Heritage town of Angra do Heroismo and many other parts of Terceira and Graciosa were destroyed.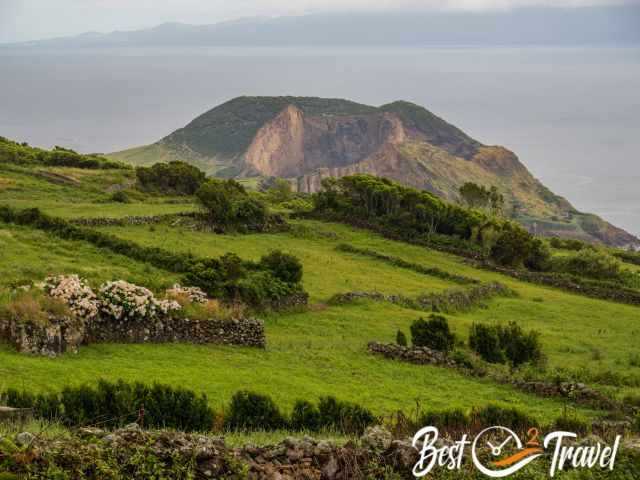 Today, some of the most beautiful Fajãs of São Jorge can be reached by car, others only on foot or by 4 WD. What they have in common: they offer beautiful sights to fall in love with.
Don't miss out on my other Azores Islands Guides and our YouTube Short about Sao Jorge.
Fajã dos Cubres - North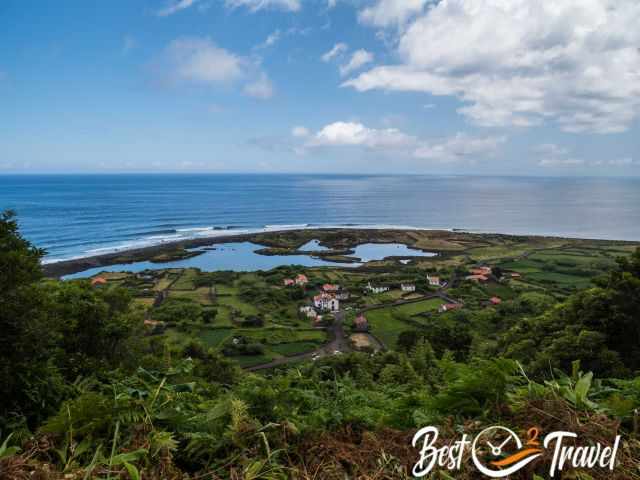 The Fajã dos Cubres, with a few houses, is also one of the most beautiful Fajãs in São Jorge. The Fajã dos Cubres can be reached by car via a narrow winding road from the ER1 in the north of the island. We went here by car and started our hike.
Fajã da Caldeira de Santo Cristo - North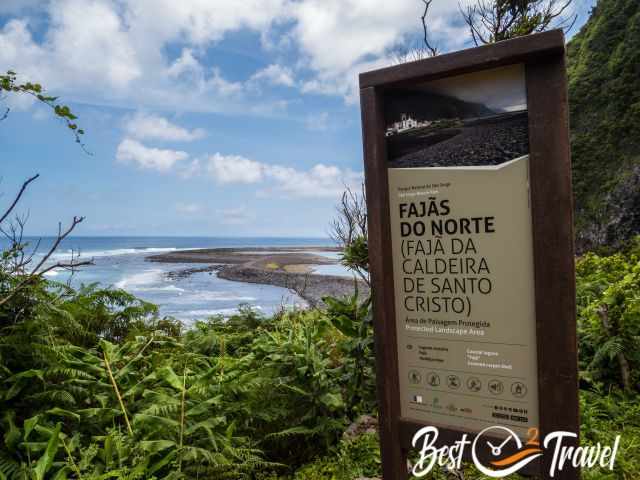 A beautiful hike with great views of one of the two famous Fajãs, but the picture which you see everywhere was taken by a drone. The trailhead is at a higher elevation at Serra do Topo.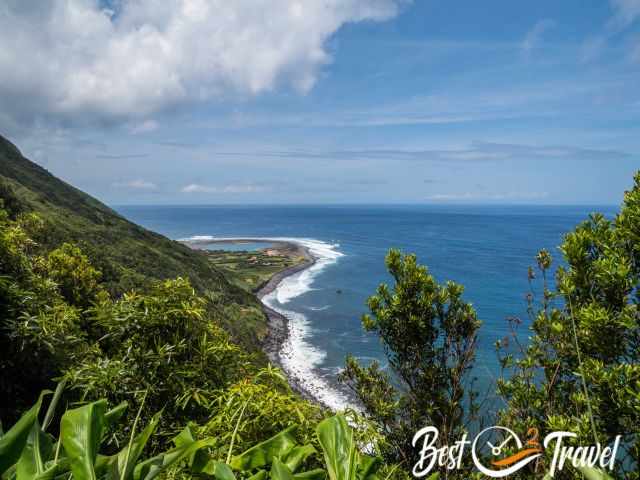 It is a steep descent to Fajã da Caldeira de Santo Cristo and Fajã dos Cubres. We hiked this trail, but not as most visitors do from the Serra de Topo; instead, we started our hike from the Fajã dos Cubres until the one and only viewpoint through the lush forest and back. Hiking Map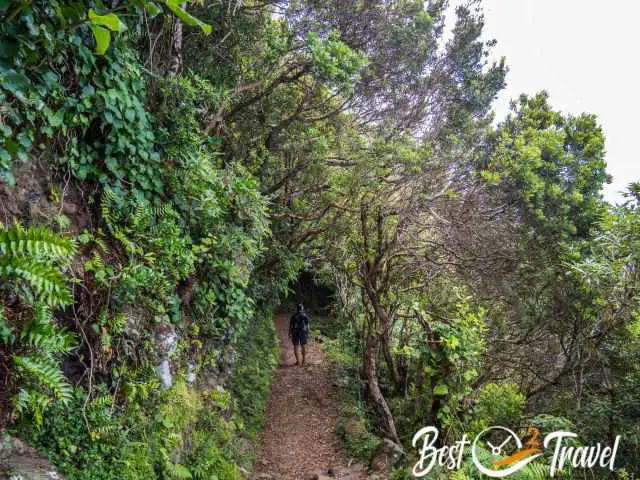 If you wish to hike the entire trail up or down, you depend on a taxi shuttle. However, at the trailhead are several taxi numbers mentioned or ask your host whom he recommends.
Trail length 10,7 km/ 6,7 miles
Elevation gain of 681 m/ 2,234 ft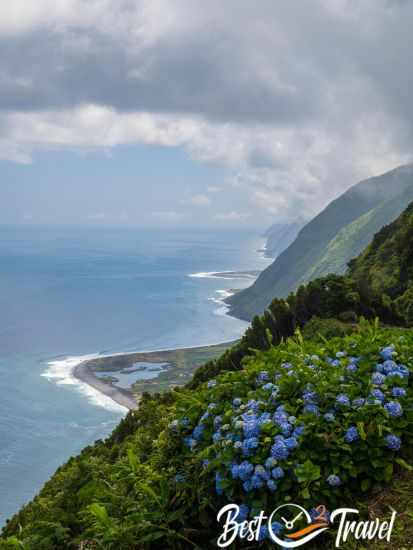 Tip for those who cannot hike this difficult track: You already get a spectacular view from the first viewpoint to the left shortly after you take the road to Faja dos Cubres.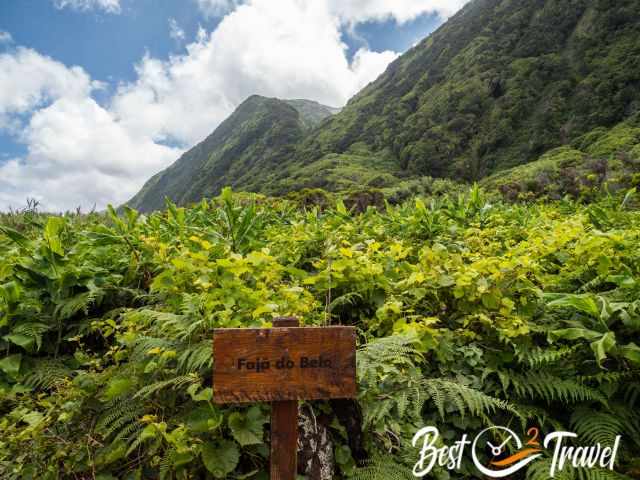 The best ameijoras, my favourite clam, also come from this lagoon but are prohibited from harvesting from May 15 to August 15.
Fajã da Ribeira da Areia - North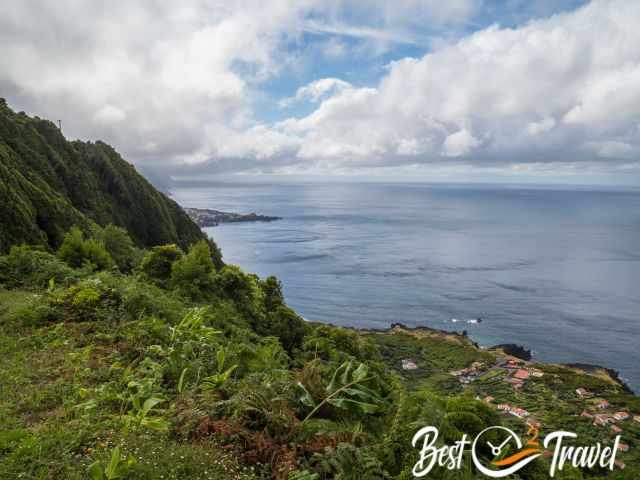 This is our favourite one in Sao Jorge, close to Norte Grande. The last section of the road is officially a gravel road, but most were tart recently. We were prepared to hike the last part, but we got easily to the Fajã and volcanic rock arch.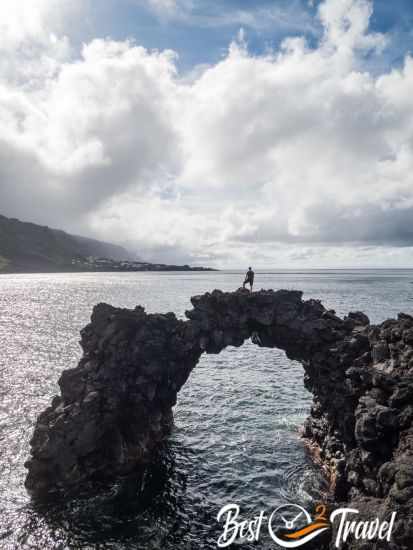 This Fajã is one of only three in the north, which were developed by basaltic lava flow. Our main reason for coming here was Arco da Fajã da Ribeira da Areia. This lava rock arch is a spectacular sight, and the entire landscape is breathtaking.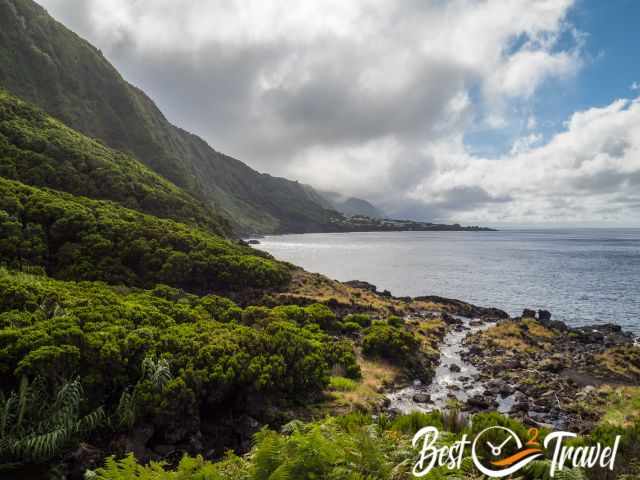 You get fantastic views of the sheer lush green walls, an immense waterfall and this lava arch. We were amazed by the beauty and enjoyed the scenery, which reminded us of Kauai in Hawaii. This spot is not well-known, and my top tip!
Fajã do Ouvidor - North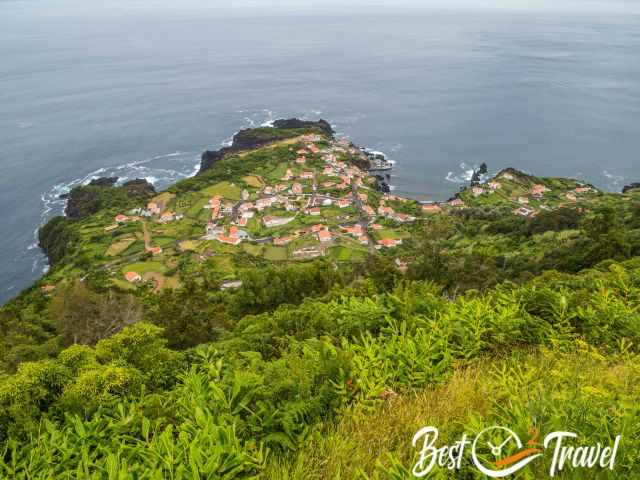 The Fajã do Ouvidor is the largest Fajã in São Jorge and also origins from the lava flow roughly 10 thousand years ago. From Norte Grande, a well-developed serpentine road leads down to Fajã do Ouvidor. Already below the village, a viewpoint "miradouro" is signposted, offering a beautiful view of the village.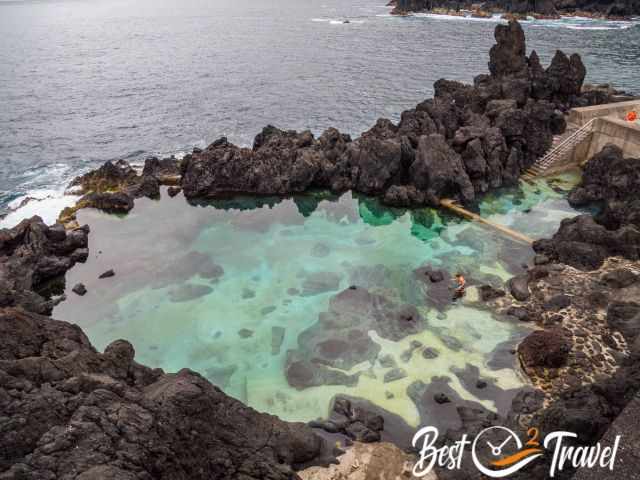 This Fajã is a real village with a few cafes and restaurants and a lighthouse. In summer, the popular Fajã do Ouvidor is bursting at the seams, but a few people live here in winter.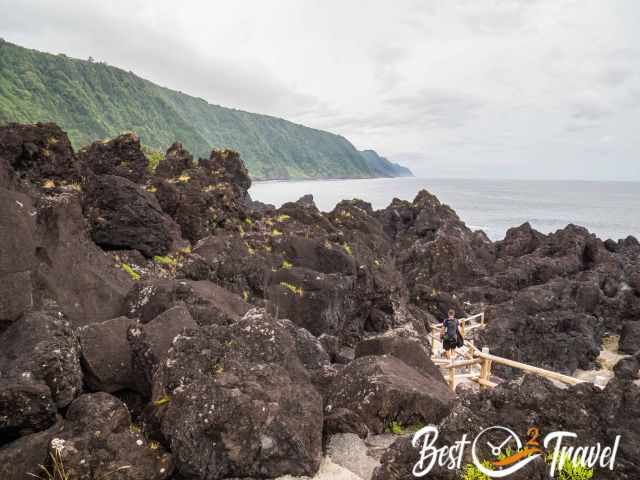 Another reason to visit Fajã do Ouvidor are the natural swimming pools, one at the harbour and the famous "Piscina Natural or Poca Simão Dias" within 500 m walking distance. Poca means puddle, but these are huge puddles.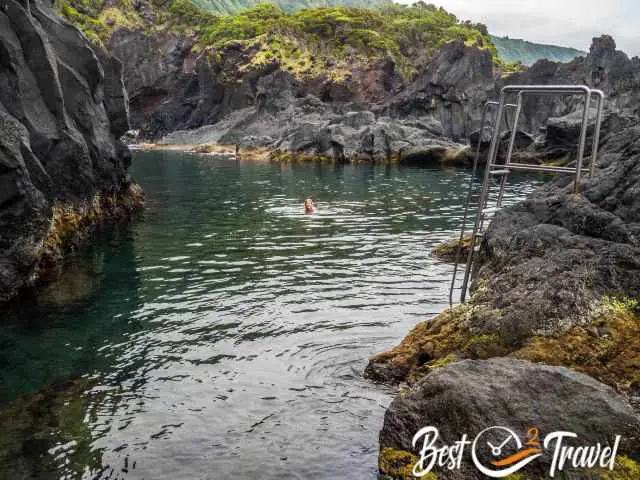 At high tide, you are able to have a bath in the natural pools. At low tide, you can descend on a steep but well-maintained rocky trail through impressive black lava that had poured into the sea. It is fantastic to swim in this protected natural pool. We went swimming here, and we both had a feeling of swimming in the purest and softest water. Absolutely worth doing!
Fajã das Almas - South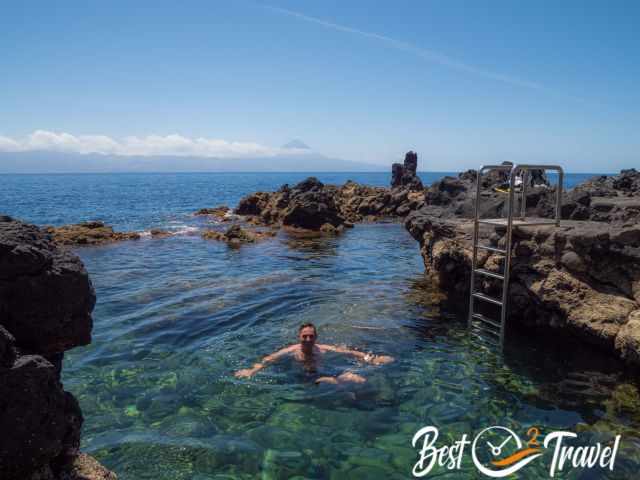 Fajã das Almas is located in the centre in the south of São Jorge. It is a tough ride on a brutal steep road, but down by the sea, you are treated by a wonderful natural swimming pool that is not crowded even on Sundays. We went swimming and snorkelling in the crystal-clear water and enjoyed the spectacular view of Pico.
Fajã dos Vimes - South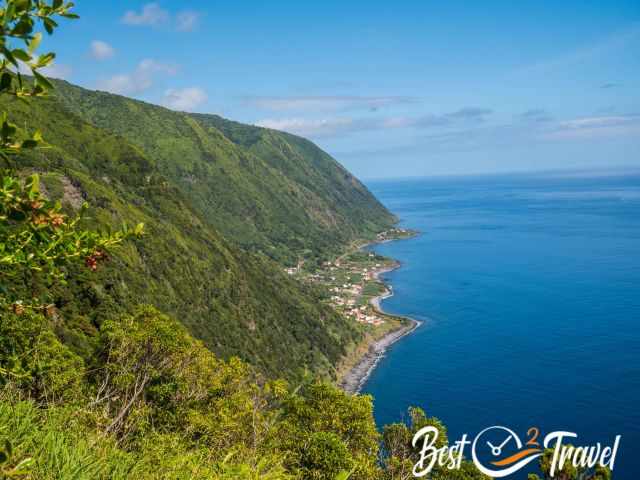 The Fajã dos Vimes is located in the southeast of São Jorge and is probably one of the most popular in the south due to Nunus Cafe, which grows its coffee beans and offers traditional cookies from São Jorge.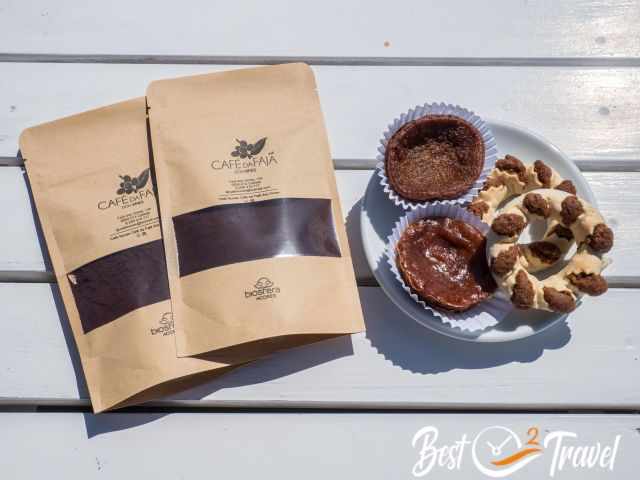 The owners were absolutely lovely, and the coffee and cookies were excellent.
Natural Swimming Pool and Moinho da Urzelina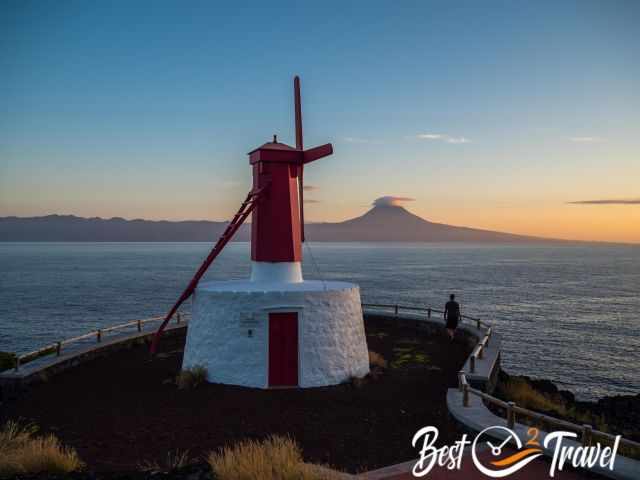 A path was newly created here, and the old mills got a new coat of paint, an absolute eye-catcher and a great motif together with Pico Mountain.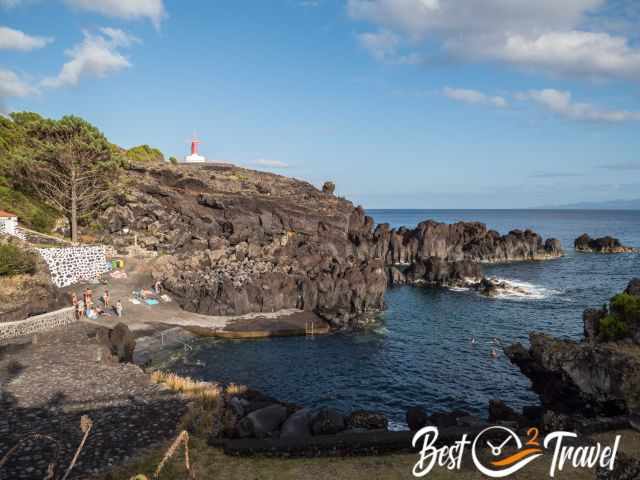 At the same time, there is also a very nice natural swimming pool and a great restaurant, "Manezinho", within walking distance. This is the perfect place to end the day, but there is still more. After sunset, around 10 pm in summer begins the sound presentation of birds. More about them is below.
Natural Swimming Pool in Velas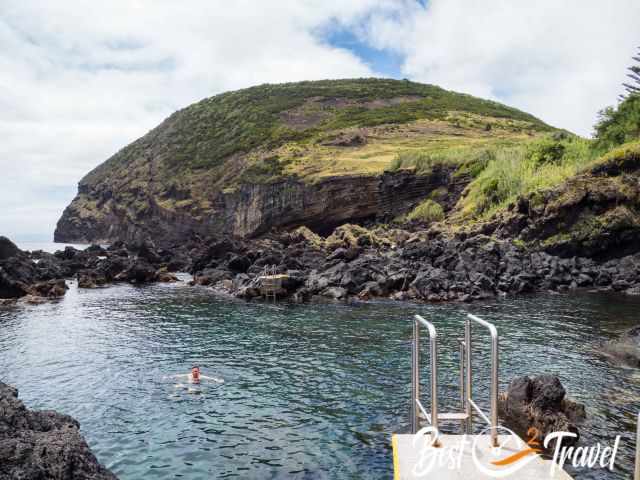 Another excellent spot for swimming with plenty of pools, showers, toilets, a picnic area and even shade is in Velas. The water is deep blue and crystal clear. Although one of the best places for swimming it wasn't busy in July.
Ponta dos Rosais - The Edge of the World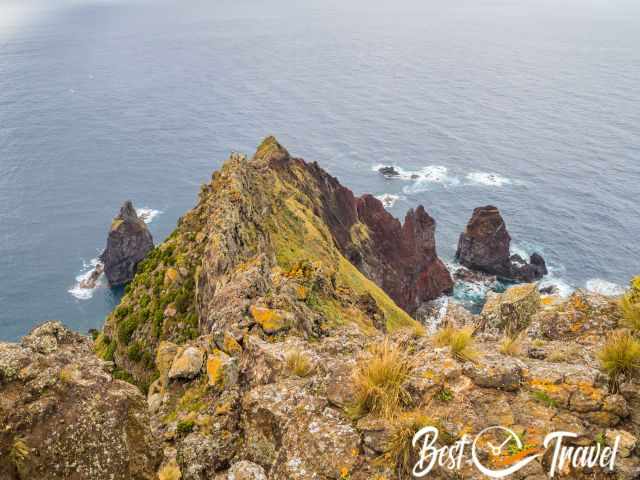 The wildest part and the western tip of Sao Jorge are accessible on a narrow gravel road and are absolutely worth doing. You are able to feel the sheer volcanic forces, the rugged cliffs around Ponta dos Rosais.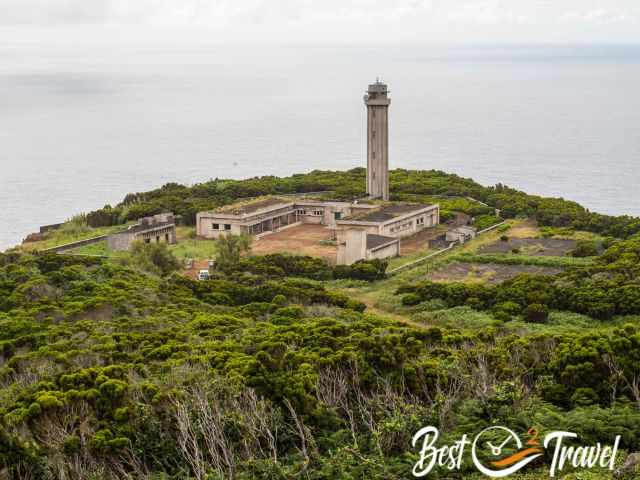 Here where once a lighthouse was operated by man, it must have been rough to live. Today you can see the ruins of the family houses and the cement lighthouse.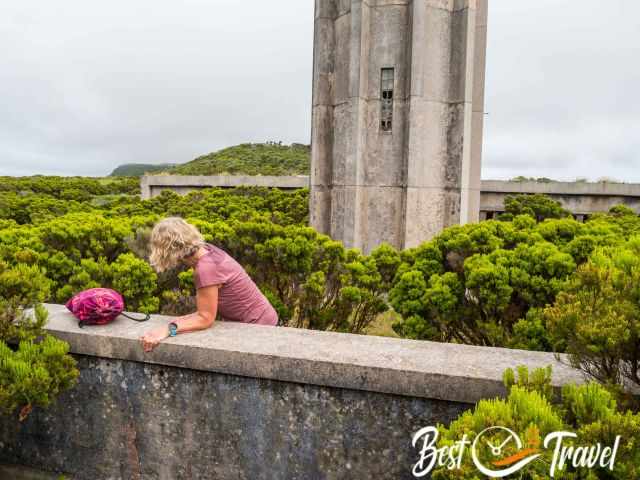 To see these cliffs, you must find your way and climb over a wall. You will be rewarded with a magnificent view of the majestic cliffs.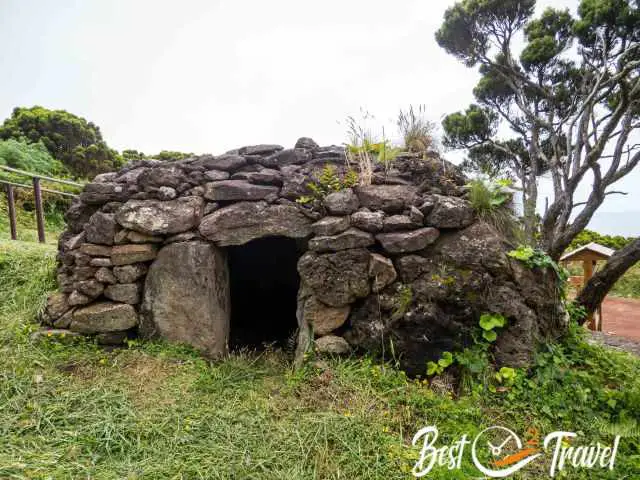 A lovely old man from Sao Jorge explained that these shelters are spread around the island. They were used during his youth when a road did not exist, and they walked by foot to Rosais. If it rains here, it can be a heavy downpour, and they waited inside the shelter until it cleared up again.
Weird Vocalisation by Seabirds in the Night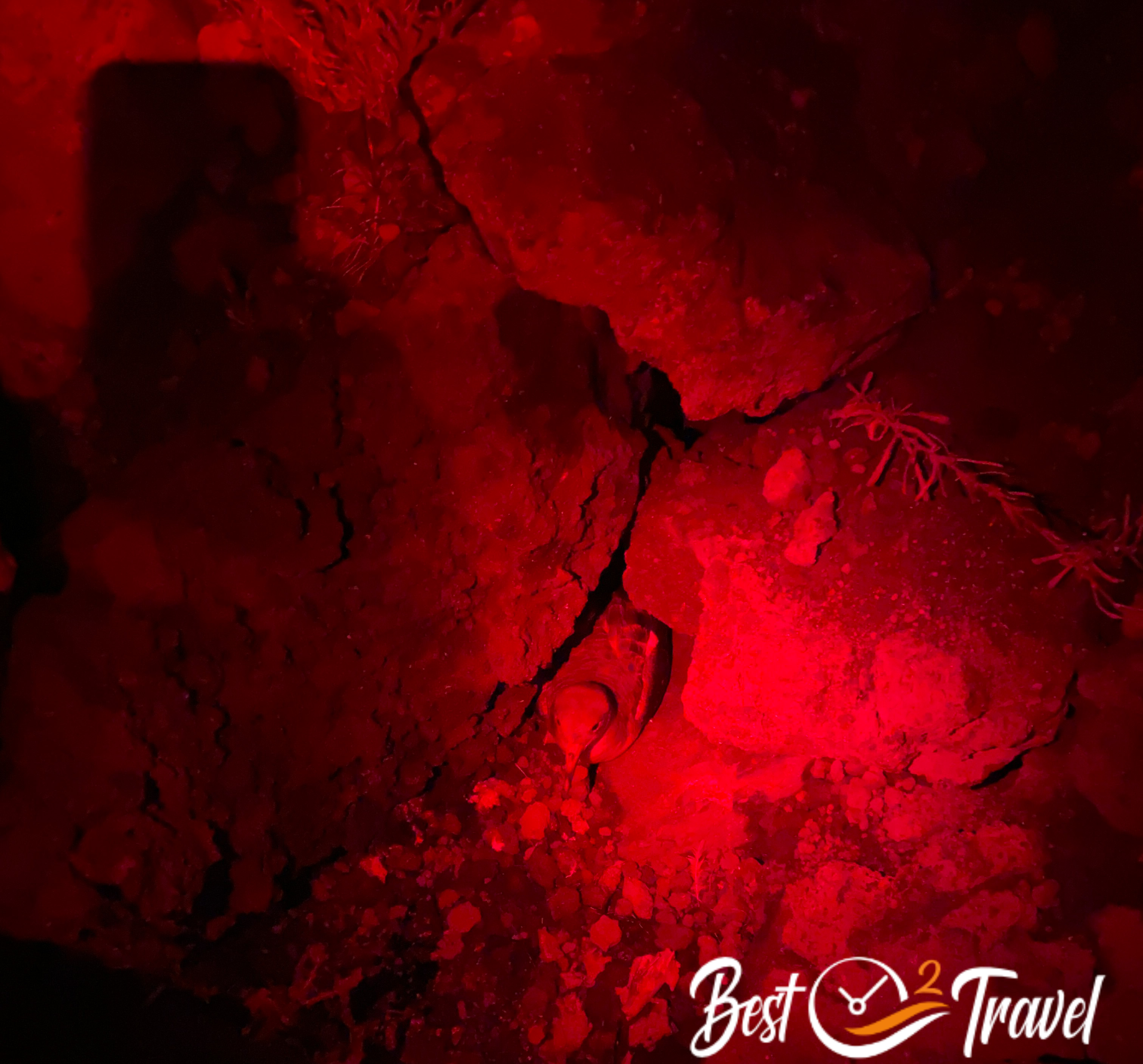 On our first evening after dinner, we went back in pitch darkness with our headlamps and heard plenty of screaming birds and all with different sounds and vocals and loud. We were so amazed that we spent half an hour or so here watching and listening to the birds.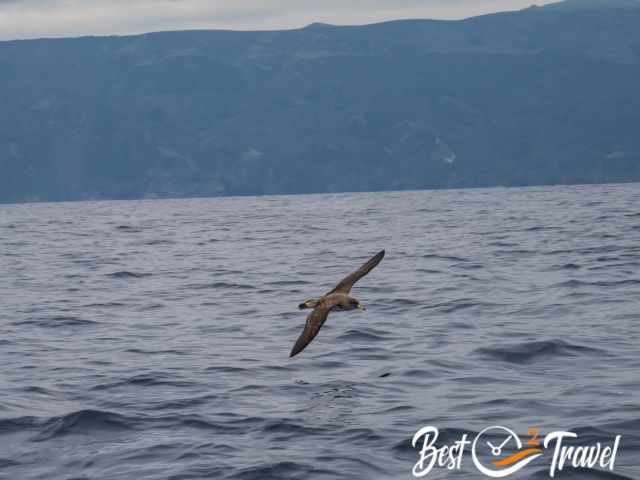 When we came back to our cottage, we first searched for this specific bird: Cory's Shearwater. Absolutely fascinating, and we could hardly wait at night until it started.
Facts About Cory's Shearwater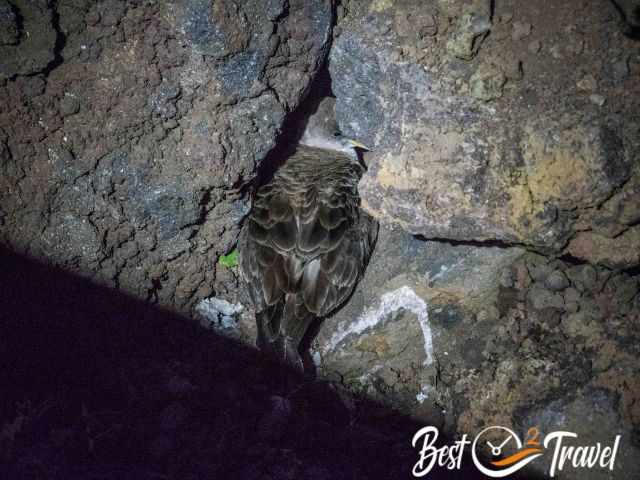 Cory's Shearwaters are in the Azores from March to October before they return to South Africa and South America. 
They mate for life and come to the Azores for breeding. They breed in burrows between lava rocks.
The belly is white, and they are brown on the back. 
They are deep divers of up to 15 meters.
They have a unique call to distinguish between individual birds. The males have a high loud tone calling for the females who answer in a low and dull tone.
How Many Days to Spend in Sao Jorge?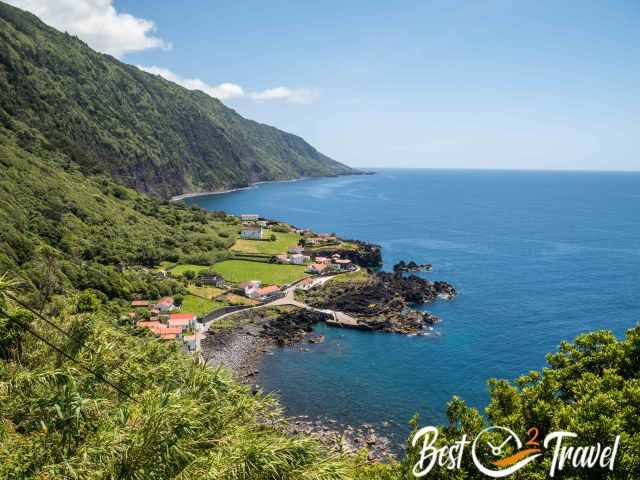 To see most of the sights and do some hikes in Sao Jorge, four days – five nights are sufficient, but consider that the Azores are lush green because of the annual rainfall. Although summer is the driest time of the year, even then, you can experience an entire day of precipitation. We spent an entire week here and wished we had one more day on this stunning island with its lovely residents.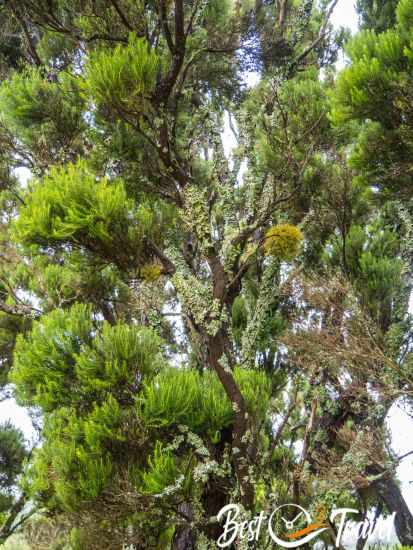 Location and Tips
Azores, Sao Jorge
Portugal

Sao Jorge belongs to the central islands of the Azores, and it is for sure one of the greenest and most beautiful ones.
Is Sao Jorge Worth Visiting?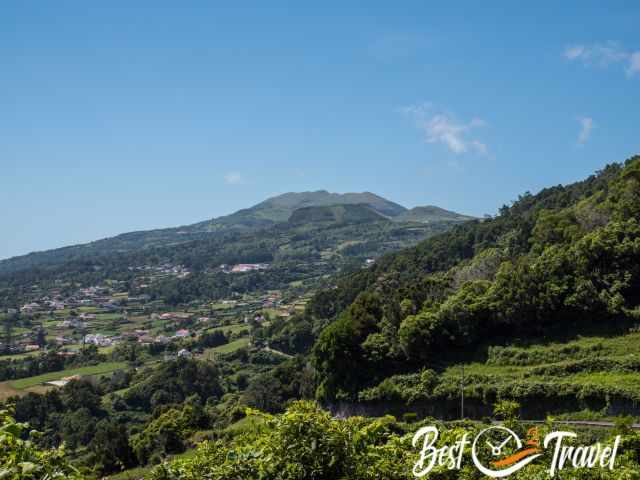 Yes, Sao Jorge is in our top three of the Azores Islands you must visit. The sheer cliffs, the Fajas, the natural swimming pools, the excellent restaurants and the wonderful residents make this a unique island.