When Is the Best Time
Flores is one of the two westerly located islands in the "Occidental Group". These islands are notorious for being the wettest Azores Islands, but we experienced Corvo and Flores with great weather in July.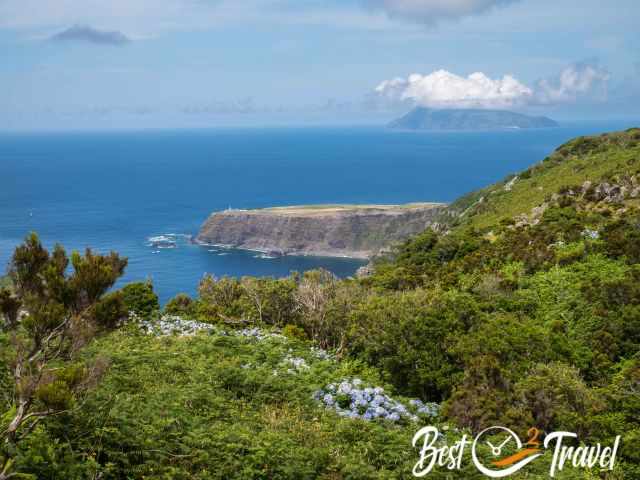 There are just under 4000 inhabitants on Flores, so you can imagine the island is not very big. 
Best Time to Visit Flores - Azores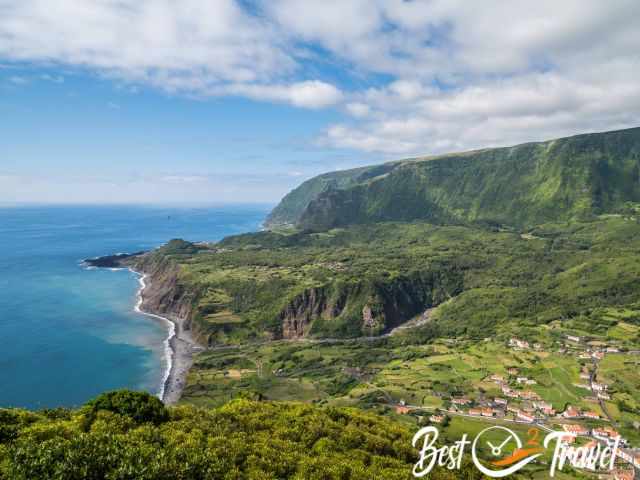 The perceived humidity is 90 %, and you break a sweat easily while hiking in the summer. However, the summer is the best time from June until September to visit the Azores because it is the driest and most pleasant, with temperatures just slightly above 20°C in the shade.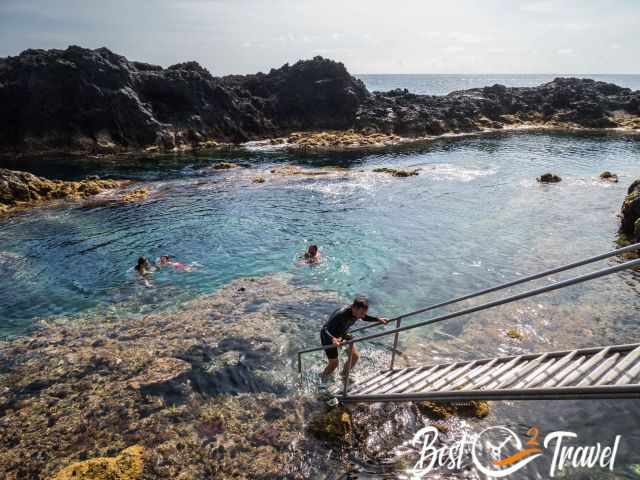 While elsewhere in Europe, people experience heat waves at 40°C/104°F and more, we enjoyed the pleasant temperatures. Also, the Atlantic has a fantastic temperature of about 22°C/ 72°F in the natural swimming pools.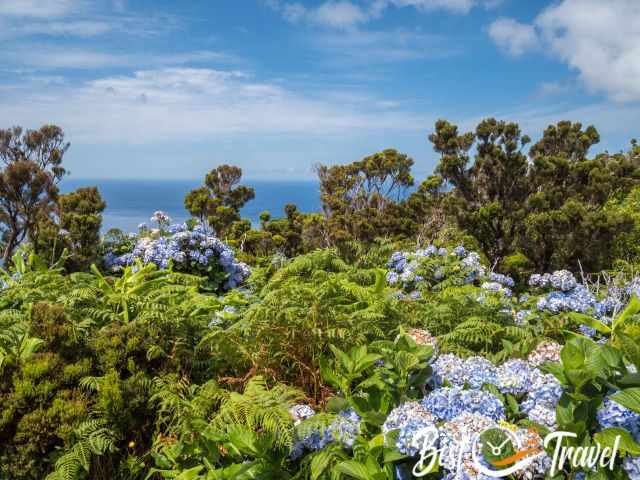 Another reason for our visit in July was the hydrangeas, which have a blue flower here in Flores. These flowers bloom everywhere on Flores, along the roads, on walks and as a barrier in the fields.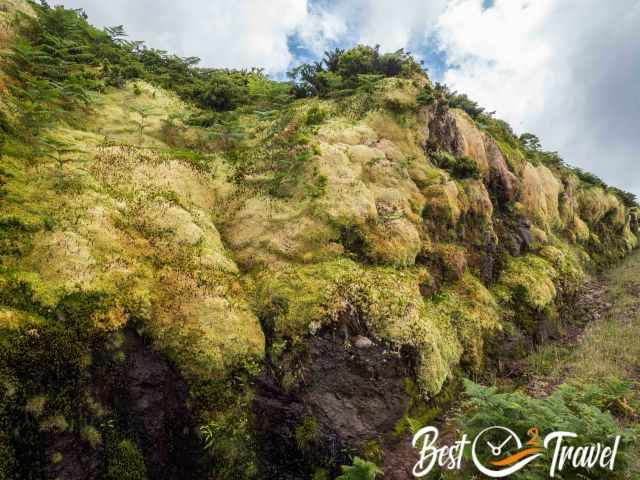 The terrain at higher elevations is consistently wet. Flores is famous for its waterfalls, and we wanted to go to the edge where they plunge. It was less than 300 m, but we sank in the soft moss soaked with water like a sponge.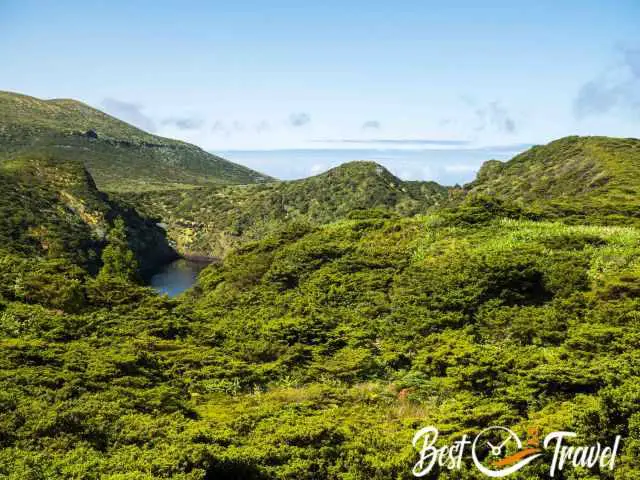 Within two minutes, my socks and shoes were soaked, too. This moss carpet sinks as soon as you step on it. It also covers rocks along the road in the hinterland.
Don't miss out on my other Azores Islands Guides and our YouTube Short about Flores.
How to Get to Flores Island?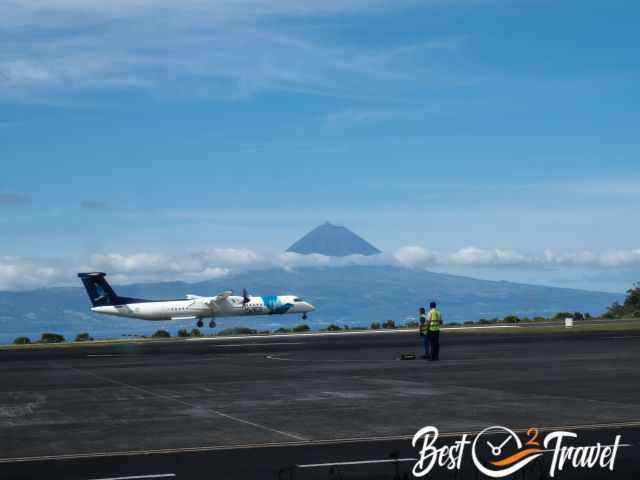 Getting to Flores is a bit of a challenge. The main hub for the Azores is Sao Miguel and Terceira, followed by Pico and Faial. There isn't a direct flight by TAP or SATA from Lisbon to Santa Cruz das Flores; you need to change into a smaller SATA plane to get to Flores. Another alternative is the ferry from the central islands, which takes much longer.
How Many Days to Spent in Flores?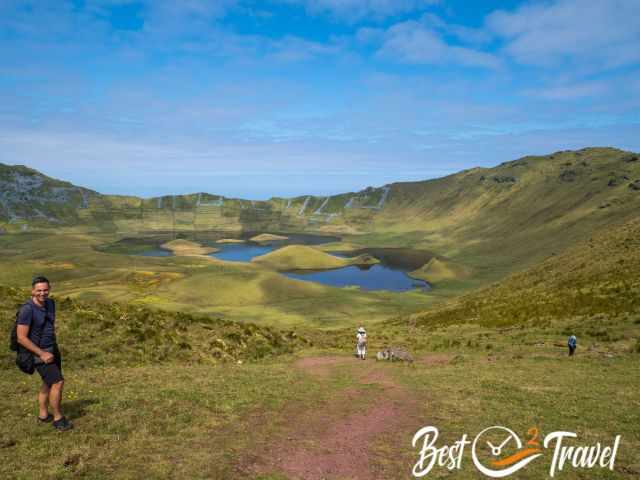 We spent eight days in Flores, which was plenty of time to explore the entire island and hike the most beautiful trails. We planned two additional days just in case we experience rain. If it rains here, it can be a heavy downpour, and you don't want to leave your accommodation or shelter.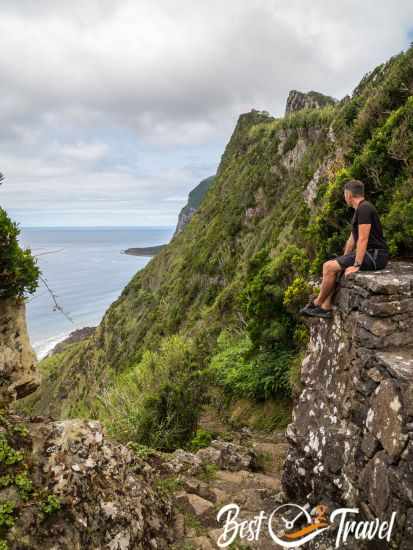 With six nights – five full days you are able to see the most famous spots and waterfalls, go to Corvo, and hike the PR01 FLO. However, we were glad that we had seven days available for Flores. Our last day was the best of all.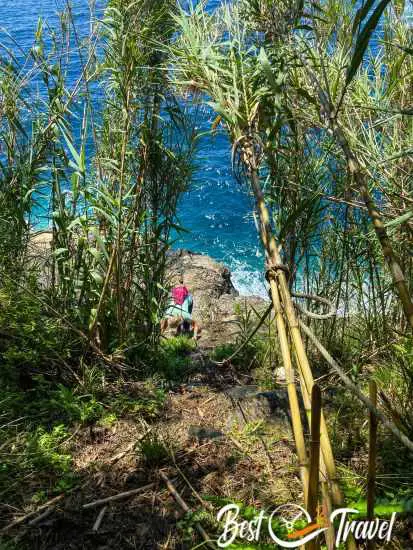 I will give you an overview of the Things to see and hikes you should do in Flores.
7 Things to Do in Flores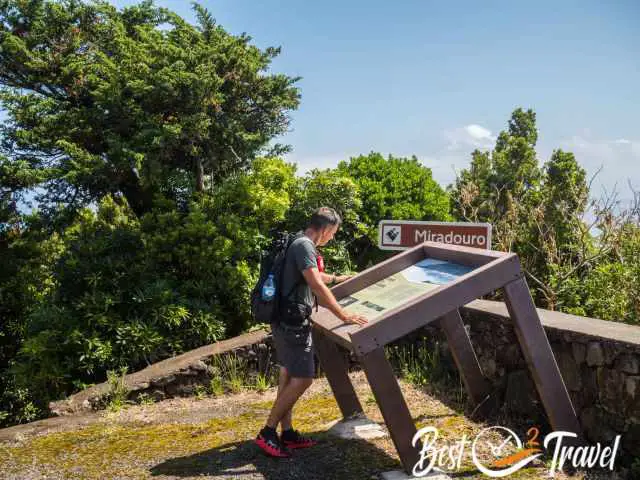 1 Poço Ribeira do Ferreiro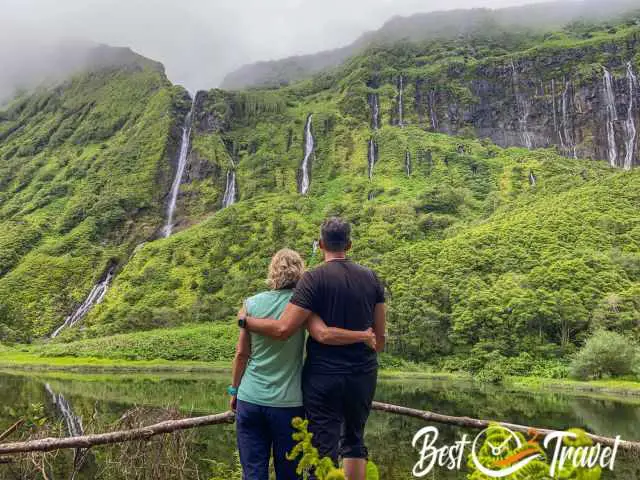 These waterfalls are the most spectacular and famous ones of the Azores. A walking path of half an hour leads to this breathtaking spot. The wet rocks along the trail are a bit slippery; better wear proper hiking shoes or trail run shoes with good traction. When the beauty of Mother Nature hits you in the core, all the visitors just stood there in amazement, watching the waterfalls cascading into the lake and its mirror. It is hard to capture this feeling and landscape with your camera.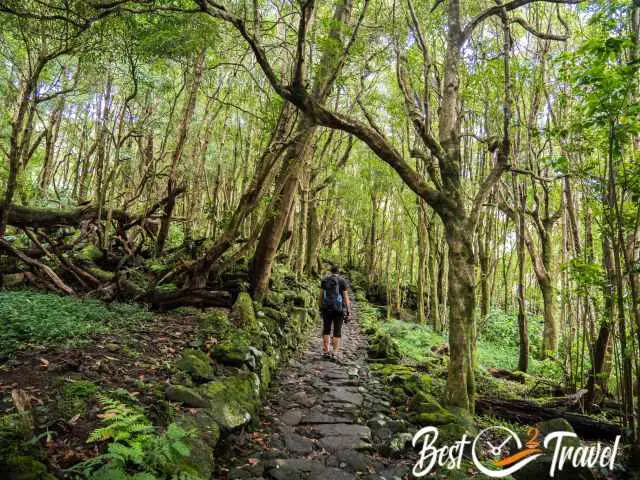 We visited Hawaii a few years ago, and this view can beat Kauai. This incredible place is one of the most fascinating ones in the world. On a sunny day, the sunshine lightens up the scenery in the afternoon, but we personally preferred the heavy clouds at the top of the falls creating a mystic atmosphere.
Google Maps Location
2 Miradouro Lagoa Negra e Lagoa Comprida and Caldeira Branca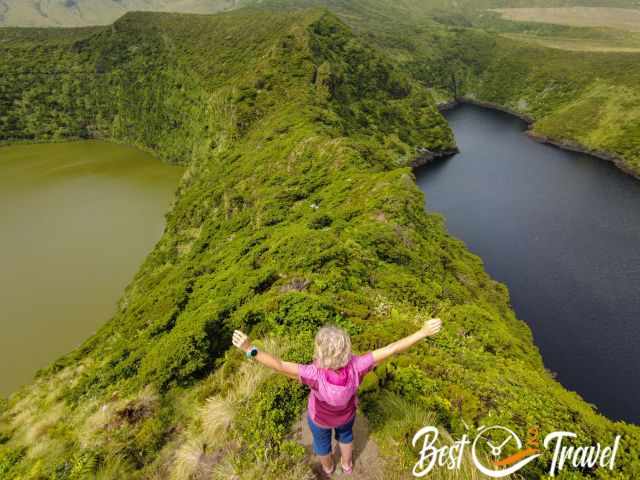 This is another spectacular viewpoint – "Miradouro" to two crater lakes - lagoons at higher elevations. Also, this scenery is too huge to capture with a camera. We took our DJI with a wide angle of Lagoa Negra and Lagoa Comprida. The Negra Lake has a depth of 113 m and is the deepest crater lake in Flores.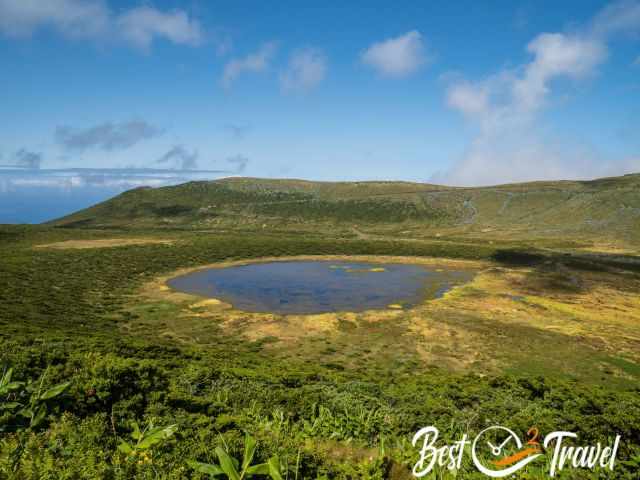 The "Caldeira Branca" is another collapsed caldera with moss carpets in yellow and white which is just beautiful.
Google Maps Location
3 Fajã Grande and the Piscinas Naturais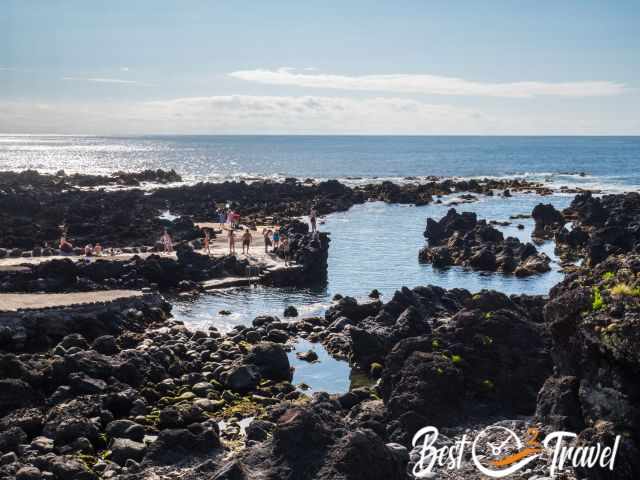 This Fajã was developed by lava flow and created a fantastic natural swimming pool in the sea. Like elsewhere in the Azores, ladders and steps give you easy access to this incredibly beautiful spot.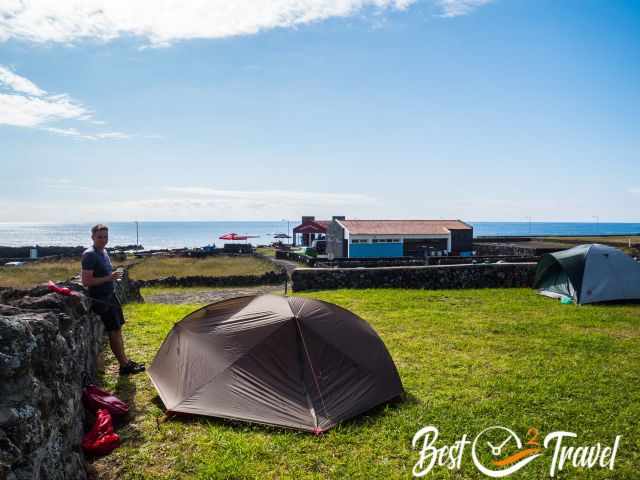 Opposite the pools is a bar with daily homemade cakes. The owners are super attentive and are taking care of the free campground and the clean facilities.
Google Maps Location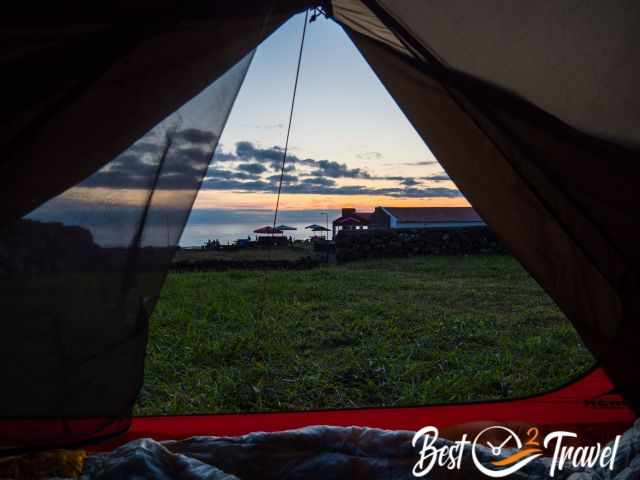 Fajã Grande is the westernmost point of Europe.
4 Cascata do Poço do Bacalhau – Waterfall in Fajã Grande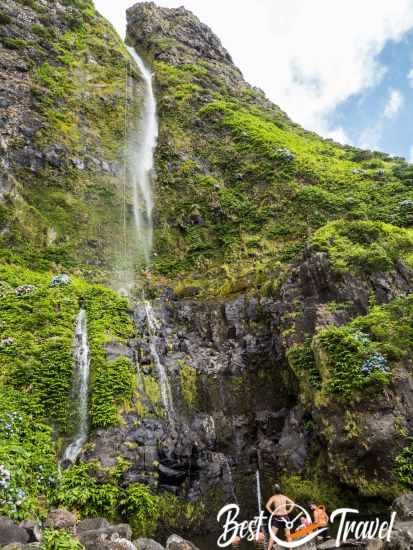 It is a short five minutes walk on a well-maintained path to another breathtaking waterfall. Poco do Bacalhau looks already amazing from a distance but with the pool (poca-puddle) at the bottom even more beautiful.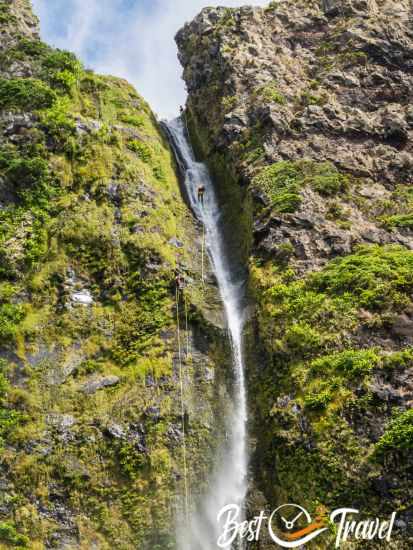 This over 100 m high waterfall is perfect for a refreshing bath in super fresh water. This waterfall is also a famous abseiling spot, and we were lucky and watched a canyoneering group.
Google Maps Location
5 PR 1 FLO – Coastal Hiking Trail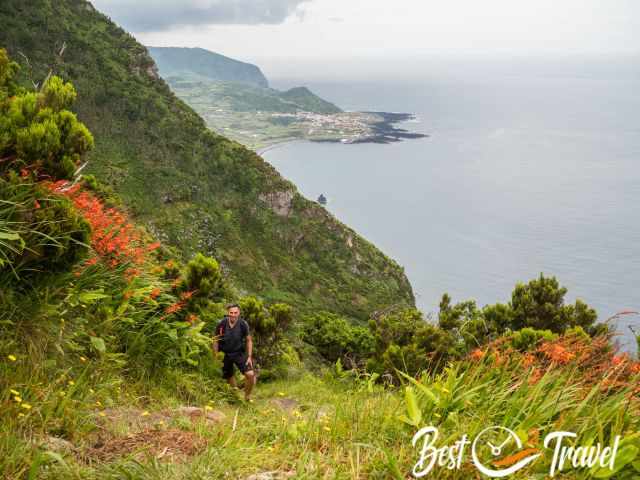 This is the most beautiful coastal hike in Flores, offering stunning views of Fajã Grande and Ponta de Albarnaz and its lighthouse. It is not a circular trail; you must either walk the same way back or have organised a shuttle. We saw many hikers a little desperate because when you reach the end of the trail after 6 km/ 3,7 miles, there is nothing just a paved road.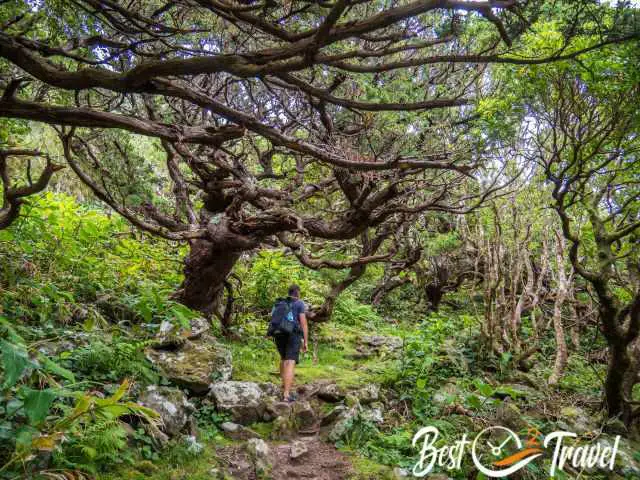 The hikers were forced to walk to the next village Ponta Delgada another 4 km. It is a strenuous hike, always ascending and descending and underestimated by most visitors.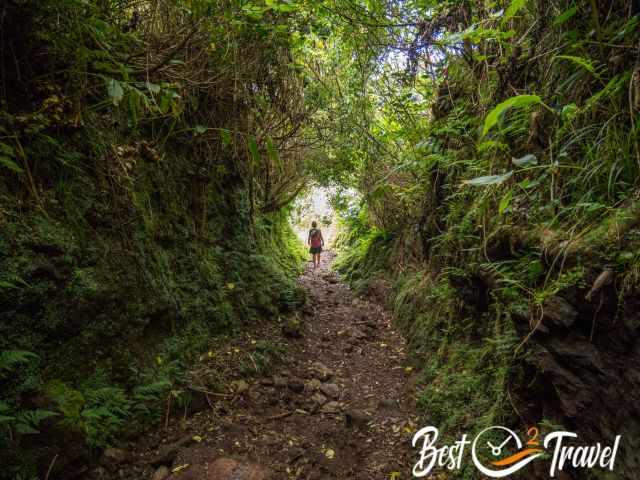 Tip: We split the trail and hiked one day from Faja Grande in the south until the highest viewpoint and back. The track is brutally steep from the south and challenging. The next day we started from the trailhead in the north for the other half of the track and back, which was a moderate hike with less elevation gain.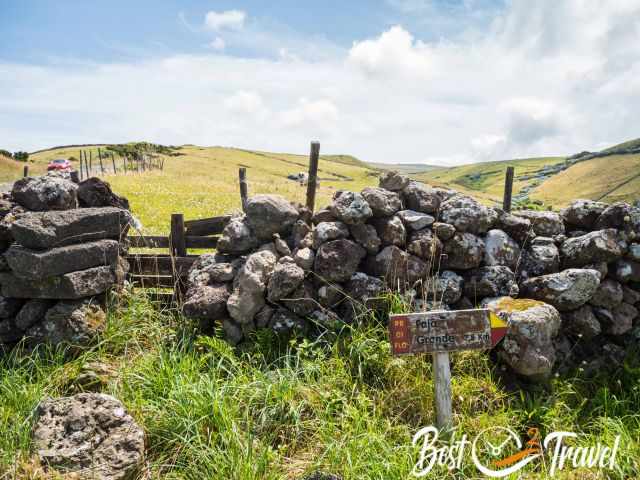 Return trail length: 12 km/ 7,5 miles.
Elevation gain: 1200 m/ 4,000 ft
Difficulty level: Return hike challenging
Rating: Wonderful hike not to be missed if you are trained a bit.
Google Maps Trailhead South
Google Maps Trailhead North
6 Santa Cruz das Flores and the Natural Pools in the North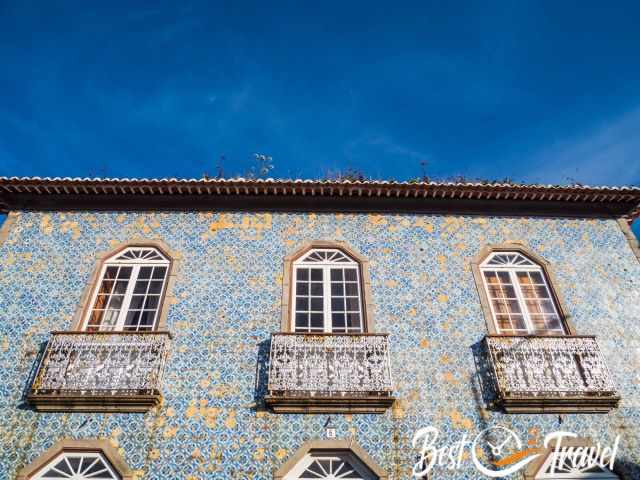 Santa Cruz das Flores is the hub of Flores Island. The airport is here located in the east and also the biggest supermarket Helios. Within walking distance of the airport is another campground for free located with hot showers. All tours from Flores to Corvo start here at the harbour.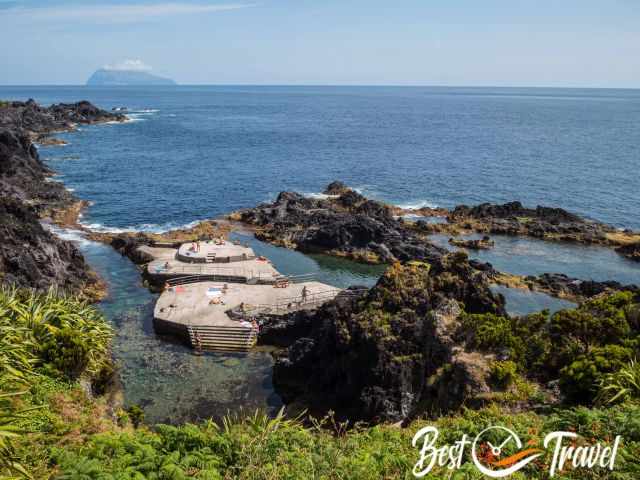 In the north of Santa Cruz das Flores are two of the most beautiful piscinas naturais - natural swimming pools. These natural pools are accessible on long staircases down to the sea. The crystal-clear sea is full of colourful fish, big parrotfishes, smaller ones, sea stars and vegetation. These pools are excellent for snorkelling.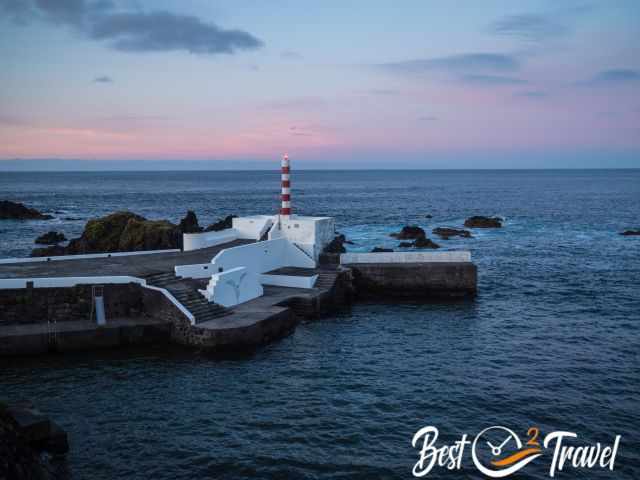 The location for some of the spots in Santa Cruz das Flores: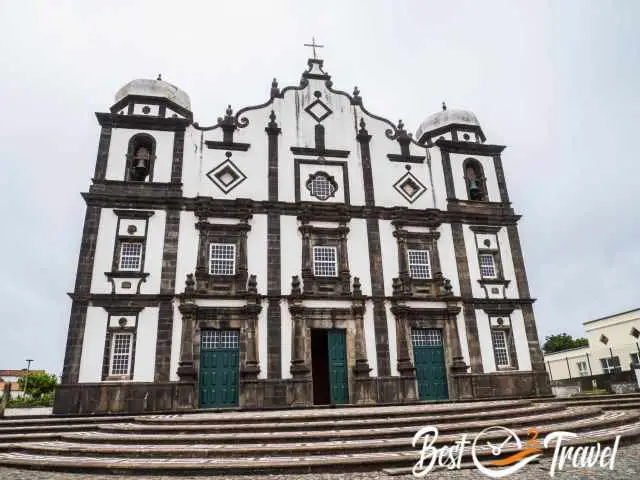 7 Day Trip to Corvo Island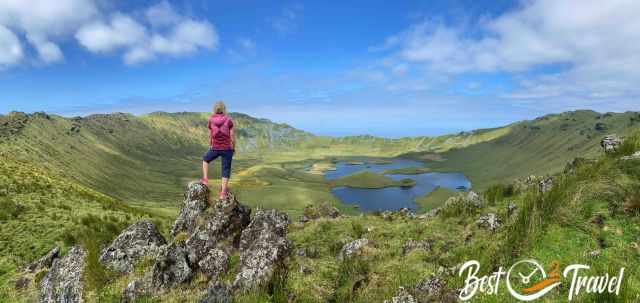 There are several operators offering transfer to Corvo. Thanks to our host, she recommended Filho do Mar to us. This company is excellent and walks the extra mile for you.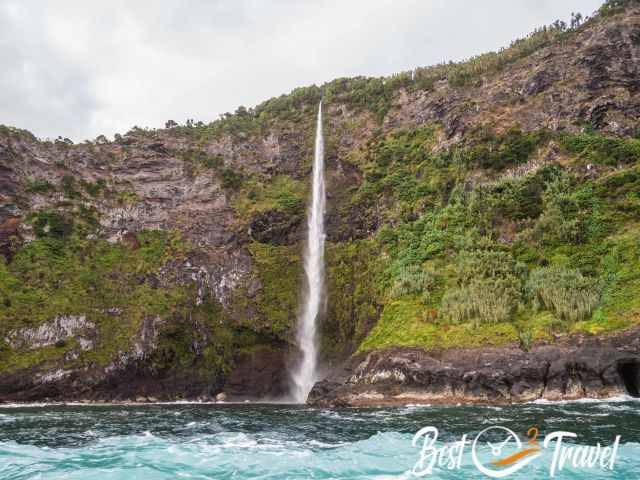 They offer not only transport to Corvo, we first explored several waterfalls and caves of Flores. They stopped the boat and let us watch the dolphins.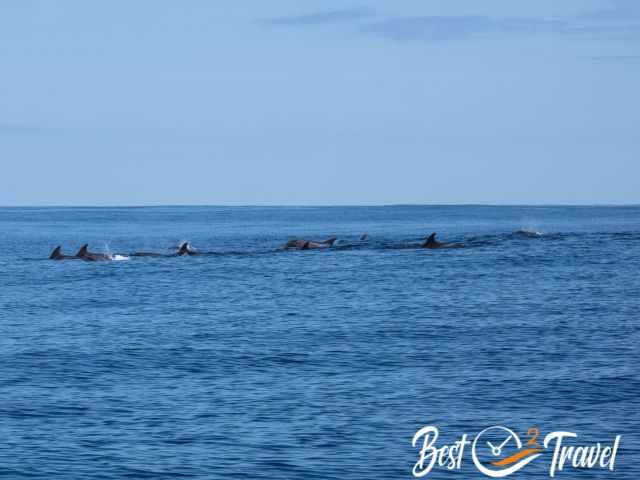 On the way back, we couldn't believe that they were still looking for whales and dolphins without any pressure on the time.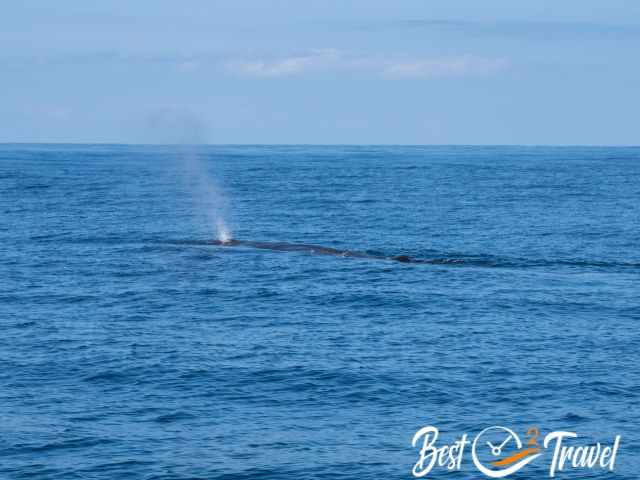 In the distance was a sperm whale, and we approached the whale slowly and carefully and could hear him breathing. Nevertheless, we watched the dolphins and sperm whale with respect without stressing them.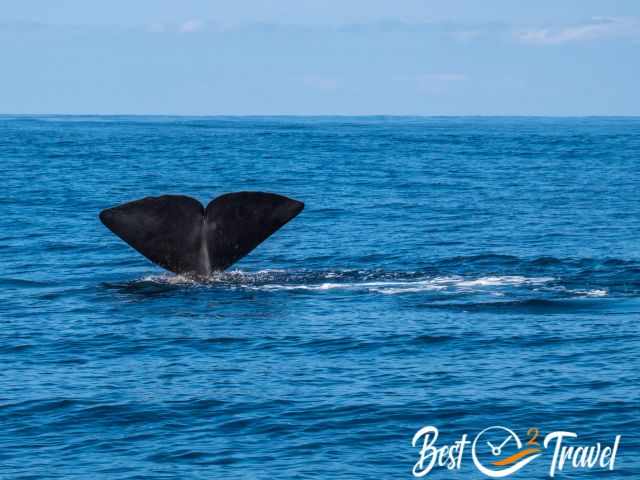 Corvo Island is a little overrun during the day with several tour boats from Flores. However, most visitors take a shuttle up to the caldera, take their picture and leave.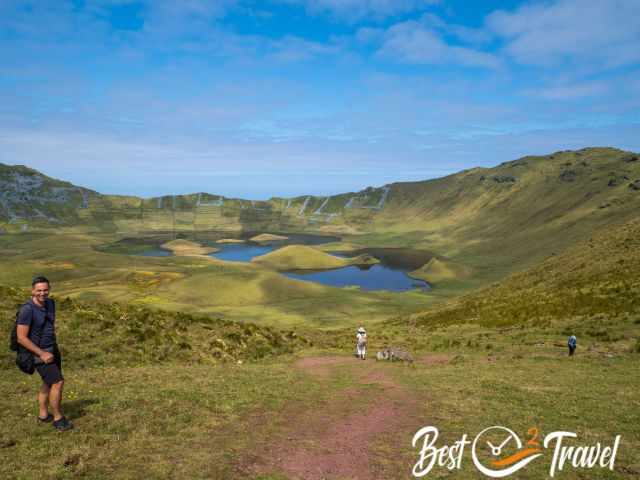 Only a few people hiked a part around and into the crater. We took a taxi shuttle up to the caldera rim for 10 Euros return ride for each person and had three hours to explore the caldera. That was perfect and exactly the time we needed to explore the Corvo caldera rim and the crater inside.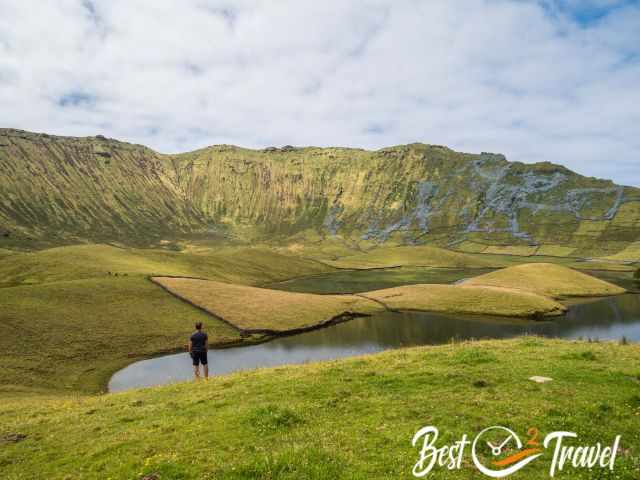 The "Corvo Caldeira" is a collapsed caldera with roughly 2000 m/ 6,560 ft diameter. Luckily, we brought lunch and enjoyed the gorgeous landscape while eating inside the collapsed crater.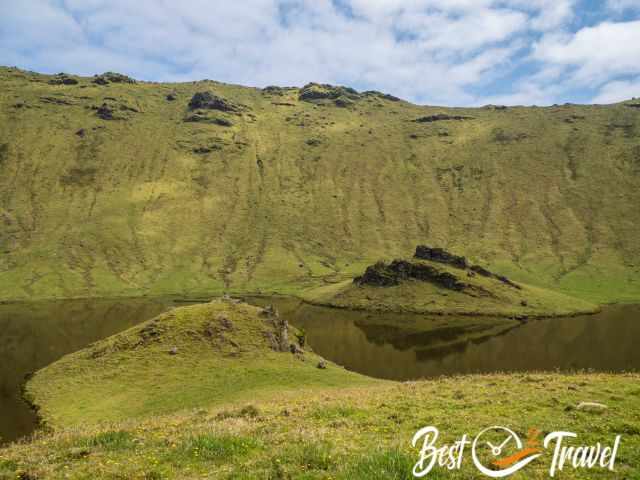 Trail details for Trilho (Hike) PRC 02 COR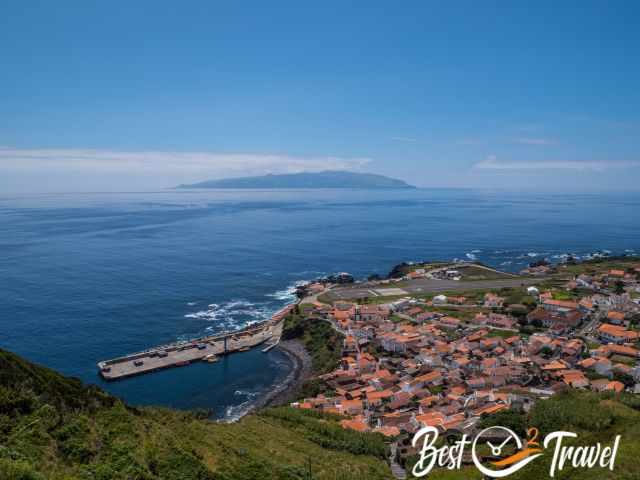 It is a moderate trail of 4,8 km, taking roughly 2 hours with an elevation difference of 160 m/ 525 ft.
Boat Transfer to Corvo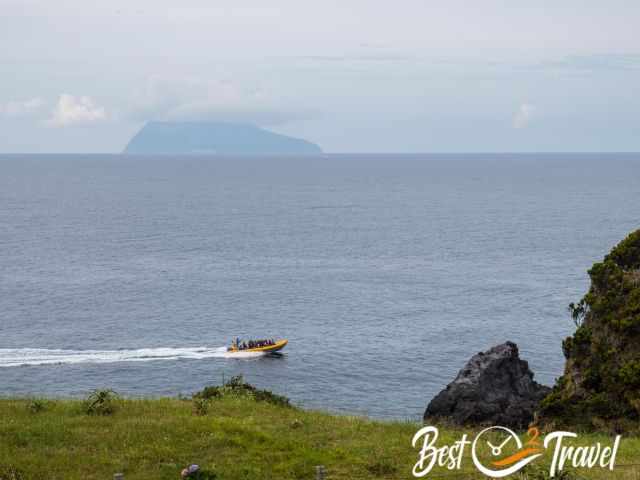 Boat tour starting time: 9 am
Boat ride to Corvo: usually roughly 45 minutes, it took us longer.
Back at Flores: usually at 4 pm, but we arrived later because we watched dolphins and one whale.
Thanks to Fabio Dias, our captain and wonderful guide from Flores to Corvo. I highly recommend booking your trip to Corvo with Filho do Mar
This is not an affiliate link. I do not earn any commission – I wish you the same fantastic experience and trip as we had.
If you like the article, I would be happy if you shared it with friends and on social media. If you want to support me, subscribe to our YouTube Channel, and you may find some ideas for your next vacation.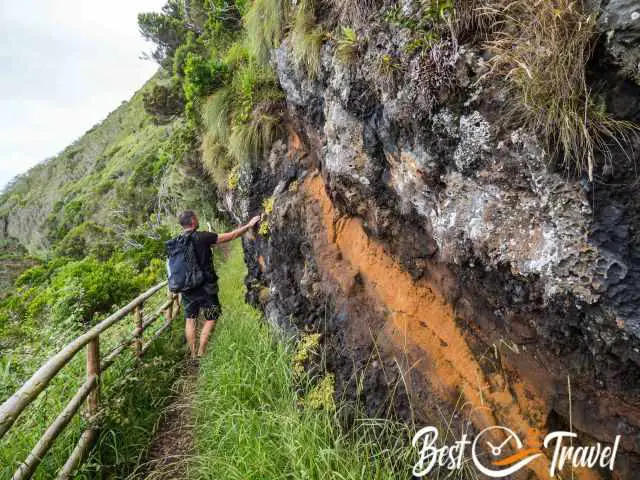 Location and Tips
Azores, Flores
Portugal

Flores and Corvo are the most westerly islands in Europe, and you do not get here easily. There are limited accommodations only here in Flores; therefore, the island does not get super busy.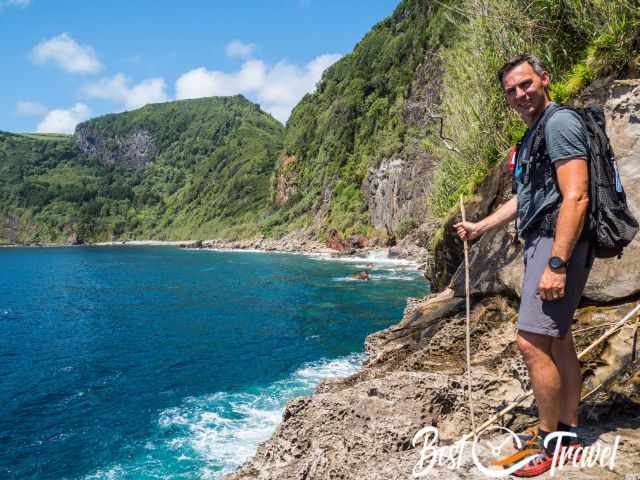 However, I highly recommend booking your stay at least half a year in advance if you wish to travel in the peak season in July or August. We spent eight nights here and were forced to move several times and to camp.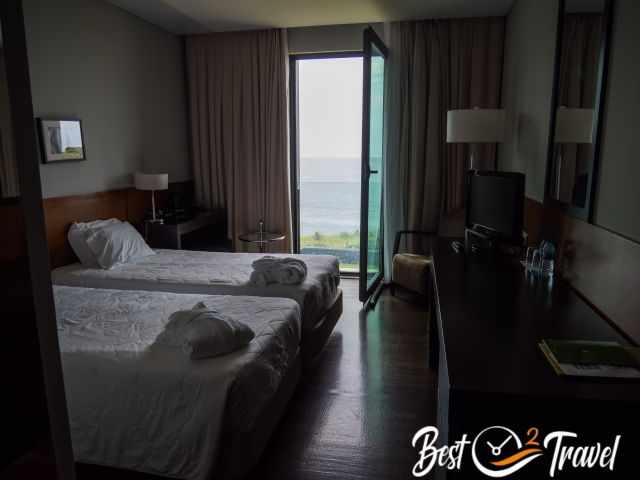 From my own experience, I recommend staying in the main town in Santa Cruz das Flores. You get easily elsewhere by rental car; there is an excellent supermarket, nice restaurants, and great natural swimming pools.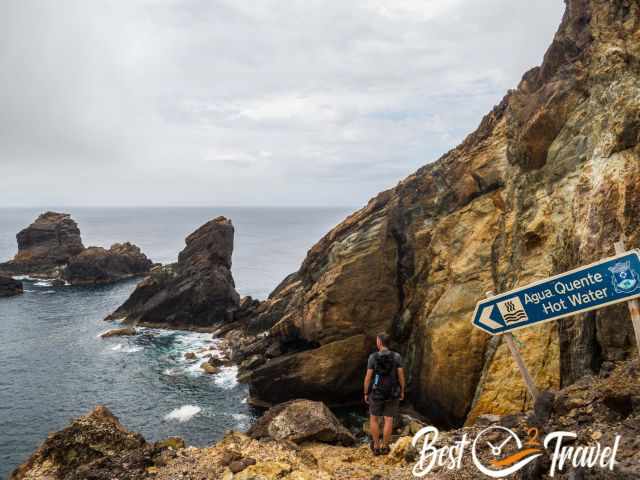 If you wish to use any of my photos, contact me, but I will take action against picture theft. Why do I write this here? Hundreds of my pictures are used worldwide without any credit, nor did they get my permission. I don't mind giving permission, but I want to get asked for it and to be mentioned. The world wide web changed a lot, and rewriting honest travel content is the new business for many fake travel websites. Do you wish to know more about this topic and how to unmask such websites quickly? Read my article "The Truth About Fake Travel Websites and Picture Theft." 
Does honest travel content from real experiences has a future? I don't know any longer.