When Is the Best Time
Terceira and the Acores are famous for the majestic caves Algar do Carvão and Gruta do Natal, and there are more such fascinating places. I would like to introduce you to this exciting island, the third biggest of the Azores, with three enchanted rainforest hikes, which reminded me of Tasmania. I added new information and tips from our recent visit this summer, 2023.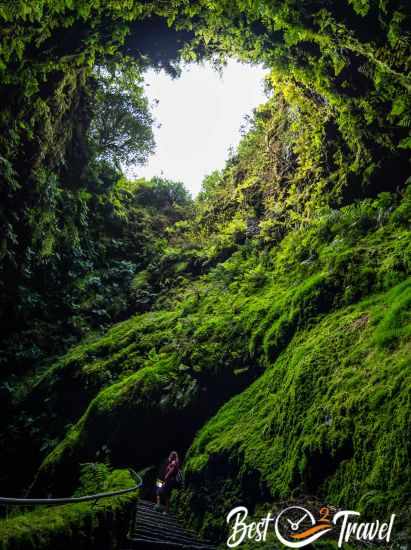 Also, here, you are able to experience volcanic activity at Furnas do Enxofre on top of all that, I would like to show you the most beautiful natural seawater pool in Biscoitos and where to have lunch and dinner. Here, we probably found the best restaurant in Terceira this July 2023. Follow the link and watch our new YouTube Short of Terceira.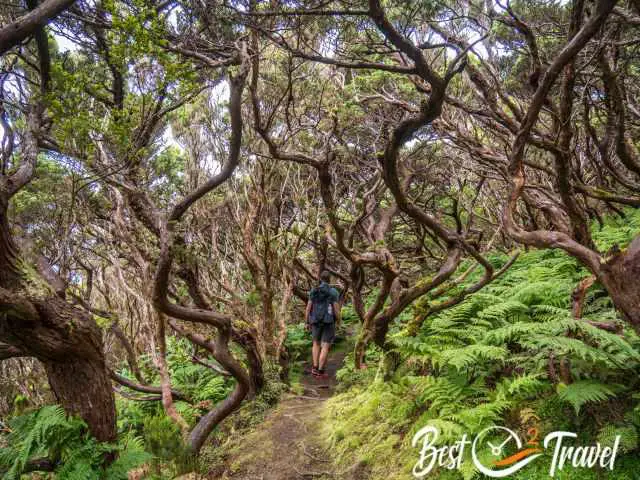 Terceira has more than 53,000 inhabitants, the reason for the better infrastructure, a much bigger airport, and more supermarkets and shops in comparison to Flores, which has less than 4,000.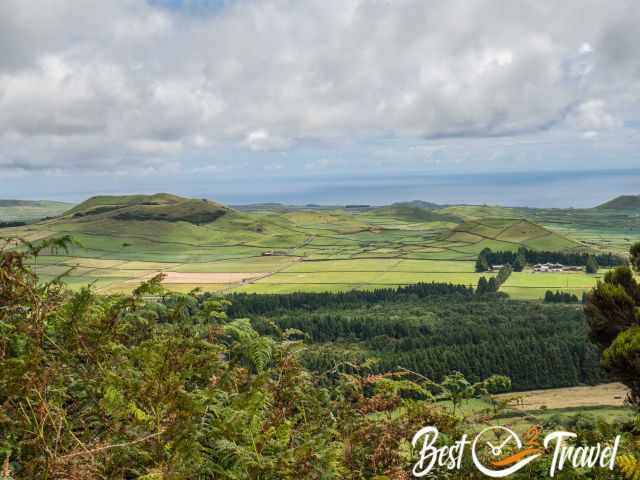 Terceira reveals the history of the Azores' origins and the volcanic activity that is still occurring here. A well-developed network of roads and trails makes it easy to explore these highlights of the unspoiled nature of Terceira. Drive along grass-covered craters and ash hills and walk through lush forests. It takes just a few kilometres or ten minutes, and you end up in this diverse awe-striking beauty of nature.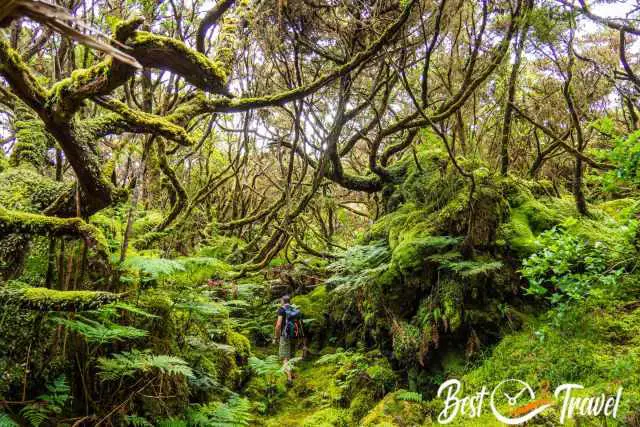 Terceira is an excellent island for cave enthusiasts, hikers, and for forest lovers. Are you curious now?
Check out my Table of Contents for my Top 9 recommendations for four days - five nights in Terceira and my one-day itinerary for those with limited time. We visited Terceira twice for an entire week. Therefore, I also mention places which you can skip, IMO.
And don't miss out on my other Azores Islands Guides.
1 Algar do Carvão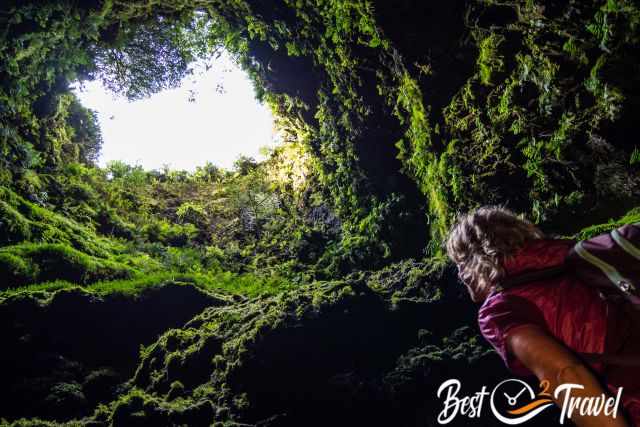 Algar do Carvao in Terceira is one of the top ten places of striking beauty in the Azores. The cave is a Natural Regional Monument and is situated in the heart of Terceira at 550 m above sea level. This cave was first explored in 1893, but it was a big effort to make it accessible to the public in December 1968. 
Opening Hours Algar do Carvao and Gruta do Natal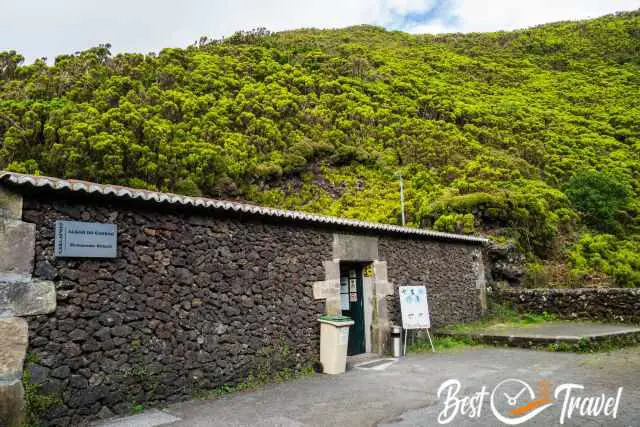 Limited opening hours so we planned everything around this unique cave. 
January-March and October-December: Tuesday, Wednesday, Friday and Saturday
from 14.30-17.00
April-May: daily
from 14.30-17.00
June-September: daily
from 14.00-18.00
Entrance Fee Algar do Carvão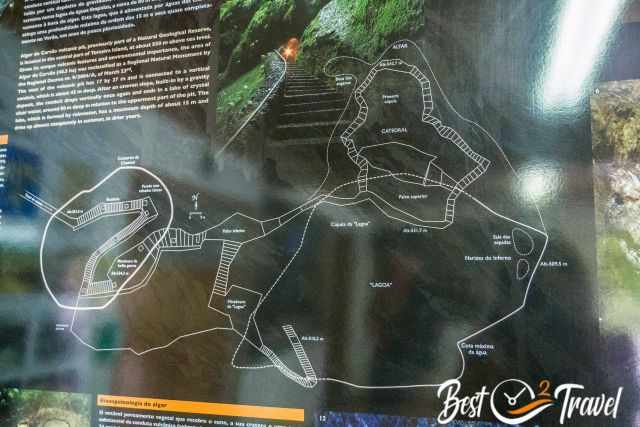 Prices went up in 2023. We bought a combination ticket for Algar do Carvão and Gruta do Natal - cash only! Tickets are only available at the caves. Pretty busy in summer, with a limited number of 150 visitors at a time. You may have to line up for access. 
Price single ticket: 10€ and combination 15€
Free access for members of the "Montanheiros" who are taking care of the cave.
If you are limited in time, then skip Gruta do Natal, but I highly recommend Algar do Carvão.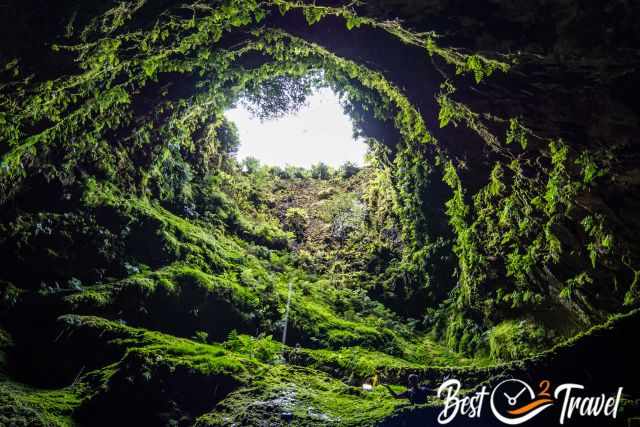 Through the volcanic vent, we descend into the underworld of Terceira. Algar do Carvão is a beautiful dripstone cave which was developed in two phases by Pico Alto: 5.200-3.700 years ago. The translation of Algar do Carvão means a more vertical cavity in Portuguese, contrary to most of the other caves, which are horizontal. The entire meaning is "charcoal cave".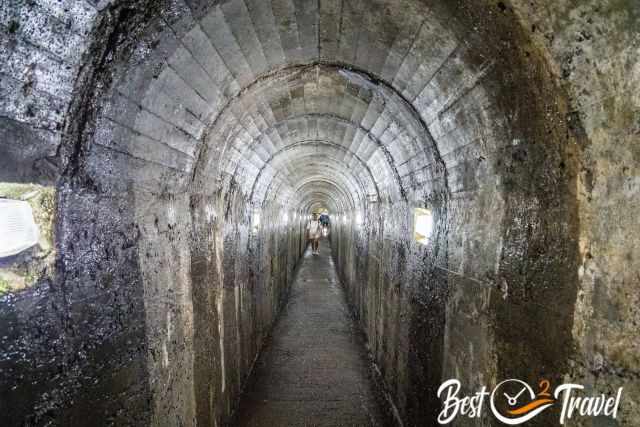 From here on, we were flashed for nearly two hours. At the small entrance hall leads a narrow path like in a coal mine to the fascinating lush green, steep vent of an extinct volcano. It is a cool climate in the cave (approx. 14°C) with high humidity of 90%. It drips from the walls and ceilings here, ideal for the mosses, ferns, and stalactites' growth. I recommend a fleece or a jacket for your visit.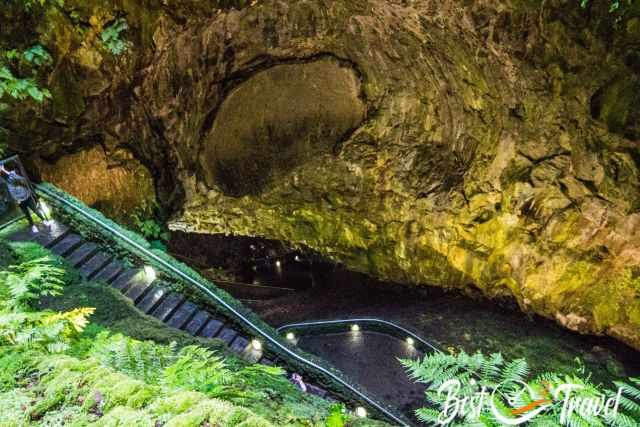 You get spectacular views from the 338 steps, which lead down to the lowest platform near the green lagoon of the cave. There is a handrail, but if you have any mobility issues, it is, unfortunately, too hard to get down. At midday, the sun shines deep into the 45 m cone made of basalt rock, and the sun lets the moss, lichen and ferns sparkle.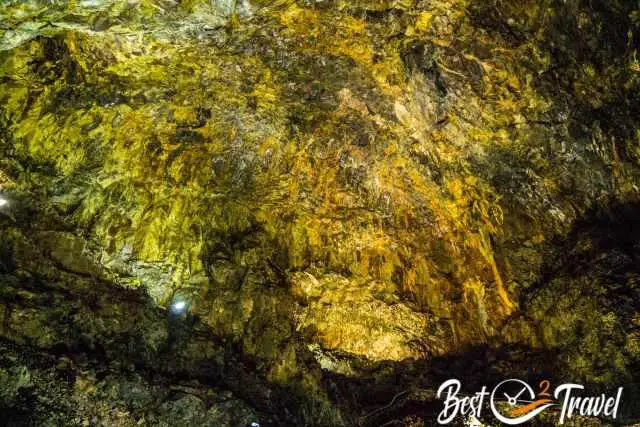 It was such surreal scenery while I stood there with my head completely overstretched. In the shelter of this steep volcanic vent are some endemic ferns, mosses, and insects like spiders or cave-dwelling hoppers, which are hardly found anywhere else or in Macaronesia (Azores, Madeira, Canary Islands and Cabo Verde) only.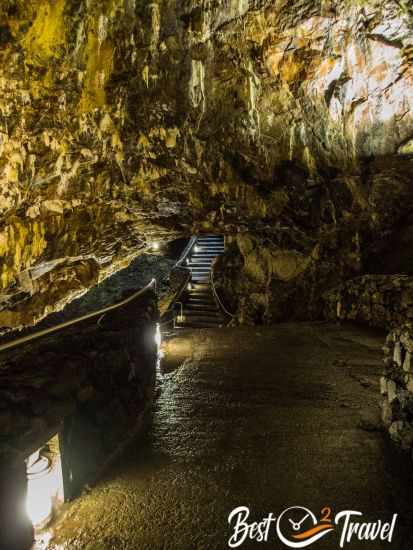 Down there in the pit are three platforms offering spectacular views deep into the cave and to the lowest point, the crystal-clear green sea in 80 m depth. The crystal-clear green water of this up to 15 m deep underground lake is fed by the rainwater penetrating the cave ceiling. The water level depends on the amount of rain, in summer lower and in the winter higher.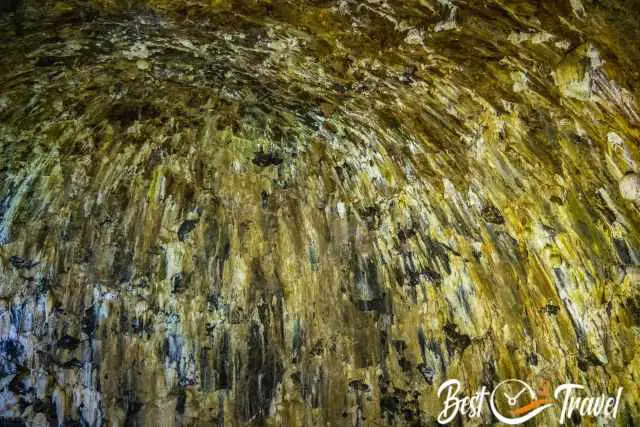 Gas bubble explosions in the lava flow many thousands of years ago can be seen as massive burnt cavities. On the oldest, highest walls, rare stalactites made of amorphous silica (silicic acid) have been forming for thousands of years. That sounds long, but it is a short time for stalactites, which grow just a centimetre in 100 years.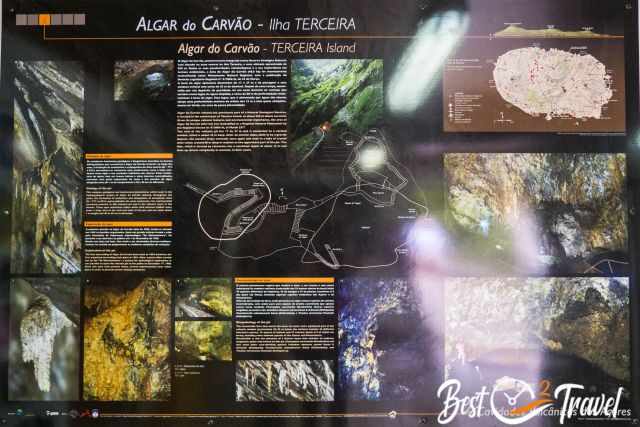 The Algar do Carvão has an excellent acoustic. The upper visitor platforms are also popular for concerts; therefore, this part has often been named the cathedral. Although the cave was quite busy, it was peaceful and quiet in there. All visitors were in awe of this simply breathtaking cave. Algar do Carvão is a Must-Visit place in the Azores. Parking Google Maps Location
2 Gruta do Natal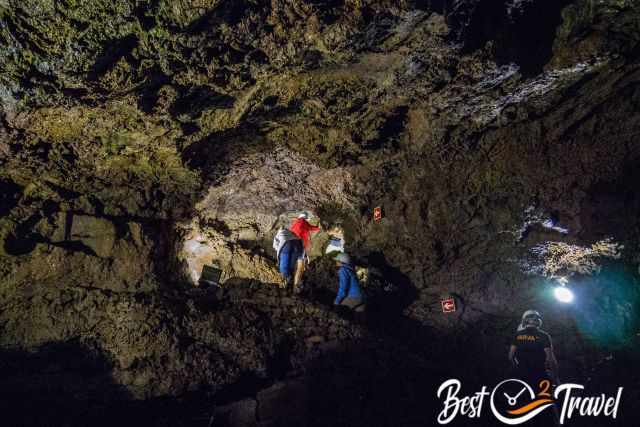 The first guided tour was offered on the 25th of December 1969, therefore, called the Christmas Cave. At the end of the approx. 200 m long, wide main tube is a rock formation that looks like and is called an altar. Annually many residents from Terceira visit the Christmas Eve service. Opening Hours are the same as at Algar do Carvão.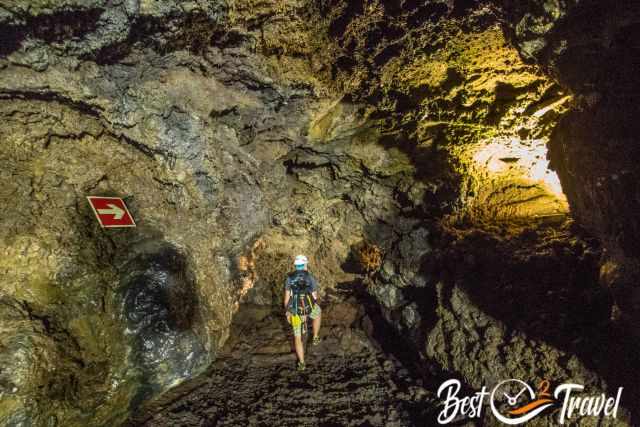 The entrance of Gruta do Natal is located in an unobtrusive stone house close to Lagoa do Negro and the trailhead of Mistérios Negros. Both are located in the Reserva Natural da Serra de Santa Barbara. Before you access the lava tunnel, you get a helmet for the guided tour provided.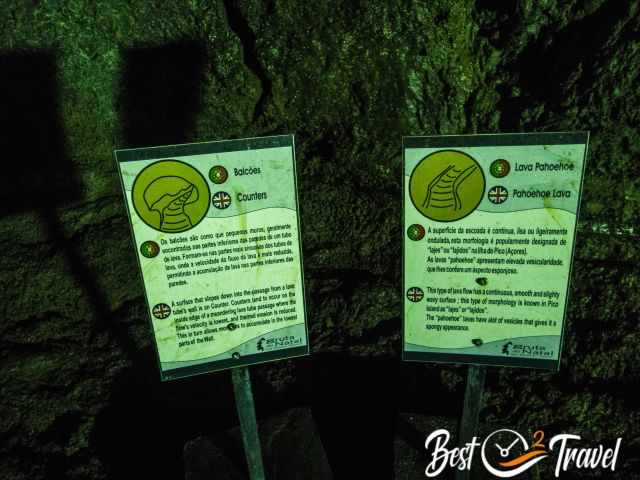 The tour duration is roughly half an hour, mainly in Portuguese and some sentences in English. However, the cave is illuminated and equipped with information signs in Portuguese and English at the most important sections.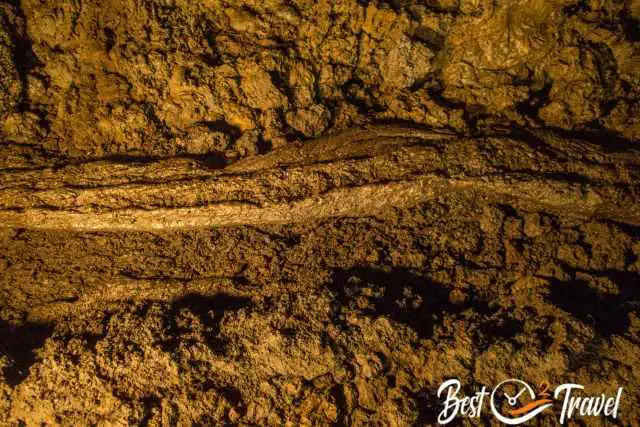 The accessible part for the public is almost 700 m long, 12 m wide, and 7 m high and was formed by a volcanic eruption roughly 12.000 years ago. This cave is flat, and only a few steps lead into it.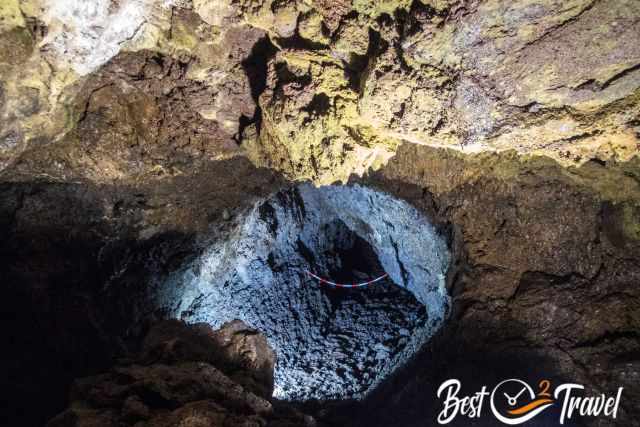 Although it has the same coloured walls as  Algar do Carvão, inside, it looks utterly different. It is a huge cave system, but plenty of the cave branches are roped off and prohibited from accessing.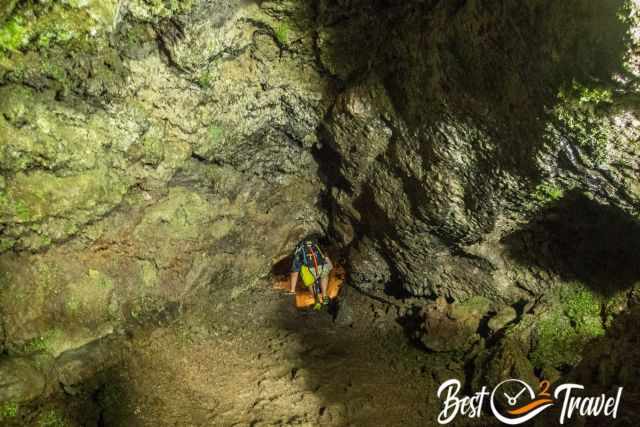 Wear sturdy shoes or trainers to protect your feet from the rough lava floor. The cave is less humid than Algar do Carvão. Some spots are tight, and you have to scramble through them. In fact, it is not much known about Gruta do Natal. During the guided tour, visitors get a first impression of the volcanic activity responsible for creating the Azores and Macaronesia.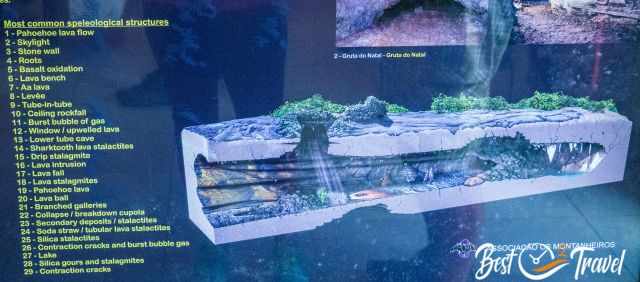 The ceiling of the lava cave is only a few metres deep therefore, the penetrating rainwater can't dissolve the necessary minerals to form stalactites and stalagmites.
Parking Gruta do Natal and Misterios Negros Google Maps
3 Mistérios Negros PRC01 TER – Rainforest Hike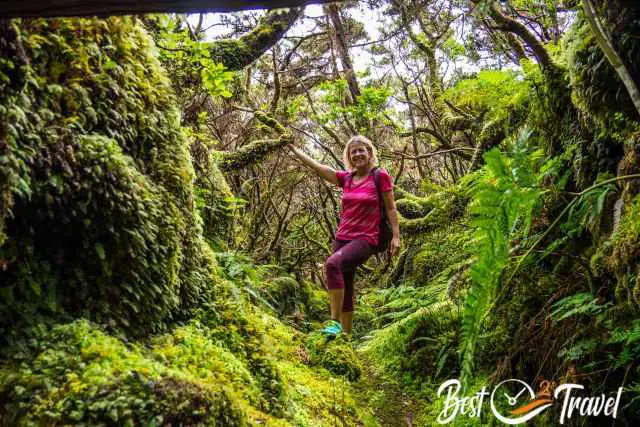 When we visited Gruta do Natal, and Algar do Carvão, we first hiked this two-hour circular trail through the untouched Mistérios Negros area "Trail: PRC1 TER" starting at the Natal Cave.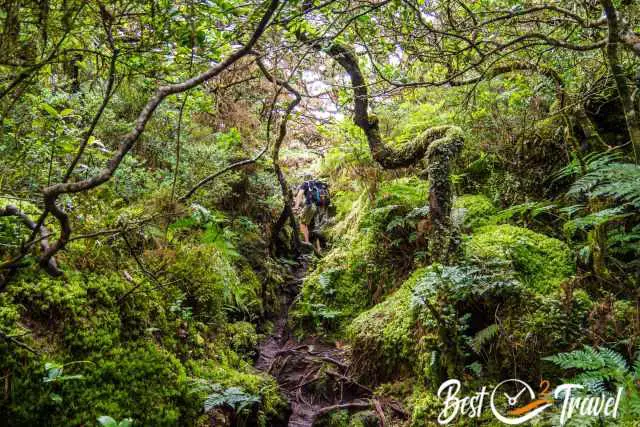 The magnificent, in some sections challenging trail leads through the thicket of pristine forests of Azores Juniper, Japanese Cedar, and Cape Myrtle, past small swamp lakes and the hills of the black Mistérios Negros. It is a bit of a climb on an uneven and, in sections, boggy path but absolutely out of a fairytale.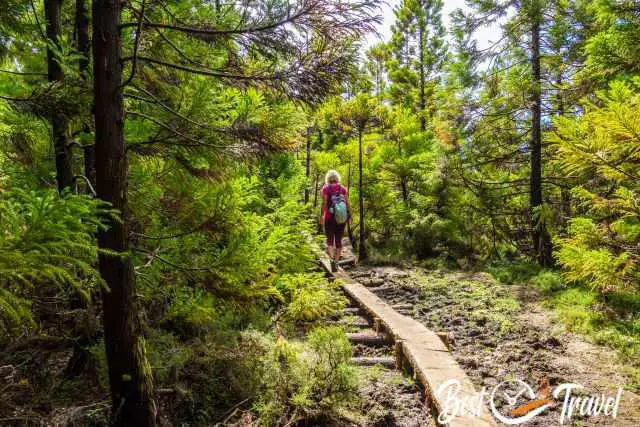 The muddiest sections are covered with wooden planks or tree stumps. When you reach the street, turn left and walk the last part on the road back to Gruta do Natal and the car park.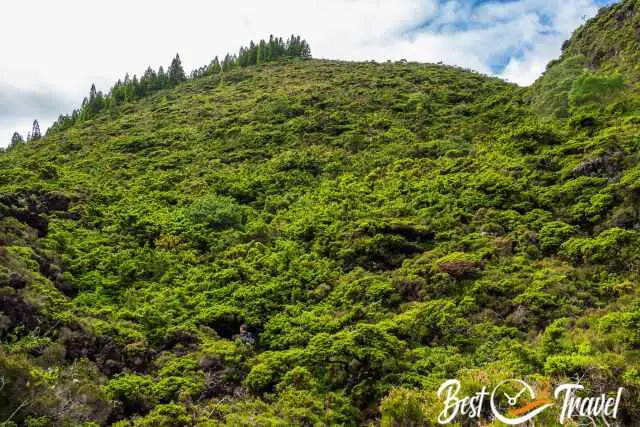 I highly recommend a rain jacket in your backpack. You are hiking in the heart of Terceira in a nature reserve which is part of the Azores UNESCO Geo Park. This lush rainforest exists because of the huge amount of rain and fog here.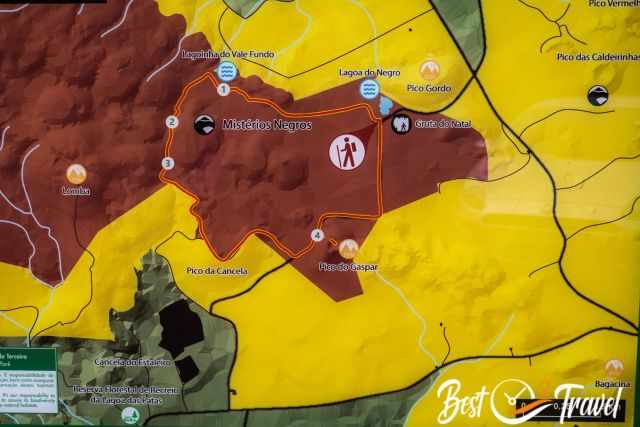 Trail length: 5 km
Duration: 2 hours
Elevation gain: 100 m
4 Furnas do Enxofre – Fumarole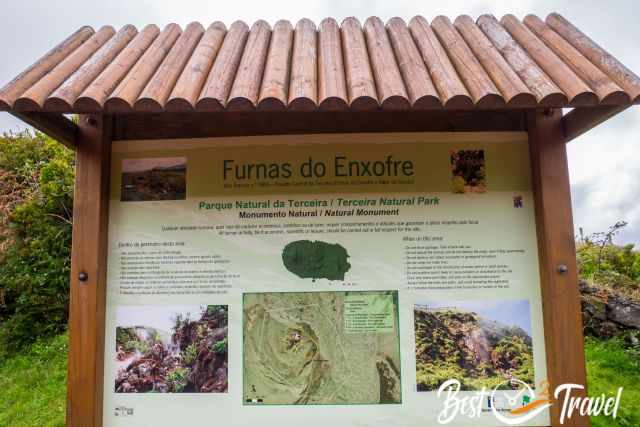 West of Algar do Carvão is this outstanding spot located. It is a great short walk after the cave visit through exceptional local flora and fauna when you approach the sulfuric vents. Furnas do Enxofre is an example of secondary volcanism. The fumaroles are situated in geological faults with a depth of thousands of meters and belong to the volcano Pico Alto. It takes a maximum of half an hour to walk, enjoy and read the information panels - entrance is free – limited parking. Parking Google Maps Location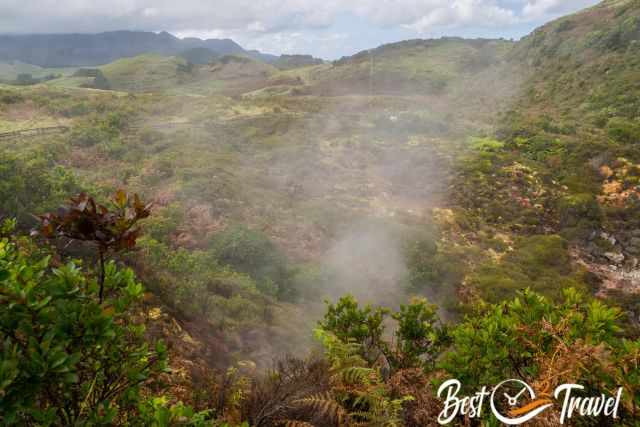 A circular constructed boardwalk leads around the most active fumaroles in the nature reserve. It is prohibited to leave the wooden path for good reasons. The sulfur fumes are toxic, and the surfaces of the springs are still hot, almost boiling. Another reason is that rare endemic plants and peat mosses grow here and need protection.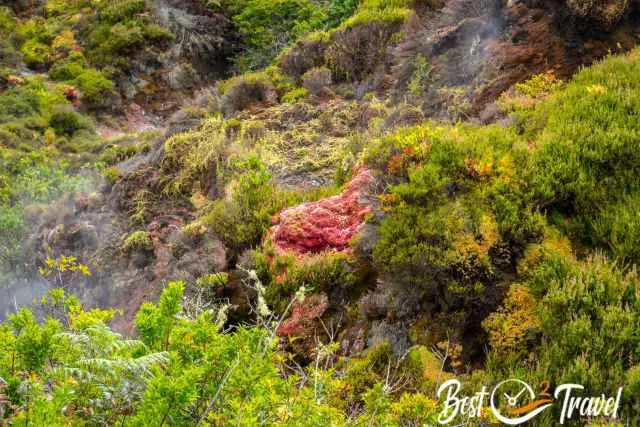 The wonderfully colourful sphagnum mosses are everywhere, right next to the boardwalks in the bog. Did you know they never die but keep growing upwards, and the lowest parts just decay? They can store 30 times their dry weight in water, making them a significant water resource.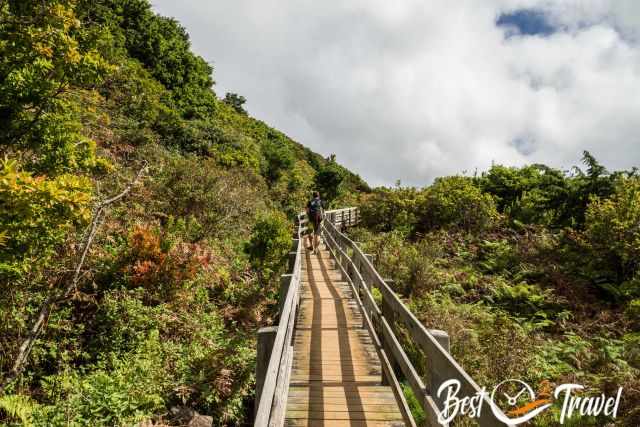 Furnas do Enxofre is most impressive in the early morning or on cool days. The hot, bright sulfur steam becomes more visible when the outside temperature is still cold. However, we passed by in the afternoon, and it was fascinating.
Due to the high elevation of roughly 600 m, the area is frequently covered in fog, and you can't see the sulfur steam clearly.
Terceira One Day Itinerary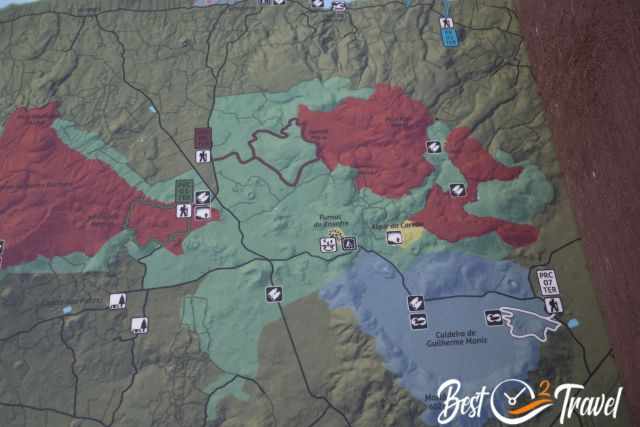 We combined the first four mentioned places above in one day, all in proximity in the centre of Terceira.
I recommend starting with the rainforest walk Mistérios Negros close to Algar do Carvão mid-morning.
Afterwards, visit Gruta do Natal - open at 2 pm in summer and the rest of the year at 2.30 pm, in the winter, opened Tuesday, Wednesday, Friday and Saturday.
Then continue to Algar do Carvão latest one hour before closure in summer at 6 pm; the rest of the year at 5 pm.
The last activity is a walk around the volcanic Fumaroles of Furnas do Enxofre.
Bring water and a sandwich, and enjoy this excellent day in the heart of Terceira.
5 Angra do Heroismo and "Impérios"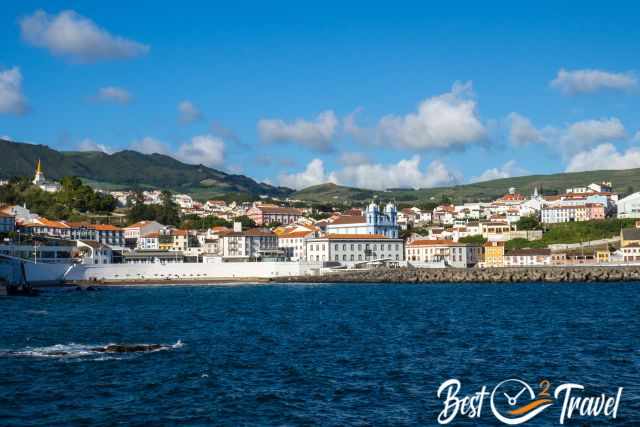 The old town of Angra do Heroismo has been a World Heritage Site since 1983. After the earthquake in 1980, the old centre was rebuilt in record time with the support of UNESCO.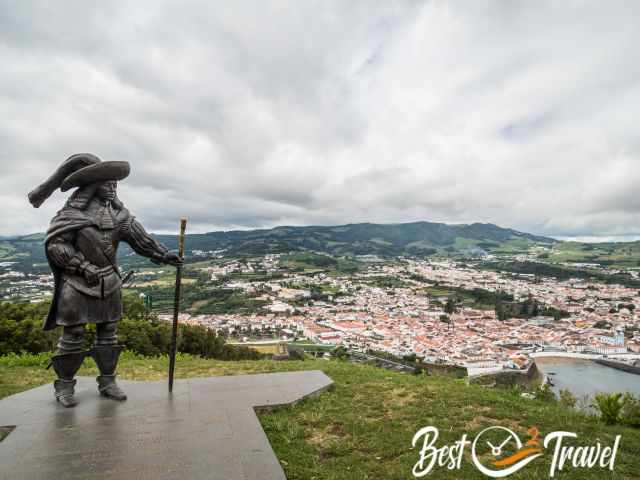 It is one of the most beautiful cities in the Azores with a special and colourful charm. Almost every house presents itself proudly and with its colourful facade.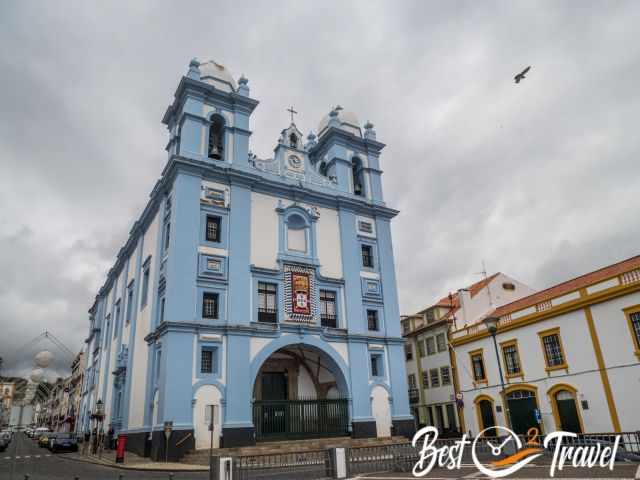 The blue church in the heart of Terceira and at the harbour was built in the 18th century in the same location as the first hospital in the Azores from the late 15th century.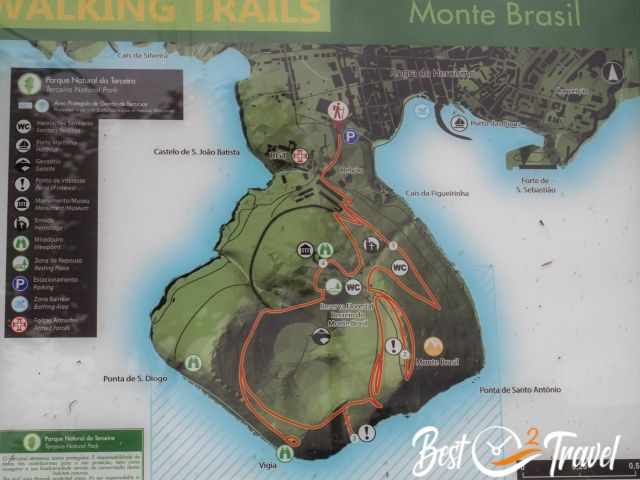 You may wonder why I did not add Monte Brasil, but Terceira has better fascinating places. One of Terceira's hiking trails, PRC 04 TER, leads to the top of the hill, but there is also a paved road for easy access, and you share the viewpoint with many other visitors.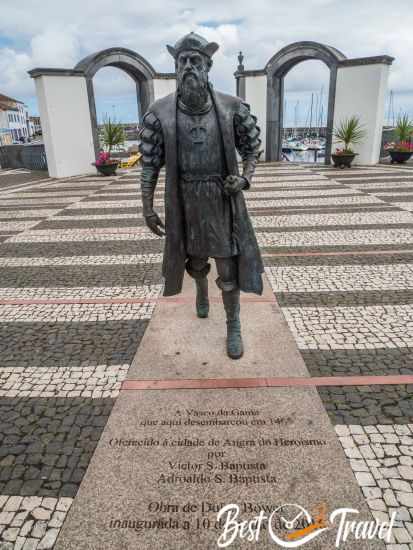 The best way to explore Angra is on foot. Enjoy a walk on the cobbled paths through Angra do Heroismo and learn more about the history displayed on information panels. Map Walk and Sights Angra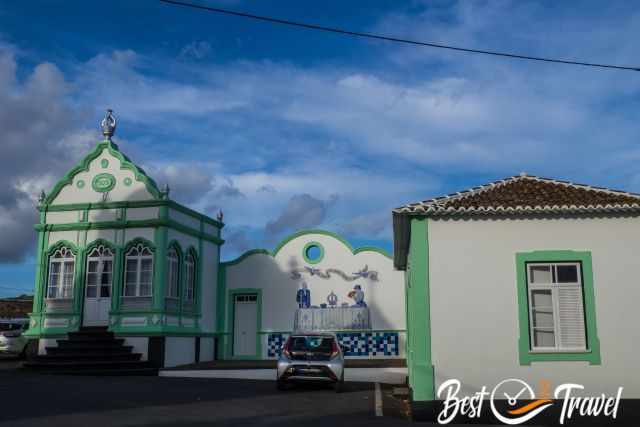 Colourful "Impérios" - Holy Spirit chapels or churches can be found in all Azores islands, but  Terceira has the highest number, over 70. Every town or neighbourhood has its own beautifully decorated "Império de Espírito Santo".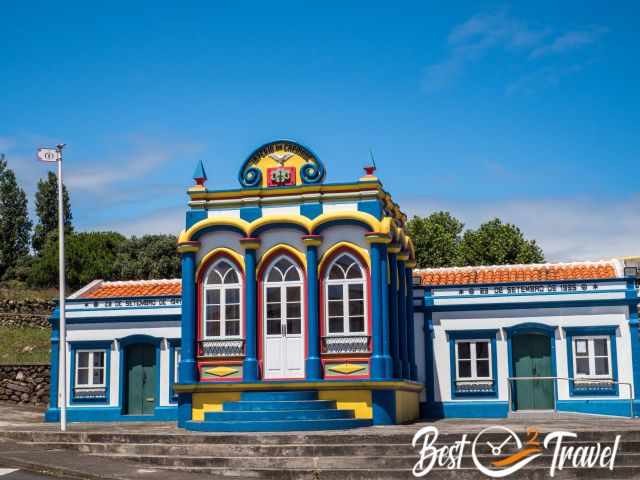 These kinds of temples welcome the Holy Spirit. Around this custom, magnificent festivals are held by the residents.
6 Lagoinha Forest and Lake Walk - PRC03 TER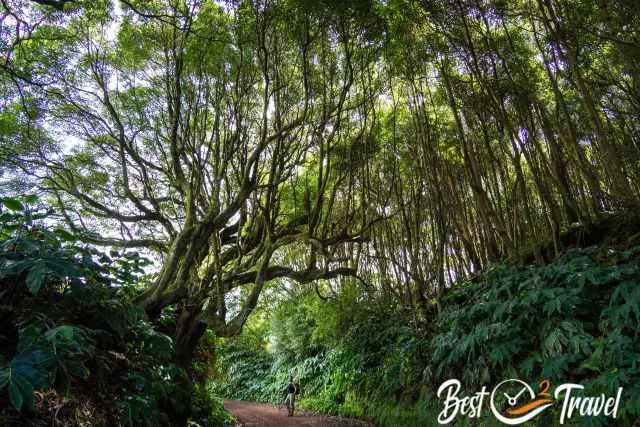 This is another beautiful circular trail but a more moderate to difficult hike through the lush vegetation in the nature reserve of Terceira. You get to the trailhead of PRC03 TER and parking on a dirt road. Google Maps Location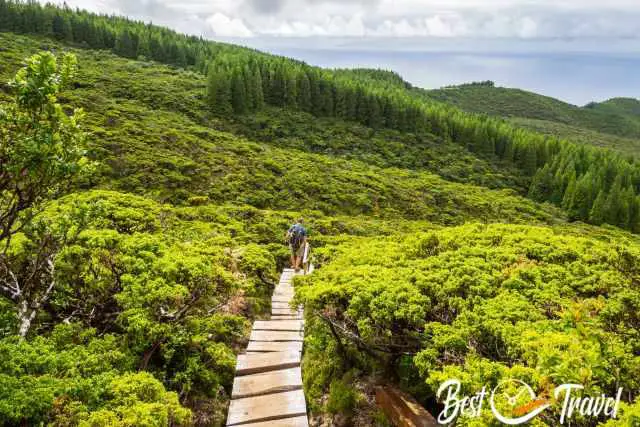 Also, on this trail are many endemic and native Azorean plants, and it is muddy in sections. The trail is clearly marked, and in some parts, boardwalks and wooden steps have been installed to protect the flora and the soil.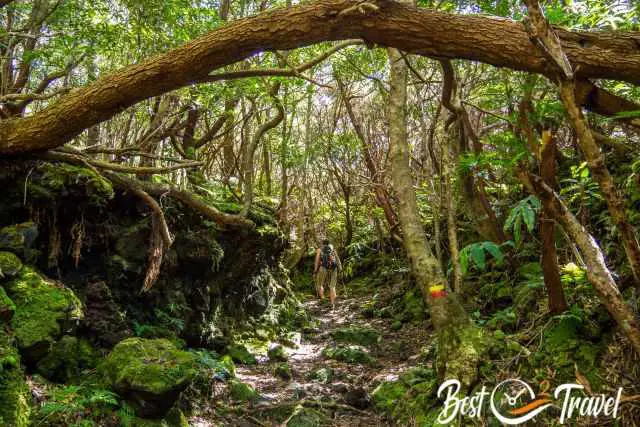 The trail markings are in yellow and right, making it easy to follow the wild and almost seven km long track.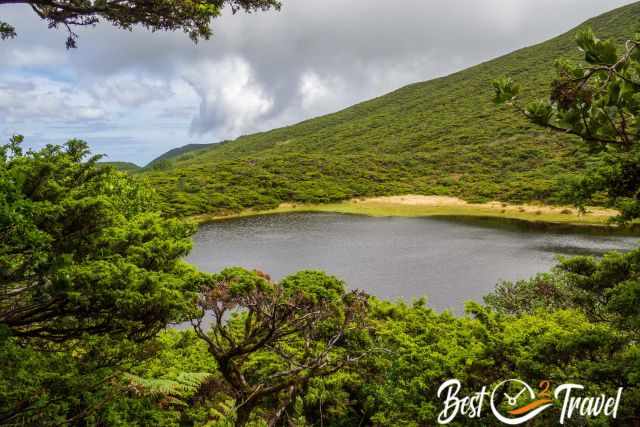 Trail length: 6,8 km
Duration: 2 1/2 hours
Elevation gain: roughly 400 m
7 PRC07 TER - Passagem das Bestas - Furna d'Agua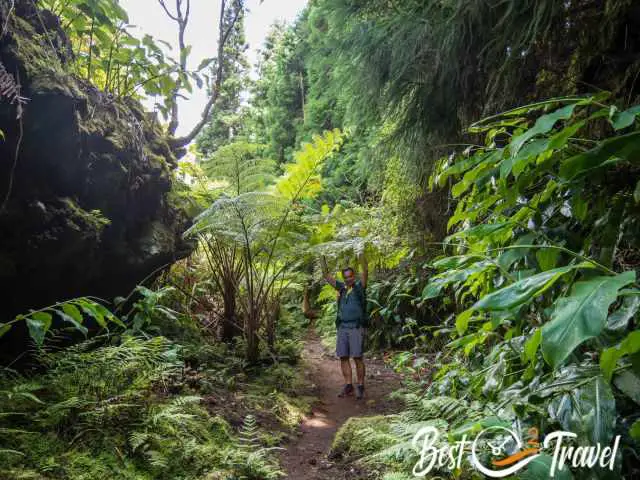 This is a short circular trail through breathtaking lush forests and Japanese cypress trees with breathtaking views into the caldera Guilherme de Moniz. Several springs occur here at Furna d'Agua.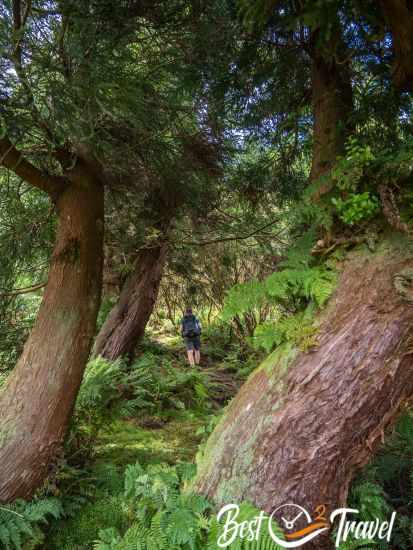 You first follow the old oxcart track, which was used to pick wood from higher elevations, before you access the forest of Japanese trees. The trail is steep in sections but always well-marked.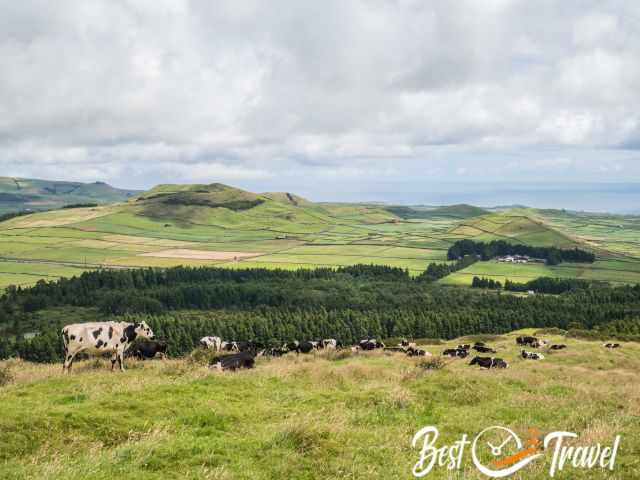 You cross a meadow offering great views of volcano craters and access another forest with fern trees, junipers, and viewpoints into a huge caldera. The "Caldeira de Guilherme de Moniz" was developed 23 thousand years ago and covered with basaltic lava by the Algar do Carvao volcanic system 2000 years ago, the reason for this fertile soil.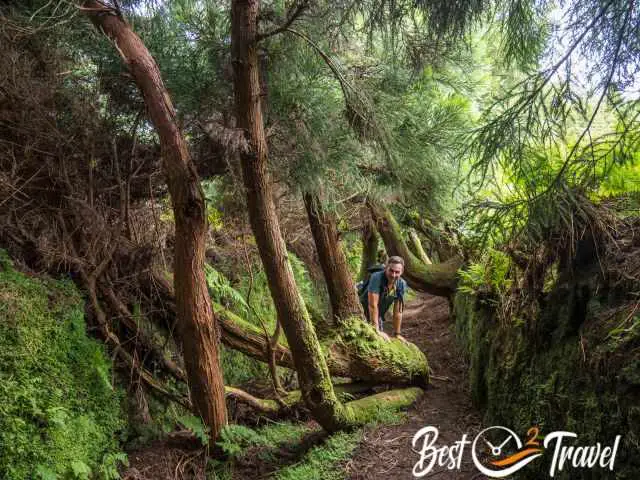 After the higher elevation viewpoints, you descend back through a ravine to the oxcart track and the car park.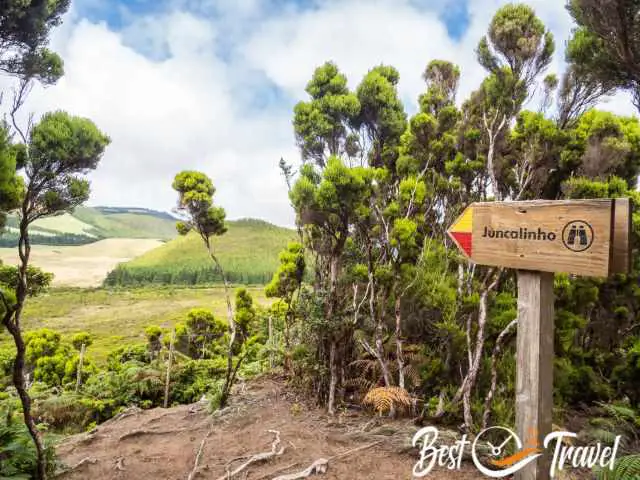 Trail length: 4 km
Duration: 2 1/2 hours officially - it took us 2 hours with plenty of photo stops
Elevation gain: roughly 120 m
8 Piscinas Naturais in Biscoitos and Close to Angra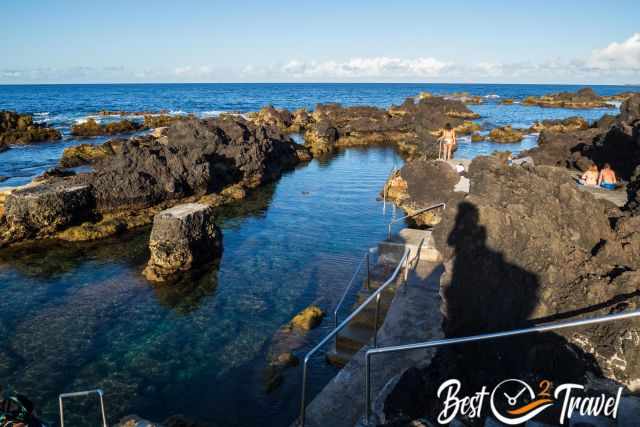 Biscoitos is located in the north of Terceira and Zona de Banhos do Fanal close to Angra in the south. More natural swimming pools are spread around the coast of Terceira, but these two were our favourites.
Biscoitos (Google Maps Location)
This is an excellent spot for swimming in natural lava pools from May/June until October. During low tide, you are able to swim in several pools close to the rough Atlantic Sea, at high tide, it is safer in the big pool close to the shore. Lifeguards are on duty during the peak season from mid-June until mid-September (official bathing season), and a food truck, nice fruit and veggie vendors, restrooms, showers, a restaurant and a café are available.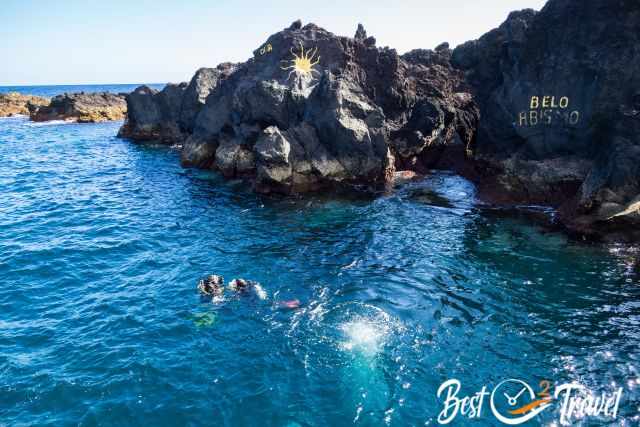 It is also a great spot to snorkel either in the safe pools and also in a protected bay for experienced snorkelers, which is also popular with divers. And best of all, one big pool is possible to access for people with disabilities.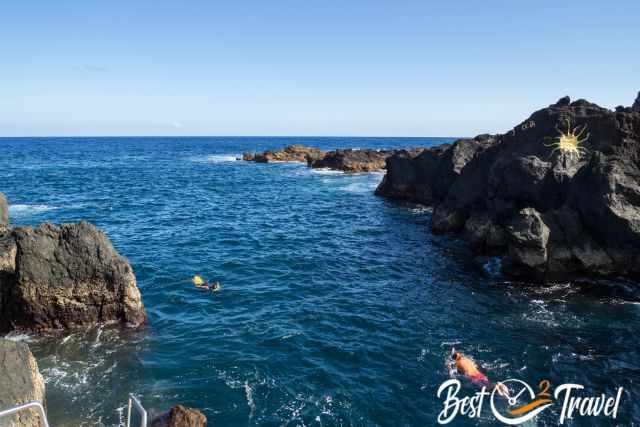 The water quality is excellent and controlled regularly. Ample of parking for free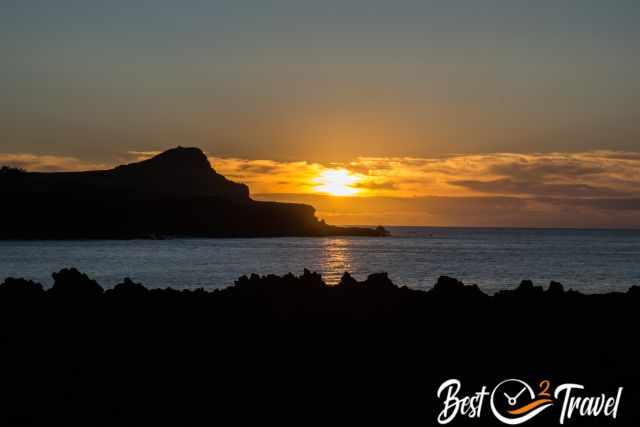 During weekends and afternoons in the summer a bit busy, however, there is lots of space for all visitors to enjoy the stunning scenery.
Tip: Don't go barefoot. Wear water shoes to protect your feet from the sharp lava rocks.
Unfortunately, there is no paradise without pitfalls; the toxic jellyfish; the Portuguese Man-o-War can occur here, and we saw three small ones in one of the pools on a windy day in September but not in July.
Banhos do Fanal close to Angra (Google Maps Location)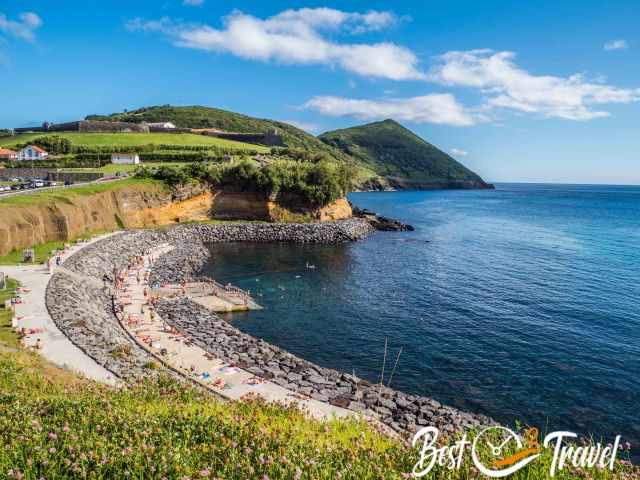 This is an excellent bay for swimming next to Angra protected from the strong surf. You get easily into and out of the water without watershoes. There are showers provided and lots of space to enjoy the sunset.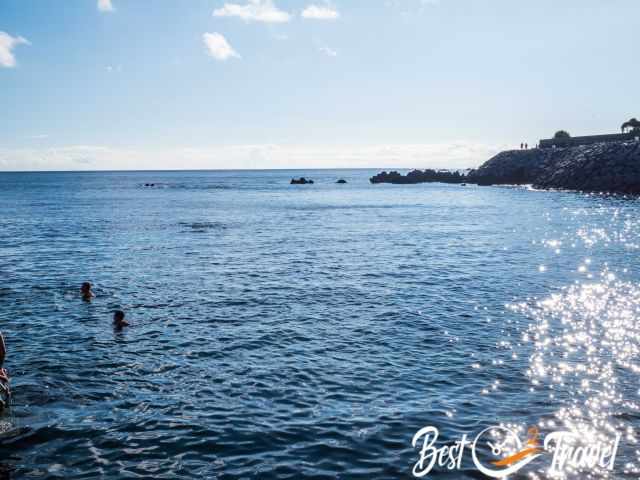 In the peak season in summer in July and August, it is a little busy here but nevertheless we always found a parking lot. A paved path leads along this part of the coast.
9 Miradouro da Serra do Cume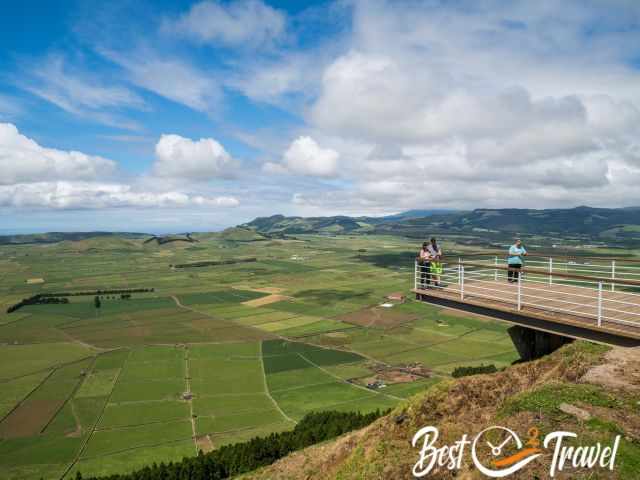 This viewpoint in the east is incredibly beautiful on a sunny day. When the wind turbines on top of the mountain are covered in clouds, it is not worth driving up to the lookout at 542 m elevation.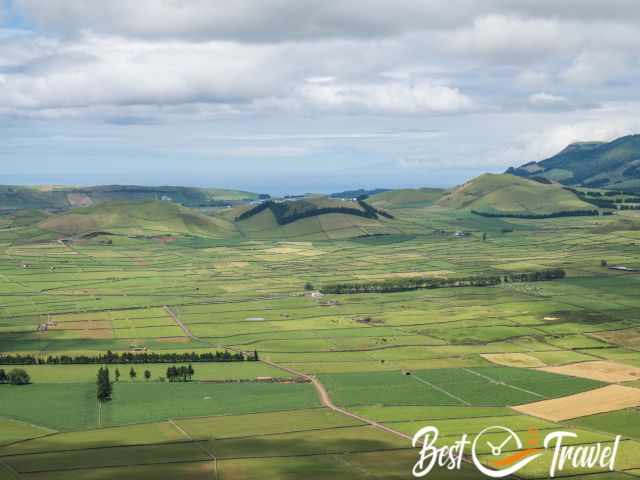 This panoramic lookout is also a great spot to watch the sunset. Bring a jacket even during the day; this viewpoint is heavily windy. Information panels provide details about the craters and how they were developed.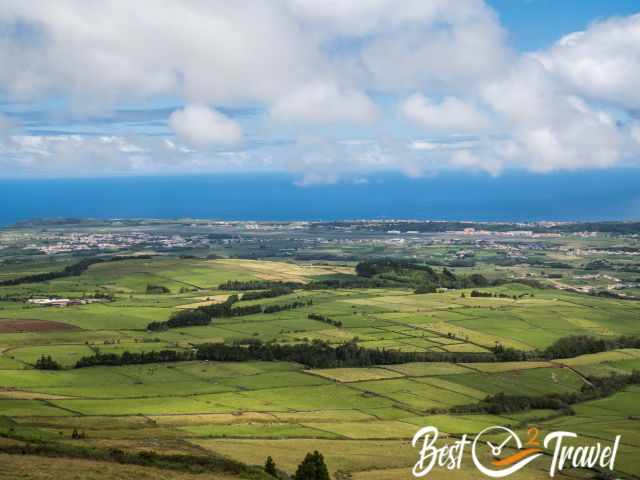 If you use Google Maps to get here I recommend following the old road signs on the journey to Serra do Cume. The roads that google suggests are partly very narrow. Follow this old signs and you get easily to the top.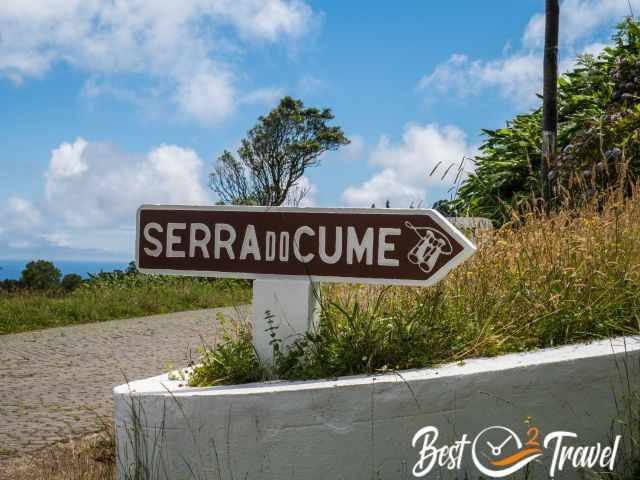 Enjoy the "50 shades" of green from here.
Top Tip for the Winter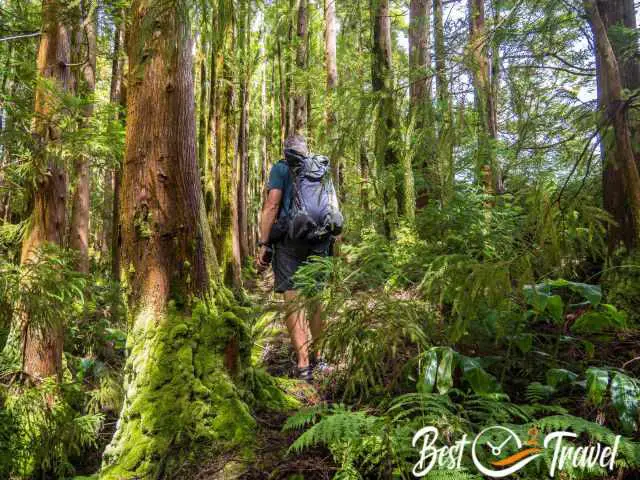 When you arrive at the airport of Terceira, you will see a picture of Explore Terceira. In this photo was a beautiful waterfall in a forest. We figured out where this spot is, but the waterfall only occurs in the wetter winter season. So rain or shine there is always a reason to visit Terceira.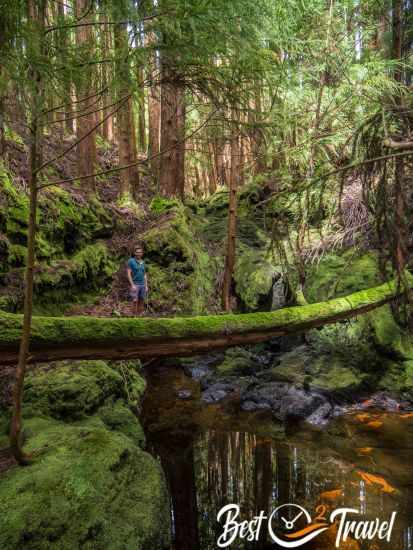 This track does not exist officially but you are permitted to walk here. It took us a while to find the spot; therefore, I added a Google Maps link where you can park the car and where the trailhead is located. Google Maps Location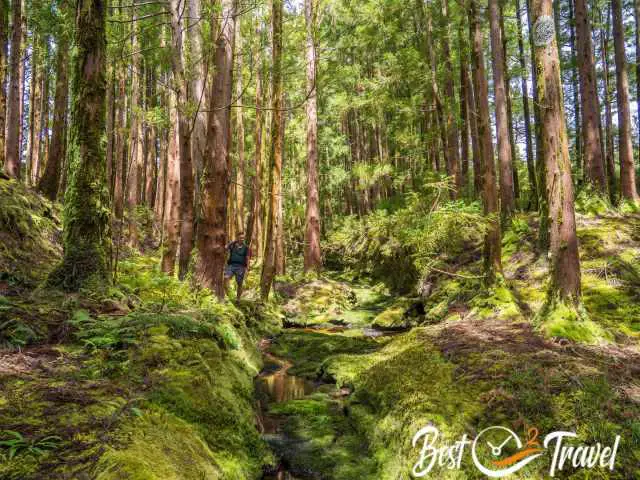 You follow the stream for roughly 500 m and must cross the water three to four times to continue. It took us less than half an hour to find this place.
Gear Tips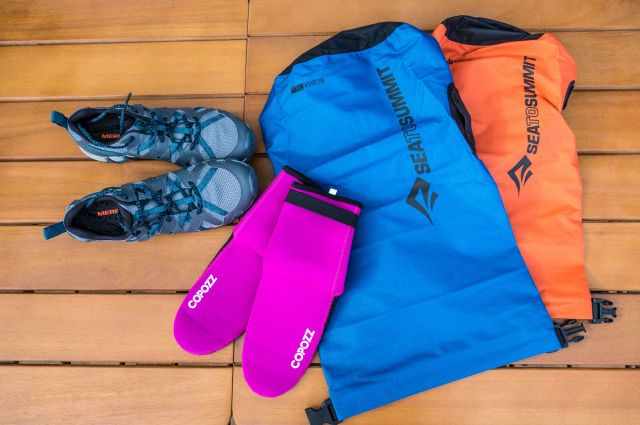 My watershoes, neoprene socks for warmer feet, and waterproof bags for the camera and valuables.
We found a great new lightweight (15.9 oz/450g) waterproof daypack Typhoon from Exped, volume 25 litres.
If you follow the links and order your gear at Amazon, I earn a small commission which supports me in providing these travel guides for free at no extra cost to you. Thanks 😍
Restaurant Tips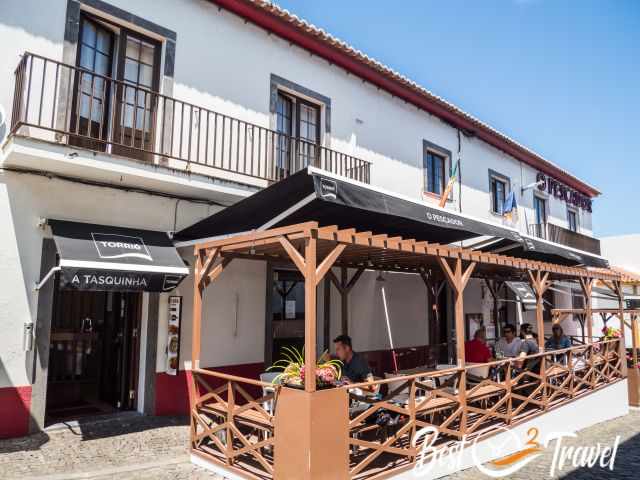 We tried out new restaurants in Terceira. The restaurant O Pescador is our new favourite one for seafood. The Lapas, Arroz de Marisco and Tuna were excellent.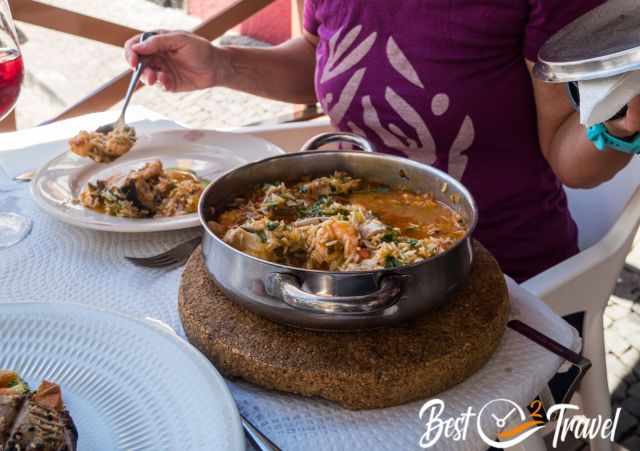 The service by Diego was great. He spoke excellent English and explained everything to us. I highly recommend to book a table in advance. Although huge inside they are fully booked even during the week.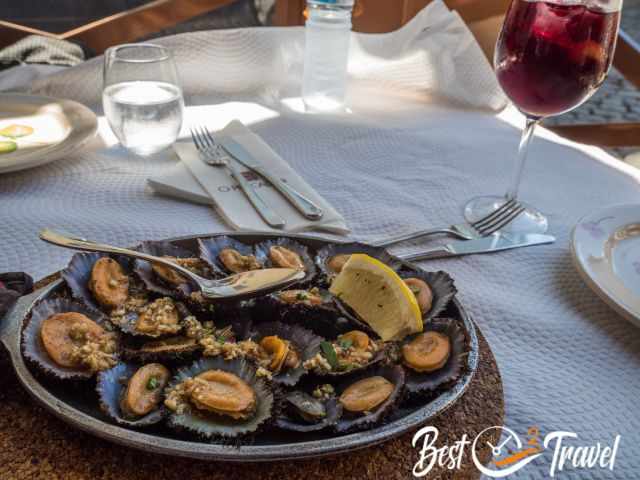 I always try the Lapas. After that we usually know if it is worth to order more. Everything we ate was fabulous. Although some mentioned it is a bit pricey it was worth every Euro we paid. Location Google Maps
Telephone: +351295513495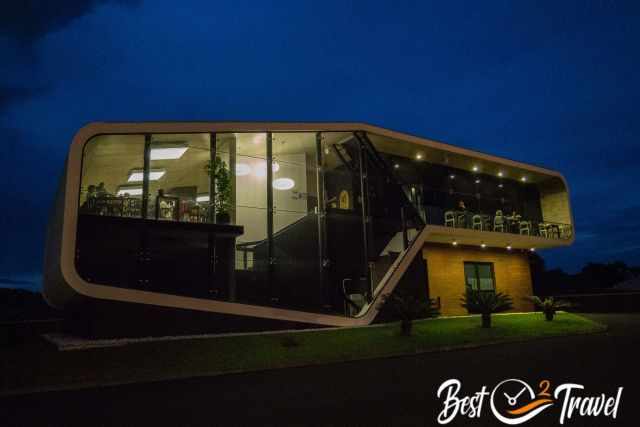 Like everywhere in Portugal and the Azores, plenty of excellent restaurants offer outstanding seafood for an affordable price.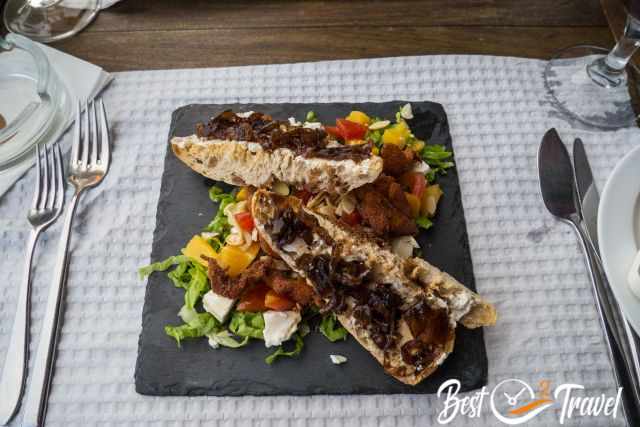 By accident, we had dinner in Restaurant R3 opposite our hotel during our first visit, and we enjoyed dinner here in Terceira. R3 Google Maps Location
Hotel Tip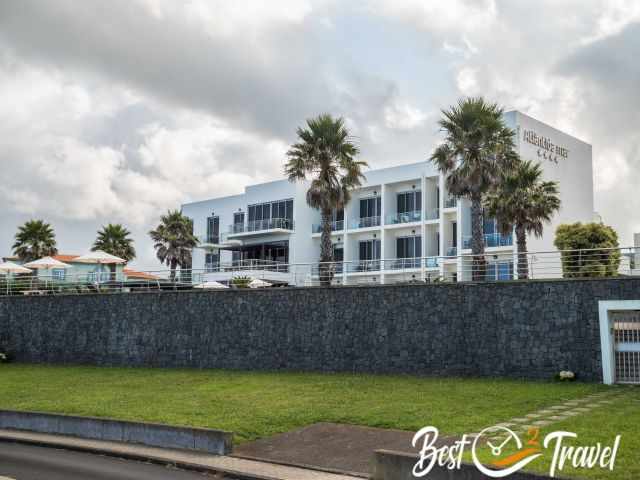 The 4-star Atlântida Mar Hotel was perfect for our first four-night stay in Terceira. We had a spacious room with a kitchenette and balcony with an ocean view. Breakfast was included and absolutely great. The staff was wonderful, and so was the location.
How to Get to the Azores and Terceira?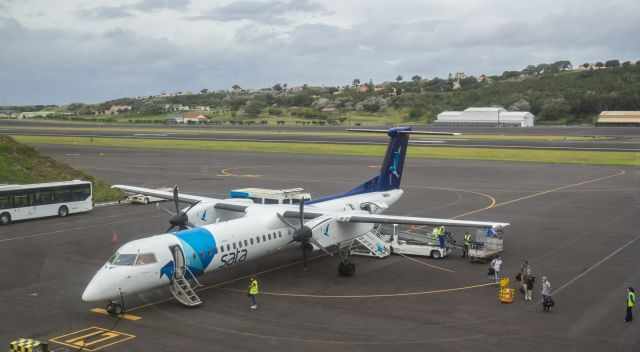 ​Sao Miguel is the central hub of the 9 Azores Islands. It is a two hours flight from Portugal's mainland from Lisbon to Sao Miguel - Ponta Delgada. There are also direct flights from Boston, New York, and Toronto by SATA (Azores Airline) and TAP to Sao Miguel, Pico, Terceira, and Horta available. The direct flights take 5-6 hours. Also from Europe are direct flights offered like from Frankfurt.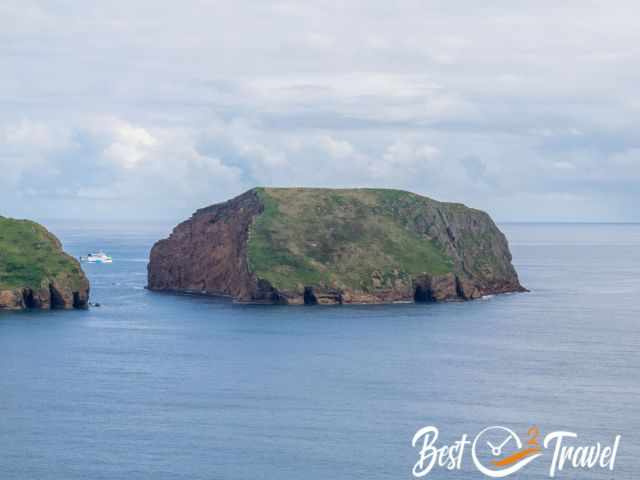 Travelling from one island to the next is cheap and easy to handle by ferry or SATA Airlines. SATA offers exceptional service; you can easily change your flight on the Azores without additional costs, just by telephone. Sport and diving equipment is free of charge; it only has to be added to your booking.
These are my recommended tours for the centre of Terceira via GetYourGuide. Thx for booking via my website! With your support, I am able to provide all information first-hand. Tour prices are at no extra cost!
Location and Tips
Azores, Terceira
Portugal

Terceira is the third largest island of the Azores, with 403 km². In two hours, you can easily circumnavigate the island by car - 80 km on developed roads.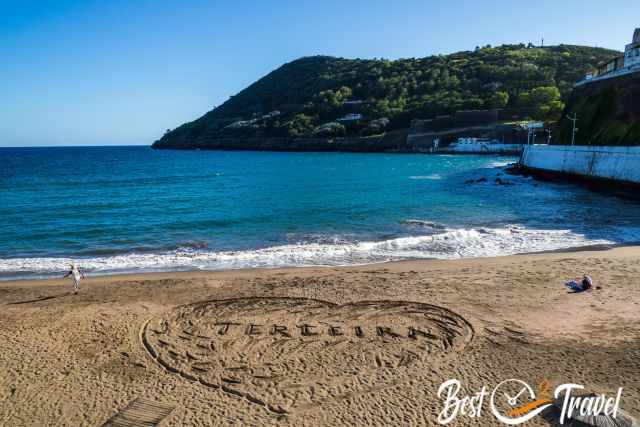 Terceira stands out for its untouched and enchanted forests that can be discovered in the hinterland. In addition, there are two famous caves close to each other, yet not connected.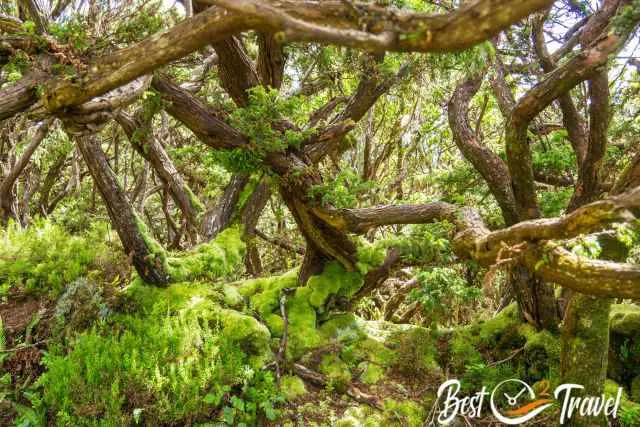 We visited Terceira twice and explored all these places. I gathered all this information for you. If you like the article, I would be happy if you shared it with friends and on social media. If you want to support me, subscribe to our YouTube Channel, and you may find some ideas for your next vacation. Also, check out our YouTube Shorts about the Azores.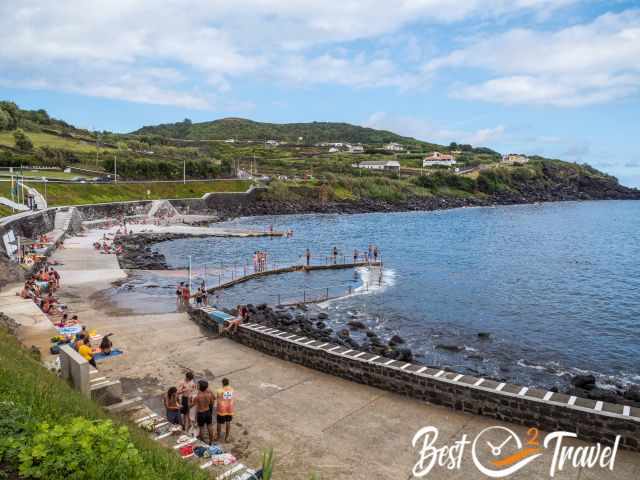 If you wish to use any of my photos, contact me, but I will take action against picture theft. Why do I write this here? Hundreds of my pictures are used worldwide without any credit, nor did they get my permission. I don't mind giving permission, but I want to get asked for it and to be mentioned. The world wide web changed a lot, and rewriting honest travel content is the new business for many fake travel websites. Do you wish to know more about this topic and how to unmask such websites quickly? Read my article "The Truth About Fake Travel Websites and Picture Theft." 
Does honest travel content from real experiences has a future? I don't know any longer.