When Is the Best Time
Madeira is one of the most beautiful islands in the world, and you never get bored here. It is an excellent destination for all types of holidaymakers. There are excellent and protected beaches in the sunny south and picturesque natural pools safe for swimming in the wilder north. IMO this island can even compete with Hawaii, but life is more affordable here a restaurant visit is much cheaper and delicious too.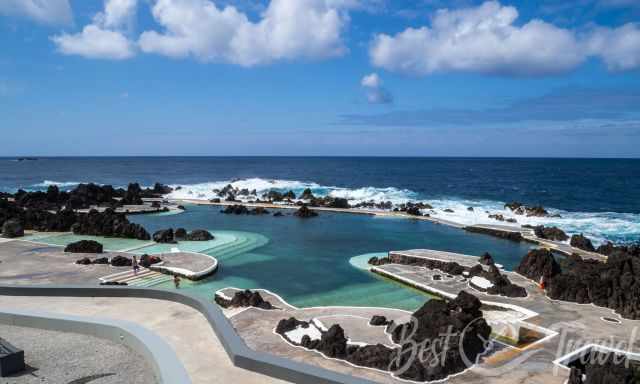 Although more than 1.5 million visitors spend their vacation in Madeira annually, you are still able to find quiet beaches to sunbathe and go swimming.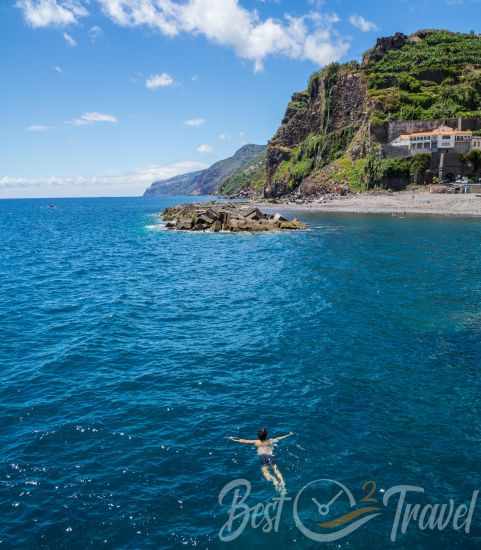 The sea is crystal clear, and the sea temperatures are already bearable in April at around 19°C and climbing to roughly 25°C the end of summer. The so-called autumn feels like summer in Madeira, and the sea is still pleasant, around 20°C warm.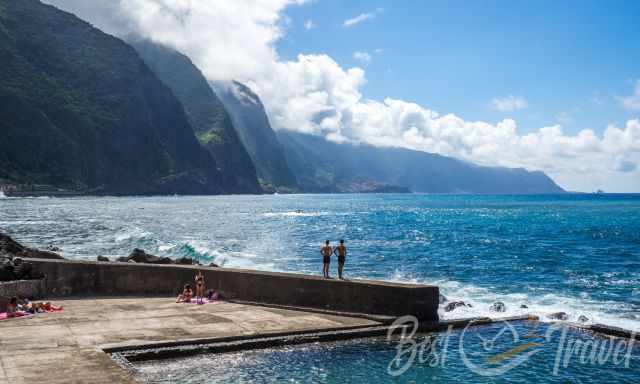 May to October is the best time to visit Madeira for swimming, sunbathing, and enjoying beaches. There is usually a light breeze which is perfect for the hotter summer months.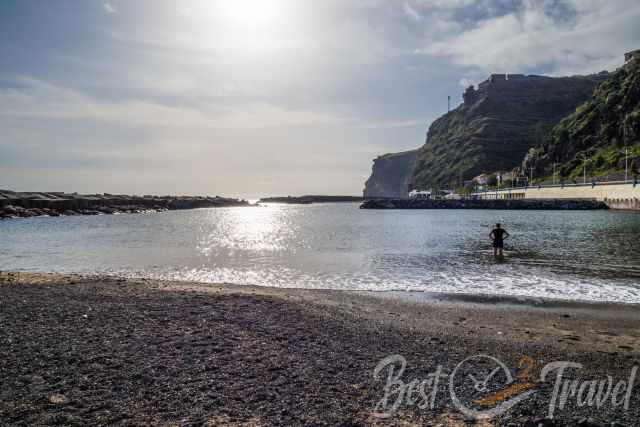 Madeira is crowded during the summer holidays in July and August, like elsewhere in Europe but you are able to find quiet spots on this huge island.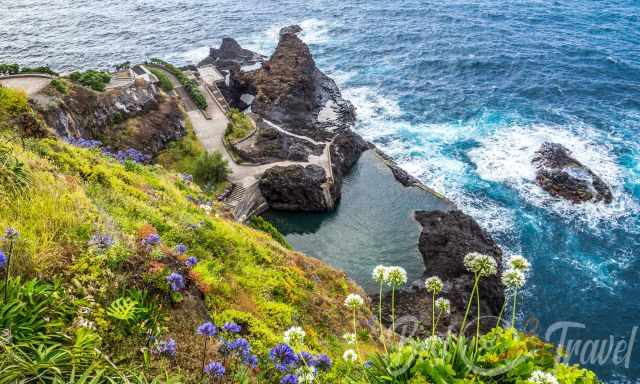 The north is beautiful and lush green because there is more precipitation. However, although there aren't any sand beaches, there are fantastic natural seawater pools safe for swimming. Our favourite Natural Pool is Seixal in the north - more details below. Check out my Map and Table of Contents for a quick overview: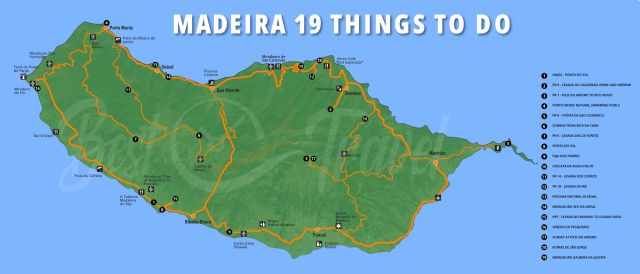 3 Sunny Beaches in the South
1 Calheta Beaches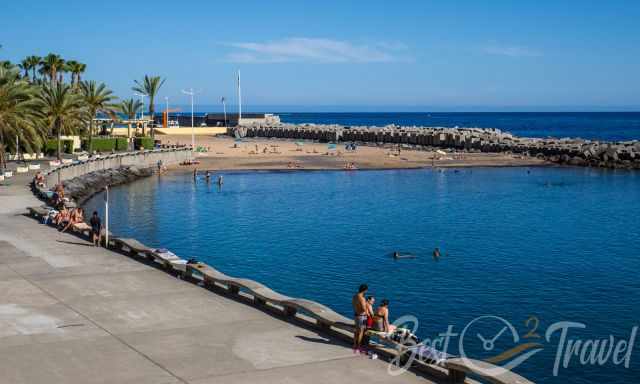 Calheta in the south is famous for its sandy beach and the breakwater, which protects the bay from powerful waves and currents. It is one of the very few sandy beaches in Madeira. The sea temperature in this protected bay is at least three degrees warmer than elsewhere. The reason we were heading down for swimming frequently. High tide is the best time; otherwise, the water level is a little low.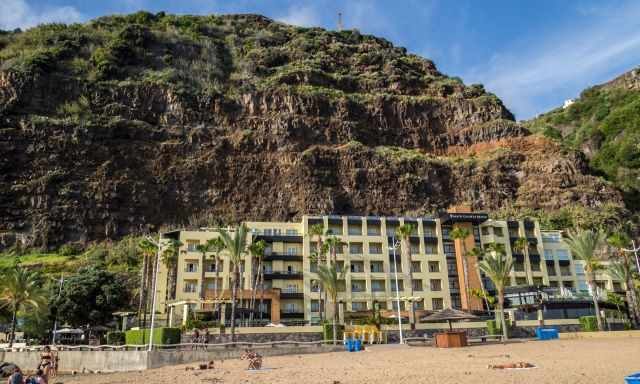 The Calheta Beach Resort is excellently located in front of the beach and sea and in walking distance is a small supermarket Pingo Doce. It is shallow water here and in combination with the sand beach excellent for children.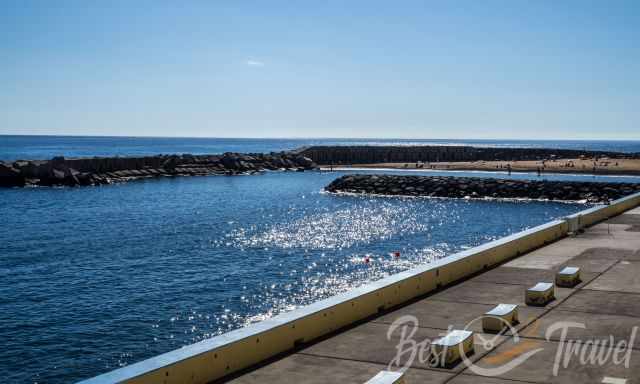 It is a nice promenade to stroll along the sea and drink a cocktail. There is a second hotel with a restaurant and a bar and an additional pebble beach also protected by a breakwater. This beach we liked most for swimming because the sea is deeper but not suitable for children. Google Maps Location
2 Ponta do Sol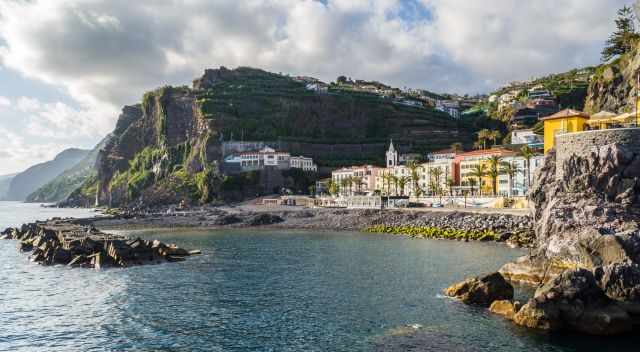 This town is located in the south, and it is one of the sunniest places. There is an interesting historic town centre, lovely restaurants, and one of our favourite spots for swimming. The protected bay is well laid out.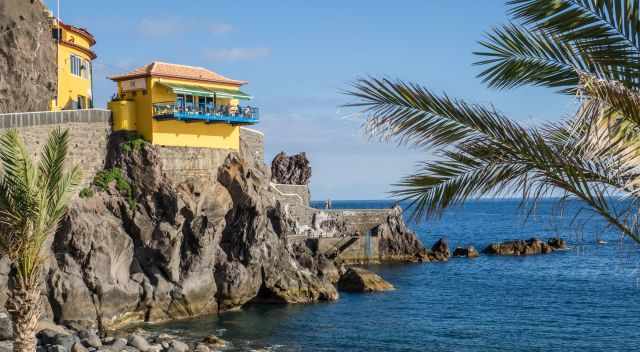 A staircase leads down to the water, and a ladder is also available, depending on the tides, very helpful. There is plenty of parking available not only next to the beach but also in tunnels on either side. On the opposite of the bay to the eastern side is the pier located. It was the largest pier on the southwest coast until the mid-20th century. A staircase is leading down to the pier for boat trips starting here.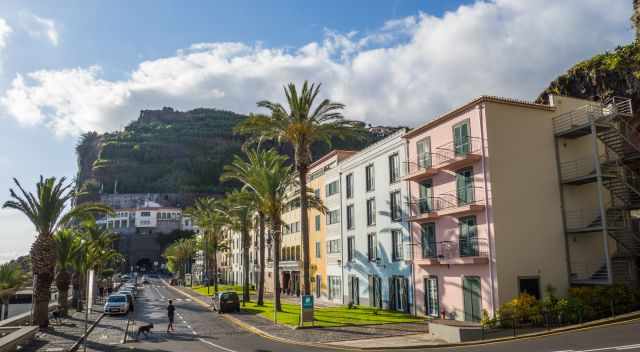 There are lots of highly-rated hotels in Ponta do Sol. These hotels (by booking.com) are opposite the awesome sunny bay. A link is added to the picture above to get a list of the best-rated hotels via booking.com.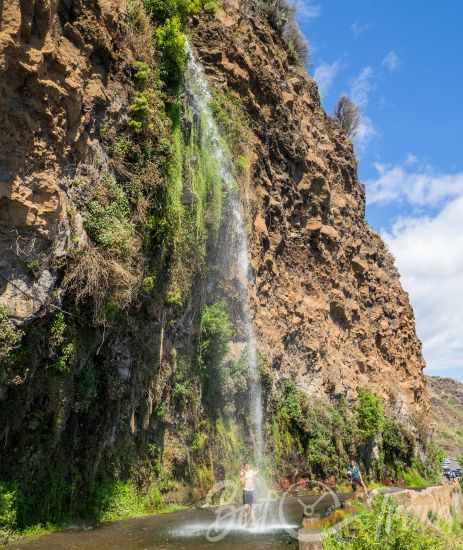 Just within walking distance, you can find this famous Instagram spot called "Anjos". It is a funny place to take a cold shower, for watching people and how cars get cleaned from the salt. Google Maps Location Ponta do Sol
3 Faja dos Padres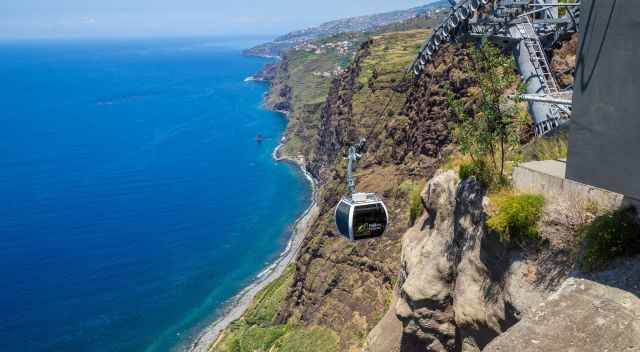 Do you like to escape the crowds? This is your beach and the perfect place to relax! Taking the cable car 300 m down the cliffs is a unique experience. Usually operating from 10 am to 6 pm, summer longer. It is pricey 10€ the round trip but worth it. They have an excellent restaurant offering their own fruits, veggies, wine, and fresh-caught fish out of the sea. It is all grown on their property.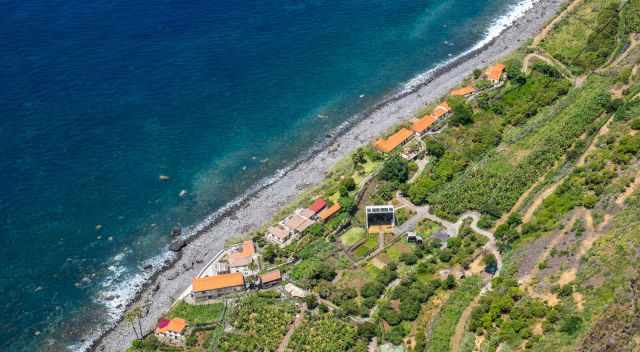 This place is secluded from the island, a memorable place to spend an entire day or a couple of days. Go for a swim and enjoy their garden. Escape the hassle and bustle for a couple of days; stay in their Faja dos Padres Hotel and enjoy the sound of the ocean during the night. A link to the hotel is added to the pictures above. Google Maps Location
3 Natural Pools and One Pebble Beach in the North
1 Porto Moniz - Natural Swimming Pools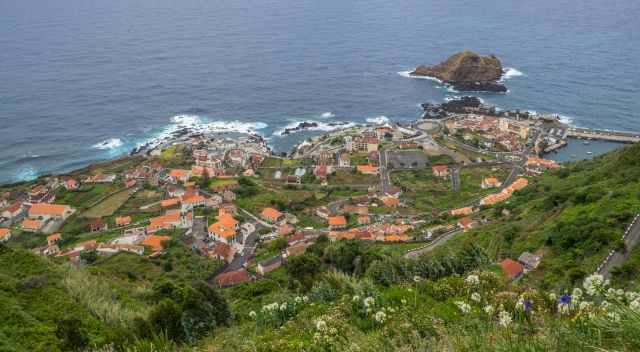 Another fantastic spot for swimming is located in Porto Moniz in the northwest of Madeira. Natural and human-made seawater pools protect swimmers from the rough sea and the strong currents.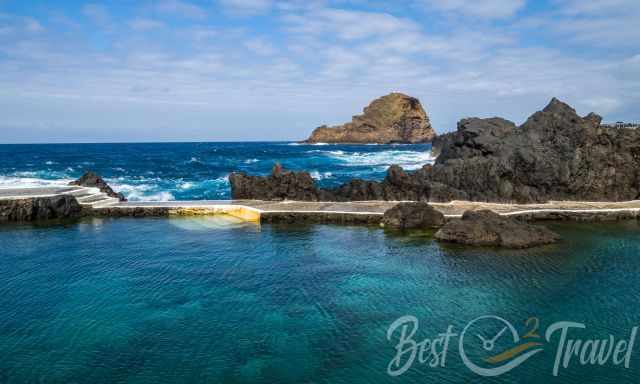 The pools are open to the public in summer from 9 am-7 pm and in winter from 10 am-5 pm. A small entrance fee of 1.50 € for adults is requested.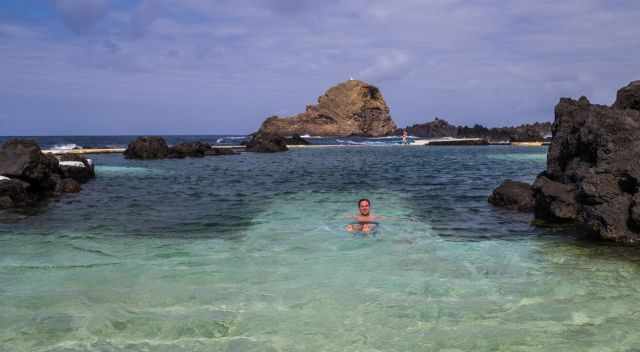 What I like most is the location and how the landscape and the rocks were combined with these pools. The sea in the north is rough not safe for swimming but these pools are outstanding and you easily spend an entire day here.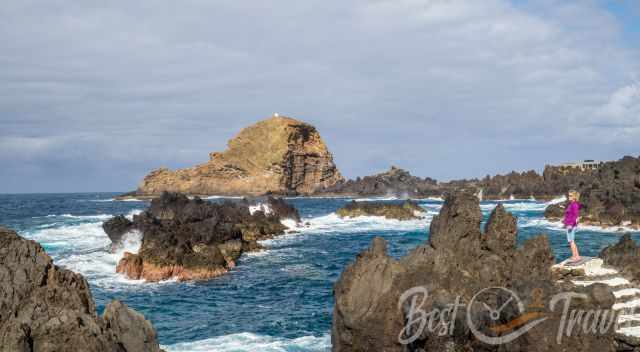 We visited the pools multiple times, and even on a windy day, it was worth coming here. Inhal this clean and pure sea breeze is excellent for respiratory diseases. Google Maps Location
2 Piscinas Natural in Seixal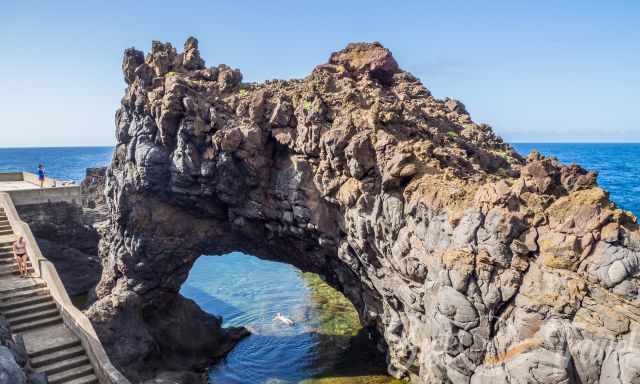 These natural pools are spectacular for swimming in front of the untamed Atlantic Ocean in the north. They are always accessible but safest during low tide. Check the tide times first. These pools are still a hidden gem hardly overrun.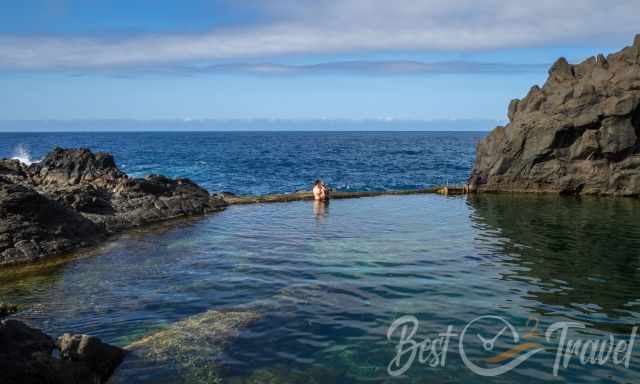 To the left powerful waves can crash into the pool. Visitors got already injured. Entrance and parking for free. In front of the pool is another small pool, almost in a shape of an eight. This one is sharp at low tide accessible on a calm day.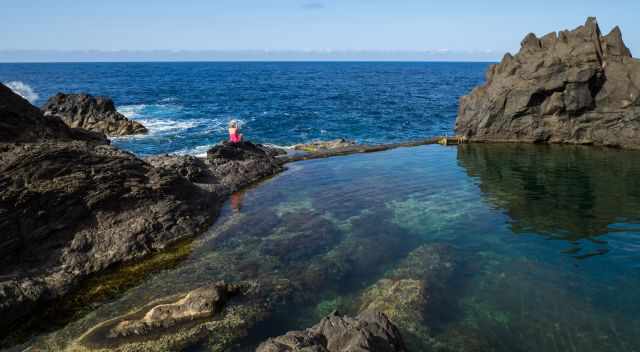 Piscinas Natural in Seixal Google Maps
3 Piscinas Calamar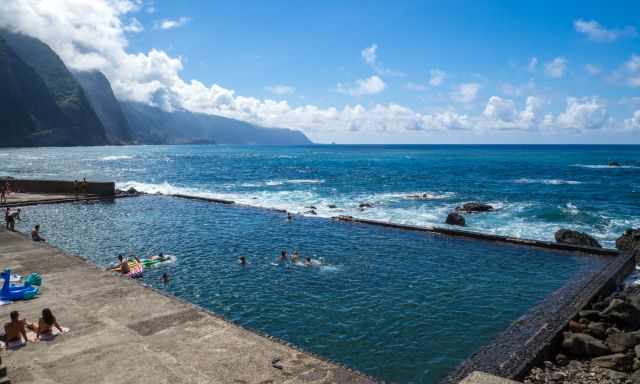 There is a hotel, restaurant, swimming pool, and this seawater pool. Also, this pool is safest during low tide. Trust me I know what I am talking about.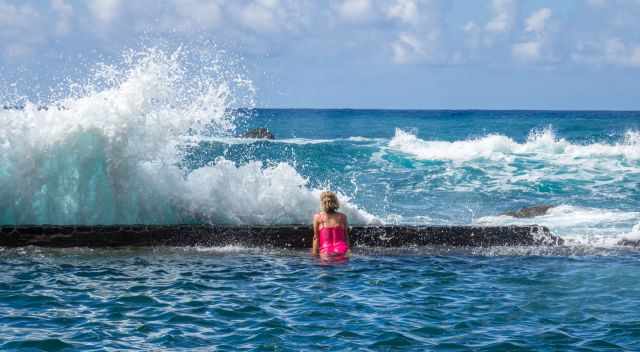 This seawater pool is spectacular. The coast looks similar to Kauai, Hawaii. It is an excellent place to spend hours with family and kids. If you are concerned about the occurring high waves there is a pool on a higher level.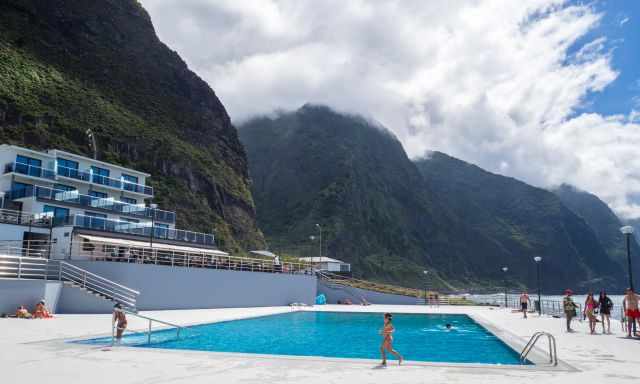 What an exceptional location the Hotel Calamar has. No entrance fee neither for the pool nor the natural seawater pool during our visits. On top is a restaurant located. Plenty of parking, but definitely fat too few in summer and on Sundays. The locals love this spot for lunch and having a leisurely day with family and friends. Google Maps Location
Praia da Ribeira da Janela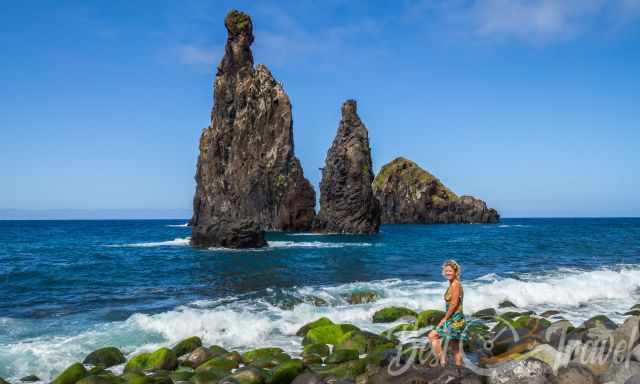 This is a fascinating rocky beach and a picturesque spot for the sunset in summer. These spectacular rock formations are a famous Instagram spot developed by a volcanic eruption millions of years ago and formed by weathering.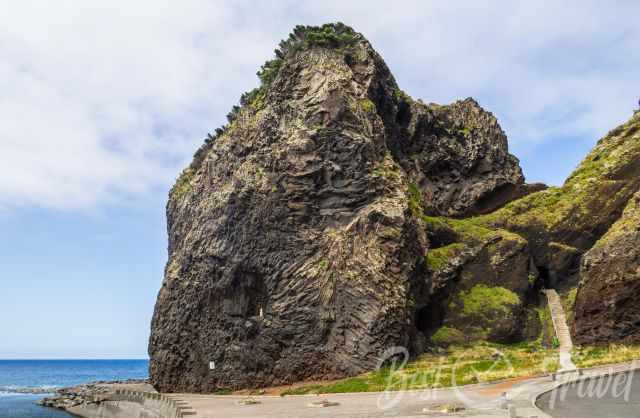 There is ample parking in front and taxis offering their service. Google Maps Location
Location and Tips
Madeira
Portugal

Madeira is like a little continent having all types of landscapes, from beaches to lush forests and Levada hikes, mountains in the centre, and waterfalls where you can take a bath. The south of Madeira experiences more sun, and from our experience, after two long-term stays, the area around Ponta do Sol and Ribeira Brava is the driest on the entire island.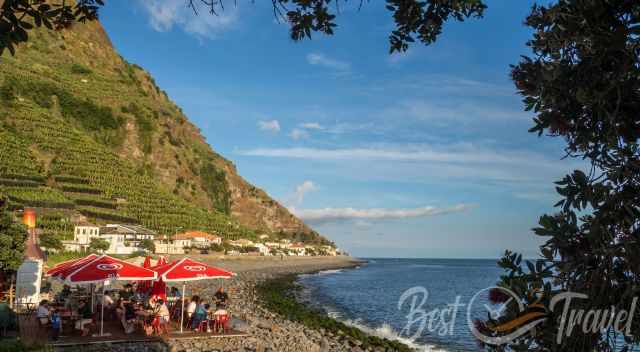 Do you wish to know more about Madeira? How about a Levada or Waterfalls walk or a mountain hike at Pico do Arieiro? Watch an awesome sunrise and sunset and learn all about the Madeiran food and drink specialities.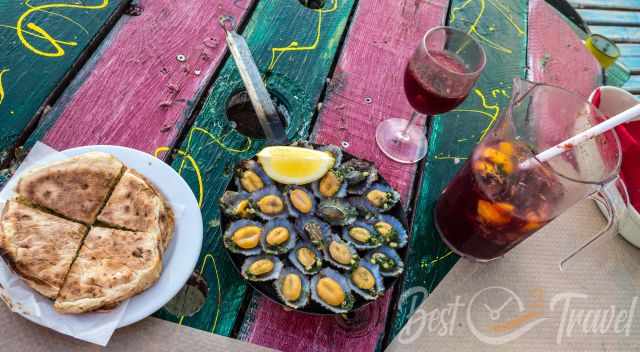 If you wish to use any of my photos, contact me, but I will take action against picture theft. Why do I write this here? Hundreds of my pictures are used worldwide without any credit, nor did they get my permission. I don't mind giving permission, but I want to get asked for it and to be mentioned. The world wide web changed a lot, and rewriting honest travel content is the new business for many fake travel websites. Do you wish to know more about this topic and how to unmask such websites quickly? Read my article "The Truth About Fake Travel Websites and Picture Theft."