When Is the Best Time
Portuguese food consists of meat or fish and is always delicious. I have visited Portugal more than 20 times because the majority of my family lives on the mainland around Lisbon.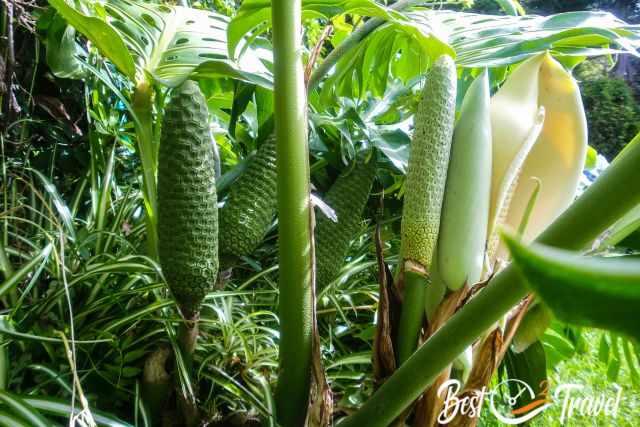 The food in Madeira is even one class better and not expensive. IMO, prices are low for the quality you get. I will give you an overview of the typical dishes and some tips for the best restaurants we tried out during our last visit. 
Seafood Specialities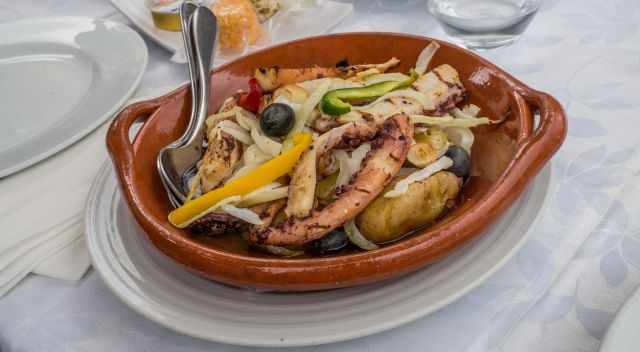 Most restaurants offer black scabbard fish, which you can see at the Funchal fish market (more below), in combination with bananas.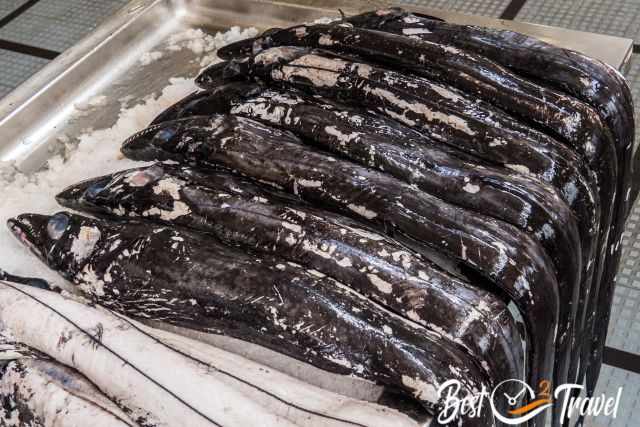 Other fish you get frequently offered is codfish (bacalhau), swordfish, and tuna.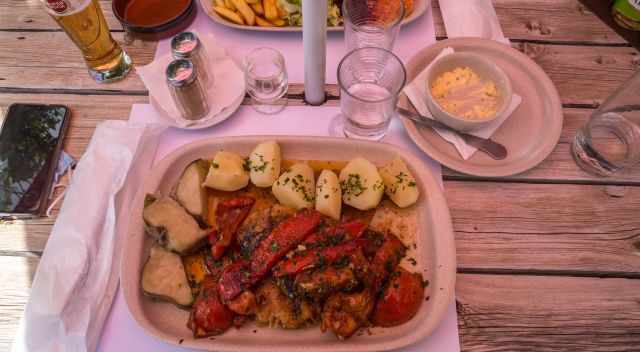 You can get fresh codfish -  bacalhau or dried and salted bacalhau in the supermarkets. You can smell the fish already long before you get closer in the supermarket. You like to know more about the 1000 years old history of this dry and salted fish? Here you can get the detailed story of bacalhau.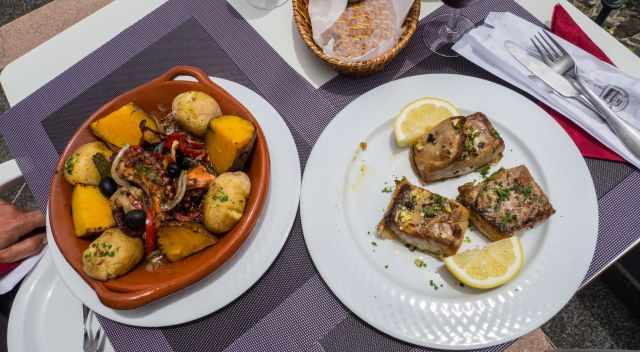 A few times, I saw tuna belly on the menu and tried it once. It is described as a delicatesy, the most flavoured part of the tuna, beloved for sushi. I have to confess delicious but heavy the fattest part of the tuna. I prefer a tuna steak from the grill.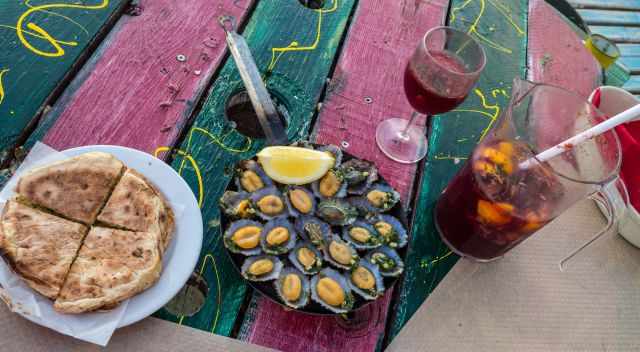 Another Portuguese speciality is the "Lapas" or limpets in English. I am addicted to lapas. First-time visitors usually ask for cutlery because lapas are served without, but they have to be eaten with lemon, similar to oysters. The lemon slices on top of the lapas are essential, otherwise not as tasty. To give you an idea of the meal prices in Madeira, 8 € for two for the Lapas, Bole de Caco 2,5 - 3 € and 1 l Sangria for 8-10 €.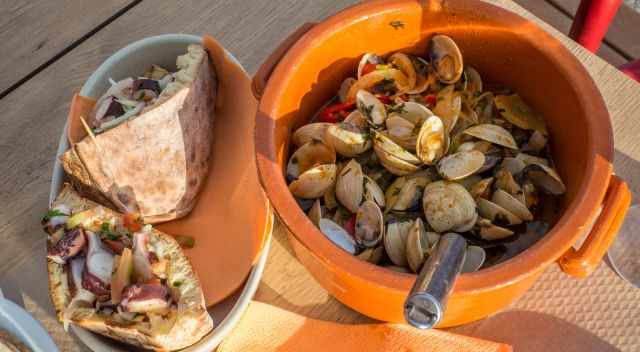 Markus often ate a polvo sandwich in our favourite tavern, "A Taberna Madalena Do Mar" (more below) and to the right are other clams, "ameijoas" prepared à la Maison steamed and cooked with red pepper. I am addicted to the Ameijoas. The typical ameijoas are called "ameijoas a bulhao pato", prepared with lemon and garlic. Most important for this dish are the fresh coriander leaves mixed to the dish before serving.
Meat - Espetadas
A typical meat dish that originates from Madeira is the "Espetadas" meat (beef, pork, or chicken) skewers. Markus tried lots of beef skewers, and our favourite restaurant for this kind of dish is "Aereo Cafe" (more below).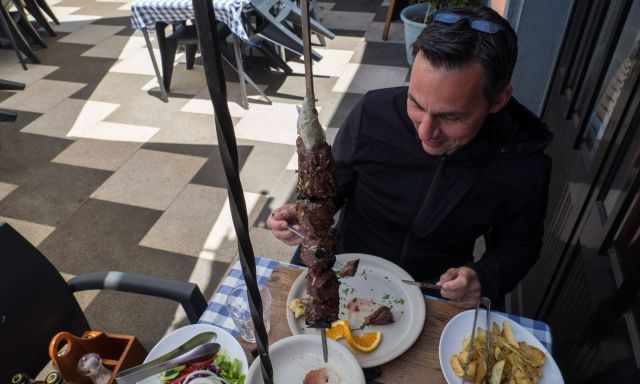 In the north, we got the best Beef Espetada provided. We were the last guests late on a Sunday. Nevertheless, the chef explained how typical Espetadas must be done. He did not use just the laurel leaves, it is a laurel skewer. The meat got salted with sea salt. Laurel or laurisilva forests occur here in the heart of Madeira, the Azores, and on some Canary Islands.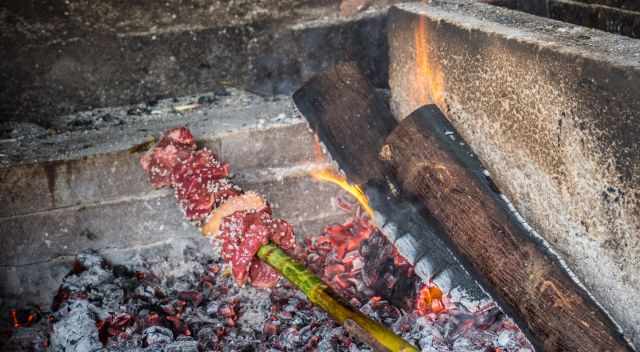 This was the best and tastiest, and we went here again with our nephew from Lisbon. The entire location and view were spectacular. The staff is super friendly, and lots of parking is available. You can also pass by on a short hike at the coast, and it is definitely worth a break.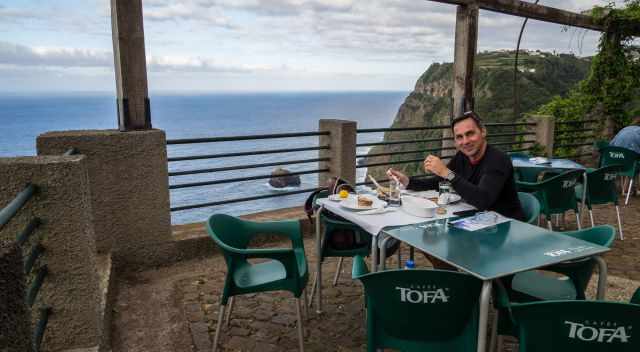 You get these awesome Espetadas at the "Aereo Cafe" close to Santana. Google Maps Link This is not an ad, just my recommendation for excellent traditional meat!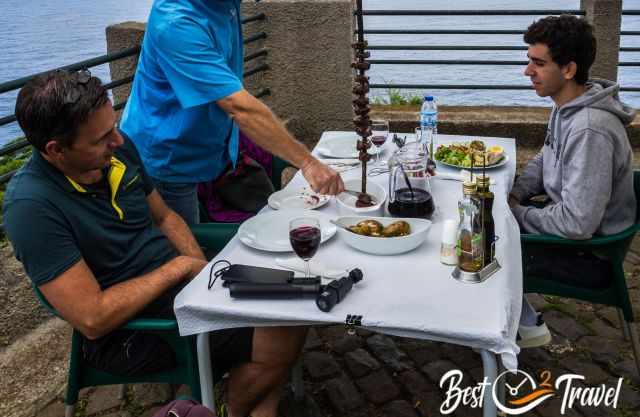 Bolo do Caco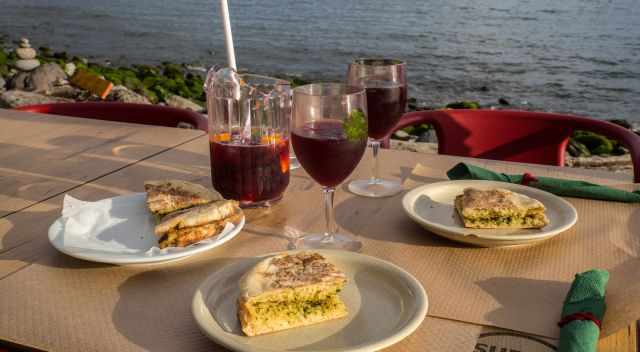 The typical Madeiran starter is "Bolo do Caco". This is a type of pita bread coated with butter and garlic fresh out of the oven or pan. We always order this starter or together with lapas.
Restaurant Recommendations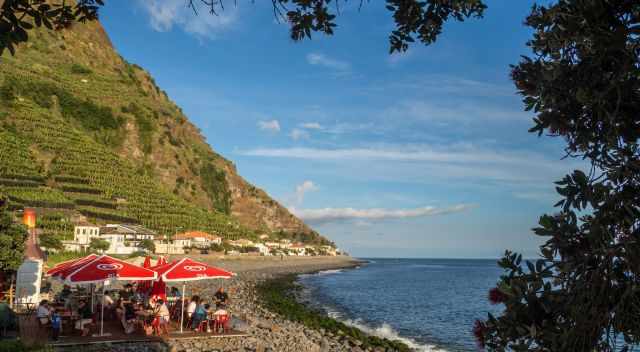 Our favourite restaurant is called "A Taberna Madalena Do Mar" (Google Maps Link), located next to the sea in the south. The small village Madalena Do Mar is a short drive from Ponta do Sol and Calheta. Prices for typical Madeiran drinks and dishes were cheap in comparison to our home country. We had eaten here already several times and left the tavern always satisfied.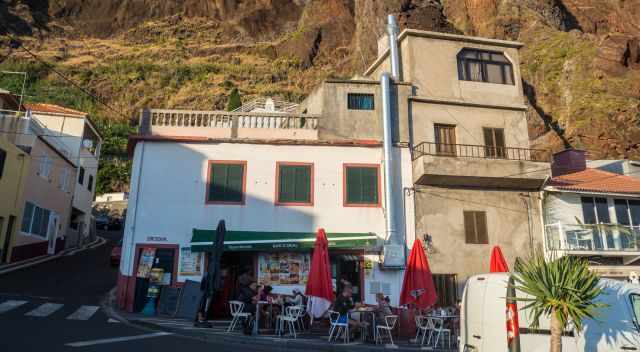 Shortly before we left Madeira, we visited Paul do Mar, situated at sea also in the south. A steep winding road and several old tunnels lead to this laid-back fishermen's village. We enjoyed the sea breeze and probably found the best bar of all for grilled Lapas; Bar O ideal (Google Maps).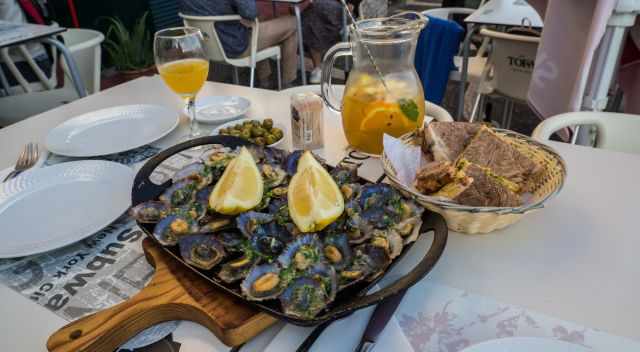 As always, we checked the Google recommendation rating; 4.7 and famous for white sangria convinced us immediately. This was the only restaurant we found offering polvo salad - octopus salad.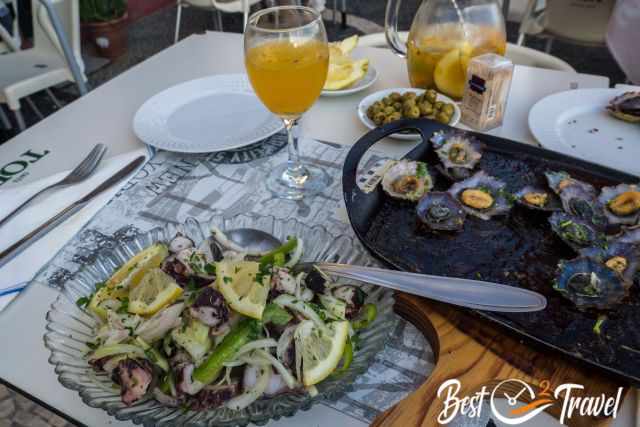 Common is "Polvo a Lagareiro", an octopus with vegetables, garlic, potatoes, and lots of olive oil.
The rugged coastline of the north with its wilder sea is definitely worth getting here. This Miradouro de São Cristovão belongs to the restaurant offering spectacular views of the dramatic coast, and our meal was excellent. (Google Maps Location)
Portuguese Vegetable Soup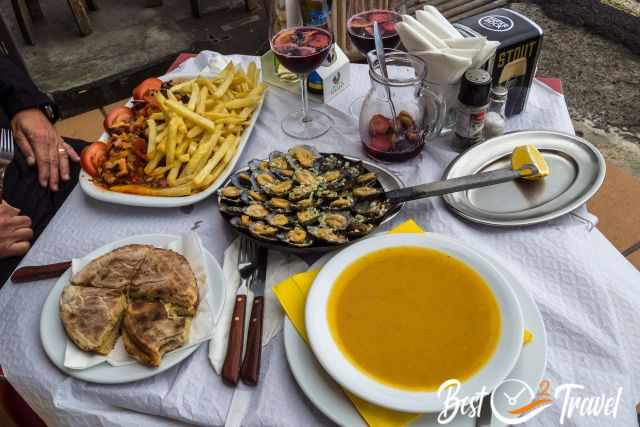 A very typical starter in Portugal and Madeira is the "Sopa de Legumes". It is thicker and tastes completely different.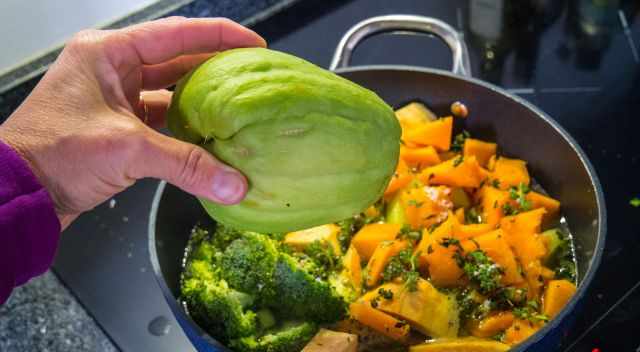 The reason is the Cho Cho, a green fruit actually which you frequently get in a Thai food store. It tastes between cucumber and potatoes. My aunt married a Portuguese. She has been living in Lisbon for 60 years already, and she told me the trick for her vegetable soup, and this makes a difference.
Dessert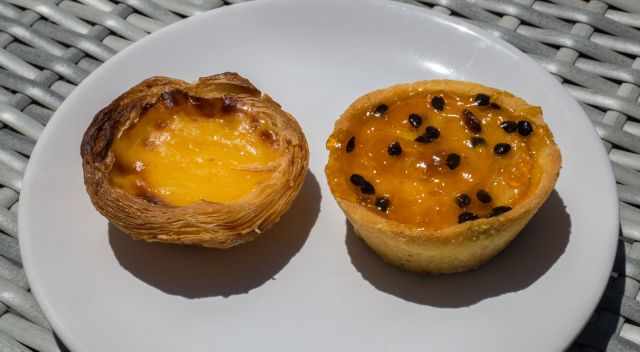 The "Pastel de Nata" to the left is typical for Portugal and for Madeira. It is a flaky pastry filled with cream (nata) custard, egg yolks, sugar, flour, and lemon zest. In Portugal, you frequently get cinnamon for it offered. Most people heat them up for a few seconds. To the right is a passionfruit tart. Due to the availability of these fruits, many desserts, from passion fruit pudding to cake or liqueur, are on the menu.
However, most of the desserts are too sweet or heavy for us; therefore, these are my only recommendations.
Bakery - Padaria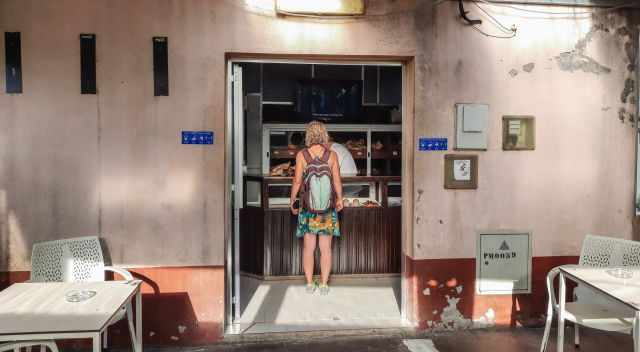 Probably the best bakery in Madeira is situated pretty hidden in the north, close to Porto Moniz. We got the most delicious Pastel de Nata, samosas (finger food snacks filled with chicken or bacalhau), excellent bread, and cookies were amazingly cheap here.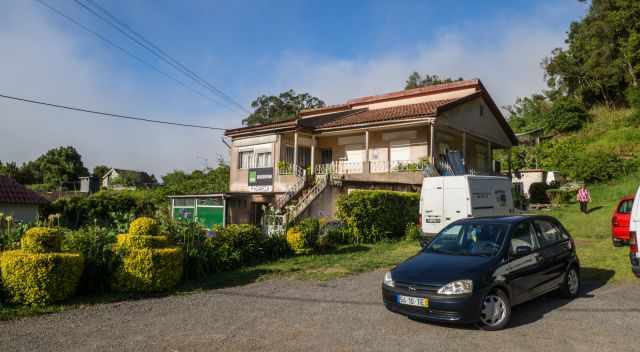 They supply cafes and shops all over the island. If you are close to Porto Moniz, definitely make a stop at this shop. The bakery is open from 7 am until 11 pm daily. Google Maps Link
Madeira Drinks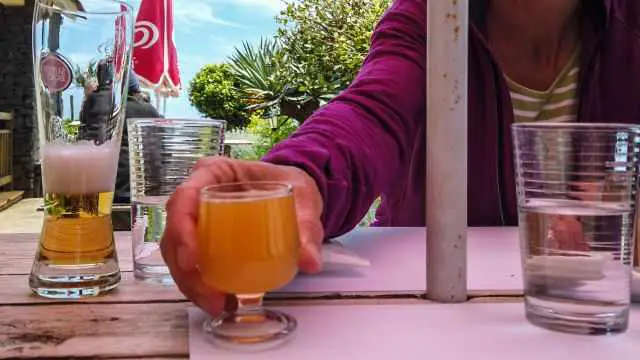 Another speciality of Madeira is "Poncha", made from white rum, honey, and lemon juice. Some restaurants offer Poncha with lemon and orange juice, and some with passionfruit, which we like most. But be aware of the alcohol in poncha if you are the driver.
Where does Poncha come from? The idea behind goes back to the XVI century. When the Portuguese discovered the world, they were not able to transport lemons and fruits for vitamins to prevent scurvy on board during their long journey. To preserve the vitamin C for a long time, lemon juice was mixed with sugar cane and brandy.
In most restaurants, you can order a cocktail called Nikita. We shared one, and I would rather call it a dessert if ordered without alcohol. The ingredients for Nikita are pineapple juice smashed with vanilla ice cream, fresh pineapple, and sugar. For the Portuguese, it has to be sweet. If it comes with alcohol, it is either white wine, beer, or both.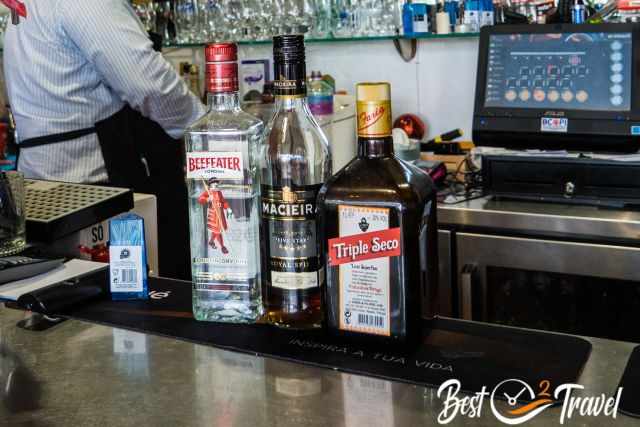 A sangria is a must if travelling in Spain or Portugal, but here in Madeira, it can happen that there is not only lemonade, wine, sugar and fruits in there. What happened to us once; our sangria was heavily strong, but we recognised it too late, and none of us could drive afterwards. We were forced to go on a long hike along the coast.
Madeira Wine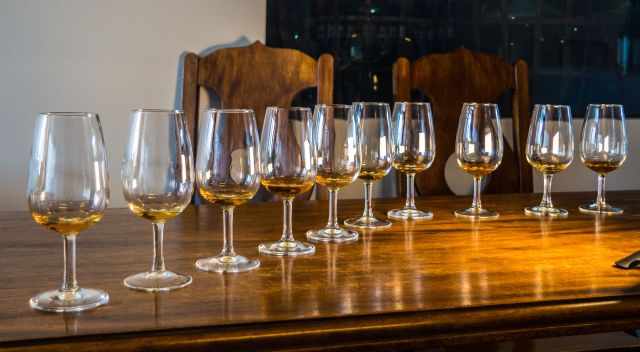 Due to the fertile soil and mild climate, excellent grapes are grown here on the island. Madeira has been well-known for exceptional wine for more than 500 years already. Growing grapes on the terraced slopes are challenging and all manual labour. If you want to know more about this typical wine from Madeira and like to try some of the best Madeira wines, you should make a booking.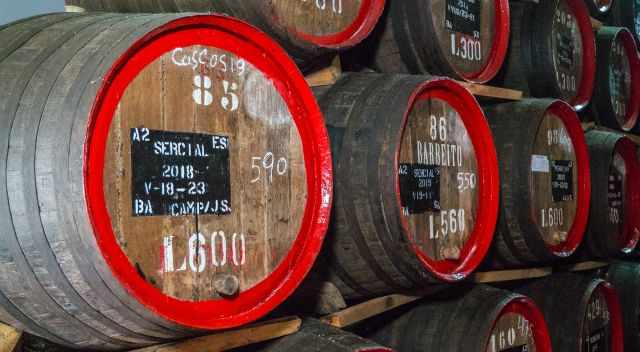 We had an excellent tour and tasting at Barbeito Madeira Wine Obrigada Leandro Gouveia for this interesting afternoon. We learnt so much about the Madeira wine.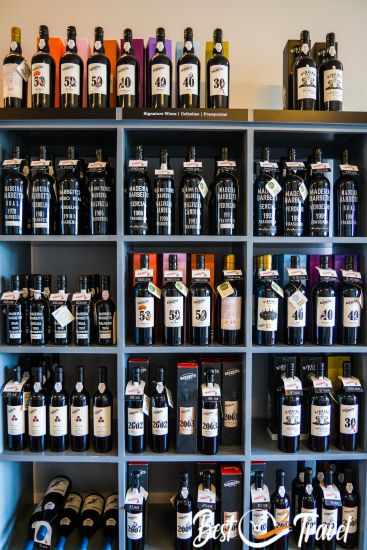 More about Funchal and the farmers and seafood market below.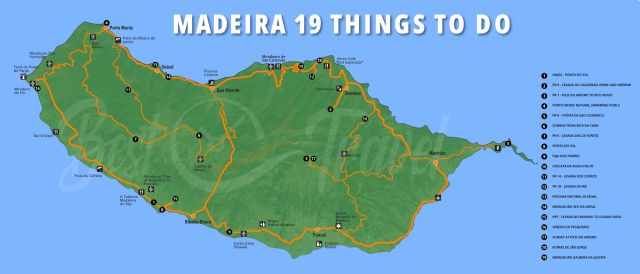 Location and Tips
Madeira
Portugal

The traditional food in Madeira is excellent, and if you visit the island, you must visit the farmers and fish market in Funchal. Try the tropical fruits and watch the fishmongers cutting these huge tunas. We had rented a cottage for an entire month, and I bought fresh fish here each week. The quality and prices are phenomenal. Added are my tips on which places you should visit in Funchal and, most important, where to park the car when visiting the farmers market.
5 Things to Do in Funchal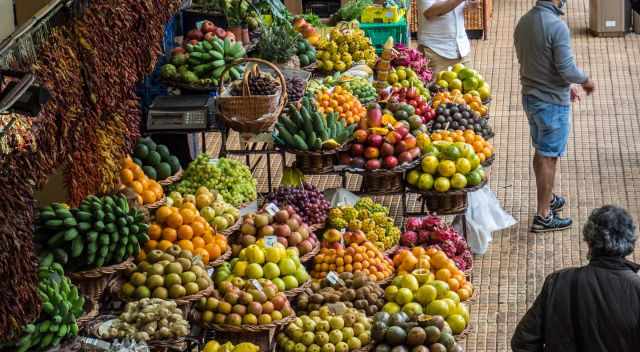 Funchal, the capital city of Madeira, is a vibrant city built at the slopes with a steep incline. The historic part of Funchal is on sea level, and Monte is more than 1000 meters above. Roughly 45% of the residents live in Funchal. The entire population in Madeira is less than 300.000.
1 Funchal Farmers and Fish Market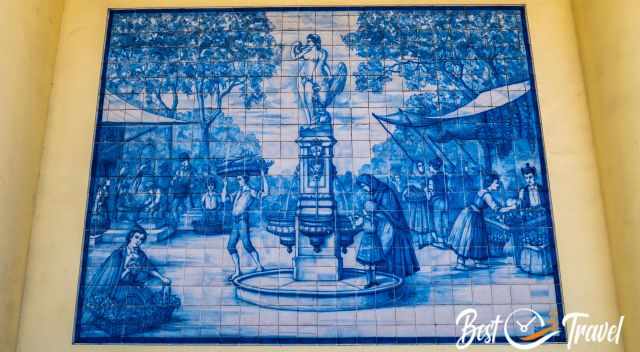 First, I start with my Top Tip on where to park the car. There are several garages around, most of them small, narrow, and hot. Just one gets fresh air and is a little bigger. I add the Google Maps Link to this convenient parking garage within 150 m walking distance.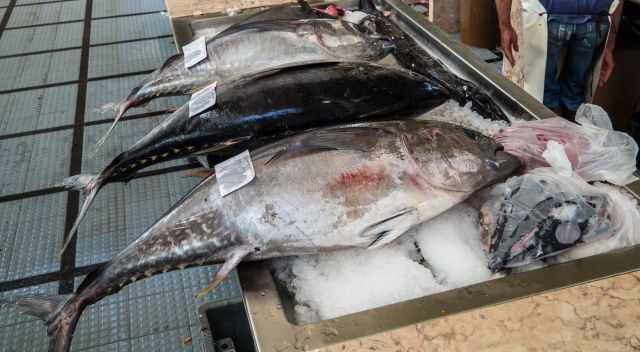 The market is called in Portuguese "Mercado dos Lavradores" which means farmers' market. The fishmonger described this tuna as small, costing 300 € for each. The fish market has much more on offer on Fridays and Saturdays. It is busier during these days, but worth seeing.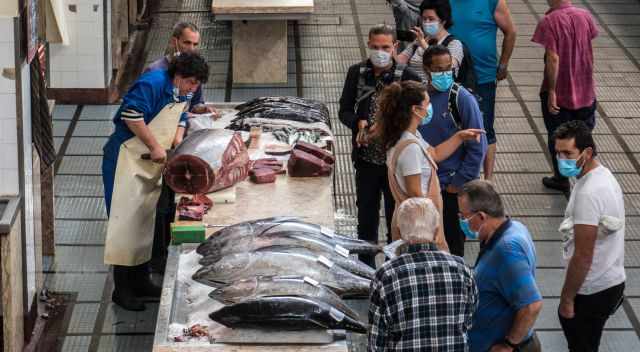 I always bought my tuna from this guy. He already knows me pretty well. He has excellent quality. The price for one kg of tuna meat was 10-15€ the reason we ate tuna several times weekly. I also bought a parrotfish prepared for the oven. I can't say it aloud, but it was delicious 10€ for two adults.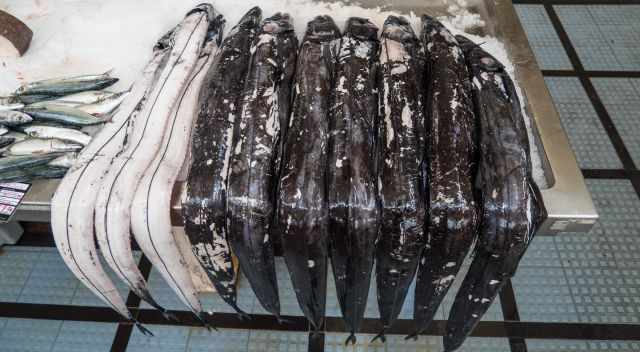 The black scabbard fish "peixe espada preto" is a speciality in Madeira. This deep-sea fish is found in a depth of 800-1200 m. The average length is 90 cm. A Must-Visit is the fish and farmers market in Funchal.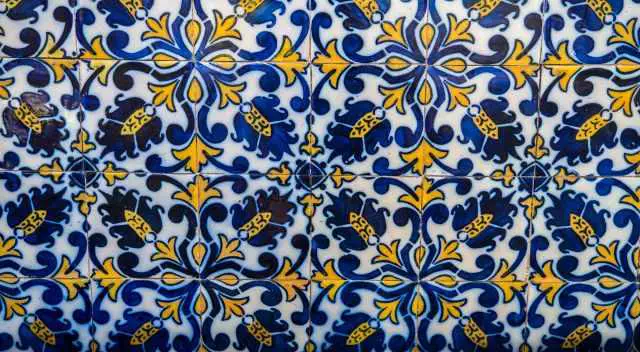 This typical style was made for the Funchal farmer's market only. There were different types of tiles designed for various buildings.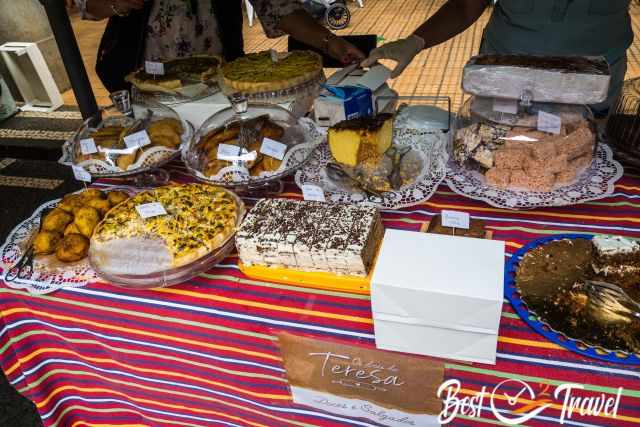 At midday, homemade samosas filled with tuna, meat and veggies, also pies, and cakes are offered here. It was always a great snack during my weekly shopping.
2 Take the Cable Car to Monte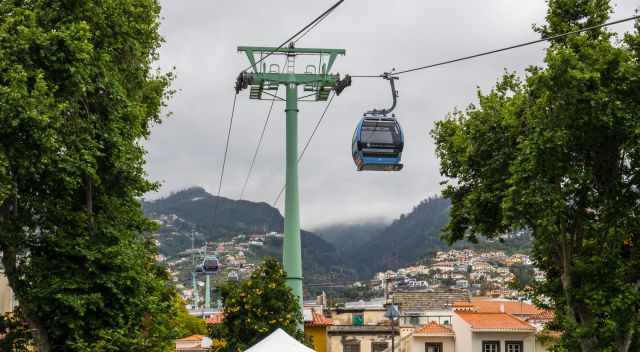 Enjoy the fantastic panorama of entire Funchal from the cable car. You start on sea level going to the top on 1.025m elevation. The ride takes 12-15 minutes to the cable car end. I definitely recommend this tour on a sunny day. The return ticket is 16€ for adults and 8€ for children, one way 11€ and 5,50€. You will definitely look down all the time admiring how the houses were built on steep hills and edges. Visit the Monte Palace Garden when you arrive. Most people take the cable car up to catch the "Carreiros do Monte" toboggan sledge ride back down. The cable car is not operating during strong winds. Open from 10 am to 6 pm.

There is a second cable car ride from Monte to the Botanical Garden. The Botanical Garden is a must and one of my "places to go" in Funchal.
3 Carreiros do Monte - Toboggan Ride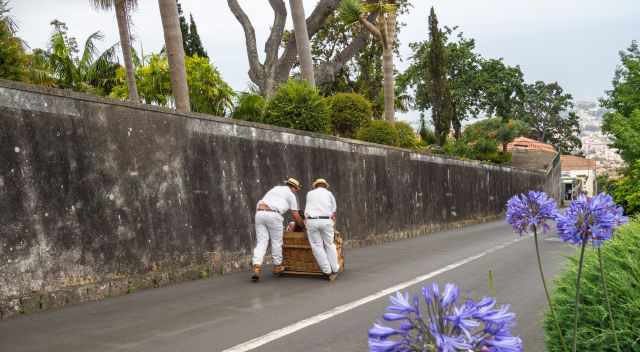 That is a unique experience with an old tradition dating back to the early 19th century. The sledges were introduced for public transport from Monte 1000 m above sea level down to Funchal. Take the cable car up to Monte and the thrilling ride down halfway to Funchal with the two "Carreiros" in the back. For the rest of the drive, walk back or simply take a taxi already waiting for guests. Just negotiate the price before. The price of 10 € for two pictures of the Toboggan Ride is a bit pricy IMO. Booking the Toboggan Ride
4 Botanical Garden in Funchal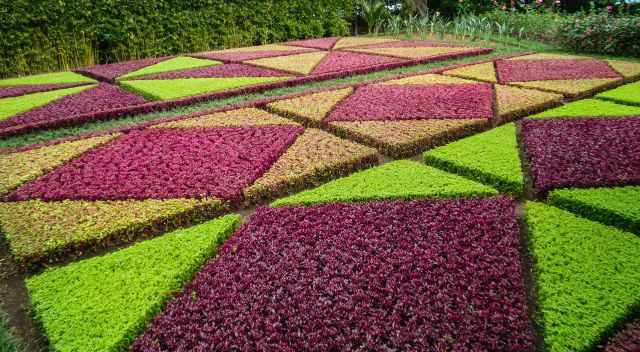 You get to this exceptional Botanical Garden by car or bus or take two cable cars, first to Monte and then a second one. There are only a few parking spaces next to the entrance. Despite the season, it is always worth visiting the garden with more than 3000 different plant species from all over the world. Like the entire Madeira also, the Botanical Garden is steep in sections. Visiting the park may be challenging for people with mobility issues. There are restrooms and a cafe inside the garden.
Opening Hours: 9 am - 6 pm   
5 Miradouro Pico dos Barcelos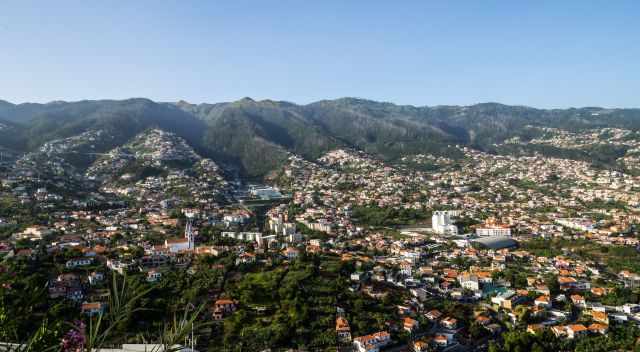 Enjoy the amazing view from Pico dos Barcelos to Funchal. Usually, the sunlight is best in the afternoon. The outlook is located in the parish of Santo Antonio 355 m above sea level.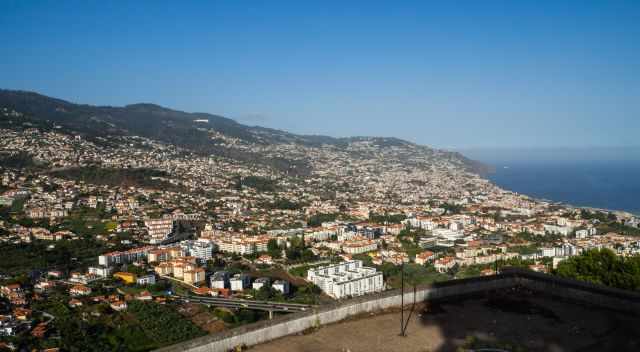 Opening Hours always from 8 am
Closure at 10 pm in winter
12 pm in summer
but always at 8 pm on Sundays.
Exploring Funchal by car is challenging and parking, too. I met Fabio and his Tuk Tuk. This is a convenient way to see all the interesting sights of Funchal in one day. He knows a lot about his hometown. Learn all you want to know about Funchal and Madeira during a ride with Fabio. Get in contact with him either via Instagram or send him a message. +351 933 771 892
 
I don't earn anything with these recommendations in my guide, nor was any of our meals or drinks for free, only the wine tasting. This is simply my opinion after several visits. Of course, there are more excellent restaurants in Madeira.
Do you want to obtain the usage right for my images? Contact me, but I will take action against picture theft.