When Is the Best Time
Fogo Lake is located in the centre of Sao Miguel, half an hour's drive east of Ponta Delgada. This crater lake is one of the Must-Visit-Sights with its emerald colour and part of an active volcano not extinct as usually mentioned. The magma chamber is located a few kilometres below Lagoa do Fogo.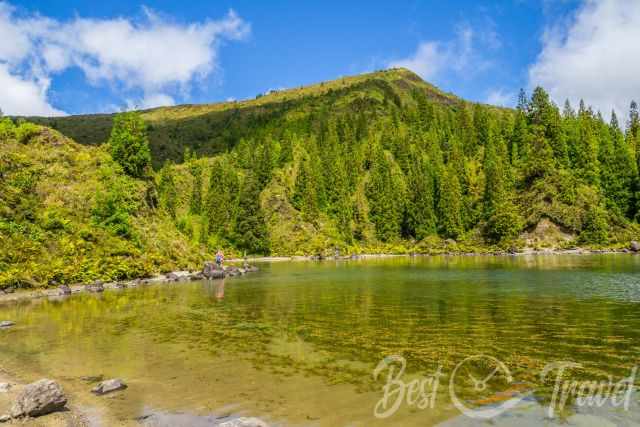 The summit caldera of the active Volcano Fogo has an average diameter of 2.8 km and is a maximum of 400 m deep. Inside the caldera is Fogo Lake, with a depth of 30 meters. More details about how the lake was created in my volcanic history part.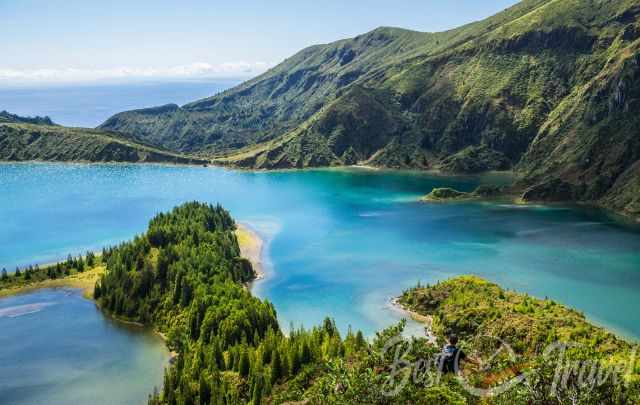 Already the drive up to Fogo Lake in roughly 950 m/ 3.120 feet elevations is spectacular. If you plan to drive to Lagoa do Fogo, which means "Fire Lake", you probably like to hike down to the lake but check the weather forecast and the webcam first. More below
How to Get to Lagoa do Fogo?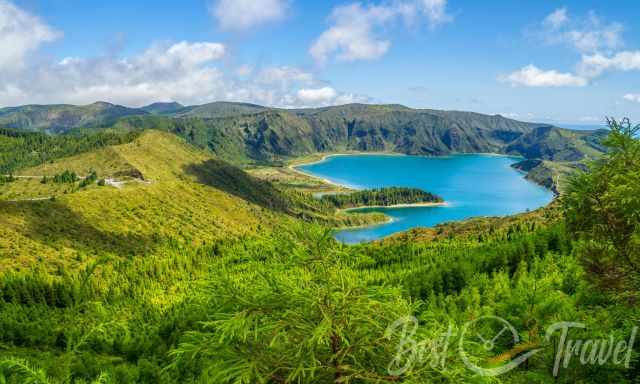 You can reach Lagoa do Fago either by rental car, taxi or book a guided tour. The public transport is insufficient to get to the Must-See places in the Azores. I highly recommend stopping here or even climbing down to the magnificent Fogo Lake.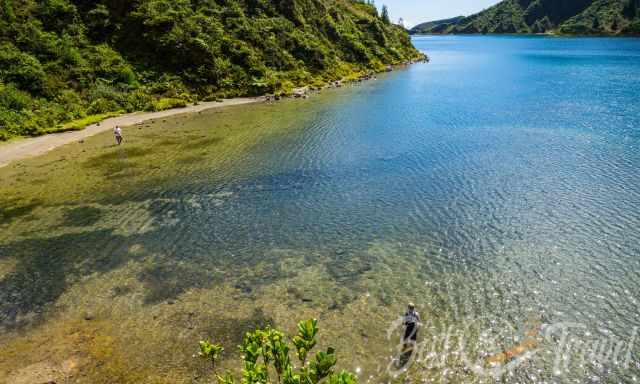 The hike down to Fogo Lake was one of our highlights, offering breathtaking views. Even if the descent is too steep for you, I recommend hiking the first part along the caldera rim for more stunning views. You will find a detailed hiking trail description plus a hiking map below.
When To Go?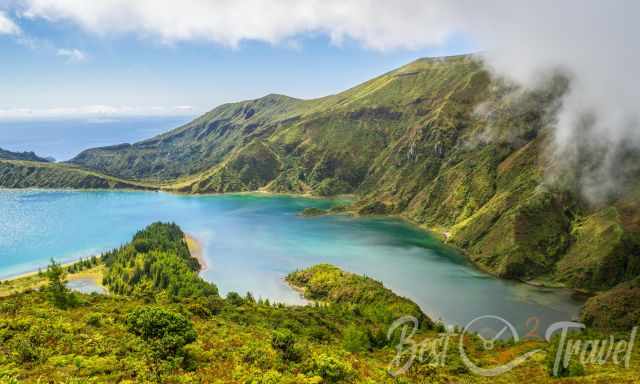 The centre of Sao Miguel is notorious for clouds and rain. The coast is frequently sunny, but you may end up in clouds or fog when you reach higher elevations. The best time to visit Lagoa do Fogo and the Azores is the drier time of the year, from April until October. However, check out the weather forecast and webcam first; the viewpoint is frequently covered in clouds.
Don't miss out on my other Azores Islands Guides.
Weather Forecast Tip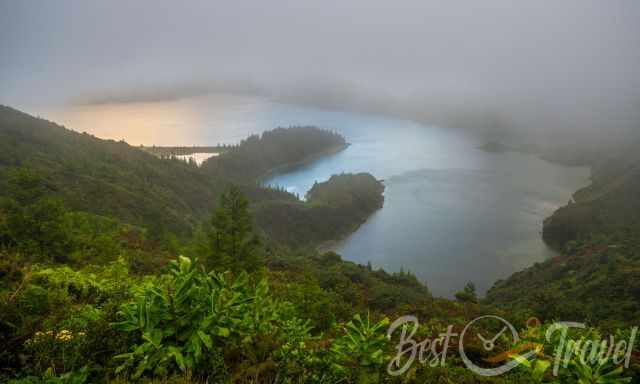 You can trust these forecasts just for two days. Rain and clouds frequently spoil these terrific views. I recommend this forecast because they give you an idea for each hour for today and tomorrow. We checked the forecast daily and experienced all sights in perfect weather.
Webcam: currently, none of it is working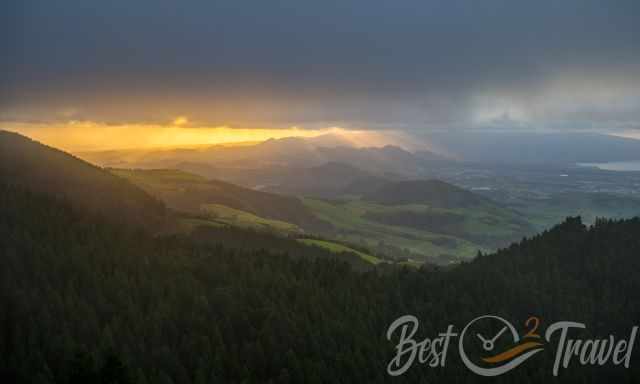 The Azores are located in the Atlantic Ocean, more than 1.800 km from the Portuguese mainland therefore, the weather is influenced by the sea. If you wish to know more about the typical climate and weather in the Azores, check out my additional article Miradouro Boca do Inferno.
Can You Swim in Fogo Lake?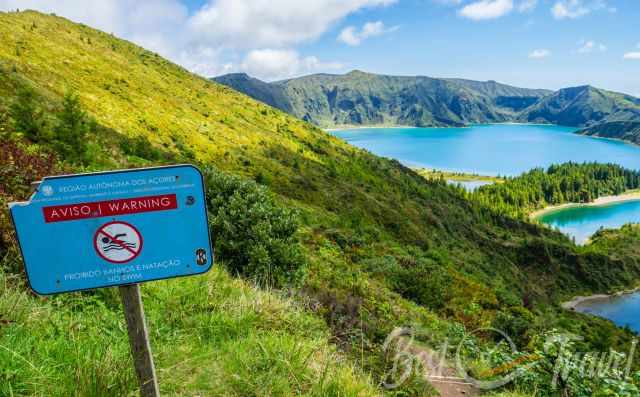 The water of the lagoon is lukewarm because of volcanic activity. It looks awesome for swimming, and there are famous pumice beaches, called one of the "Seven Wonders of Wild Beaches", but it is prohibited because it is a nature-protected area; Reserva da Lagoa do Fogo was developed in 1982.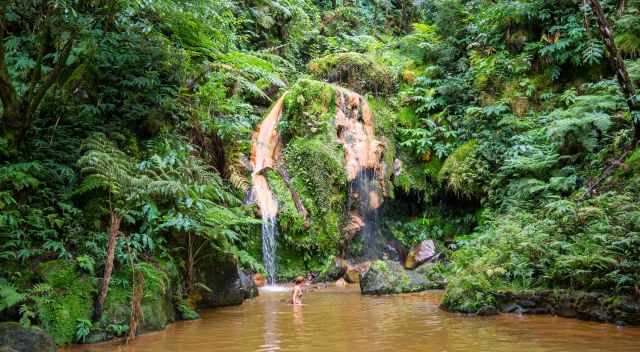 However, Caldeira Velha nearby is fed by the thermal waters of Fogo Volcano, and here you can take a bath in hot pools. Check out my additional article and combine Fogo Lake with Caldeira Velha in one day.
2 Viewpoints and Parking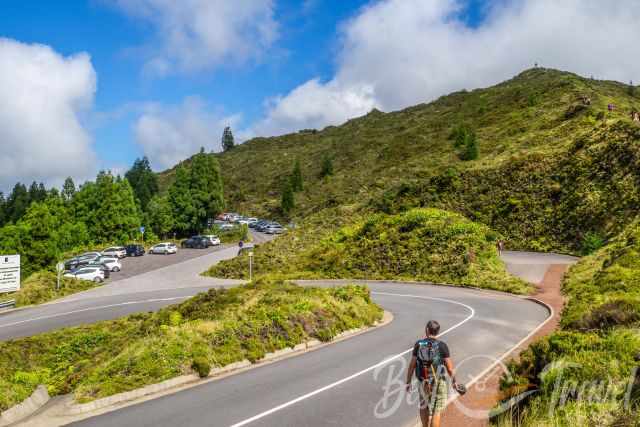 You first reach the "Miradouro do Pico da Barrosa" with a small parking area if coming from the south. The next viewpoint with plenty of parking; one smaller next to the road EN5 2A at the "Miradouro do Fogo" and a bigger one on the right curve Google Maps Location.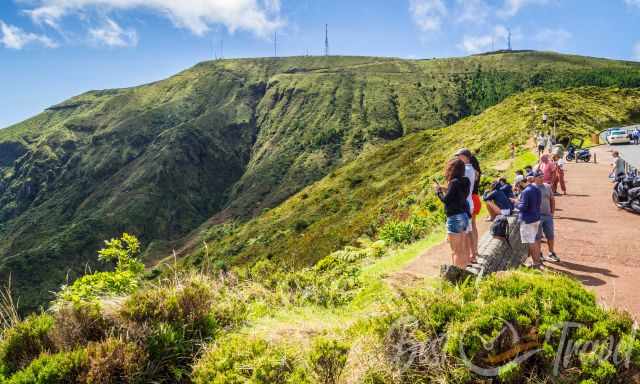 It is busy here during the day but there was always parking available and we passed by multiple times. Most people stop for a closer look only and continue their journey. Of course, it is busier during weekends when locals and tourists alike make a picture stop. 
These are my recommended tours via GetYourGuide with 24 hours in the advance cancellation policy. Thx for booking via my website! With your support, I am able to provide all information first-hand. Tour prices are at no extra cost!
Location and Tips
Acores, Sao Miguel
Portugal

Fogo lake is a magical place during all weather patterns. The weather can change quickly; just now it is sunny and the sky blue, and five minutes later, the clouds roll in. We passed by several times and always stopped to soak in the beauty of this picturesque lagoon.
2 Lookouts and Hiking Trails plus Maps
1 Miradouro Lagoa do Fogo
We did not plan to hike down to the lake, but we couldn't resist getting more magnificent views of this emerald, green lake and its pristine nature. Not many people hike down; they just stop for a look from the viewpoints. Cete Cidades and Boca do Inferno are definitely busier. We walked along the rim to the left for ten minutes until we saw a walking path to the right leading down.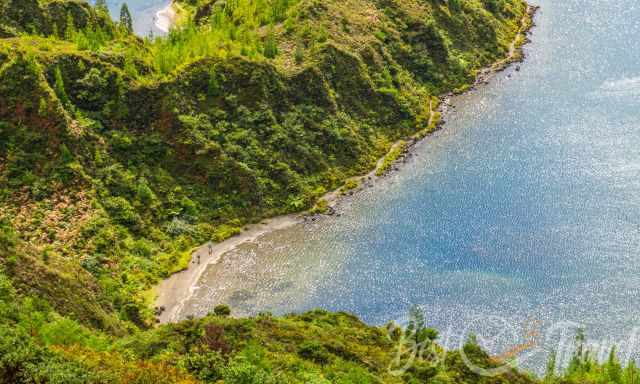 It is roughly an elevation loss of 375 m/ 1.230 feet and took us half an hour. The crater rim and track down are covered with bushes and scrubs, leaving only a narrow hiking trail. Lots of these plants are endemic to the Azores. The trail is a bit slippery due to the frequent rain showers.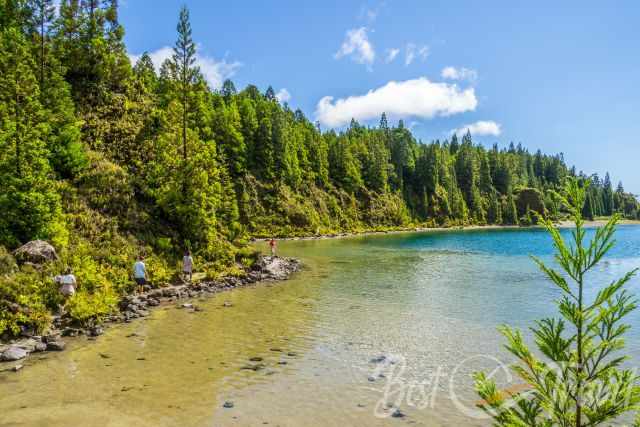 You can either continue hiking along the lake or just a short part like we did before the trail ascends back to the Miradouro do Fogo. We spent 1 ½ hours on this trail with many photo stops and a break at the lake. Our Trail Map by Locus Pro
2 Miradouro do Pico da Barrosa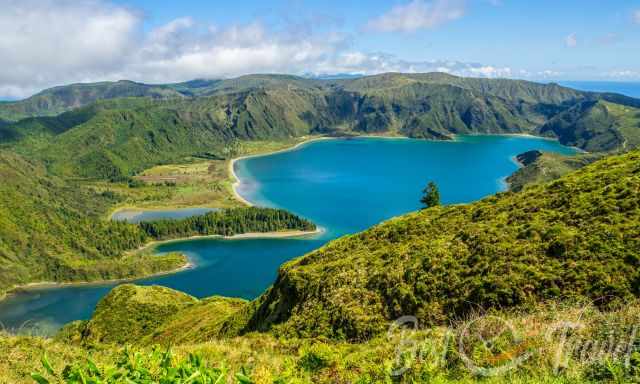 The second great viewpoint is "Miradouro do Pico da Barrosa" - Barrosa Mountain. There is one lookout next to the road and another is a 500 meters stroll in higher elevations. Location and Walk
What To Bring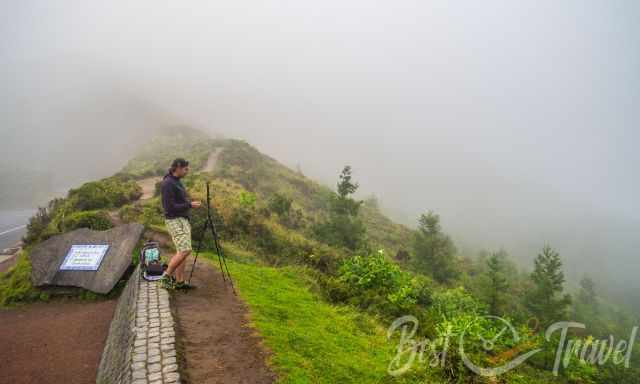 Plenty of water – it is hot on a sunny day.
A picnic for one of the beautiful spots at the bottom of the lake.
Hiking Poles are helpful on this steep, narrow, and slippery trail.
Sun protection is essential to avoid sunburn.
Always carry a rain jacket and a waterproof bag for your valuables.
Volcanic History – How Fogo Lake was Developed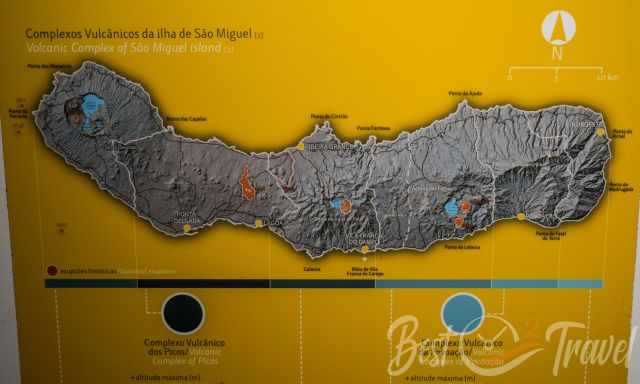 The Azores Islands originated from volcanic eruptions. Sao Miguel – Nordeste emerged roughly 4 million years ago. Fogo is one of three active volcanos in Sao Miguel. A part of this complex is Fogo Lake in the caldera. Mostly it is mentioned that Fogo is extinct, but a volcano is categorised as extinct after one thousand years without eruptions. The eruptive history started already 300 thousand years ago. The Fogo caldera was formed by heavy eruptions and by the collapse of one vent of volcano Pico do Fogo or Agua de Pau.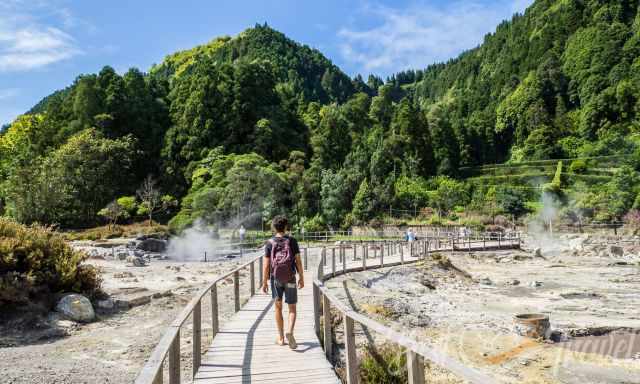 The first heavy eruptions occurred estimated 15 thousand and again 5 thousand years ago. Fogo Lake is a crater lake and the youngest caldera in Sao Miguel formed by the last eruptions in 1563 and 1564. When the magma chambers emptied, this part collapsed and filled up with rainfall. It is the first documented event where ash clouds appeared, and the sky became dark. You can still witness the activity of Fogo on the northern flank at the thermal pools of Caldeira Velha. 
Where Does My Knowledge Come From?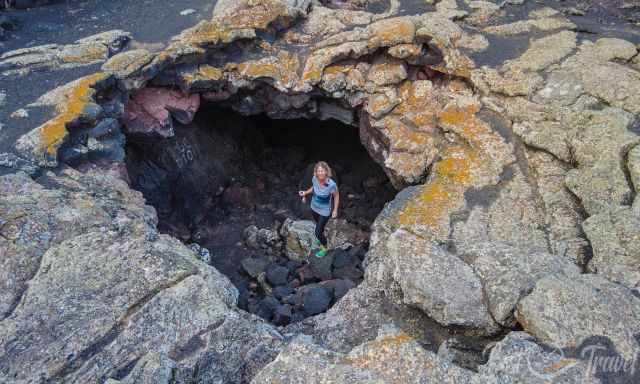 Volcanoes are fascinating, and I got addicted when I stood at the rim of the lava spitting Mount Yasur in Vanuatu. Recently we travelled to Lanzarote, and I met the incredible guide, Mash, who taught me a lot about volcanoes.