When Is the Best Time
Smith Rock State Park is an excellent park for hiking, climbing, and mountain biking in Oregon; located in the high desert at 2800 feet/ 850 m elevation which creates a microclimate. The entire area was created by volcanic eruptions more than 30 million years ago. The left rocks for climbing are constantly changing from weathering. 
Opening Hours Smith Rock State Park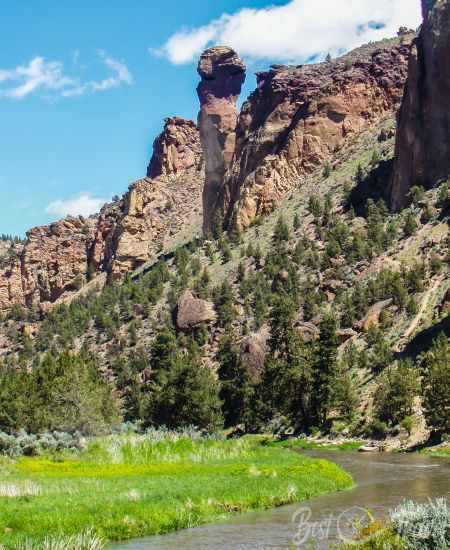 The State Park is open for day visitors from 7 am to 7 pm throughout the year.
Walk-In Camping in Smith Rock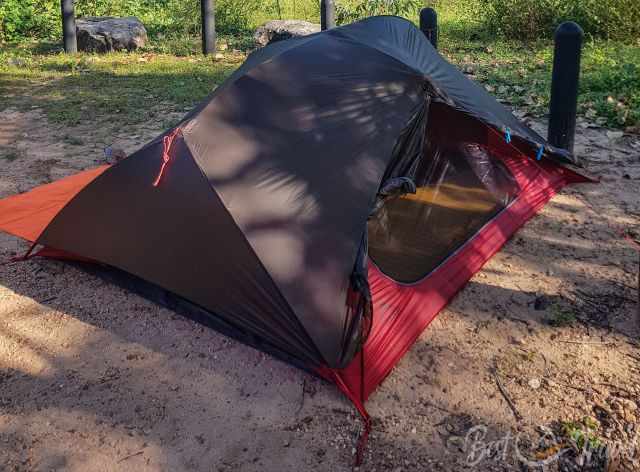 There is a wonderfully located campground called Bivy on a first-come-first-served basis. It is pretty popular and fills up quickly on Fridays. If you wish to spend the weekend here, arrive early to grab a spot at 4 pm - check out is 1 pm. When the sign "campground full" is placed outside, there isn't any spot available any longer. Hot showers, restrooms, and a kitchen camp area are available.
You may ask how many campsites are available. When the campground parking is full, there are no longer campsites on offer. There is space for a maximum of 100 cars in the parking lot. Depending on their size, between 75-100 tents can be pitched. So, please park your car carefully.
Camping is open from March 15 until November 15 closed in the winter when freezing temperatures are common at night. No RV camping or overnight stay in the car allowed!
Fees for Smith Rock State Park
Day-use parking fee $ 5
Camping fee is $ 8 and parking is already included
Hiking and Climbing Season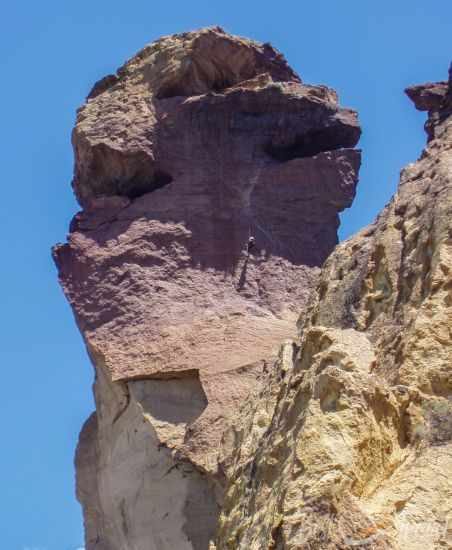 The summer is scorching, and the winter is cold due to the high elevation level. It doesn't rain much in Smith Rock; however, after precipitation, the rocks are slippery, and it is not safe to climb. It may rain during 4-5 days monthly from October to March.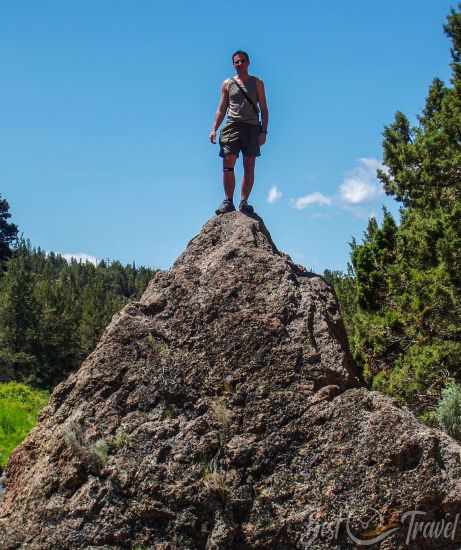 The best time for hiking and climbing are April, May in spring and September, October in autumn. Temperatures are pleasant in May and September and cooler in April and October. The weather is most stable in fall.
If you'd like to avoid the crowds at all costs and still experience pleasant temperatures go in October. The heavy crowds are gone, and the weather is still lovely with an average high of 62°F (17°C).
Weather and Crowds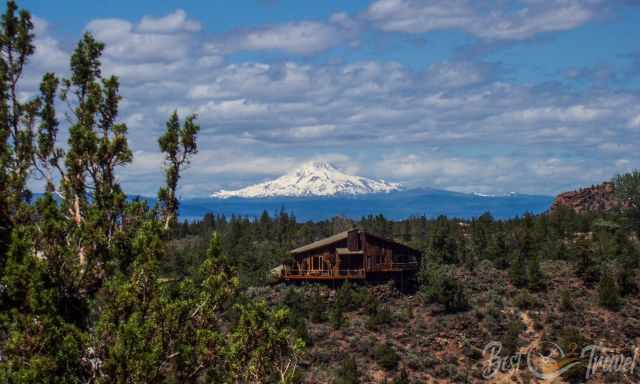 It is a popular park, especially during holidays and weekends. If possible, visit the park during the week as we did and enjoy the exceptional landscape. October is a sweet spot-month when crowds thin out; temps are still pleasant for activities, and campsites are available.
Spring (Mid-March-May)
The campground opens in mid-March due to increasing temperatures topping 50°F/ 10°C during the day though nights are still freezing. April improves, and May is an excellent month, around 68°F/ 20°C. Snow can occur until April, but climate change is also present in Central Oregon. It was a mild winter in 2021/2022. April and May are a little notorious for unpredictable weather patterns.
Summer (June-August)
June to August range from pleasant to scorching, occasionally topping 100°F/ 38°C at midday. However, nights drop to 50°F/ 10°C, so the morning and late afternoon are great for activities in the park. The summer is packed with visitors and climbers. This is the worst time of the year to visit Smith Rock. Days are usually sunny and have minimal rainfall only.
Fall (September-October)
This is my preferred time, especially in September. Most stable weather, pleasant temps for climbing and hiking. Nights are already chilly so bring a jacket for the morning and a warm sleeping back for camping. Nevertheless, if you like to avoid crowds, I recommend October. 
Winter (Mid-November-Mid-March)
Winter is a great time full of solitude if you do not mind the cold. A bit more precipitation occurs, either rain or snow, but sunny days, too. Climbing can be tricky with snow and ice, but hiking works well.
Top Tip for May to September
The 650 acres small State Park is pretty busy during the day, and the parking fills up quickly. To secure a space, come early morning. Be aware that weekends are frequently crazy. 
Location and Tips
Oregon, Redmond
United States

Smith Rock State Park is situated 9 miles north of Redmond. If you wish to visit the park in the peak season in summer, I recommend either camping in Smith Rock or staying nearby to access the park in the early morning at 7 am. Smit Rock State Park is nestled in a deep river canyon which heats up already in late spring. While hiking watch the trail; rattlesnakes occur in the park and like to warm up in the sun because of the cold temperatures at night.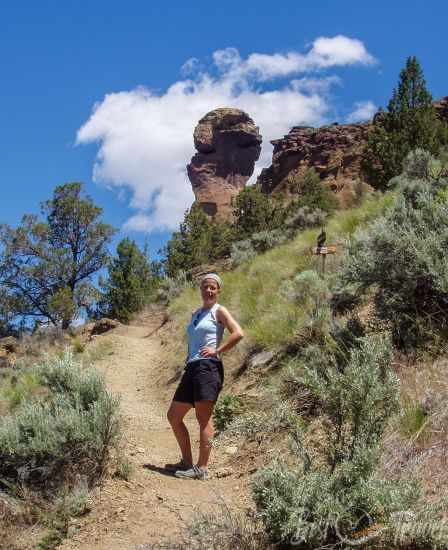 The State Park is one of the top-rated destinations with almost 2000 climbing routes. Watching the climbers from one of the hiking trails is definitely breathtaking. There are usually several bald eagle nests in the park. Climbing and hiking routes are seasonally closed if falcons or bald eagles nest. Unfortunately, the bald eagle doesn't breed this year 2022, but a falcon couple north of Monkey Face. Please check out first if there is any closure because of nesting sites.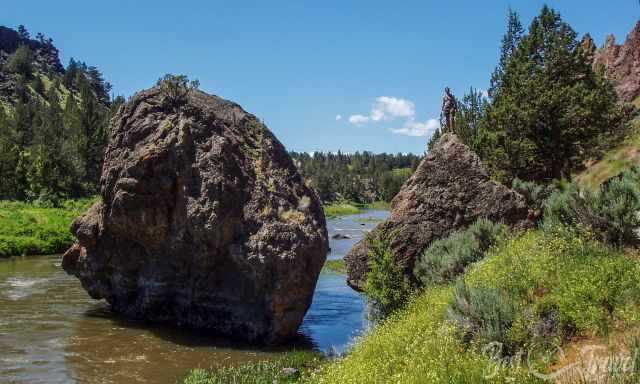 There are some beautiful hiking trails in this spectacular nature, all marked inside the park. We hiked the 3.7 miles long Misery Ridge Loop Trail. It ends at the base of the 'Monkey Face'. Check out his map with all trails in Smith Rock: Smith Rock Park Map
You can also watch slackliners here nowadays - very impressive. 
The banner picture was taken at sunset by Patrick Bösiger.