When Is the Best Time
Praia da Ursa is still a hidden gem, not overrun, although just 40 km west of Lisbon located. The world-class beach is not easily accessible, and the trail is poorly marked. Bring a picnic and plenty of water and enjoy this secluded beach if you come here.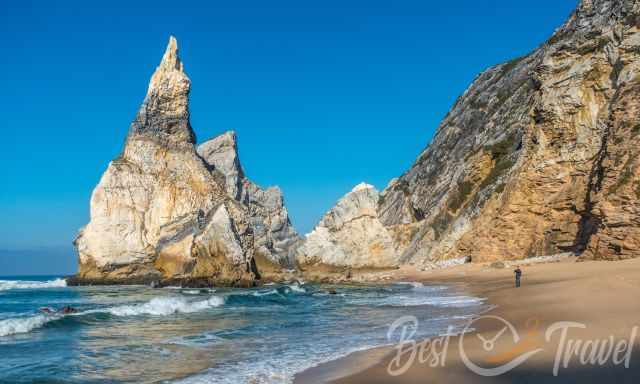 Depending on the season, you may get beverages and a snack at Cabo da Roca, but I wouldn't count on it and the quality is nothing I recommend.
Where is Ursa Beach?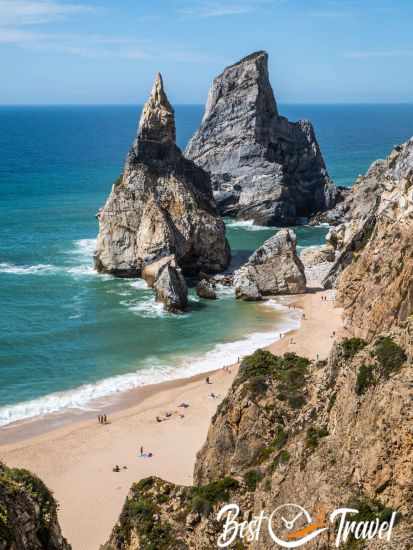 Praia da Ursa is situated north of Cabo da Roca, roughly 45 minutes to a one-hour hike. Location Google Maps Below, you can find where to park the car, a detailed hiking description and a mobile hiking map. You can visit Ursa throughout the year though summer can be warm but rarely too hot due to the wind. During winter, after rain, the trail is more slippery. 
Can You Swim at Ursa?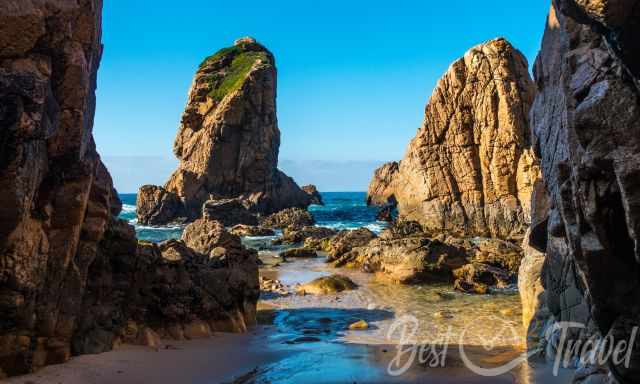 Unfortunately, you shouldn't swim at Praia da Ursa for two reasons. The sea is frequently rough, and strong currents occur. You can take a refreshing bath at Ursa Beach, which is much needed during the hot summer. This beach is remotely located and not secured by lifeguards.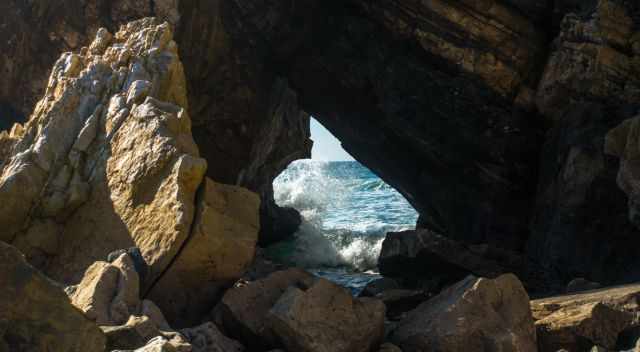 The most pleasant seasons for this hike are spring and autumn. During spring, flower carpets are spread along the path. It's often scorching in summer - winter can be rainy but sunny and pleasant too. We'd been here each season, and we always love to come back to this exceptional piece of nature. Each season is different but always mind-blowing.
Parking Praia da Ursa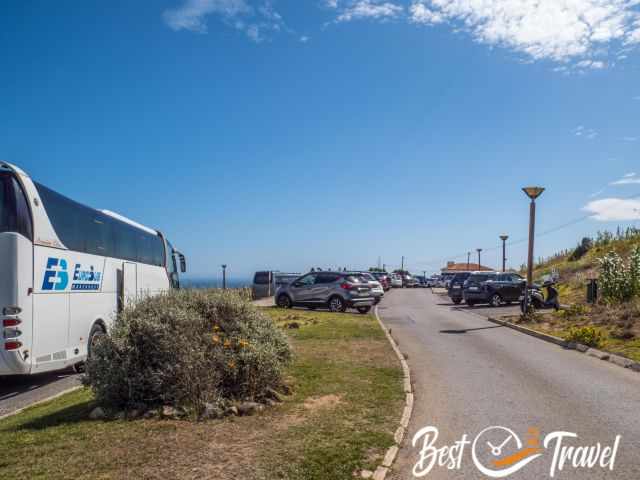 There is new parking and a much closer trail to get to Ursa Beach nowadays. This path is shorter but not as spectacular. Limited parking only. Google Maps Location for easier access to this outstanding beach.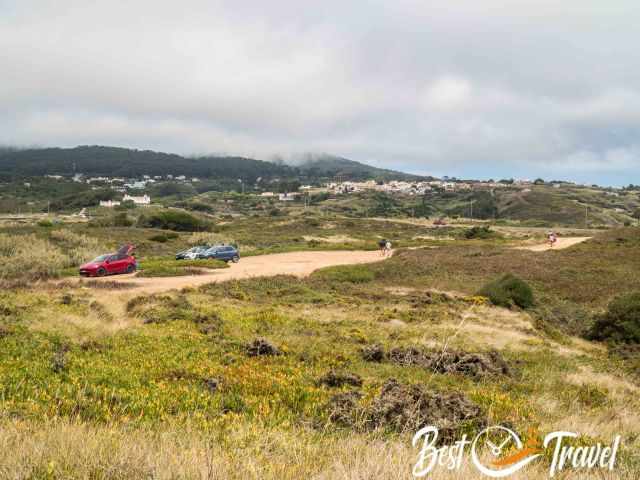 However, the trail described below offers breathtaking Ursa and Cabo da Roca views. We still prefer to park our car at Cabo da Roca to enjoy the stunning landscape on this coastal walk. The only restrooms are available at Cabo da Roca.
How to Get to Praia da Ursa?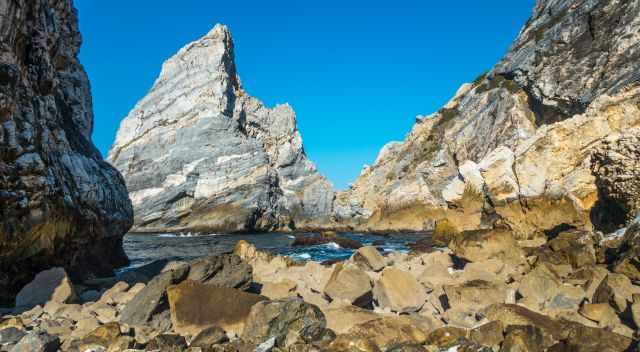 Praia da Ursa is remote, located close to Cabo da Roca. Nevertheless, most Cabo da Roca visitors do not know that there is such a beautiful treasure within walking distance. You can park your car here for free or take the "Hop on Hop off" bus from Lisbon.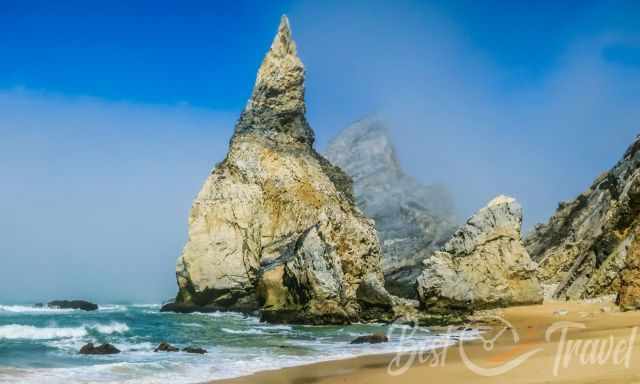 Trail Details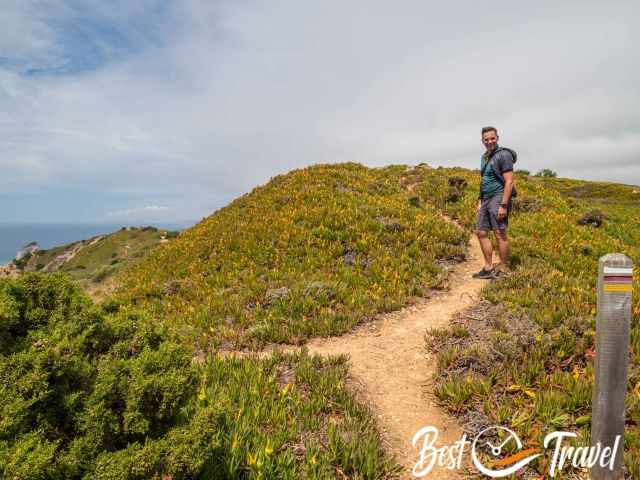 Distance: 3.5 km 
Length: One hour each way plus plenty of time for Ursa
Difficulty: Moderate
Elevation difference: 170 m
Depending on your fitness level, you may need up to one hour on this 2 km hike one way to get to Ursa. First, walk roughly 200 m along the paved road, then turn left and follow the white/red/yellow trail sign. Trailhead Google Maps Location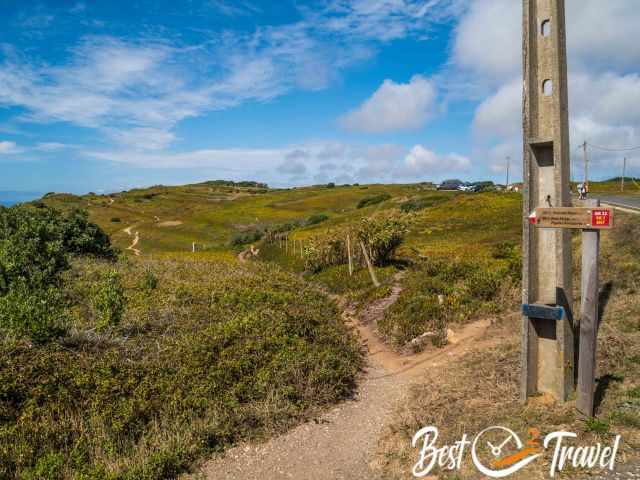 Follow the narrow walking path along the shoreline. During spring, you hike through a carpet of pink and yellow flowers. Enjoy the beautiful views of the sea and Cabo da Roca in the back.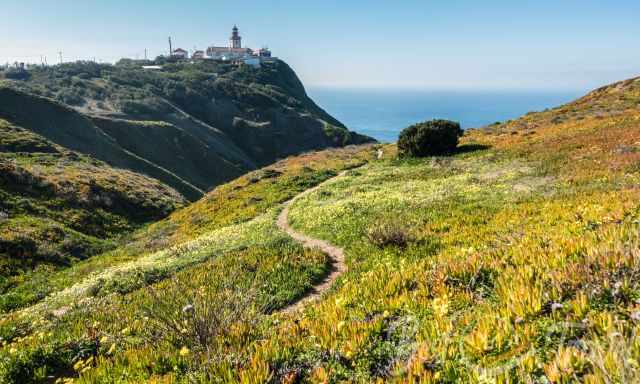 You may need 20 minutes until you get the first glimpse of this spectacular beach. Even if it is too steep and slippery for you, walk at least to the first outlook.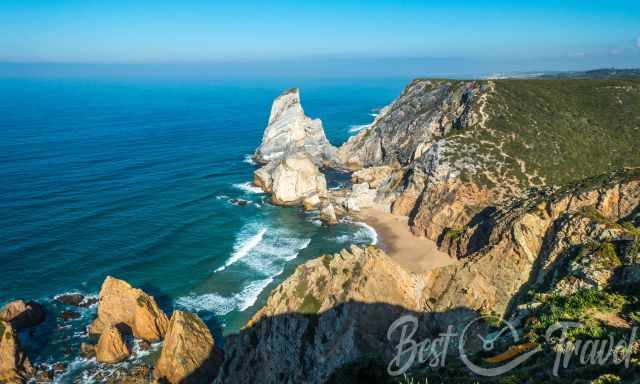 From now on, it's steep and slippery, and hiking poles are very helpful. Just the final very steep part is secured with a rope.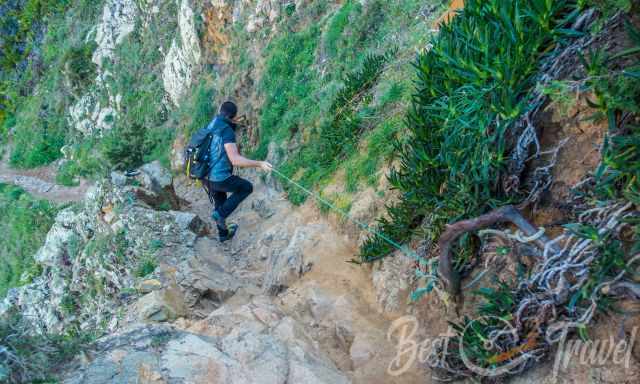 This is the entire steep climb viewed from the beach. My favourite hiking app, where I marked the whole trail for you Locus Pro Hiking Map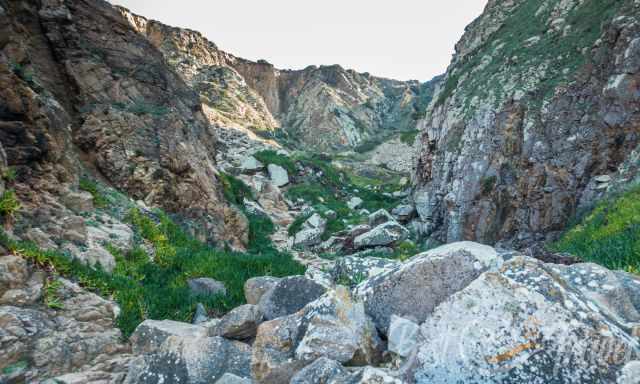 This spectacular beach is usually too dangerous for swimming due to strong currents. It has enormous, impressive rocks and is well known for climbing. The fishers use ladders and ropes for a good safe position when fishing.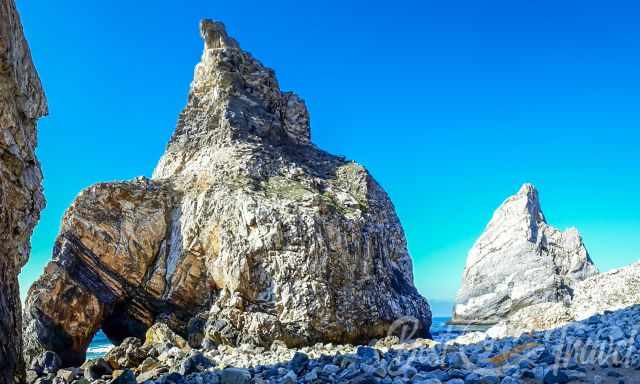 A trail from Praia Adraga to Cabo da Roca exists but is difficult to find. An alternative is to hike the path guided by "Walk Hike Portugal" - more about my friends below. It took us 45 minutes from Cabo da Roca to Praia da Ursa. It's a steep trail but worth the effort. Be prepared well and experience one of the most fascinating beaches in the Lisbon area.
Good to Know
There are clean restrooms at Cabo da Roca for a small fee.
7 Tips and Packing List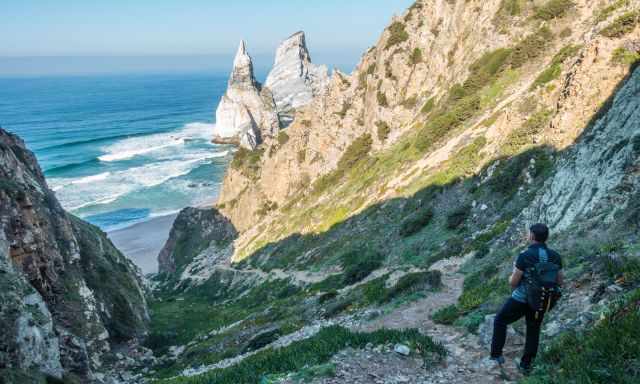 Hiking poles for your safety, for the steeper part.
Wear trainers or hiking boots for this steep descent and ascent.
Plenty of water and a picnic; you can't buy much at Cabo da Roca.
Sunscreen and sunhat even in the winter; expect UV 6-8 in Portugal in winter.
A towel; sit down, and enjoy the beautiful scenery of Ursa.
Plenty of time; don't come here in a rush; plan at least half a day.
A windproof jacket in winter or a waistcoat for the rest of the year. It's frequently windy here at the western tip of Europe.
Annotation June 2023: I got lots of e-mails regarding snakes if they occur along this trail because mentioned in another blog. Honestly, we have been to Portugal almost 30 times and we never saw any. This is not Australia where precaution is essential. 
Weather Ursa Beach and Cabo da Roca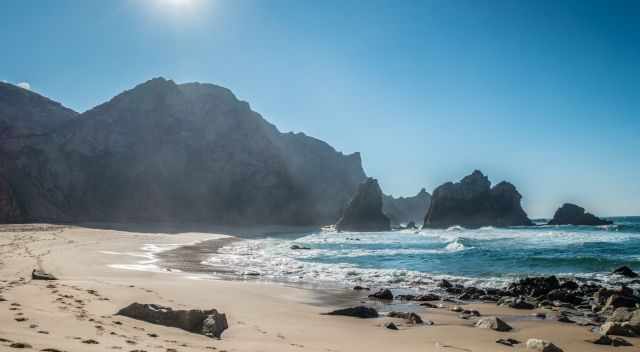 Lisbon and its surroundings are a great travel destination throughout the year. It's rarely too cold here, always pleasant during the day. Ursa Beach is located on the west coast, which is usually a bit windy and a little cooler than Lisbon.
Spring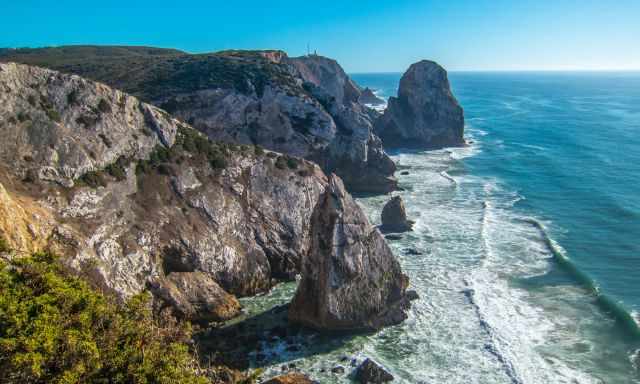 Spring's day temperatures are pleasant, almost 20°C, and nights are a bit chilly, 10°-15°C. We love this season; not hot but warm and almost always sunny. Showers can occur occasionally. 
Summer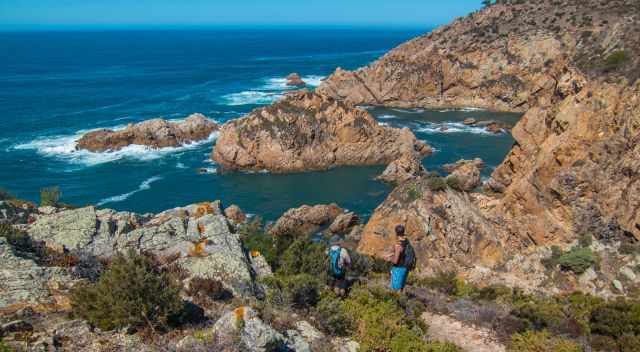 Summer temperatures range from 25°C–30°C in the shade, so consider the mighty sun. July and August are the driest and busiest months, with tourists and the Portuguese spending their vacation in their home country.
Autumn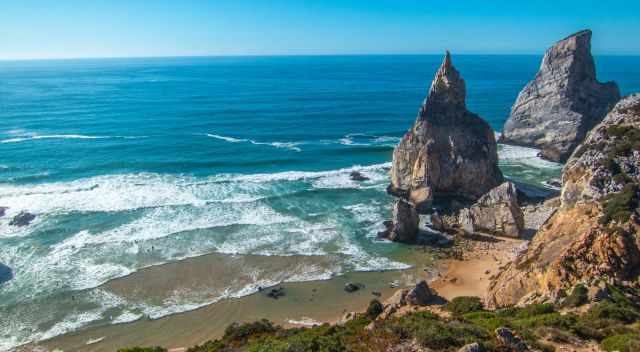 September is an excellent month for Ursa; still warm but no longer too hot, and nights are cool, on average 16°C. October day temperatures are still above 20°C, and November around 18°C. Rain increases in October; however, the maximum is 80 mm in November, and that's not much. A wind jacket may be needed while hiking along the exposed cliff trail.
Winter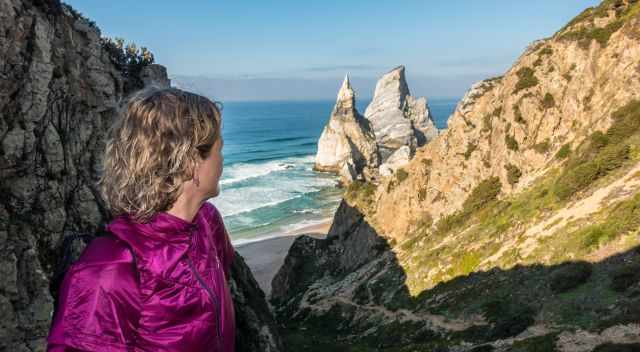 In winter, the day temperatures are around 15°C, with one-digit temps during the night. Precipitation occurs more often, but it's rare to experience rain the entire day. We'd been here several times in December and January. Usually, you can even walk barefoot at the beach.
Location and Tips
Cabo da Roca
Portugal

Praia da Ursa is a wild and unmaintained beach that is wonderful to spend an entire day here. You can park your car at Cabo da Roca for free or take the "Hop on Hop off" bus from Lisbon. You may need up to one hour to get to the beach, depending on your fitness level.
Top Tip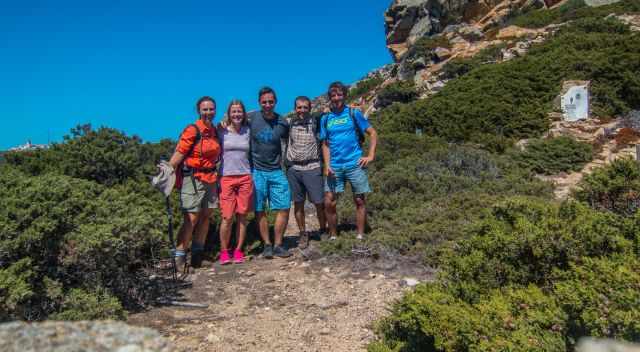 You like to experience more hidden gems around Sintra and the coast? Check out the website of my friends from Walk Hike Portugal. This is my recommendation after hiking to plenty of secluded places with Teresa, Francisco, Paulo, and my cousin Antonio (To).
 Who Are We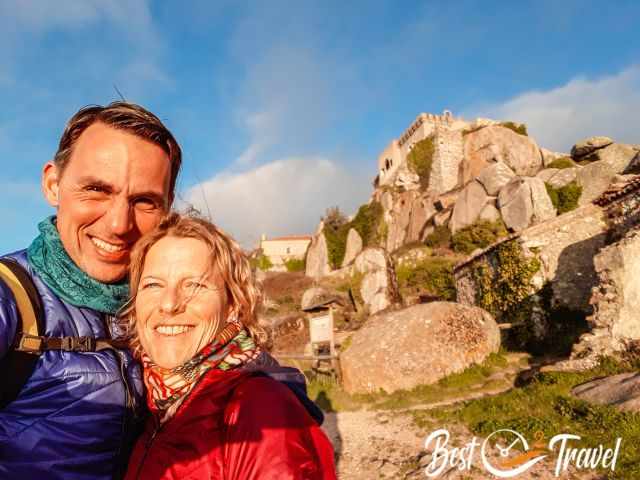 I am passionate about sharing some of the most beautiful places in the world with you, but I still can't live from my work, and we have regular jobs, too.
It is a tough business nowadays because fake travel websites rewrite content without effort and expense. Want to know more about these schemes, picture theft, and how to unmask them? Check out "The Truth  About Fake Travel Websites and Picture Theft"
Do you like my Ursa Beach Hiking Guide and Tips? Please share it with your friends and on social media, subscribe to our  YouTube Channel. That what already help me a lot!
Do You Like to Support Me - It's easy; use the Paypal Button below 😍