When Is the Best Time
Cabo da Roca, where the land ends and the sea begins, is a saying for this beautiful place on the west coast of Portugal and one of the 3-Must-Visit sights. Learn all you need to know about this outstanding west coast part and the hidden beaches nearby. Most of my family lives close to Lisbon, so I know everything about the area and where you can find the best restaurant.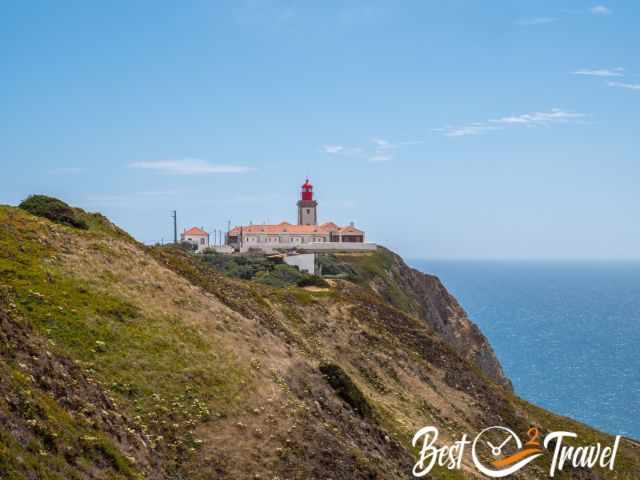 Cabo da Roca is popular and gets busy at weekends and around midday. The wintertime is quiet, and summer is the busiest time of the year.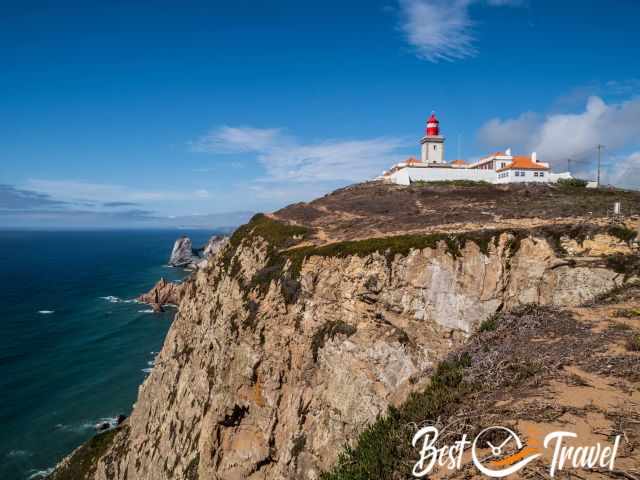 Come here to watch the sunset to avoid the crowds and for a marvellous atmosphere. The scenery is absolutely stunning and picturesque—gorgeous surroundings during spring when the hills are covered with flower carpets. So there isn't a bad time; it is always spectacular here in combination with Adraga Beach and Ursa Beach.
What is Cabo da Roca Famous For?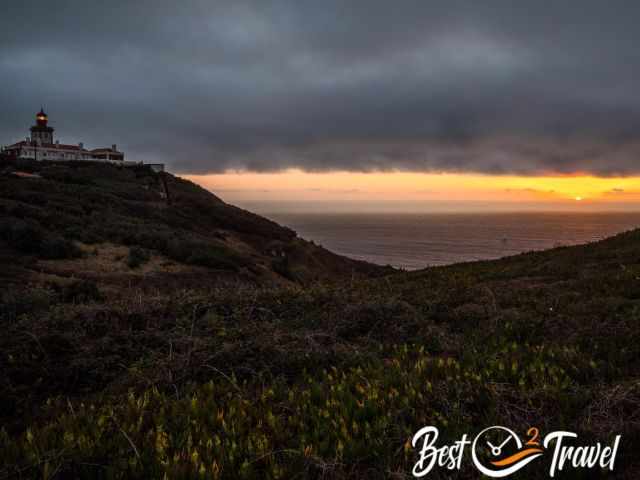 Famous for the sunset and is the most westerly point of continental Europe and Portugal. Cabo da Roca is also famous for its breathtaking sunset by tourists and locals alike. But you can't see the United States from here; it's too far, roughly 5.000 km. Walk roughly 300-400 m direction of Ursa for awesome sunset shots in combination with the lighthouse. Sunset time Cabo da Roca 
How Do You Get to Cabo da Roca?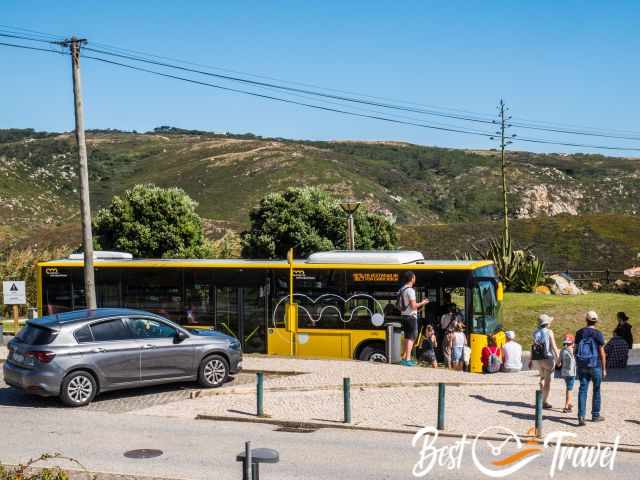 The public transport is very sufficient today from Lisbon to Sintra or Cascais and Cabo da Roca, but roughly only from 6 am until 9 pm in the peak season. The public transport, bus lines 403 and 1624, connects Cascais, Cabo da Roca and Sintra almost every half an hour; if you wish to watch the sunset, a car is essential.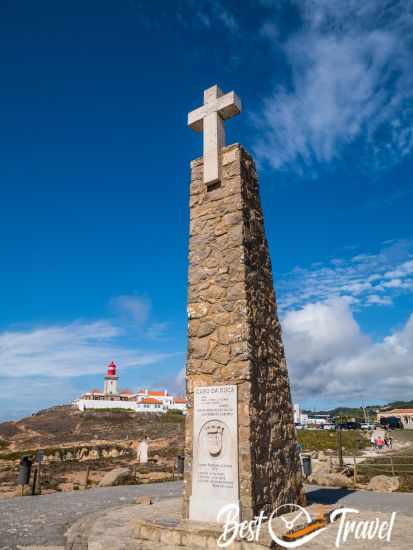 I highly recommend a rental car from the airport because there are many more breathtaking places which you only reach by car, like Praia da Adraga - more below.
What Else Can You Do at Cabo da Roca?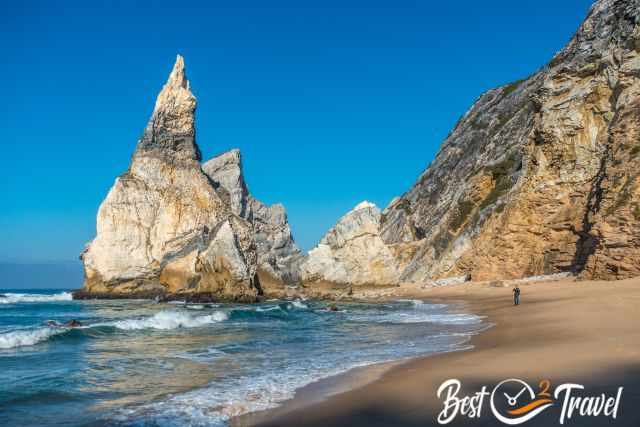 Either visit Cabo da Roca in the morning and combine the most westerly point and lighthouse with Praia da Ursa or combine both attractions after lunch. You can park your car at the cape and go on a spectacular hike to the hidden beach of Praia da Ursa. 
Is There a Restaurant at Cabo da Roca?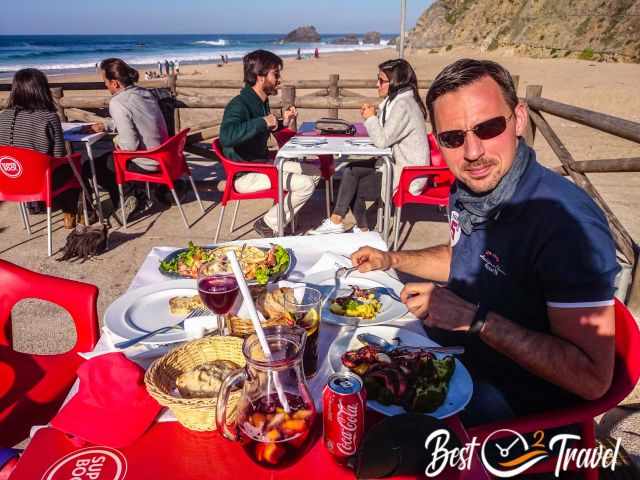 There is just a tourist trap offering cold and undefinable food. But it is just a 15-minute drive by car to Praia da Adraga and the excellent restaurant Restaurante da Adraga. More in my Praia da Adraga article plus telephone number and what is new in 2023 from our recent visit.
Can You Swim at Cabo da Roca?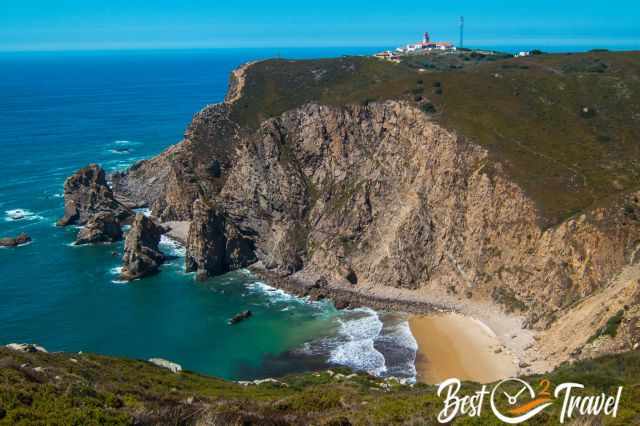 "Praia de Assentiz" is often mentioned as "you can swim at Cabo da Roca", but first, it is dangerous because of currents, and second, the trail was washed away. It is currently not safe to get there!
No, at Cabo da Roca itself, you can't swim because the cape is nestled on cliffs more than 80 m above sea level. You can bathe at Praia da Ursa or swim at Praia da Adraga. Nevertheless, be aware of the occurring currents. 
Is Cabo da Roca Worth Visiting?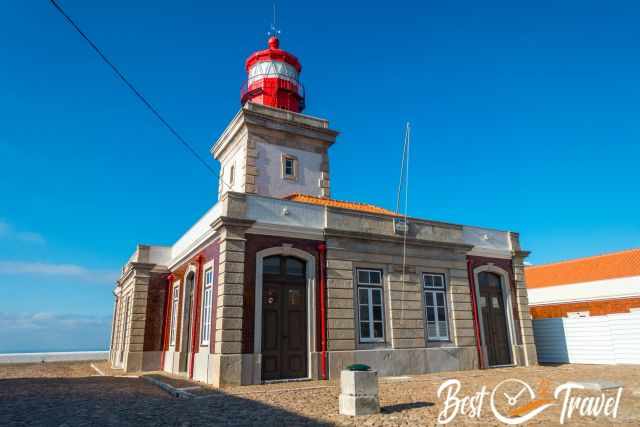 Yes, it is worth visiting Cabo da Roca if you combine it with Ursa and Adraga but just Cabo da Roca without the other exceptional places, my honest answer is no. We have visited Portugal more than 25 times already; therefore, I highly recommend visiting the cape as I recommend in my one-day itinerary below and watching the breathtaking sunset from here.
One Day Itinerary Cabo da Roca and the Surroundings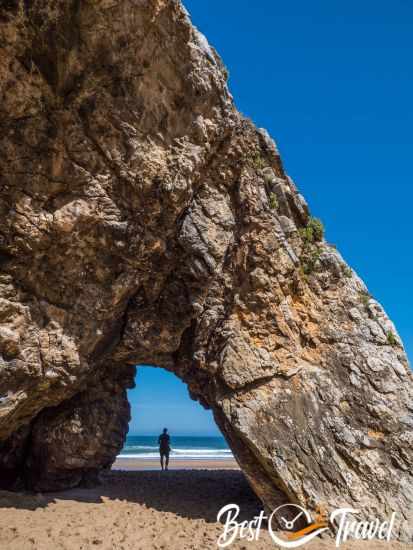 Morning: Visit Praia da Adraga.
Midday: Enjoy lunch at Adraga Beach at the famous local restaurant
Afterwards, visit Cabo da Roca.
Afternoon: Go on a fantastic hike to the secluded Ursa Beach. I bathe here in summer, but I can't recommend swimming due to the occurring currents.
Walk back to Cabo da Roca and watch the awesome sunset.
We do this annually and never get tired of it—more about these places below.
Avoiding Crowds at Cabo da Roca
This is a tip by my uncle; avoid Sundays if possible it is a popular spot where local motorcyclists like to gather on Sundays. Midday is also busier; it gets quieter from late afternoon onwards.
Weather Cabo da Roca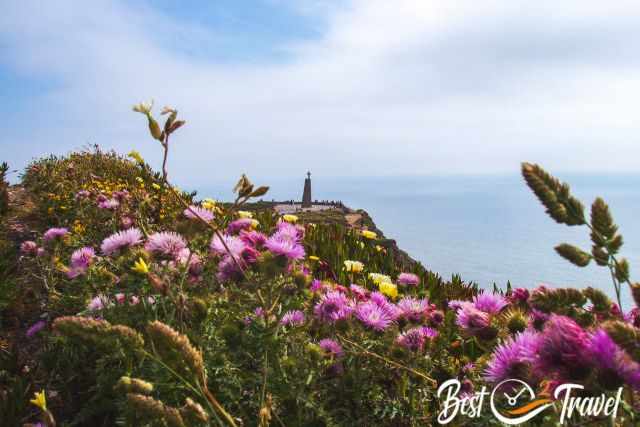 Lisbon and the surroundings are great travel destinations throughout the year. Cabo da Roca is windswept frequently. Bring a jacket, especially for the evening.
Spring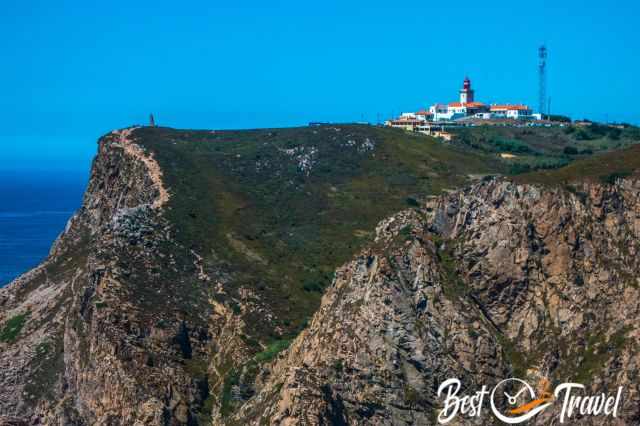 Day temps in spring are pleasant, almost 20°C. Nights are a bit chilly, 10°-15°C. We love this season; not hot but warm and almost always sunny. Showers can occur occasionally. The coast is covered in colourful flower carpets.
Summer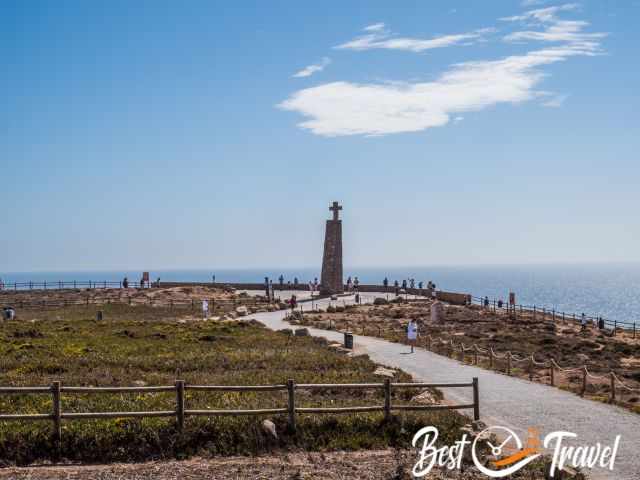 Summer temps are around 25°C – 30°C, but consider the mighty sun. July and August are the busiest months, with tourists and Portuguese vacationing in their home country. These are the driest months of the year.
Autumn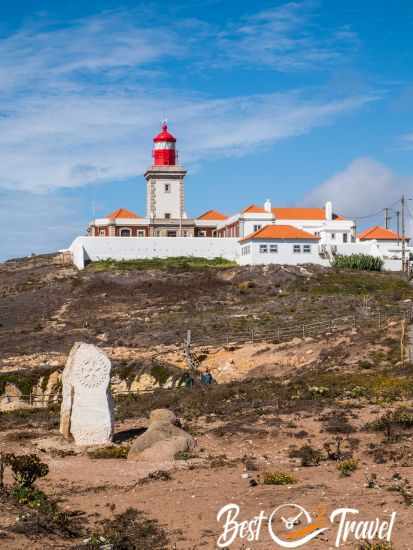 September is one of our favourite months; still warm but not any longer too hot, and nights are cool, on average 16°C. October day temps are still above 20°C, and November around 18°C. Rain increases in October, however, the maximum is 80 mm in November. That's not much. The coastline looks even more spectacular during strong winds and fog.
Winter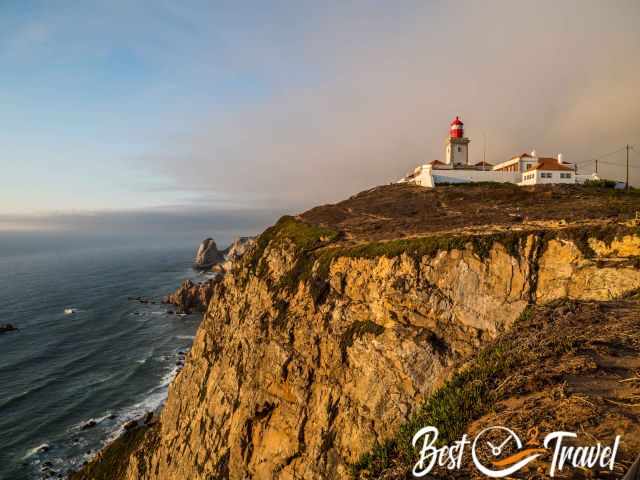 In winter, the day temps are, on average, around 15°C, and one-digit temps during the night. Precipitation occurs more often, but it's rare to experience rain all day. We'd been at the coast several times in December and January. Often you can even walk barefoot at the beach. The pro; is that this season, it's quiet and peaceful everywhere except for Christmas time.
These are my recommended tours via GetYourGuide. Thx for booking via my website! With your support, I am able to provide all information first-hand. Tour prices are at no extra cost!
Location and Tips
Sintra
Portugal

Cabo da Roca offers spectacular views. The lighthouse and lookout are extremely popular for tour buses in combination with Sintra. Usually, the last buses leave Cabo da Roca in the late afternoon.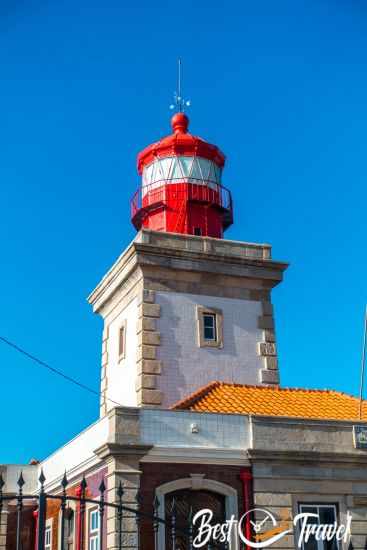 Public transport is sufficient here today and especially at weekends. Plenty of parking is available, although during the busiest season and at weekends you may have to park your car in the distance at midday. Parking Google Maps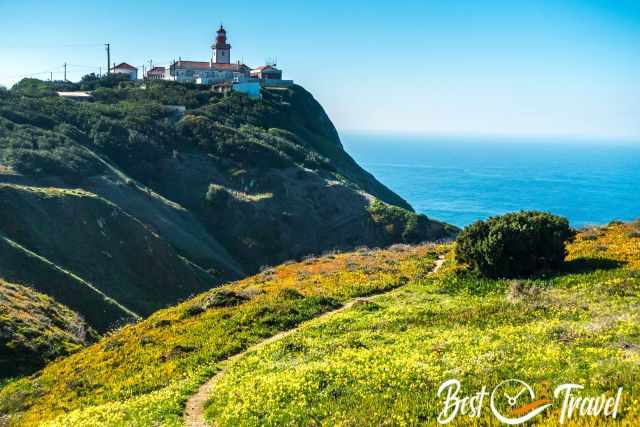 It was the first lighthouse built in 1772 and got changed in 1842. It is located on cliffs around 100 meters above the sea but is not accessible. Cabo da Roca offers tourist information, restaurant, souvenir shop, and facilities to pay for. The stone monument with a cross on top has an inscription perfectly describing the area "Where the land ends and the sea begins". 
3 Top Nearby Tips
Ursa Beach 

I am on the beginning of the coastal path to Ursa.

If you are into hiking and you don't mind steep and slippery trails, don't miss Praia da Ursa. Ursa Beach is one of the most beautiful secluded beaches on earth. Unbelievably, this fabulous beach is still a hidden gem.
Adraga Beach

The caves at Praia da Adraga are accessible at low tide.

Not far away is the small but stunning Adraga Beach located. During low tide in summer, several caves are accessible. You get excellent fresh fish and polvo salad here at the restaurant.
Sintra -  Monserrate Palace

Monserrate Palace is still an overlooked treasure in Sintra.

Combine Cabo da Roca with a visit to the UNESCO World Heritage Site Sintra. Sintra has so much to offer; you can easily spend days here exploring the history, Capuchos Convent or Monserrate Palace to mention just a view of the many sights, but these two are quiet - not much known.
  Who Are We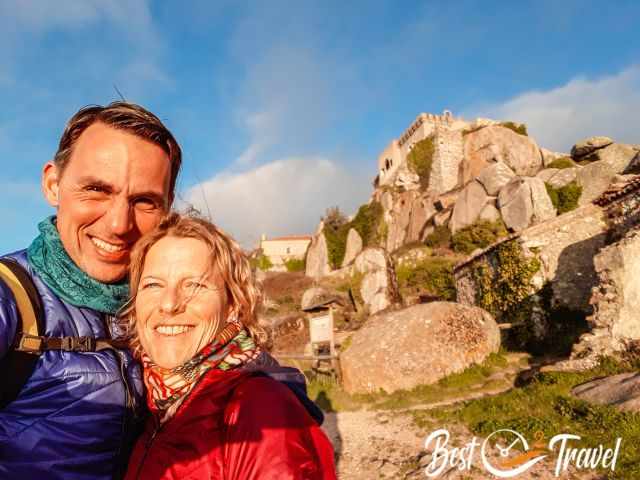 I am passionate about sharing some of the most beautiful places in the world with you, but I still can't live from my work, and we have regular jobs, too.
It is a tough business nowadays because fake travel websites rewrite content without effort and expense. Want to know more about these schemes, picture theft, and how to unmask them? Check out "The Truth  About Fake Travel Websites and Picture Theft"
Do you like my Cabo da Roca Guide and my tips for this area? Please share it with your friends and on social media, subscribe to our  YouTube Channel. That what already help me a lot!
Do You Like to Support Me - It's easy; use the Paypal Button below 😍
Do you want to obtain the usage right for my images? Contact me, but I will take action against picture theft.