When Is the Best Time
Kangaroo Island is a year-round destination, although the seasons are quite different. Summer is beautiful and warm; therefore, Kangaroo Island is pretty busy and high priced. It's vice versa in the winter. It frequently rains, but the island is not overrun. Expect more precipitation from April to October. Continue reading to figure out which season you may prefer.
Weather and Crowds by Season
Spring ( September-November)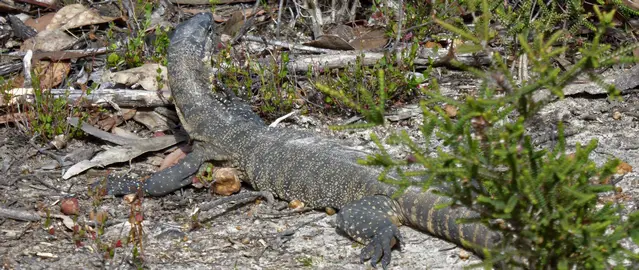 Goanna basking in the sun 

Day temps in September are on average around 15°C. Rain decreases in October. Temps increase and reach 20°C in November. Camping is still chilly in the night with Temperatures below 10°C. The wildflower season starts. 
Summer (December-February) Peak Season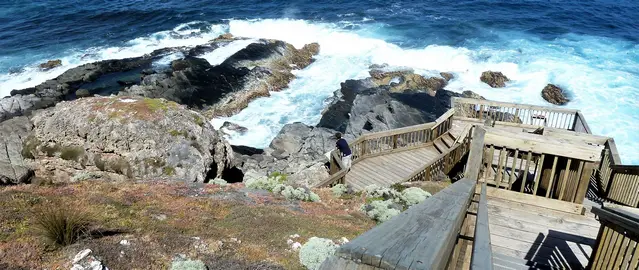 It's the most popular season with the best weather conditions. The downside almost everything is fully booked and high priced. The temps are on average around 25°C during the day and 12°C at night. These are the warmest and driest months of the year.
Autumn (March-May)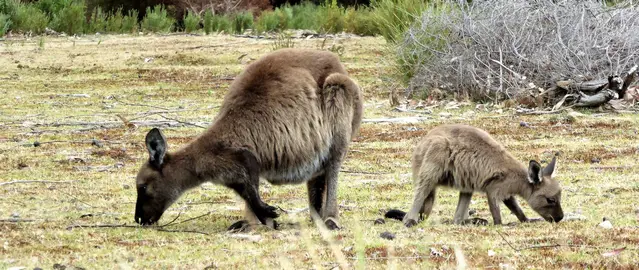 The crowds thin out except for Easter. The island gets its tranquillity back, and wildlife can be observed. The little penguins start nesting. Rain increases already around April, instead, less wind, which causes a calm sea. Day temps in March and April are above 20°C and below in May. Nights are already cool around 10°C.
Winter (June-August) Low Season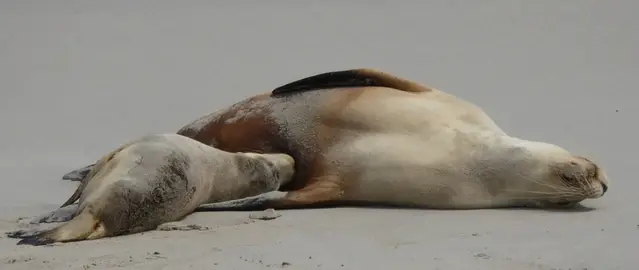 Temps are pleasant for winter around 14°C in the daytime and 7°C at night. It frequently rains, but on the other side, clear and sunny days occur. It's the coldest and wettest time of the year. Echidnas may hibernate at this time of the year, depending on the temps. Besides, for those who are visiting KI to see wildlife, winter is the best choice. There is abundant food, and the newborn kangaroos, koalas, and wallabies typically use this season to emerge from their mother's pouches. Whales can be spotted from the shore from May to September. Winter helps keep the sometimes-exorbitant prices of staying on the island much more manageable. Travelling in the off-peak season also leads to lower overall visitor numbers, which adds to the feeling of peace and solitude that can be had at any number of places on KI.
When to Spot Wildlife in Their Natural Habitat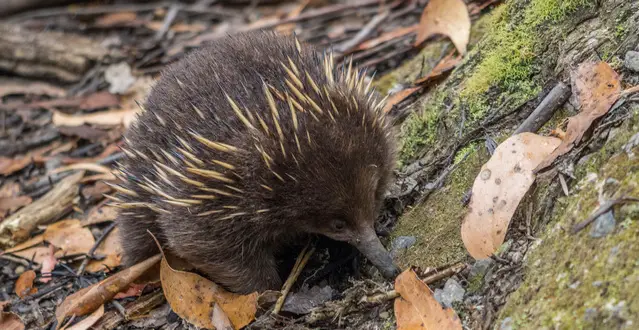 More active at dusk or they are nocturnal like the possums
If it's hot koalas and kangaroos, prefer to rest in the shade
Koalas are more active during the breeding season from October to March
Goannas may be spotted basking in the sun
Echidnas can be spotted throughout the year if it's not too cold during winter
 
How to Get to Kangaroo Island
You can get to the island either by plane with Qantas from Adelaide (in 2018 flights were offered from Melbourne during summer) or by ferry from Cape Jervis to Penneshaw in the northeast. The ferry ride takes roughly 45 minutes. If travelling by plane, I recommend renting a car to explore the island independently for a couple of days.
Top Tip and Accommodations on KI
Usually, Kangaroo Island is an expensive destination to visit, especially when adding the prices for transport to the island and back to the mainland plus your accommodation for your stay. Kangaroo Island is too huge and has too many attractions, hikes, and wildlife. Staying at least two, even three nights is highly recommended. We spent here almost a week. Important is the location; you can either camp in the National Park or stay close to the entrance and visitor centre like at Western KI Caravan Park & Wildlife Reserve. Consider from Kingscote it's a 100 km drive one way to the Flinders Chase National Park. Another lovely retreat is the Kangaroo Island WildernessRetreat. One thing is for sure; you will experience wildlife in these remote accommodations on Kangaroo Island. However, much on the island got destroyed in the bushfire in 2019/20 and many animals were burnt.
Location and Tips
South Australia
Australia

Kangaroo Island is about 70 miles southwest of Adelaide and is Australia's third-largest island, after Tasmania and Melville Island. The island caters to all kinds of travellers; adventurists, beachcombers and outdoor lovers will all enjoy visiting the island alone, with a loved one or with the family. Surfing, fishing, swimming, bushwalking, and canoeing are just a few of the popular activities on Kangaroo Island.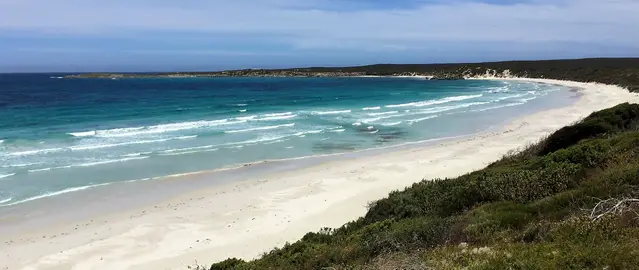 Peaceful and quiet beaches during autumn and winter
Self-driving around Kangaroo Island (in a campervan or car) is a great way to see the island, and a ferry service from the mainland makes it possible to bring your own car. The climate on Kangaroo Island is very similar to that of the Mediterranean, cool, mild winters with warm summers, though it never really gets too hot or too cold. 
5 Hiking Trails on KI
Remarkable Rocks - Flinders Chase
It's just a 15 minutes stroll to the famous rocks. Take your time to get your perfect shot. Quite busy during summer. Enjoy the sunset here.

 
Admirals Arch Walk - Flinders Chase
A short 15 minutes walk to the well-known cave. Watch for seals; they may lay around.

 
Rocky River Wilderness Trail - Flinders Chase
Half-Day Hike which takes roughly 3 hours for the 9 km long track.

 
Day Hike to the pristine Hanson Bay Beach
This is a full day hike which may take 7-8 hours included are photo stops. The trail is 18 km long and not a circular trail.
Two Days Hike to Cape Gantheaume
If you like to experience the sheer beauty of the island without any other hikers, this may be your trail. It's not a strenuous hike without any heights but pretty long; 36 km. It starts at Bales Beach parking. Several rock formations may remind you of the Great Ocean Road.
If you need more information about hiking on KI have a closer look at all available hikes on KI.
Swimming with Dolphins
Dolphin watching tours, as well as swimming with dolphins, are offered by Kangaroo Island Marine Adventures departing from Kingscote and Emu Bay. During the peak season, advanced booking is recommended. 
 
These wonderful pictures were provided by my friends Umamisky.