When Is the Best Time
The Goblin Valley is a bizarre otherworldly place, Mars-like rich in geological history. Walk off-trail in this natural labyrinth and explore the former inland sea which is now dotted with hoodoos called locally goblins and exposed cliffs caused by erosions millions of years ago.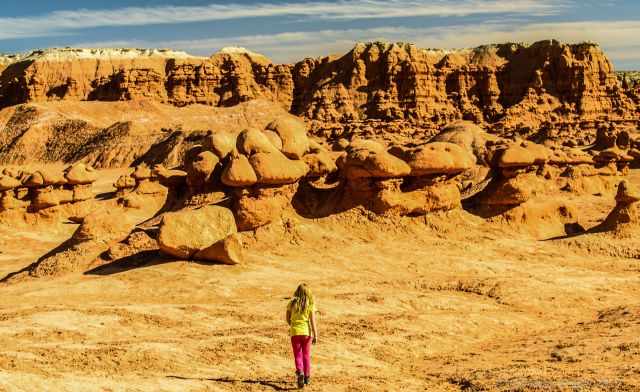 Enjoy the breathtaking scenery of the white and red mottled cliffs and the orange hoodoos. Although the state park is near Moab and Capitol Reef, it is way underrated. It takes roughly 1.5 hrs – 100 mi from Moab and one hour – 60 mi from Capitol Reef National Park.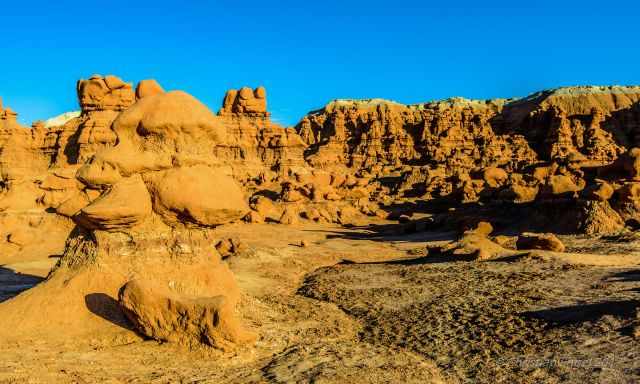 Is it worth visiting? Yes, it is a Must-Visit State Park with a jaw-dropping landscape and mind-blowing rock formations. You can hike here for hours on your own, and you will not get bored always new spectacular views. It is a wonderful park for families where kids climb and run in their desert playground. They will definitely love it. It is a dog-friendly park they are allowed on leash.
Climate – Weather in Goblin Valley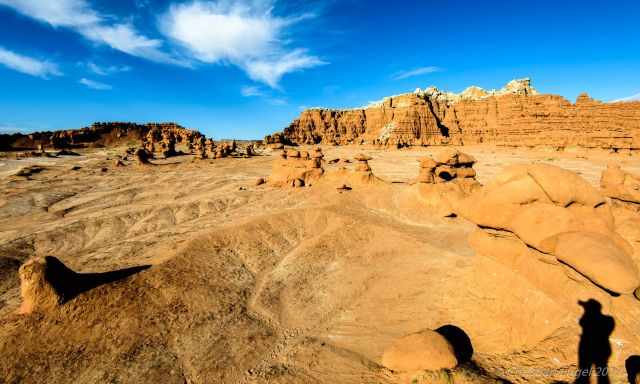 Like all areas around Moab, it is a rugged desert landscape and climate with almost no shade. The summer is scorching, and the winter is cold due to the high park elevation of 5,000 feet/ 1500 m. Wind can be an issue here, blowing sand into your eyes throughout the year. Rain can occur the entire year, however, not much, but it can be torrential, and the ground is a muddy mess.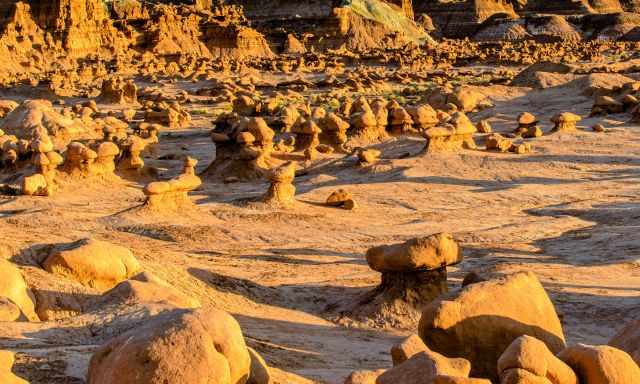 The best times to visit this unique park regarding weather and temperatures are the frequently sunny spring and fall.
Spring (March-May)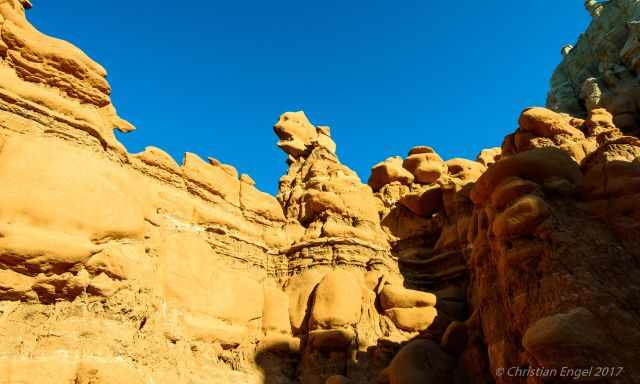 March and April are pleasant with day temperatures slightly below 68°F/20°C, but nights drop significantly to freezing. Rain can occur for a day or two during an entire month, but overall, it is a desert. May is more a summer month with day temps around 75°F/24°C in the shade, but nights are still chilly on average 46°F/8°C cold. After rainfall, beautiful flowers bloom, giving the desert splashes of colour.
Summer (June-September)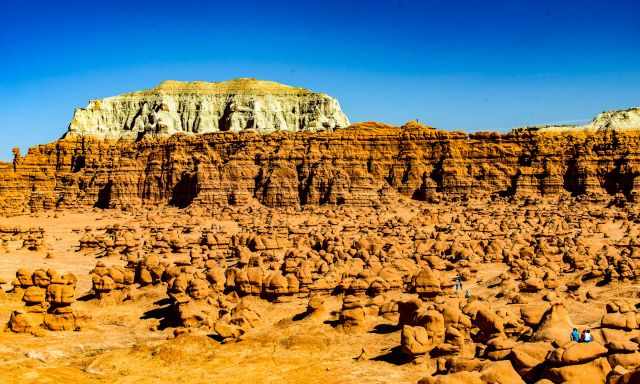 Plan your activities early morning or late afternoon to avoid the midday heat if you plan to visit during the scorching time. The sun is intense, and almost no shade is available. Day temperatures in June and September are slightly above 86°F/30°C and rise to almost 104°F/40°C in the shade in July and August. Evenings cool off rapidly to roughly 59°F/15°C. Summer monsoons coming from the south bring intense rainfall and thunderstorms. Due to the little soil and the spare vegetation devastating flash floods can occur.
Fall (October-November)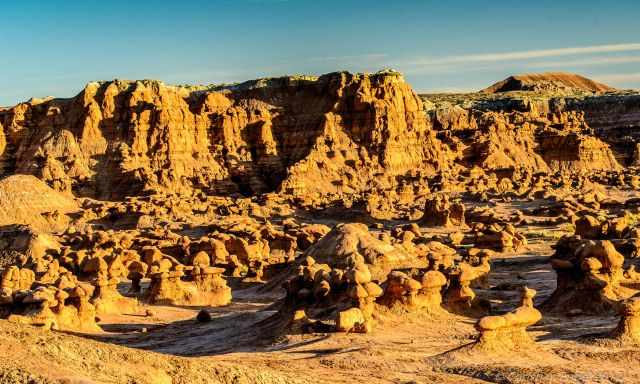 October is a pleasant month reaching 68°F/20°C after midday but nights are chilly around 39°F/4°C. Rain can happen in October though November is dry and cold, just 54°F/12°C, during the day and below freezing at night. 
Winter (December-February)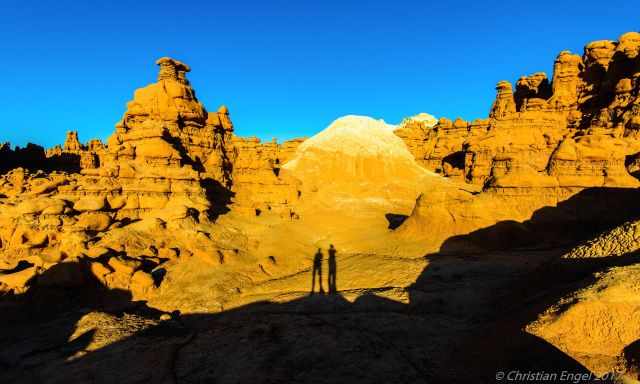 Day temperatures are on average above freezing, ranging from 39°/4°C in December and January to 46°/8°C in February. They drop significantly at night to about 14°F/-10°C. The cold wind lets you shiver, and warm clothes are essential. Occasional snowfall peps up the exceptional landscape when the goblins are covered with snow in the winter.
Spring Break and Crowds
It is recommended to arrive early end of March and the beginning of April otherwise, expect a waiting time to get in of 45-60 minutes for access to the usually quiet park. Some visitors still don't know they need a timed entry permit for Arches and are looking for an alternative. 
Hotels Near Goblin Valley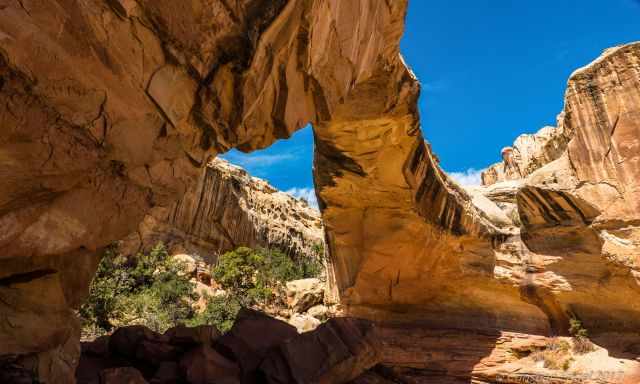 To visit this gem of a State Park, I recommend camping or staying nearby in a hotel in Green River, a 50-mile drive north or close to the Capitol Reef National Park, an hour drive south of Goblin. Explore the Goblin Valley State Park off-trail, watch the sunset, and stargaze in the night. This wonderful State Park should be visited with plenty of time. 
| | |
| --- | --- |
| | The Complete Guide to the Grand Circle National Parks is everything you need! This book has something for everyone, whether travelling in style or camping like we do, hiking in the rugged backcountry or sightseeing. The seven most impressive national parks within the Southwest United States are covered, from what to do, where to stay, and dining options inside and nearby. All surrounding national monuments and state parks are described in detail. With maps of Zion, Bryce, Grand Canyon, Arches, Mesa Verde, Capitol Reef, Canyonlands, and many more national monuments, state parks and recreation areas. |
Location and Tips
Utah, Moab
United States

The Goblin Valley State Park features thousands of bizarre hoodoos, the largest concentration of hoodoos in the world, and so fascinating. It is a picturesque place offering brilliant photo opts so bring a good camera.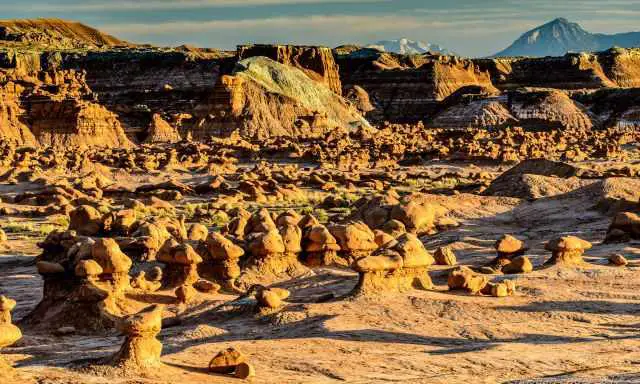 The mushroom-shaped rock pinnacles – the hoodoos remind me of Bryce Canyon, also located in Utah 270 miles to the southeast.
What Makes the Goblin Valley Special?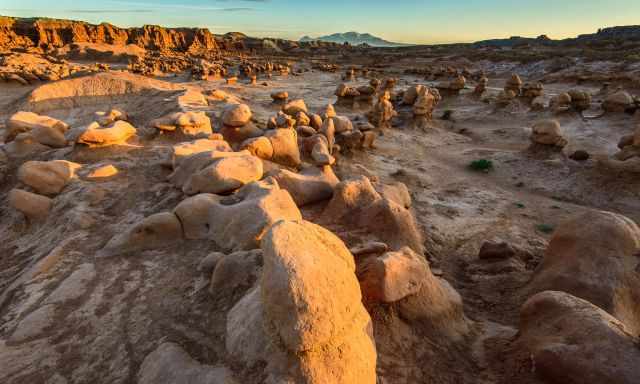 It's quickly answered you are able to walk off track because often it doesn't exist any trail. You do not follow other people in the park. You are allowed to climb onto a hoodoo, of course, carefully don't knock over and destroy sandstone rock formations. Very few rules exist here.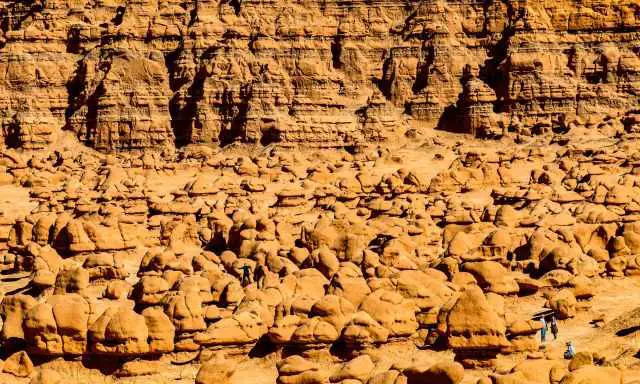 Thanks to the unknownness of the park, you can feel rare freedom. But do not only explore the central area close to the parking. You easily spend here one long day before you continue the next day to one of the big National Parks. 
Opening Hours Goblin Valley State Park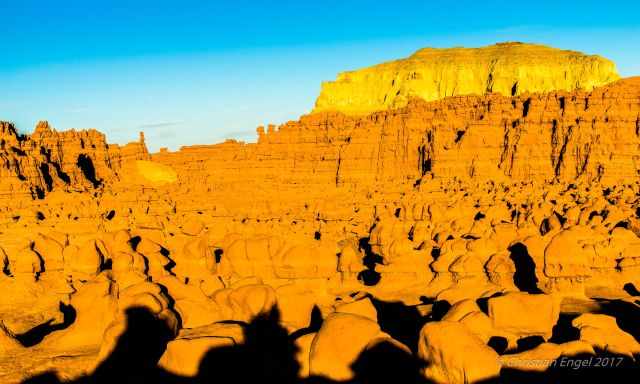 6 am to 10 pm 
The reason for the early opening is the heat during midday. 
Visitor Center until 5 pm in winter. 
Limited Access due to Covid 19, lining up can happen
Entrance Fee Goblin Valley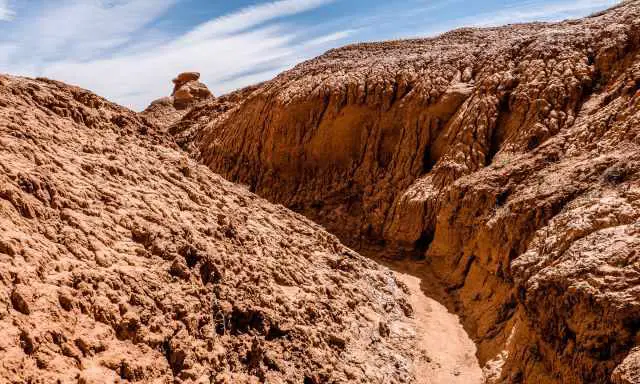 Put the entrance fee in cash in an envelope in a box at the entrance of the State Park.
$20 per car 
$10Utah seniors from age 62 and older
$10 Motorbikes, bikes, and pedestrians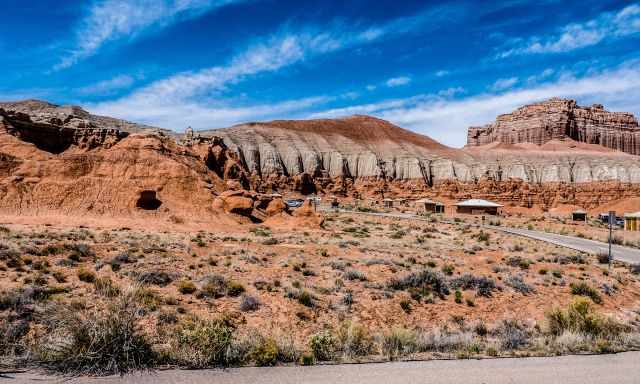 It is not a big park, and so is the parking lot. During peak season, at weekends, and with limited access because of COVID19, the parking can be full, and you have to wait for up to an hour. If you have camping or yurt reservation, they let you skip the line and enter. Next to the parking lot are a handful of picnic tables some with shade. Picture Panorama Camping and Picnic Area.
Camping and Stargaze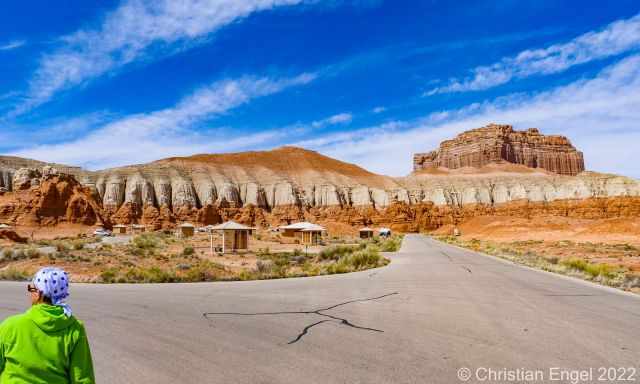 I recommend staying here for a night on the 24-site small campground on your journey through Utah and its famous National Parks. The campground is nestled right up against a rock formation with breathtaking views of Temple Rock. Also, two yurts are available, equipped with bunk beds and outdoor gas grill. It is accessible by car, and you can park next to the yurt, a big advantage during heavy thunderstorms (it does not occur often).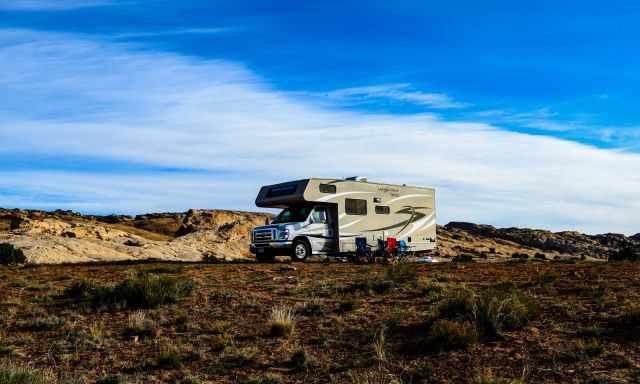 Although remotely located in a designated dark sky area, the campground has more amenities than expected. You get drinking water, clean flush toilets, even hot showers, BBQ area. No cellphone reception is available. You are in the middle of nowhere, and not many people are around.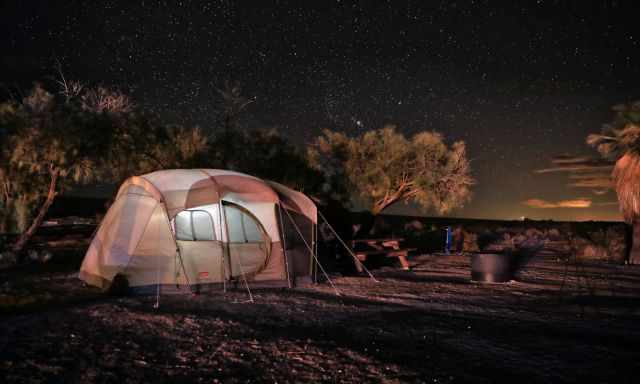 Nowadays, it is rare to find such gems providing a sense of solitude, and it is a breathtaking place to observe the night sky. On top, the staff really cares about this place and campground. My friends did not reserve a campsite in advance and it was fully booked at their arrival. TIP: Make a campsite reservation in advance!
Camping Tip: Check out the weather forecast before you go. Torrential rain and thunderstorms can occur and blow you and your tent away.:It is rare but it can happen during summer thunderstorms.
Camping Fee
Per site and vehicle up to 8 people for $35; 2 Day Park Pass is included
Additional car $15
Groups up to 40 people $125
Packing List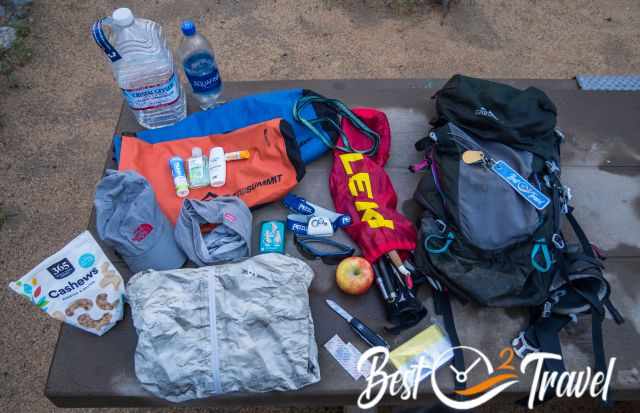 It is hot here, and Goblin is remote located; no shops are nearby. There is a food truck at specific times, but I wouldn't count on it.
Bring at least half a gallon (2liters) of water for each adult per day.
A picnic or at least a sandwich - the visitor centre sells beverages and even hot chocolate, but they are sometimes out of stock.
Sunblock and sunglasses and also a hat for the intense sun.
A windbreaker or softshell jacket depends on the season for the strong wind.
Sand can be everywhere caused by the strong wind throughout the year; a scarf or a buff may be handy to protect your mouth and nose.
5 Hikes and Walks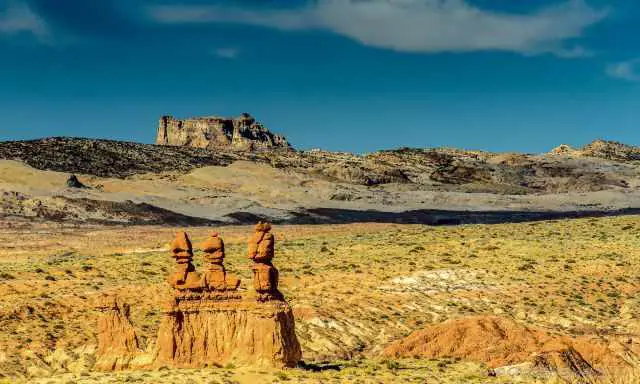 Again, none of the trails is well marked. You create your own hiking path, hiking off-trail is what makes the park so unique. It is much fun to hike here for all skill levels.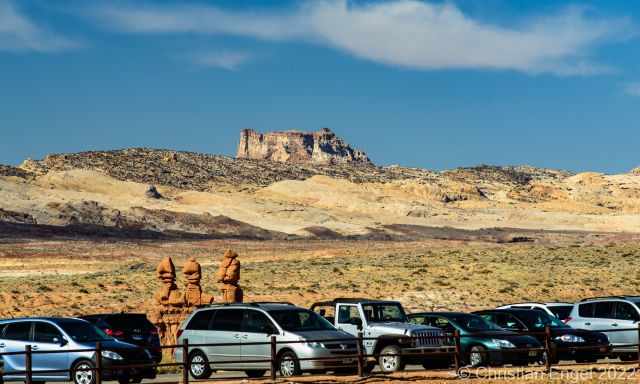 Three Sisters
Along the road to the Valley of the Goblins, you can easily see the Three Sisters formation to the left. There is a small car park for a maximum of four cars to get closer by foot. It is an easy loop trail one mile long with spectacular views of the most popular goblin sandstone formation.
Carmel Canyon Trail
It is a short trail, roughly 1.5 miles/ 2.4 km long which cuts into others like Goblins Lair through the desert floor, offering great views into the different sandstone layers of the Jurassic period. The best daytimes for incredible shots are the golden hour and the sunset.
Goblins Lair
This is a fantastic chamber to explore on your own. Goblin Lair ends at a small cave so bring a headlamp. For real canyoneering, a backcountry permit is required.
Entrada Canyon
The walk starts at the group campsite, and the return hike is 1.8 miles/ almost 3 km long, turning back on the same path.
Curtis Bench
It is a short 2 miles long, rugged trail overlooking the lower Valley of Goblin. 
Hiking Tip for a Nearby Slot Canyon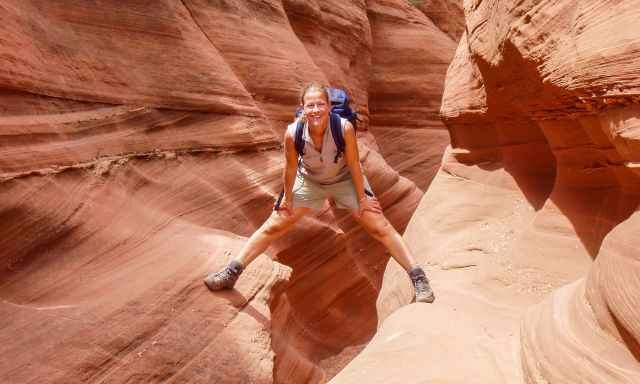 Little Wild Horse and Bell Canyon (Google Maps Location)
It is a 6 miles drive on a paved road from the Goblin Valley, which takes 20 minutes. It is an easy 8-mile circular trail through a fun slot canyon rarely crowded.
Limited parking, the parking lot is gravel, and basic restrooms are available. The pro the slot canyons provide shade in the hot summer months.
Geology and History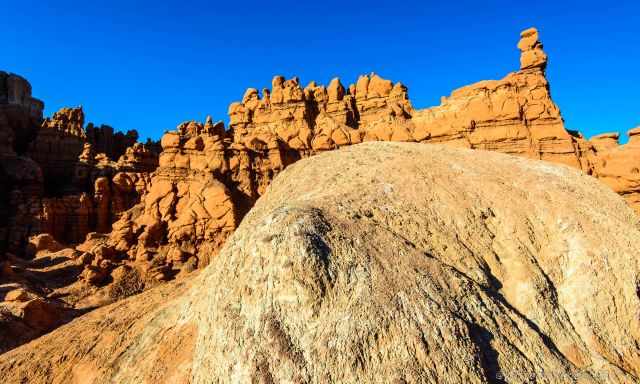 One hundred seventy million years ago, during the Jurassic Period, this area was a muddy tidal flat along an inland sea. Tide times occurred and transported the sand and sediments. Layers of mud, sand, and silt were left. Some eroded faster, and some patches are harder still resist the erosion by rain, wind, dust, and ice. Left are the bizarre and unique mushrooms locally called goblins, the gorgeous sandstone formations in all sizes.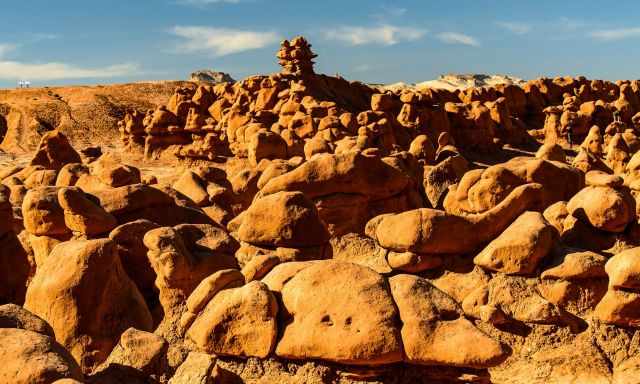 Arthur Chaffin first discovered the area in the late 1920s. He and his partners searched for an alternative route and were fascinated by what they found. 
Chaffin returned to the Goblin Valley in 1949 and called it Mushroom Valley. In 1964 it officially became a State Park.
My friend Chris took all the Goblin Valley pictures.