When Is the Best Time
Monument Valley is simply one of the most iconic landmarks in the US, known for movies like Stagecoach, Easy Rider and Forest Gump. The popularity of Monument Valley began with the famous Stagecoach movie. Your visit to the Southwest is not complete if you do not stop here. Monument Valley is not a National Park it is a Navajo Tribal Park which is equivalent but not the same. Your National Park Pass is not accepted here.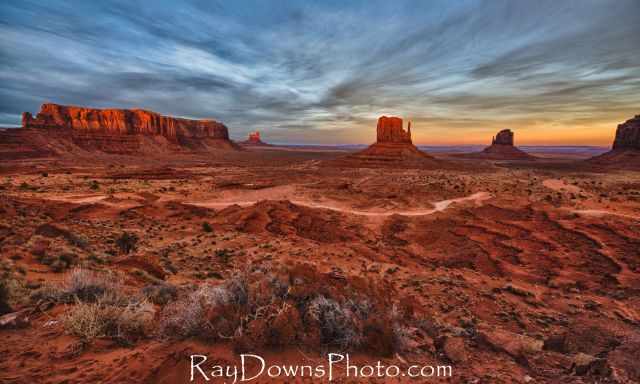 Monument Valley is an outstanding destination throughout the year. Take a step back in time and feel transformed into a wild western movie on the 17-mile/ 27 km Monument Valley Scenic Drive Loop. The summer is hot and crowded, but if you don't mind hiking the Wildcat trail, you get a glimpse of this unique and famous landscape with fewer visitors.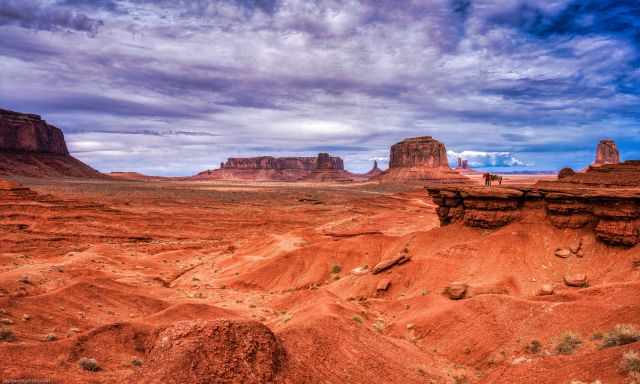 Feel the John Wayne spirit in Monument Valley and at the John Ford Point. Each night John Wayne movies are shown in the little cinema of Goulding's Trading Post (more about it in the hotel section).
I like to let you know everything you need to know, also the best time and daytime for this overwhelming landscape.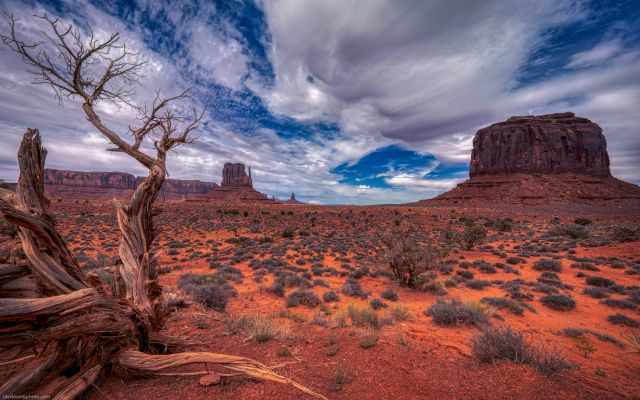 The best times for Monument Valley regarding the crowds are spring and autumn, followed by winter. In summer, go early already at 6 am when the park opens. 
The Mitten Shadow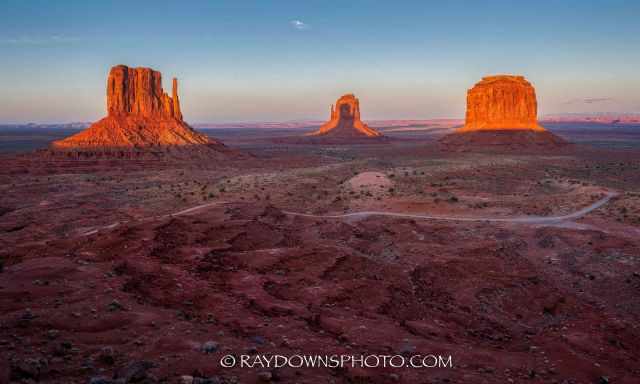 The Mitten Shadow, a photographer's dream, occurs end of March and mid-September for a few days only at sunset. The West Mitten Shadow appears on the East Mitten. To get such a unique shot, you have to find the perfect position already an hour before. Thanks, Ray, for this excellent shot. ​
Getting such a shot is not as easy as you may think. It is weather depending. On the first day, it was rainy, the second, shortly before the Mitten Shadow appeared, clouds came up, and suddenly the sky was overcast. Finally, the third evening was excellent, and Ray could take this magical picture. So, if you plan to see this spectacular shadow keep in mind, that it may not appear on the first evening.
Best Daytime and View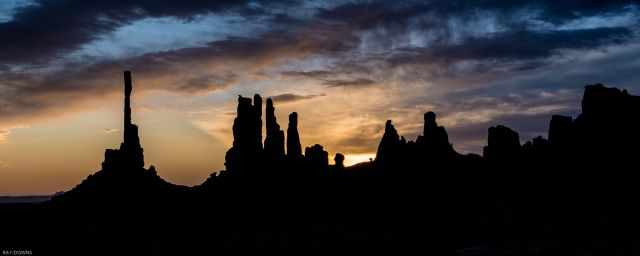 The sunrise and the sunset are otherworldly in Monument Valley and a Must-Do during your visit. The sunrise is great from almost everywhere, and the sunset is breathtaking from the View Hotel already. In the early and late summer, enter the park at 6 am and enjoy the sunrise at one of the iconic red sandstone buttes.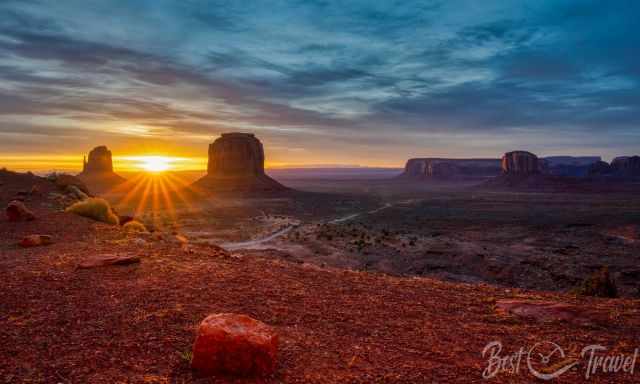 From May to July, the sunrise is slightly before and after 6 am. During these months, the only option is a guided tour. 
Sunrise and Sunset Monument Valley
Covid 19 Updates 2023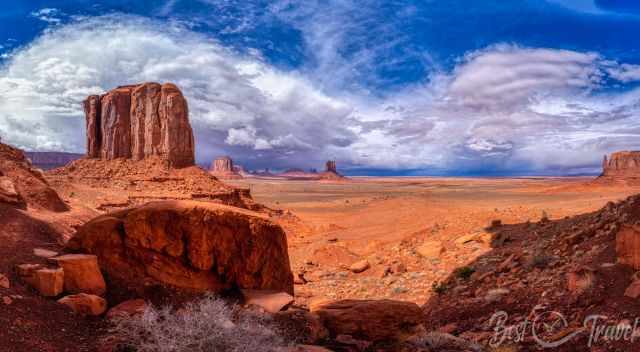 The Navajo Nation follows the CDC and NDOH Guidelines. Please, wear a face mask in public areas of the Navajo Tribal Parks. Numbers and time on the scenic drive are no longer limited. The View Hotel is back at full capacity, though. The gift shop, restaurant, and everything else are open again. You have to line up to pay the entrance fee and also to get access to your car. You may wait half an hour or longer, depending on your arrival time. Inside the visitor centre, face masks are mandatory. The entrance fee ticket has to be purchased with a credit card.
Weather and Crowds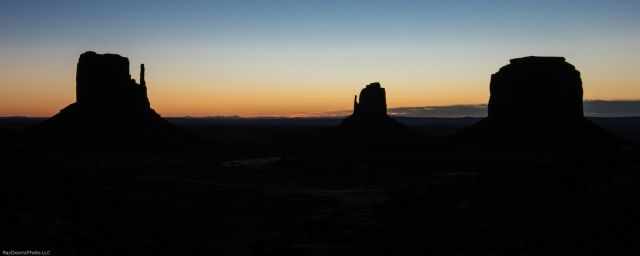 Monument Valley has a desert climate at a high altitude located on the Colorado Plateau at 1.500 m/ roughly 5200 feet above sea level. Rain is not an issue, it is instead the opposite, it is dessert-like. Heavy wind gusts occur in spring and fall, and a Gore Windstopper is quite a good idea. To give you an overview of what kind of temperatures to expect, I divide the months and seasons slightly differently.
Spring (March-April)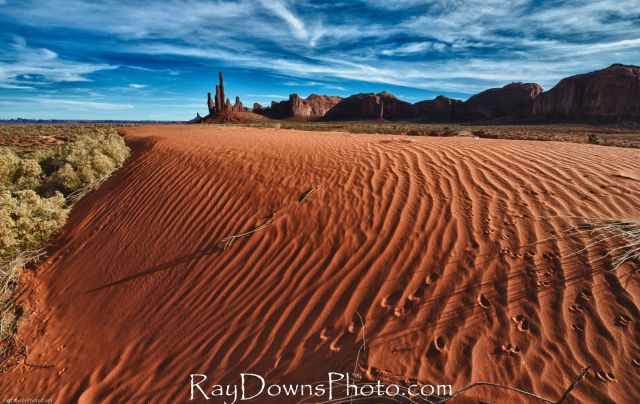 March is a real spring month with an average day temps around 15°C/59°F. Nights are almost freezing. April is pleasant; temps rise to 20°C/68°F, but nights are chilly due to the high elevation. Heavy winds come up in April and continue until June. It is still a quiet time except for Easter.
Summer (May-September)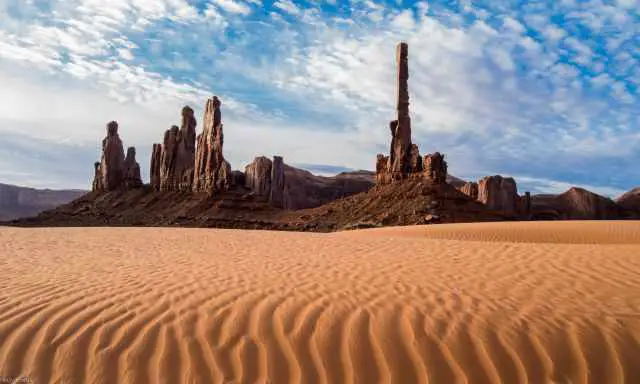 The busy season begins, and July to September are crazy on the Scenic Drive and in the Visitor Centre. If you plan to stay in The View Hotel, book well in advance. The pro is you can enjoy the scenery before the traffic jams at all viewpoints and before dust and sand from the cars spoils your pictures. Day Temps in May and September are slightly below 30°C/86°F and from June-August above but not too hot. Frequently strong winds blow up sand and dust in May and June. Protect your eyes and mouth these days. Occasional thunderstorms occur from July to mid-September. Nights are still cold, so if you plan to camp, bring a 3-season sleeping bag.
Fall (October-November)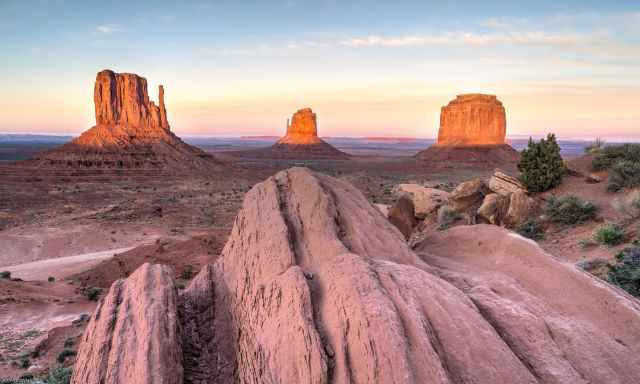 Finally, the crowds thin out, and there is less traffic on the Scenic Drive. However, if possible, avoid weekends or go early to the main outlooks. October is pleasant with an average day temperature of 21°C/70°F but nights are already chilly below 10°C/50°F. November is cold with day temps slightly above 10°C/50°F, and nights are almost freezing.
Winter (December-February)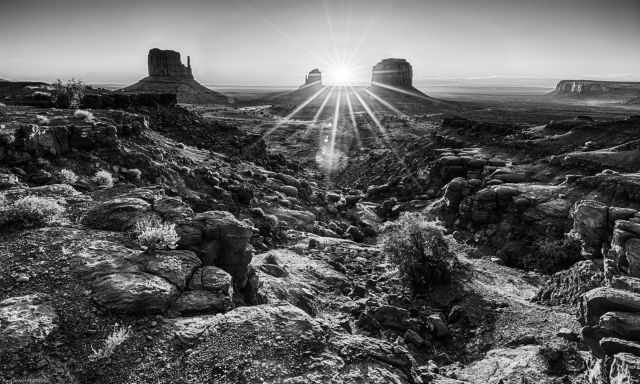 This is the real tranquil time without traffic jams and dust at the most popular viewpoints. Snow can occur from mid-December to the end of February, but it is more a light snowfall that already melts within a day. Although winter day temps are mild, ranging in December from 6°C/42°F to 9°C/48°F in February, nights are freezing around -4°C/25°F. However, it does not affect the roads much.
Opening Hours Monument Valley Scenic Drive and Visitor Centre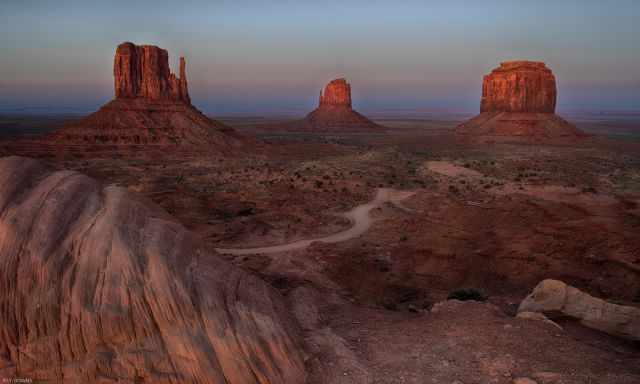 Open 7 days a week except for Thanksgiving, Christmas, and New Year's Day. The park closes during severe weather. You get the entrance ticket for the scenic drive in the visitor centre. The parking lot is elevated, offering excellent views of the main butts, the Mittens and Merrick Butte. The View Hotel is here as well, and opposite starts the Wildcat Trail.
Peak Season from April to September


Scenic Drive 6 am to 8.30 pm
Visitor Centre 6 am to 8 pm


Low Season October until March


Scenic Drive 8 am 4.30 pm


Visitor Centre from 8 am to 5 pm
The store and gift shop is reopened after renovation and is open from 7.30 am until 10 pm.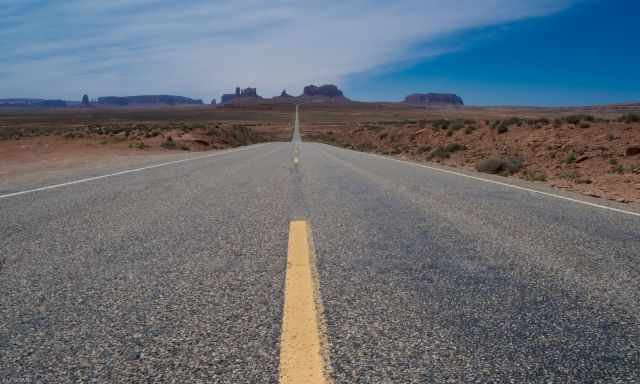 Ray Downs provided all pictures. He is offering exceptional photos from Monument Valley and other breathtaking places in the Southwest. You also can follow Ray on Facebook.
Guided Tours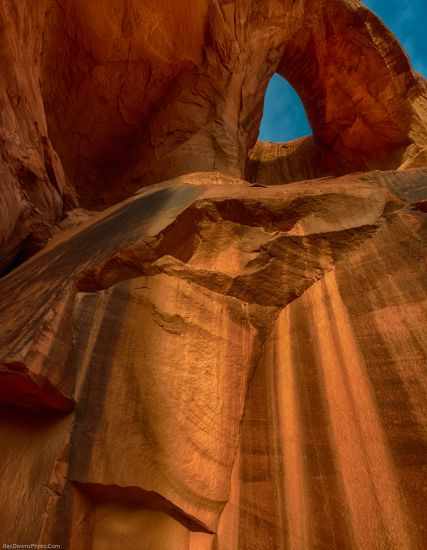 Another excellent opportunity to beat the crowds is to go on one of the Navajo tours offered for small groups only. The other reason some of the most beautiful parts can only be accessed on such a tour. The guides will show you outstanding shots which you usually would miss.
Location and Tips
Arizona
United States

Monument Valley is a vast monument of mother nature. The iconic sandstone buttes were formed more than 200 million years ago. They are ever-changing by erosion from rain, wind, and freezing temperatures. The left pillars are more resistant to weathering; however, they won't last forever. What once was a mesa became a butt the second stadium of erosion. The sandstone buttes and pinnacles appear red because the sand contains iron oxides.
Entrance Fee Monument Valley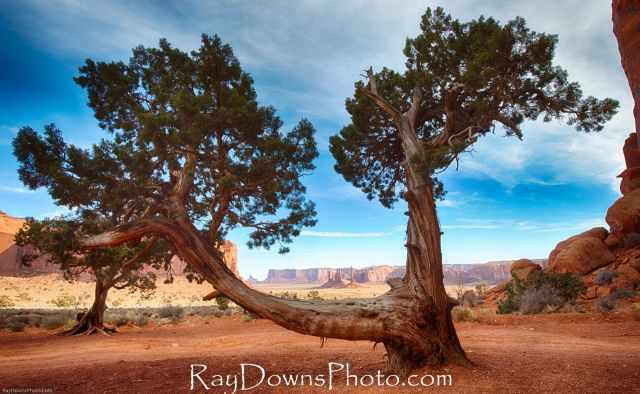 Adults $10 each

Age 9 or younger are free

Per vehicle $20 for up to four people, additional person $6
Monument Valley Location
Monument Valley, The Navajo Tribal Park, is located in Arizona at the Utah border close to Highway 163. It is a two-hour drive east of Page and 2.5 hours north of Flagstaff. The park is close to the Four Corners Monument, where Arizona, Utah, Colorado, and New Mexico meet. 
17-Mile Scenic Loop Drive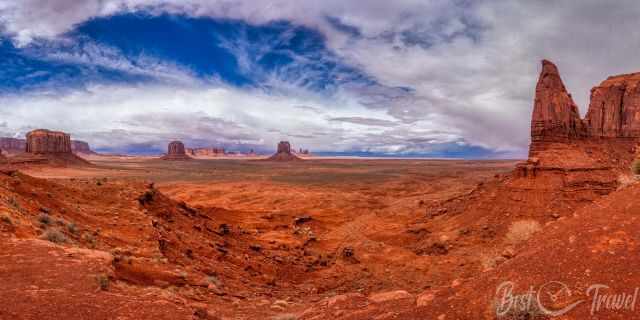 The 17-mile/ 27km scenic loop drive starts east of Highway 163, next to the View Hotel. The road is pretty rough, and AWD or a 4WD is recommended. It is often mentioned you need 2-4 hours for the loop drive with photo stops. IMO plan four hours at least for the eleven picturesque stops.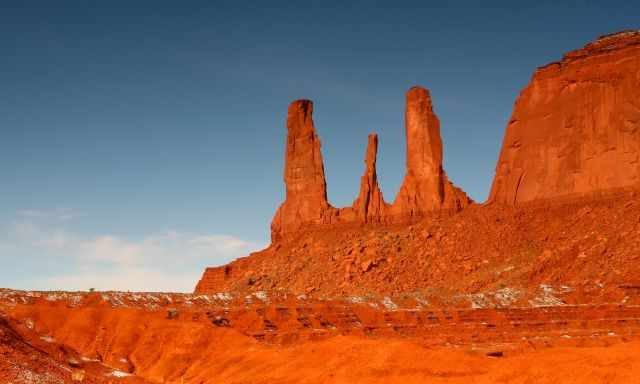 There aren't any restrooms along the dirty loop road. Several stalls along the drive are selling water and native souvenirs.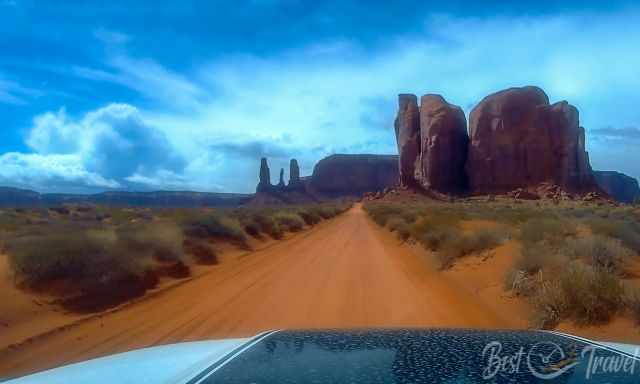 These are just smaller and bigger photo stops; no hiking trails are available here. Take your time, and don't come in rush to this truly stunning place. I bet you will take a bunch of photos.
Wildcat Hiking Trail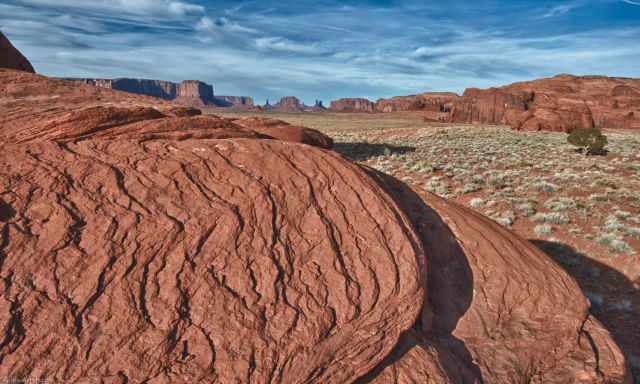 The trail starts opposite the visitor centre. This is the only self-guided tour at Monument Valley. The circular trail is 3.8 miles/ 6 km long, leading around West Mitten Butte and between the other two. The moderate track takes at least two hours. The trail is marked with rock cairns and brown markers. First, you walk downhill and back uphill with some sandy parts. It is scorching in summer without shade, and sometimes the hike closes at noon because of the heat. 
7 Need-to-Know Tips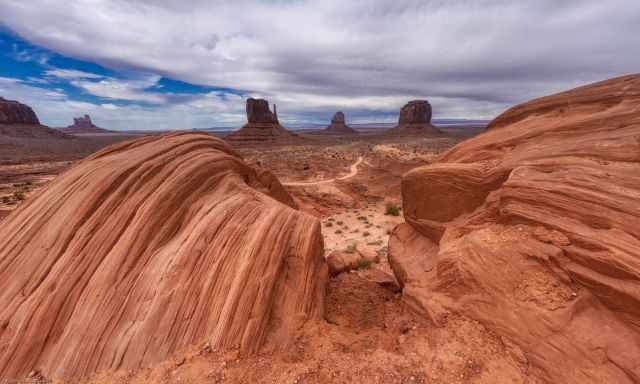 The Navajo are the owner of the Monument Valley. Please, respect their traditions and rules.
Alcohol consumption is prohibited within the Navajo reservation.
Hiking is permitted on the Wildcat Trail only or guided.
Rock climbing is prohibited. In former times Totem Pole was famous for rock climbing.
Also, wild camping is not allowed. 
Please ask for permission if you wish to photograph a Navajo. 
Keep in mind the DST from the second Sunday in March to the first Sunday in November at the Navajo Nation, but not in Arizona, means 1 hour ahead.
Always carry plenty of water, not only during the summer heat but also on windy days and on a hike. 
Helpful Links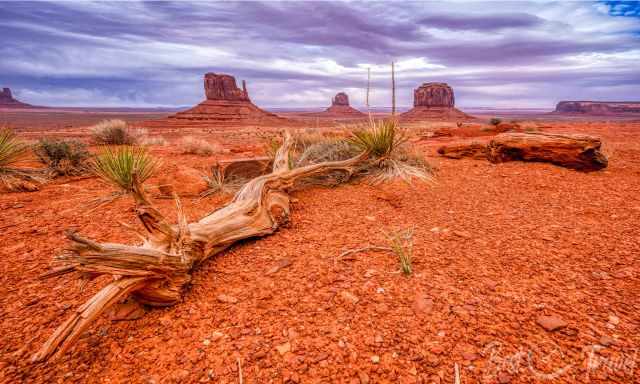 Where to Stay: Hotels - Camping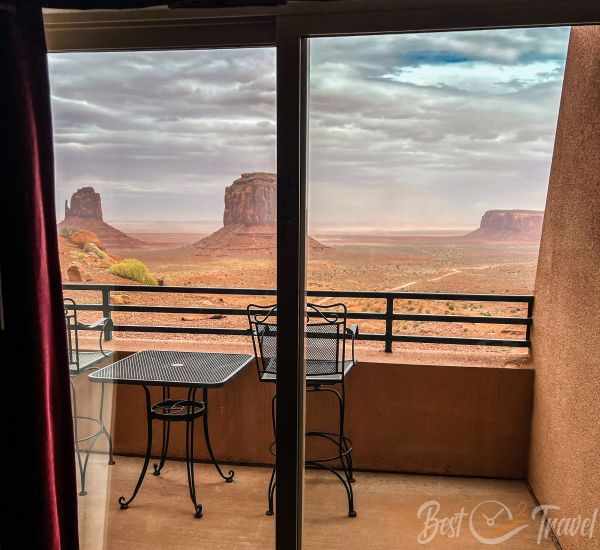 There are just two hotels and two campgrounds, so there is not much to choose from, and it is usually fully booked in the peak season.
The View Hotel 
It was the park's first hotel complex with 96 rooms opened in December 2008. The hotel was built and staffed mostly by Navajos. It has an excellent location next to the visitor centre, and all rooms offer a breathtaking view. The hotel was extended, and 29 cabins were added. The View Hotel - Premium Cabins - Campground Link.

The View Campground
The RV sites and tent sites offer jaw-dropping sunrise and sunset spots. Clean facilities and bathrooms are available. You are in the desert, so don't expect more than just a place to pitch your tent or park your RV for the night.



Goulding's Lodge
The Goulding's Trading Post offers 73 suites, deluxe, and budget rooms. It also hosts a restaurant, a store, a big souvenir shop, and a little cinema where old John Wayne movies are shown each night. It is a five miles drive to the visitor centre of Monument Valley.

Goulding's Campground
The views are not as spectacular as The View, but on the other hand, you get electricity and water here.
How to Get to Monument Valley?
Monument Valley belongs to the Navajo Nation. It is one of the largest Indian reservations in the US. The valley is remotely located in the desert in Arizona, close to the Utah border at Highway 163. You either need a guided tour or a rental car to get here. Usually, Monument Valley is combined with other outstanding National Parks in the Southwest. It is situated 400 miles east of Las Vegas and approx 400 miles south of Salt Lake City. These cities are easy to reach by plane. Phoenix and Albuquerque are a little closer. 
Nearby Tip – Mexican Hat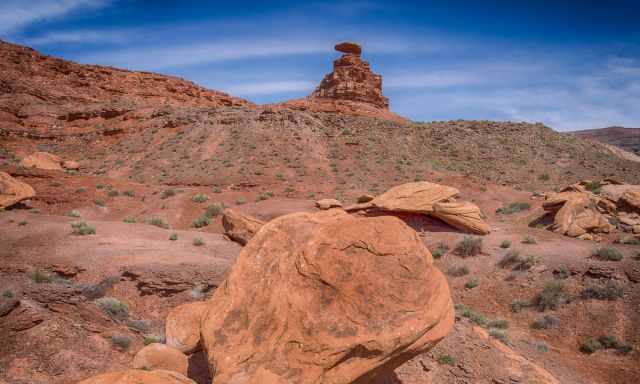 Don't miss out on the unique rock formation a few minutes drive north of Monument Valley.