When Is the Best Time
Before we went to Milford Sound, I thought it overrated, but it's the opposite; overwhelming. We were already twice in New Zealand for a couple of months, and Milford is one of the top 3 Must-Dos! The area is notorious for high rainfall, but this creates a lush rainforest and immense waterfalls.
The best time to visit Milford Sound, regarding the crowds and plenty of daylight, is on a morning cruise tour around 10 am. The best seasons are spring and autumn.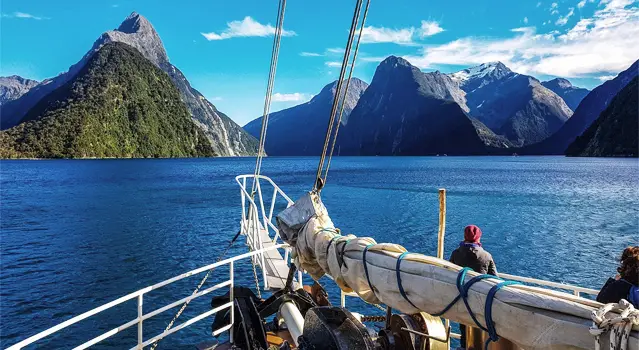 To experience this wet place with a sunny blue sky, you must monitor the weather forecast a couple of days before visiting. Of course, Milford is mind-blowing during rain with hundreds of waterfalls, yet I prefer a blue sky. Weather Forecast Milford This forecast shows the exact weather for each hour.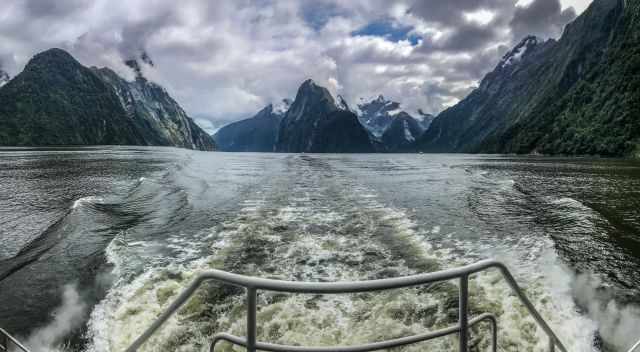 Milford Sound is just mesmerizing and one of the wettest regions on earth, with up to 9 meters of rain annually. It's one of the most visited places in South New Zealand. I will provide you with lots of useful tips for each season. Upfront, I like to let you know during winter, the road gets closed without prior notice if avalanche warnings come up. Continue reading to get all insights I got told by local rangers.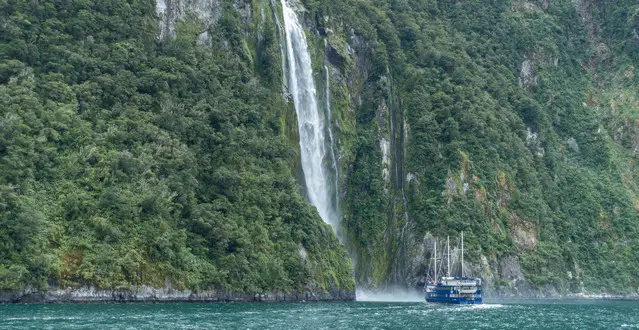 Milford experiences a minimum of 180 rainy days and 7 meters of rain on average annually. This means water is pouring out of the sky. One of the few places where rainfall is measured in meters. Usually, it rains for two days in three. In 2017 the precipitation was even 9 meters, and on the opposite, the summer in 2018 was pretty dry, even accompanied by forest fires. In 2019 the precipitation was again high at 8.5 m, and in February 2020 occurred, a devastating flood. Roads, trails, and Great Walk huts were destroyed by the immense rain. It frequently rains throughout the year.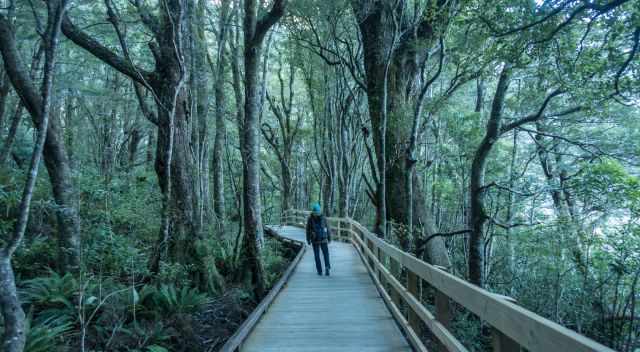 Weather is unpredictable, and here you experience 4 Seasons in one day. With a high amount of rainfall, the fjord is full of awesome temporary waterfalls, and the existing ones are at their peak. It's spectacular when waterfalls thunder down from the cliffs.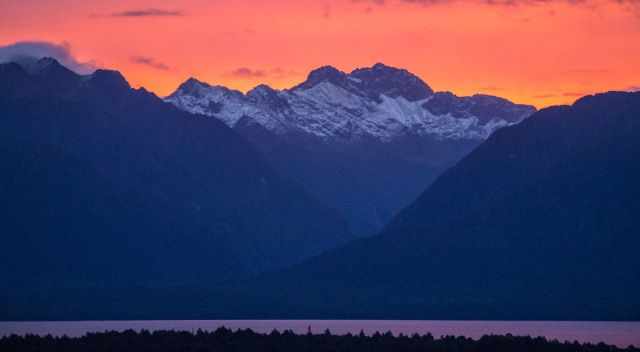 However, we wanted to experience the sound on a clear day, and we did. We monitored the weather forecast and booked our tour just three days before. We drove 10 hours from Christchurch to Te Anau and another two for the 120 km from Te Anau the next morning before sunrise. Sunrise and sunset time Yep, that sounds a little crazy, but we got rewarded with unique views and a sunny blue sky. It was worth the effort.
| | |
| --- | --- |
| | To plan your trip or explorer the Islands, we recommend the guidebook from Fodor's. It is packed with maps, carefully curated recommendations and everything else you need to simplify your trip-planning process and make the most of your time onsite. |
The Future of Milford Sound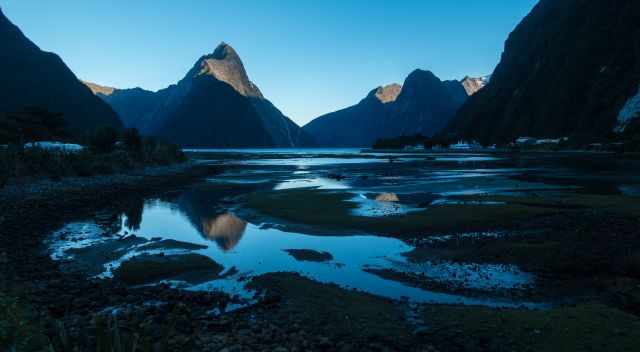 The future of Milford Sound is uncertain. It is the most popular place in New Zealand, with a new visitor record in 2021. Visitor numbers are increasing annually, with almost one million in 2021. There are plans to limit access by car and parking. Parking for free for residents and a permit for international travellers may be mandatory in the future. There are also plans to introduce a shuttle system from Te Anau. Te Anau should become the main tourist hub. Closing the airstrip is under debate. The runway is in bad condition, getting flooded during higher tides. If you plan to visit Milford one day and you wish to see the outstanding sound from the air, don't wait for too long. 
Best Milford Sound Cruise and Tour Tips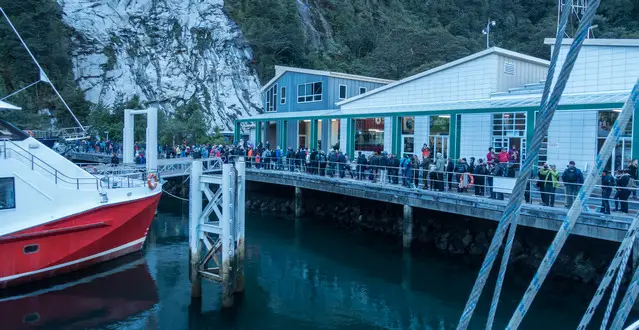 If you like to go on a cruise at midday, advanced booking is recommended. These tours are frequently fully booked; that's why you must book these in advance, regardless of the season!  During peak season, every tour should be pre-booked. In shoulder and low season, you may book the early morning and afternoon tours on the spot, as they are less crowded. My favourite cruise is this one: Milford Sound Nature Cruise. To make sure you get on a cruise, I recommend booking at least one or two days before. There are different tours offered at different times. The first starts around 8.30 am, but at this time of the day, there is still not enough light for taking good pictures in the sound. It improves a lot an hour later. However, it would be best if you always arrived early at Milford Sound. Why? Read on below:
How to Get to Milford Sound? 
(With Tips for the Drive)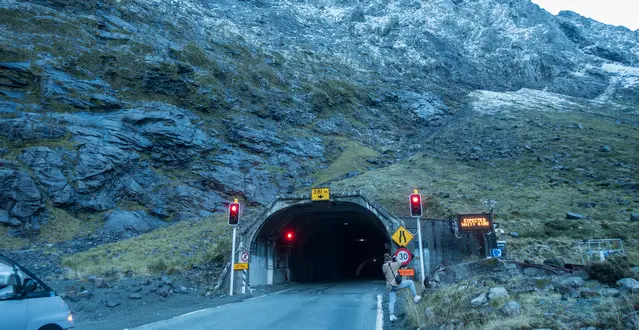 The drive to Milford Sound is possible because of the Homer tunnel. William Henry Homer was one of the few people who witnessed the beauty of Milford in 1889 when he surveyed the area. He suggested building the tunnel. The work for the tunnel started in 1935 and was completed after 19 years. However, the Maori tribes explored the area already thousands of years ago.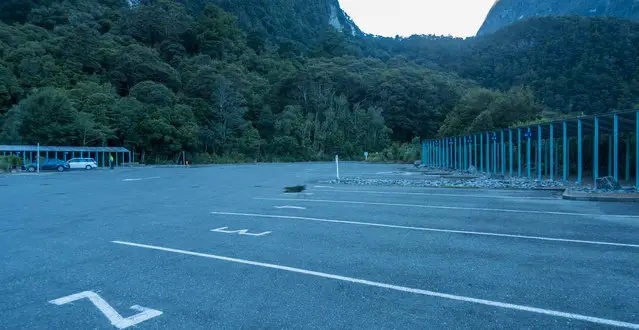 There is just one road from Te Anau to Milford Sound: Google Maps - Te Anau <> Milford Sound. It's one of the most gorgeous drives I've ever done! Start early and arrive around 8 latest 8.30 am, at Milford Sound parking from December to March. This ensures you don't need to park far away and take the shuttle to get close. The shuttle is offered at the busiest time of the year only. The two different parking areas fill up quickly.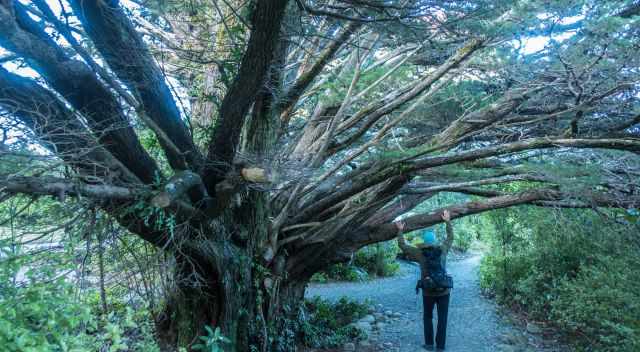 It takes about 1 hour 45 minutes from Te Anau very early in the morning. If you start later, schedule two hours minimum for the drive plus half an hour for the shuttle. The sunrise in the morning and the sunset on the way back were breathtaking. Keep in mind there isn't any gas station or fuel stop along the Milford road, just an uncrewed in Milford. Between May and November, snow chains are required. The Homer Tunnel, at an elevation of 945 m above sea level, is just one narrow single lane, 1.2 km long, and a traffic light controls traffic.
Milford Sound Weather and Crowds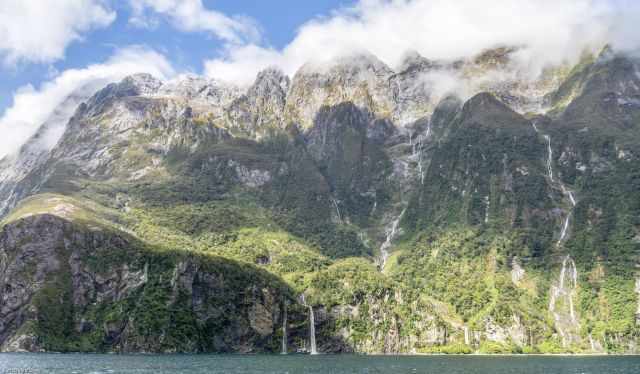 Read my detailed Milford Sound weather guide for every season and month below. Get to know the peak tourist times with possible crowds and less busy periods. To give you an overview of what kind of weather to expect, I divide the months and seasons slightly differently.
Spring (October-November)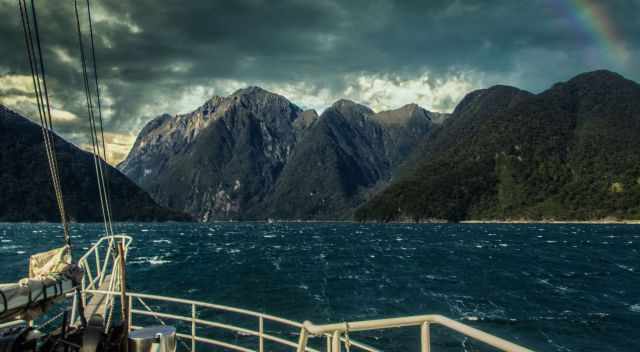 It's still chilly at night, but days tend to be warmer and longer, ranging from 10-15°C. It's the shoulder season, less crowded. There are hundreds of waterfalls gushing down from rocky cliffs due to the spring rain in October and the melting snow. The countryside is covered with wildflowers. In November and December, the rata and the pohutukawa trees are in full bloom. These trees are also called Christmas trees. Mountains are still snow-capped. The Fiordland Crested Penguin can be seen until November or December by the latest raising the cheeks. Seals are more often spotted as long as it is colder.
Summer (December-February)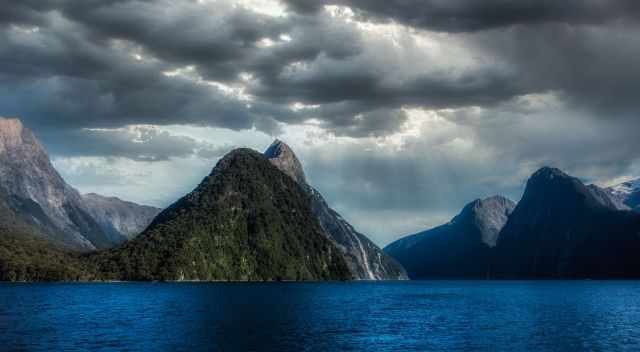 December and January have the highest precipitation, but these months are also the warmest and busiest. The average temp is almost 20°C, and it can rise up to 28°C. In turns of sun and rain, the humidity is quite high. February is a bit drier. The Christmas Trees are in bloom until December. A shuttle service from the overflow parking is offered from December to March. The Milford Track is usually fully booked far in advance though Routeburn still has availability. 
Autumn (March-April)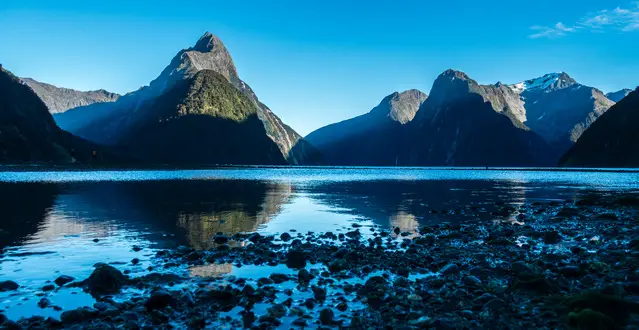 Crowds thin a little bit out, and the shoulder season starts around mid-March. There are still many hours of daylight. The temps may still be close to 20°C during the daytime. Nights have already become chilly. It's the best time of the year for hiking. Waterfalls are not at their peak. There is a slightly higher chance to experience Milford on a clear day than we did at the end of March. It is frequently cloudy or rainy in April even the first snow can occur. Wildlife like penguins and seals are more active and frequently spotted.
Winter (May-September)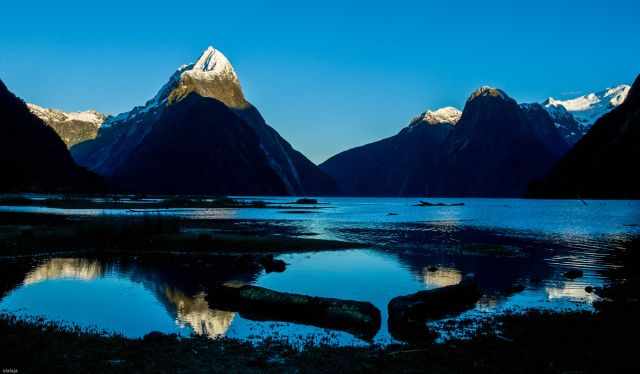 That's the low season, and it's less busy. Snow is common on the road to the Milford Sound from June to September, especially in higher altitudes. This makes the mountains even more photogenic. Seals, and especially penguins, are more active during colder temps. The Fjordland crested penguin comes to the same beach for mating each year. They lay their eggs in August, and cheeks fled between November and December.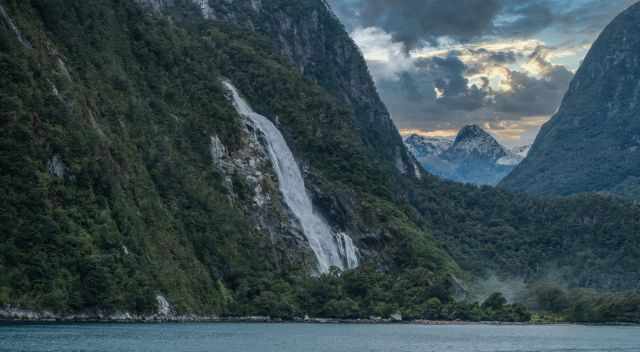 The downside the road to the sound can be closed due to avalanche warnings, although the roads are accessible. Mid-May 2021, roads were closed after heavy snow showers. A convoy was sent to support travellers to get out of Milford in their cars and camper vans. Almost freezing temperatures in June and July. If travelling in the winter snow chains is a MUST!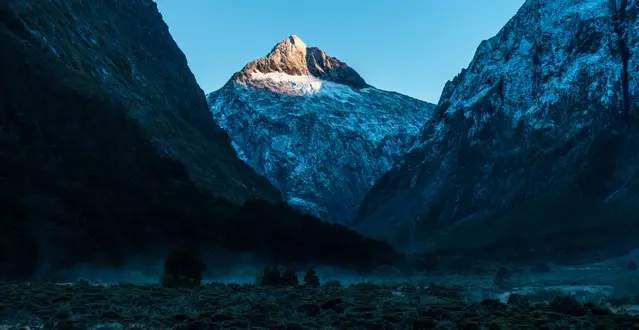 Often the rangers get asked for the reason for closing the way. There is a team monitoring the mountains and snowfields if they ascertain a high risk for an avalanche, the only route to the sound can be closed for days. Hiking isn't possible everywhere. Avalanche-prone bridges get removed to prevent destruction by flooding or debris avalanches. The average daily temp is around 4°C. This makes the cruises chilly outside on the deck. Most of the ships offer indoor and outdoor seating and viewing areas.
Accommodations in Te Anau, the Closest Town to Milford Sound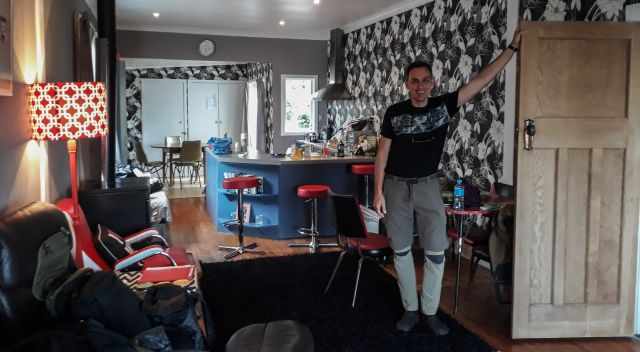 There are many different types of accommodations around Te Anau. We prefer rooms or houses with our own kitchen to prepare our meals. This was our most beloved "Kiwi" house during our stay.
Scenic Flight and More Cruise Tours
Consider this tour: Milford Sound Flight and Cruise for an amazing combination of a Milford cruise and a scenic flight. The big advantage: The flight starts in Queenstown! That means you don't have to drive for the cruise and experience a breathtaking flight as well! In my opinion, driving from Queenstown to Milford and back in one day is long. Thx for booking via my website! With your support, I am able to provide all information first-hand. Tour prices are at no extra cost!
Location and Tips
Te Anau
New Zealand

Milford Sound is part of the Fiordland National Park, and the whole region became World Heritage Site in 1990. The Fiordland was formed by glaciers hundreds of thousands of years ago. Milford is the only fiord in New Zealand accessible by road. Milford Road, State Highway 94 is one of the most scenic and spectacular drives in the world.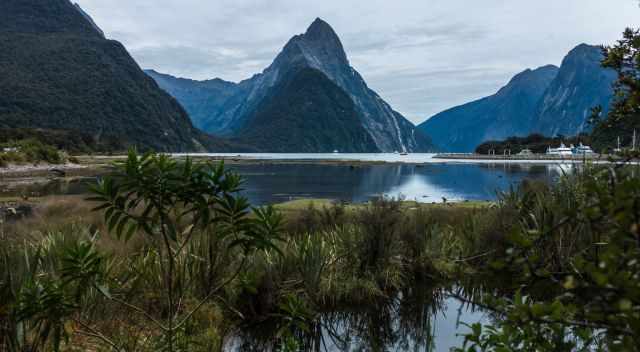 John Grono was the first European settler who came here in 1823 by boat. He gave Milford Sound its name. The sound remembered him to an Inlet on the Welsh coast. The work of the Homer Tunnel began in 1935. It took almost 20 years to get it finished, and tourism started. Before the tunnel opened, only hikers came on the Milford Track to the sound.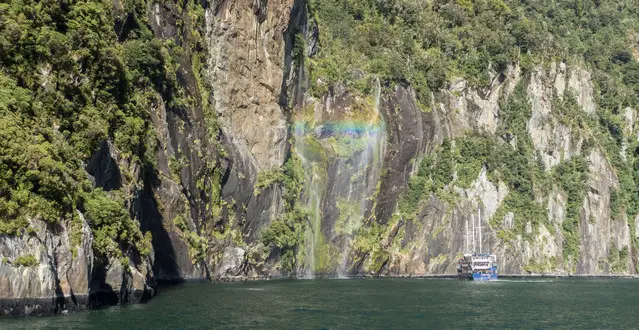 Milford Sound is roughly 16 km long until the open sea and up to 400 m deep. Actually, it is a fiord which got created by ancient glaciers. The most iconic peak and seen in most pictures is Mitre Peak, 1.692 m above sea level. Many plant species are endemic in Fiordland due to the remote location and huge rainfall.
9 Milford Sound Must-Know Tips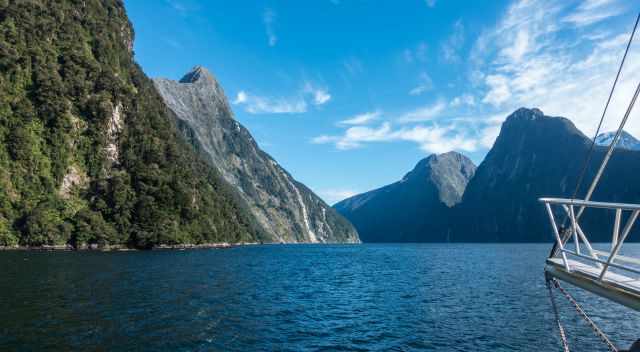 How to get to Milford Sound: Whether you're coming from Queenstown (like many travellers do) or from Christchurch (like we did), stop in Te Anau and stay at least for two nights one before Milford and one after your return. 
How long to stay in Te Anau: Book 2-3 nights in Te Anau if you'd like to hike as well! Drive from Queenstown to Te Anau and stay there. Then drive early to Milford Sound to experience the amazing sunrise along the scenic road. Spend the day at Milford Sound, including a breathtaking cruise tour. Drive back to Te Anau while stopping often enough for stunning walks/hikes and viewpoints during sunset. It's amazing. Even if you don't hike, there are many breathtaking views and short walks. You can't do it all in one day, and never forget: It can always rain. Hotels Te Anau by booking.com
No shops and mobile coverage: Milford's population is small, with around 100 residents working in tourism only. The reason there are no shops nor mobile coverage available. If you plan to go on a cruise, that's why all visitors come to Milford, book your trip in advance to be on the safe side.
Combined Flight & Cruise | From Queenstown without driving: If you're staying in Queenstown and don't want to drive, you can book a combined scenic flight over Milford with a cruise tour afterwards. That means you won't have to drive at all. The trips start directly from Queenstown and are truly breathtaking. You experience excellent service as well: No waiting, no crowds, and no stress instead of taking a crowded bus tour from Queenstown.
Scenic Te Anau - Milford Sound Drive: Make sure to read my detailed tips about this drive. Start early to get a decent parking spot! The drive on Milford Road (Google Maps) takes less than 2 hours if you start early, longer if you drive later and you have to use the shuttle from the remote parking area to Milford Sound! Always check the road condition in advance. The drive itself is amazingly scenic and has many viewpoints/stops for attractions and hikes. Tip: The drive is even more stunning during sunrise and sunset! I recommend doing the stops and hikes on your way back. Read my hiking tips below for all recommended short walks or longer hikes along or near Milford Road.
Prepare for Changing Weather: The Fiordland experiences a high amount of precipitation and rapidly changing weather conditions. Regardless if you're hiking or on a cruise tour: Be prepared for rainfall, colder temps, even snow, and wind at almost any time of the year. Always bring a waterproof layer, a warm layer, sturdy shoes, and sunscreen in the summer months. Just within a few hours only, you can experience four seasons in one day: Sunshine, rain and wind, as well as snow.
Book a Cruise Tour in Advance: A cruise tour is a must-do (except for the case when you are doing a combined flight & cruise tour mentioned above). Advanced booking in summer is essential, as they are in high demand. Plan a full day for this stunning place and fully charge the battery of your camera.
Staying overnight in Milford Sound? There is only one option directly in the area, which is the Milford Lodge. Otherwise, you're not allowed to stay overnight at Milford Sound. The lodge is nice and clean; however, you have to choose between super expensive chalets and backpacker style dorm rooms. There is nothing in between. Instead, I recommend staying in Te Anau and drive the amazingly scenic road from there. You can even book tours and flights starting in Te Anau: Milford Sound tours from Te Anau
Camping in the Fiordland National Park: Freedom camping is almost not allowed along Milford road. The DOC offers lots of campgrounds along highway 94. The last one close to the Divide fills up quickly and is the busiest one. Camping fee 15$ p.p. and 7.50$ for children for summer 2019/2020  without shower just dunnies are provided. Map of campgrounds, number, and facilities
 
A Perfect Day (Milford Sound Itinerary)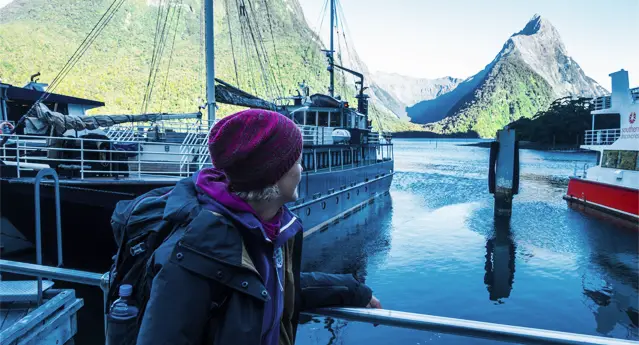 We left Te Anau quite early at 5.30 in the morning. As soon as the sun came up, we were flashed by the beautiful landscape and mountains. I recommend either the first cruise in the morning, where you may spot dolphins. However, the sun's position is not high enough when taking the first cruise as the sound is still in the shade. We booked the 10 am cruise. Therefore, first, we did the Milford Foreshore Walk to get some good shots of Mitre Peak and the Milford Sound.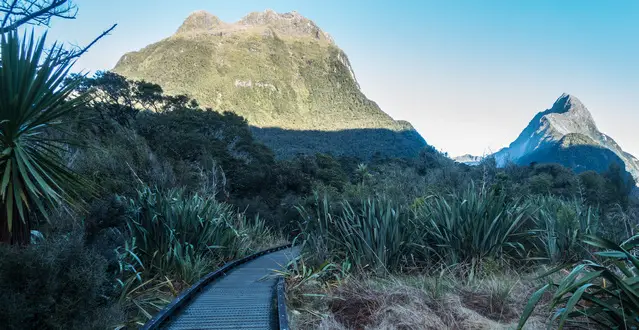 The sun was up before 10 am, so we had the perfect light during the cruise. However, clouds filled the sky pretty fast at midday. On the way back, we made lots of stops along the scenic road and watched the awesome sunset. The hike to Lake Marian was utterly breathtaking through the rainforest. Another fantastic hike is the Key Summit, the first part of the Routeburn Track.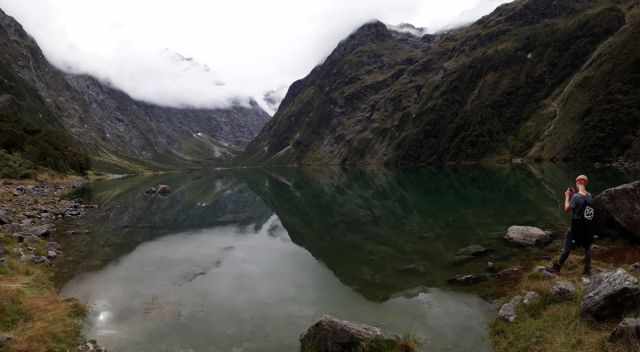 If possible, try to do the scenic drive for hikes and walks at least twice! Unfortunately, we had lots of rain the day after. The reason that we skipped this spectacular trail. We wished we booked one more night in Te Anau, as the weather was pleasant again the next day.
Wildlife and Birds in the Milford Sound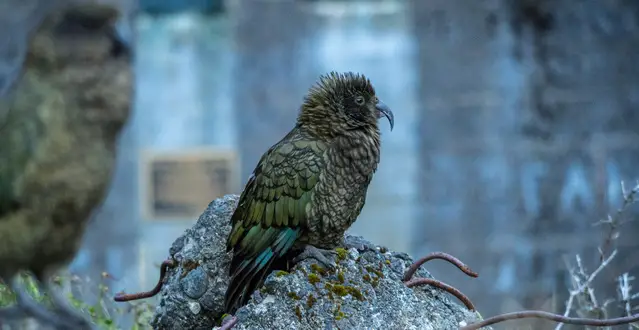 You may spot bottlenose dolphins, occasionally dusky dolphins, penguins, and often native fur seals. Little blue penguins inhabit the fiord, while the endangered Fiordland crested penguin is only found here and on Stewart Island. It is likely to spot keas an alpine parrot on higher elevations at Milford. We spotted two keas at Homer tunnel.
 
7 Hikes (Short Hikes, Half Day, Day Hikes)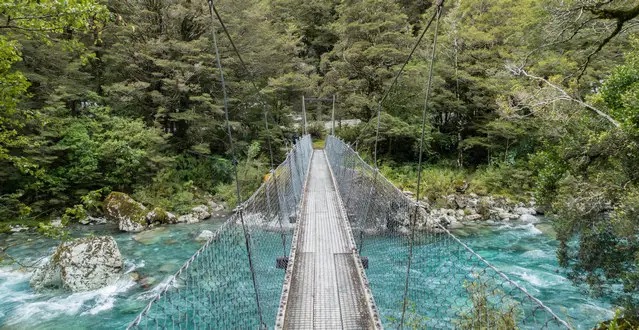 To experience the outstanding lush rainforest with ancient trees, hike at least one of the many trails and make a couple of photo stops along Milford road. The following trails are our favourite ones listed from the Milford Sound back to Te Anau:
The Milford Foreshore Walk is an easy walk for max. 30 min. We came here before the cruise early morning and shot some marvellous pics. Perfect hike if you arrive early. More information: Milford Foreshore Walk
Tutoko is an exhausting 6 hours hike. At the end of the trail, you get rewarded with spectacular vistas of Mount Tutoko, the highest peak with 2.834m in the Fiordland National Park. It is one of the very view hikes in Milford Sound due to the steepness of the mountains. The trail leads to an enchanting rainforest and provides amazing views of the Herbert Icefields.
The Chasm is a short 20 minutes return hike to witness the sheer power of water and rain.
The Gertrude Saddle is a hard-alpine hike with scenic mountain views, waterfalls, and even ice fields. Schedule up to 6 hours but avoid hiking during wet conditions. Not suitable in winter. The first hour is easy to hike before you start climbing huge granite rocks. Metal ropes assist you, but for this hike, you need to be experienced.
Lake Marian, a pretty steep ascent which took us one way 1.40 h plus a break at the alpine lake. Schedule 4 hours for the 8 km trail to the beautiful lush rainforest. You can hike this trail throughout the year. If this is too long for you, just walk until the thundering Marian Creek for up to 15 minutes. The trail is wet, muddy, rooty, and slippery.
Key Summit at the Divide car park, the beginning of the Routeburn Track, a smooth but steep max. 3 hours return hike is open all year. Consider snow can occur until spring. After almost an hour it branches and leaves the Routeburn to the summit. You get rewarded with a 360 degrees view from the summit on a clear day.
Mirror Lakes, just a short 10 minutes stroll.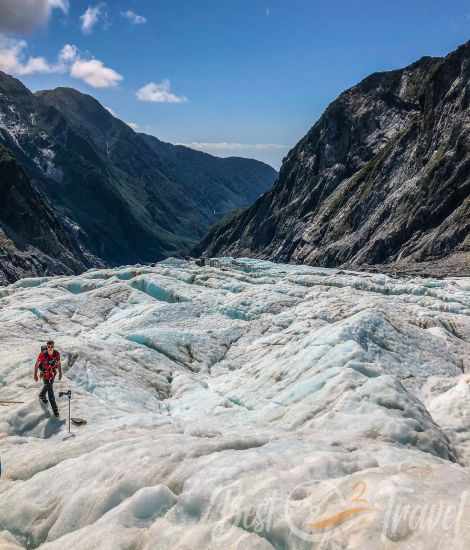 Get in touch with me if you wish to use any of my photos, but I will take action against picture theft.