When Is the Best Time
I see many questions about Neuschwanstein Castle, and most of the answers need to be corrected. I have lived in this area for over three years already and have visited the castle multiple times in all seasons. I want to give you the correct answers from my own experience for an outstanding visit to this fairy-tale castle which already inspired Walt Disney. 
1 What is the Best Time to Visit Neuschwanstein?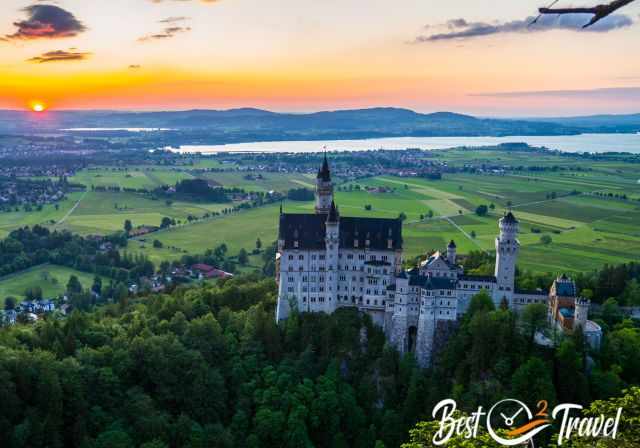 The best time to visit Neuschwanstein is spring and autumn but not winter, as mentioned by others. The temperatures are pleasant in spring and autumn, and Marienbrücke – Queen Mary's Bridge is open for the best view.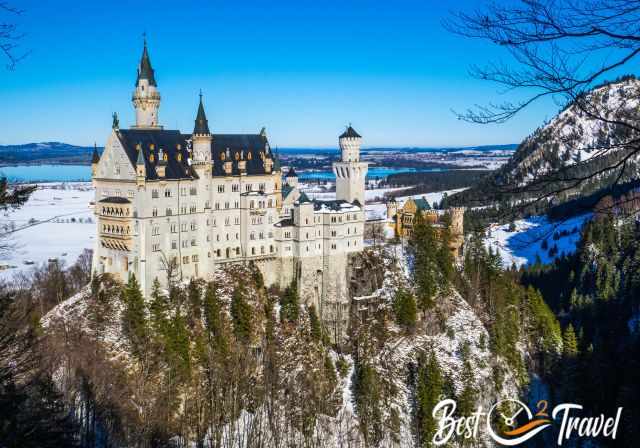 In winter (November-February/March), the bridge is closed because of snow and ice, and to get a good view of Neuschwanstein, you are forced to break the law and climb above a newly installed fence. Something I definitely don't recommend. I did this picture 
2 Can I go to Neuschwanstein Castle Without a Tour? Do I need a Ticket?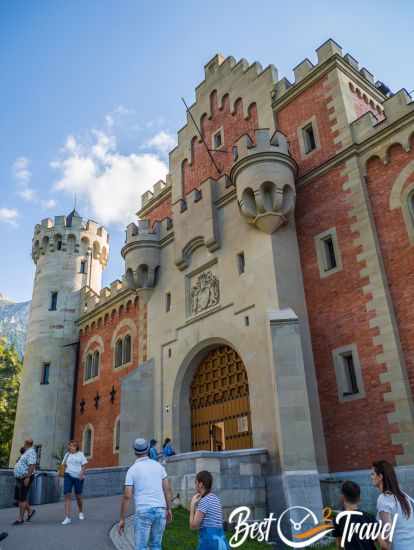 There isn't any entrance fee or ticket requested nor a tour needed to see Neuschwanstein from Hohenschwangau, Marienbrücke and one of the higher-located viewpoints. If you wish to get a glimpse at Neuschwanstein inside, you must book a guided tour. I highly recommend booking your tour in advance if you plan to come between spring and fall.
PLEASE, check out my detailed guide about Neuschwanstein and the closures in 2023!
3 How Much Time Do You Need at Neuschwanstein Castle?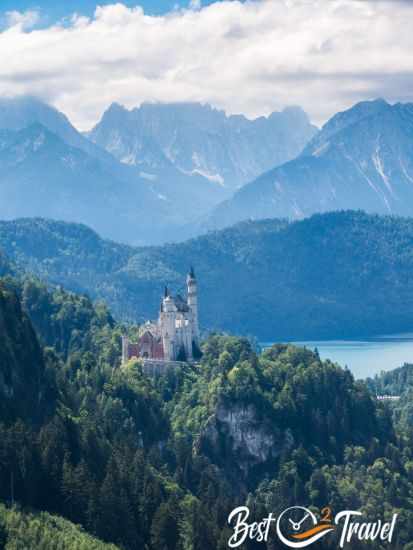 To experience all of Neuschwanstein inside and also the different viewpoints and lakes, where you can swim in summer, I recommend at least half a day better an entire day at Neuschwanstein Castle. Why? You can do so much more around Neuschwanstein Castle – check out my 9 Things to Do, all done by myself.
4 How Difficult is the Walk to Neuschwanstein Castle?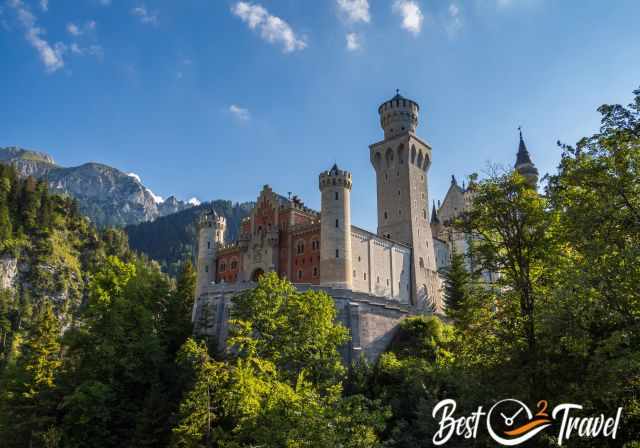 Almost everybody can make it to Neuschwanstein Castle. The walk takes 30-45 minutes on a paved road and is a little steep, but there is a shuttle bus and a horse carriage. From the shuttle bus station, it is just a 5 minutes walk to Marienbrücke or Neuschwanstein Castle. From the horse carriage station, it takes roughly 10 minutes. Also, visitors in a wheelchair can get up with a helping hand at the steeper part.
5 Is Hohenschwangau Castle the Same as Neuschwanstein Castle?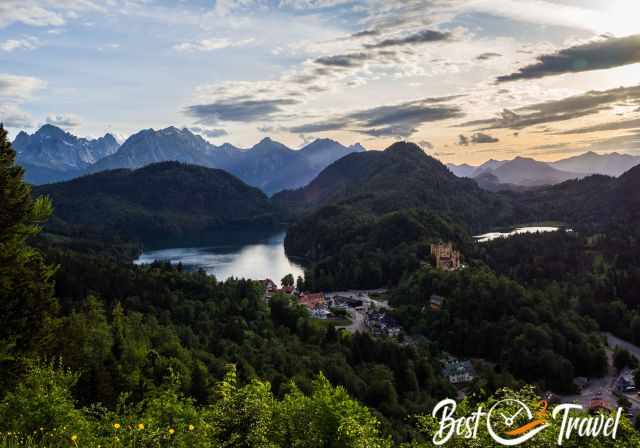 No, it is not, but both castles belonged to Ludwig II. Ludwig was grown up in Hohenschwangau Castle, and he had an excellent view of the rock where he later built New Hohenschwangau on. After his death, it was renamed Neuschwanstein Castle. Why did he build Neuschwanstein on higher elevations? His relationship with his father was difficult, and he wanted to look down on him from his own castle, although his father died already when he was 18.
6 Is Neuschwanstein Castle Heated?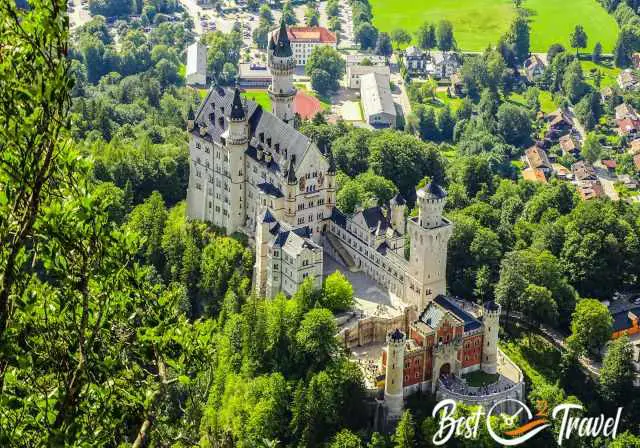 Yes, it is, which was uncommon for this time. Neuschwanstein was a very modern construction, and Ludwig installed central heating and also the first telephone in Bavaria in the 19th century. 
7 Is Queen Mary's Bridge - Marienbrücke Open?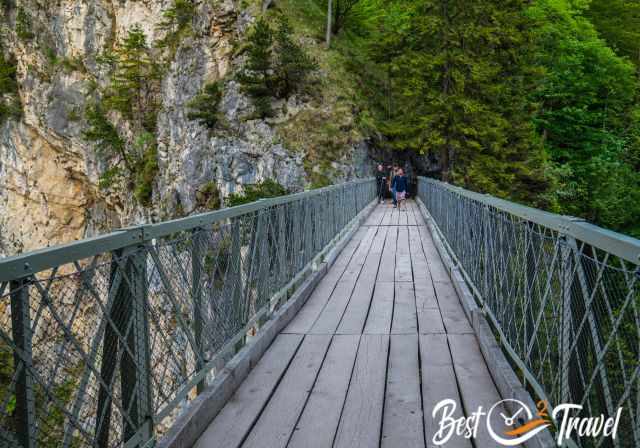 Yes, finally, after more than a year of restoration work, the bridge at Neuschwanstein was reopened end of August 2022. However, in winter, during snow and ice, the bridge is closed for safety reasons. There isn't any access possible roughly from November until February/March. Neuschwanstein is located at 956 m above sea level, and winter starts and lasts much longer.
8 Is Pöllat Gorge - Pöllatschlucht Open or Closed?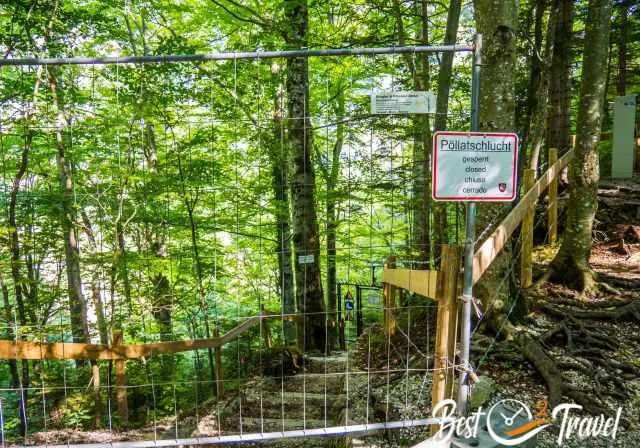 The gorge is closed in winter for safety reasons because of snow and ice. However, it looks like the gorge remains closed after the wintertime. After a costly renovation, it was reopened in 2022 and shortly after closed again. Rockslides are a major safety concern.
9 Is Neuschwanstein Worth Visiting from Munich?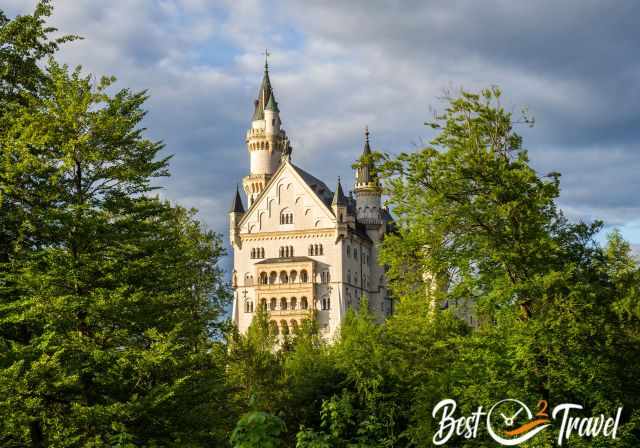 Yes, Neuschwanstein Castle is the most fascinating castle of all in Germany because of its prominent location on a rock, the unique yet forward-looking construction of Neuschwanstein, and of course, the tragic death of Ludwig II. Either spend an entire day here, book a guided tour and check out the best viewpoints of Neuschwanstein or combine the castle with the thrilling suspension bridge Highline 179 in Austria just across the Bavarian border.
10 What Does Neuschwanstein Mean?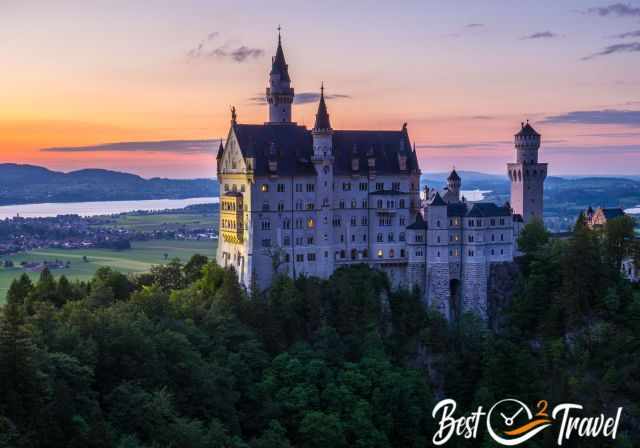 Honestly, Neuschwanstein as a name cannot be translated one-to-one. That makes no sense. We Germans like to use several nouns together to create a new one, but this one does not have a real meaning. New-Swan-Stone
Location and Tips
Bavaria, Hohenschwangau
Germany

Neuschwanstein was built in the 19th century by Ludwig II a visionary for exceptional romantic architecture but he was not able to finish this construction. The castle is less than 140 years old nevertheless, for me one of the most fascinating castles in Europe. 
Do you wish to know more about this magical castle, the best viewpoints and what else to see and do?