When Is the Best Time
Around the world in 90 days was our motto. We planned on these three months for a long time. Now, the time had finally come.
Are you a returning visitor to check out where we currently are? I added a Table of Contents for a better overview of all our destinations and stops. You are able to jump to the topic of your interest.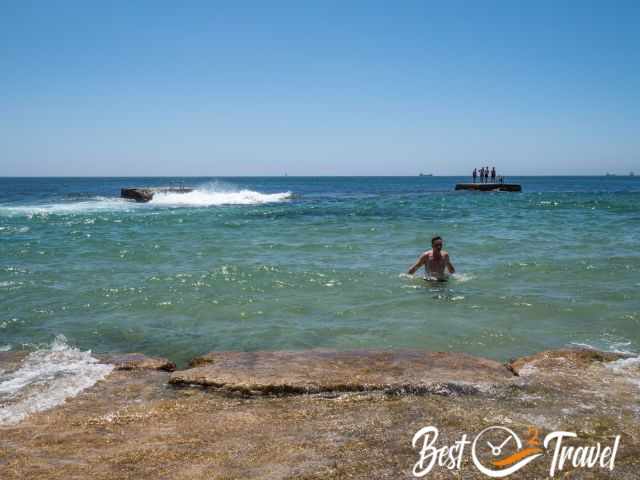 You are probably wondering where we are going. Who knows us well, we love adventures. Our motto this time is "Slow Travel". We want to experience the beautiful things in life with plenty of time. Therefore, we travel to fewer destinations, prioritising enjoying the sea, the sun, and delicious food. In addition, we love to watch whales, and we have selected a few interesting corners of the planet.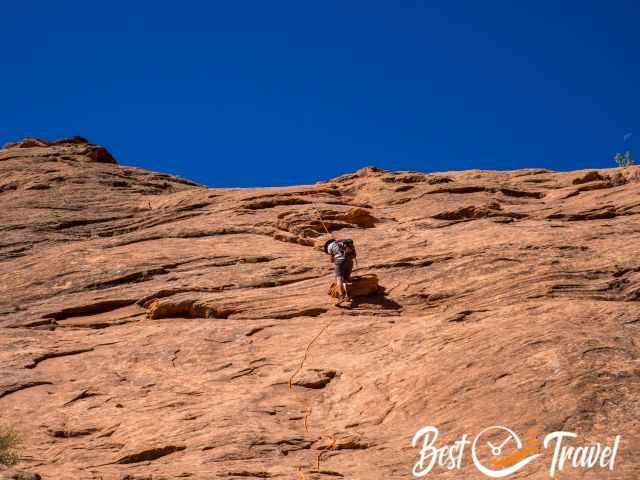 Still, we can't do without adventures and two of the best countries for that are Australia and the US.
However, nothing is more important than family and friends. So first, we flew to our family near Lisbon, and now, we will visit friends we have spread around the world.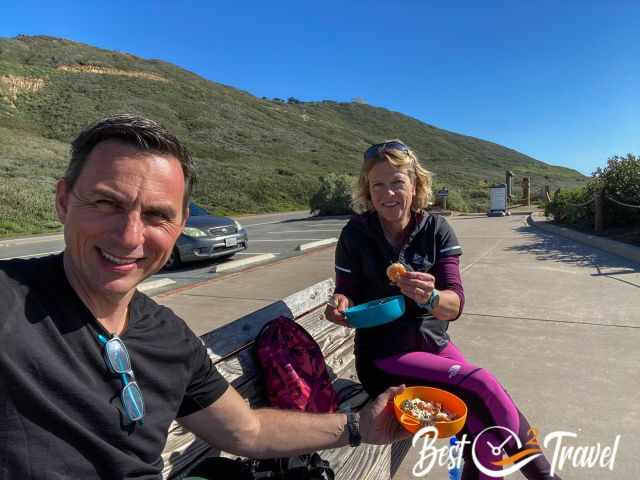 You might think it costs a fortune, but it depends on which ticket you book and which destinations you combine. We will tell you more about this in our video on YouTube soon. We booked an "Around the World" ticket for these months. You always travel in one direction, cross every ocean once and have the possibility to include many stops. However, we decided to go to only a few destinations. Less is more, and we want to explore these places with extra time. What was also important to us, if available, were direct flights.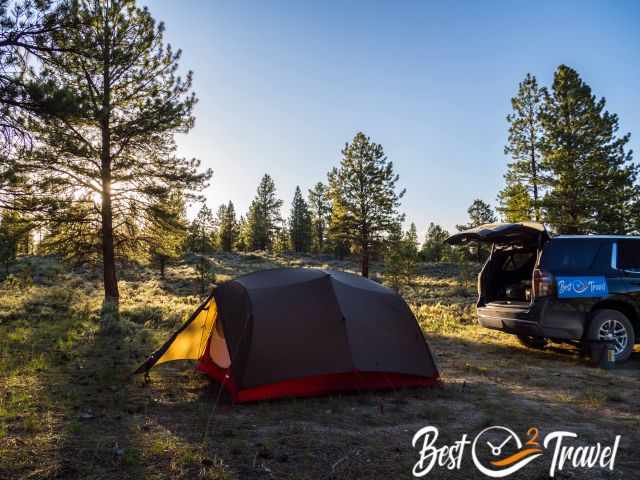 You can definitely keep your budget smaller with homestays, self-catering cabins and camping. We have a tent, sleeping mats, sleeping bags and cooking utensils with us for this. Not much space is left for clothes, so we must wash them weekly.
Our Journey in Numbers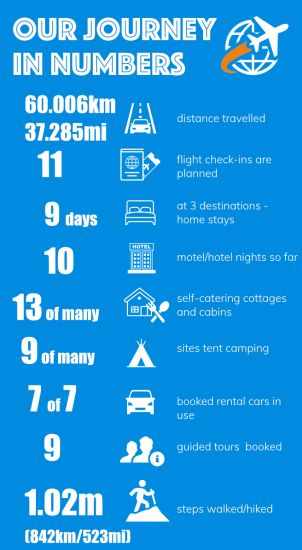 We like to give you an idea of how we stay and how we planned the trip. We will update this section regularly during our journey this summer.
Our Three Months Journey
Sixth Stop USA - San Francisco to Kanab and Las Vegas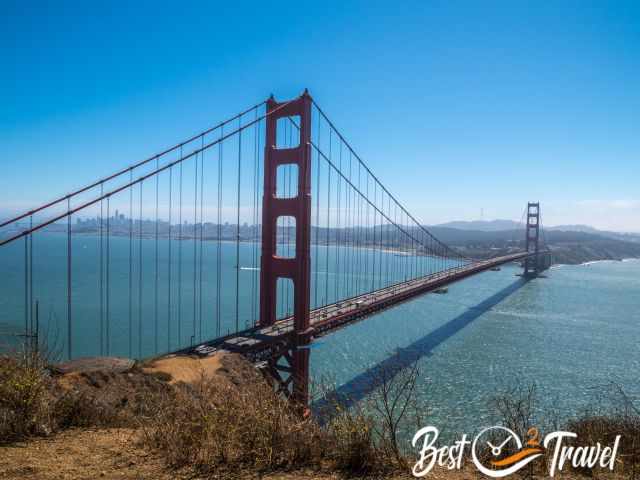 Six years ago, we have been here in San Francisco for the last time. A lot has changed; European visitors' prices have risen enormously, and we have not felt safe in some places. We saw "Brake and Grap" signs frequently.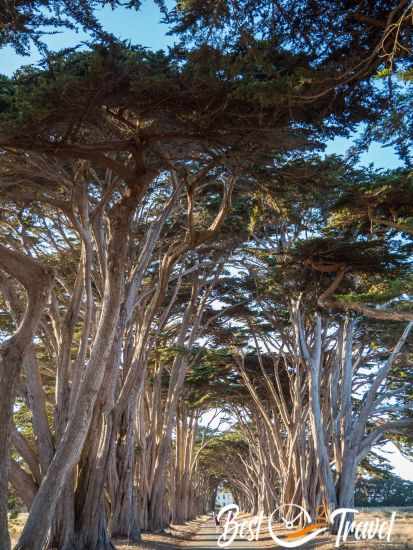 The Cypress Tree Tunnel was on my bucket list for years already, and we spent more than an hour here for the perfect light and photo.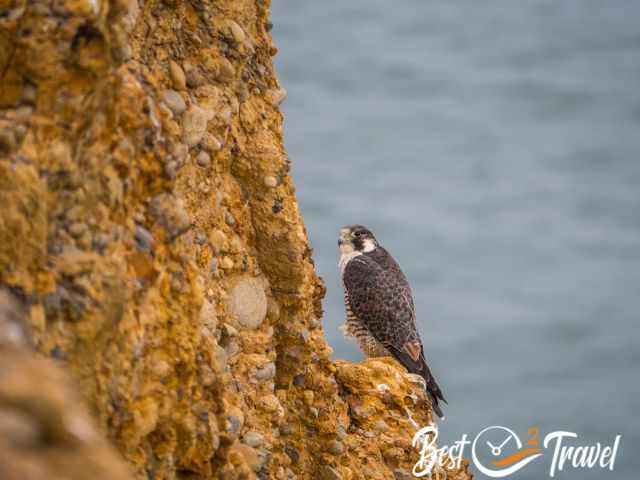 We escaped from all that and spent my birthday at Point Reyes National Seashore. Mother Nature meant it very well to us on this day, and we spotted a lot of wildlife.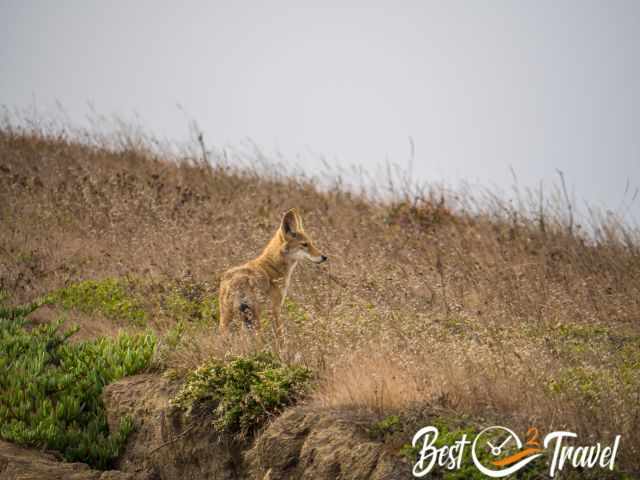 Due to the harsh climate at Point Reyes, not many visitors go hiking. We were the only ones on the Chimney Rock trail and were rewarded with fantastic sightings.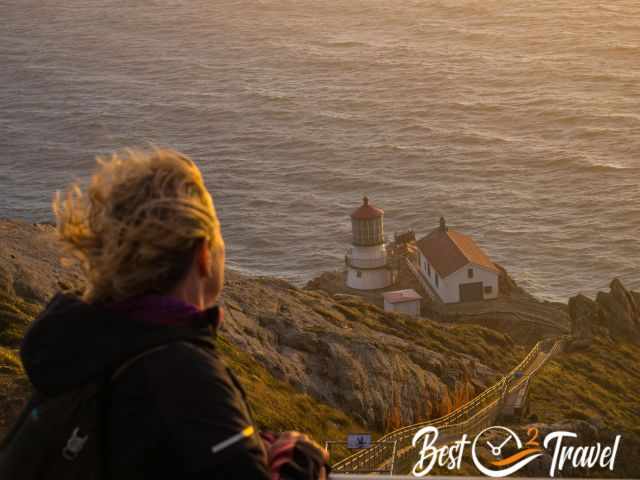 The lighthouse was covered in fog all day, but it cleared up for us in the evening. Our accommodation, a motel in Inverness, was the perfect ending for this day.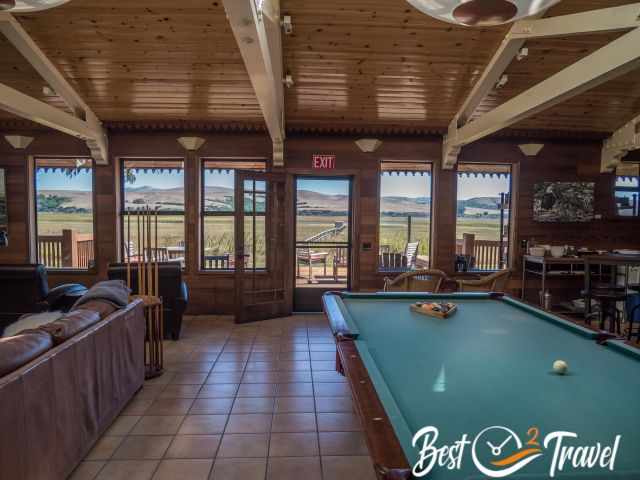 The owners, Mara and Todd, are excellent hosts and care for their guests. We regret that we left this wonderful place after one night.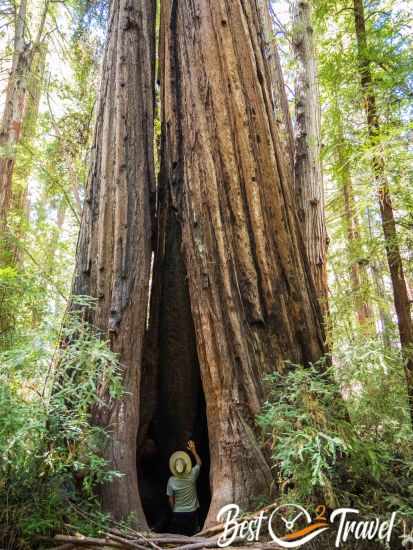 If you spend several days in the Bay Area, the Redwood trees, like the famous Muir Woods, were simply part of it for us. We got a tip from a local couple for a beautiful but not crowded park and spent a whole day under the canopy of more than a thousand-year-old trees.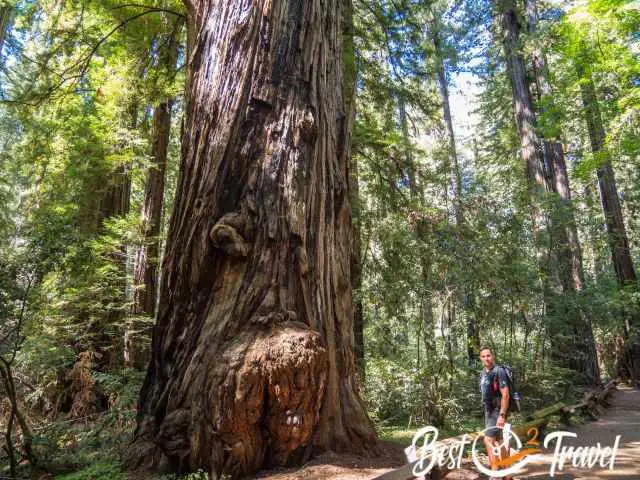 Nature in the US is tremendous. 
Yosemite National Park and Mono Lake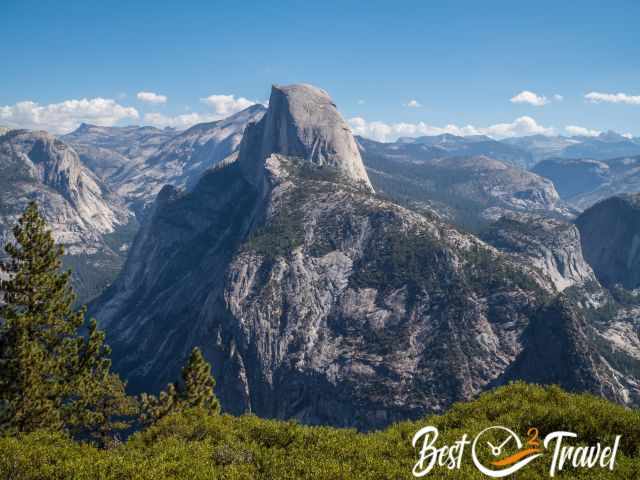 Our last visit was over 20 years ago when we climbed Half Dome, one of the most exciting hikes in our lives. We explored the Valley and went to the best scenic viewpoint, Glacier Point, in the morning.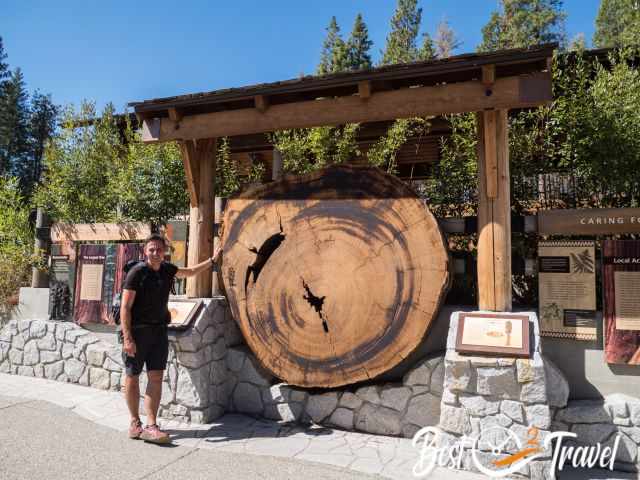 The scenery is breathtaking from this spot, and we simply sat down and soaked in the beauty. We felt so very tiny here. Another outstanding place in the National Park is Mariposa Grove.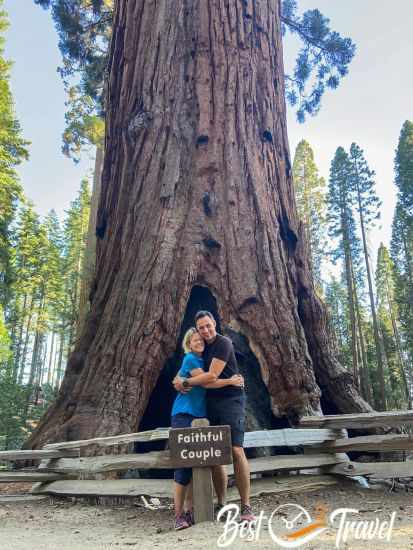 These trees are up to 100 m tall and 3000 years old and awe-inspiring. However, Yosemite means crowds, and we left the path and hiked to remotely located sequoias. Here we found our favourite ones, the "Faithful Couple", the perfect spot for us.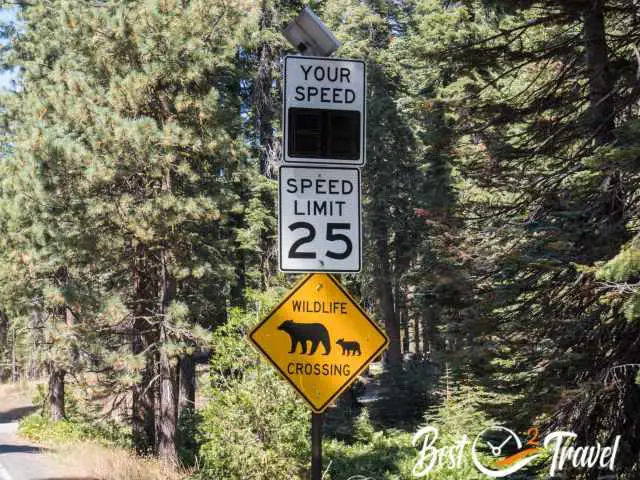 I never saw such perfectly secured trash bins because of the wild black bears in the National Park but we didn't spot any. The bears smell is excellent and they even break up cars for food.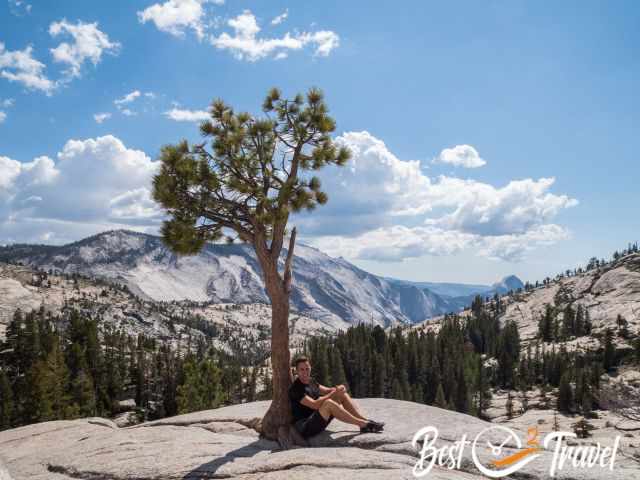 Actually, we had planned a day hike, but it turned out quite differently. The night at the campground was so unbearably cold, with under 5°C/40°F, that we were too tired for our planned hike.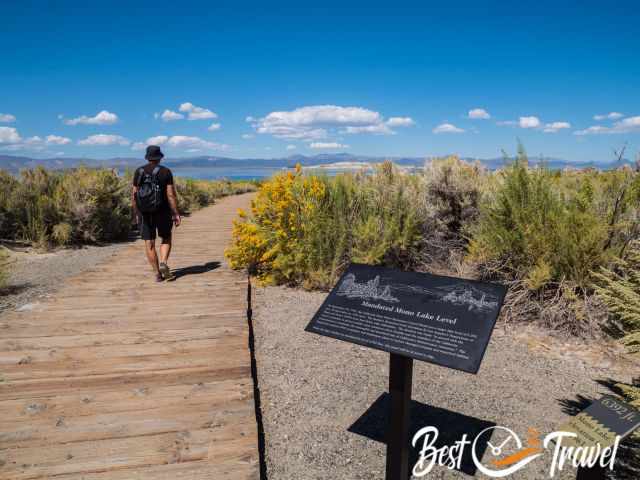 Our luck, in retrospect, has saved us from heavy rainfall at the top of the Clouds Rest summit. Instead, we went to Mono Lake. What a unique lake with fascinating details.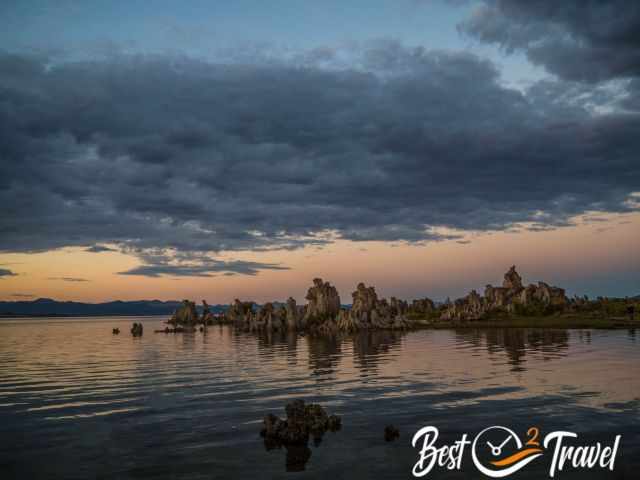 The lake is 2.5 times saltier and 100 times alkaline than the ocean. Hordes of flies live here, a feast for the many migratory birds. The Tufa formations were absolutely picturesque, and the sunset was magical.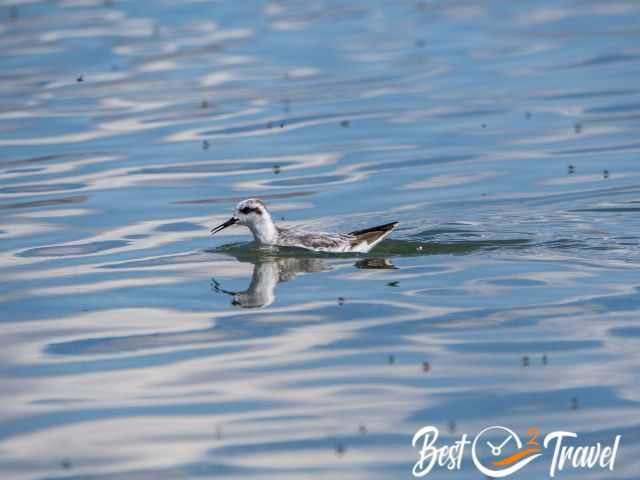 Mono Lake is not just a death lake; and the volcanoes around it are another gem.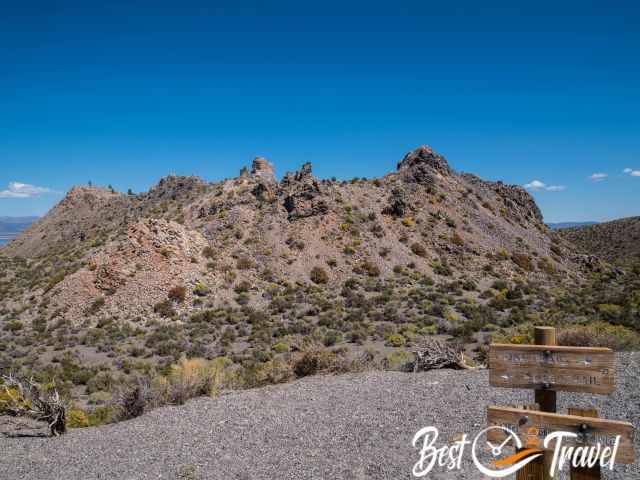 We continued to Mammoth Lakes and learned that high CO2 levels heavily impact this area.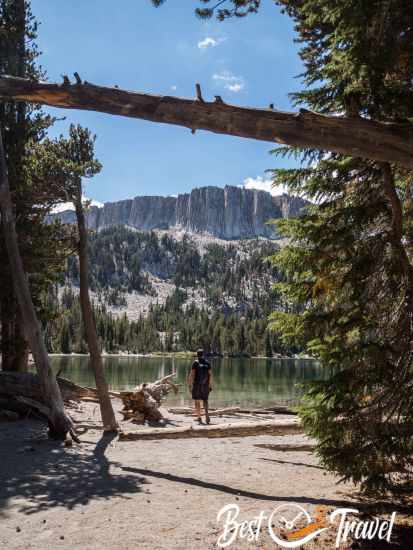 These CO2 levels can cause headaches and flu-like symptoms, and we both suffered from a headache for two days.
Zion National Park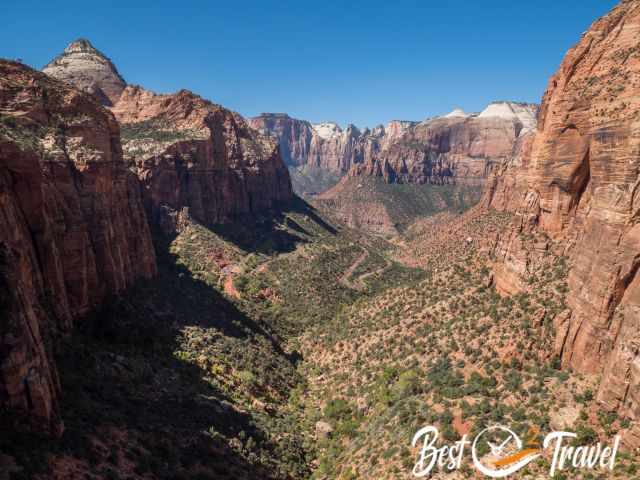 The majestic Zion National Park. We can't get enough of this exceptional park in Utah. We had already hiked The Narrows, Angels Landing and The Subway; therefore, we concentrated entirely on Zion's east entrance.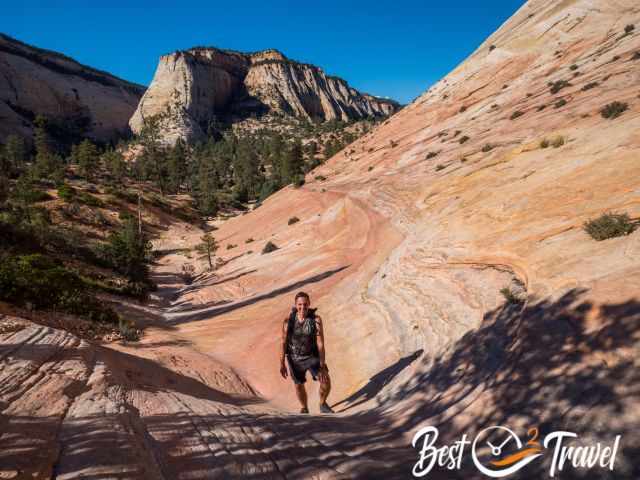 The east part of Zion is located at higher elevations, and most people just pass by on their road trip, but we spent two outstanding days here.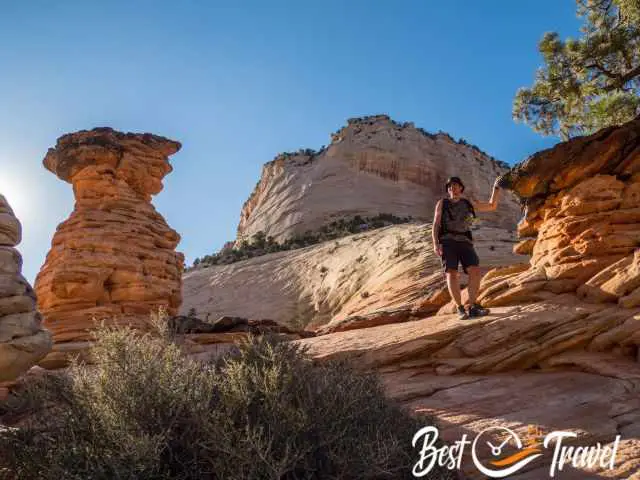 We explored several rock formations and hiked to the Canyon Overlook and Observation Point. Zion Valley is amazing, but it is simply too crowded in September, and you must take a shuttle bus.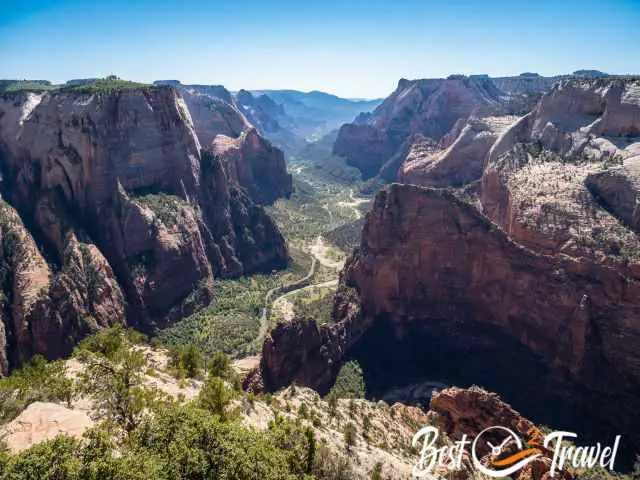 For the east part, you are able to go in your own vehicle, which guarantees more flexibility.
More pictures below.
Kanab – Coyote Buttes North, the Wave and White Pocket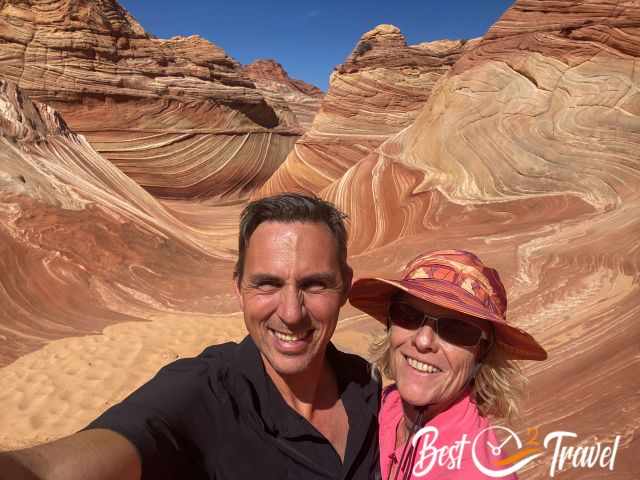 Kanab is more a town where you pass by and may stay for one night. This time, we stayed five nights to participate in the daily lottery of Coyote Buttes North for the Wave. Kanab is located on a plateau, the Grand Staircase.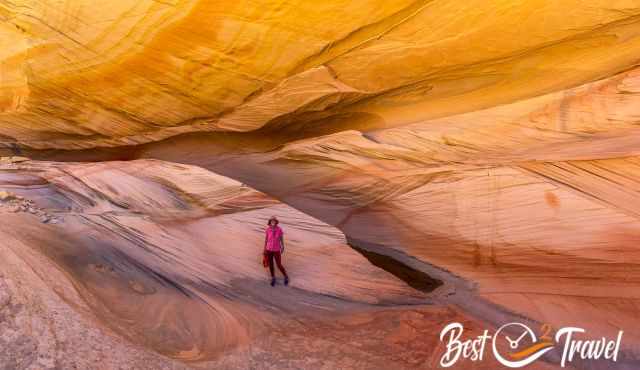 The different places here and this staircase show the forming of this area. The highest place of the staircase is Bryce Canyon, and descends in steps to the Paria Plateau.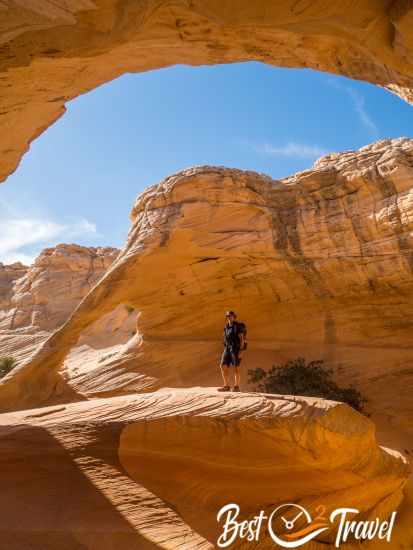 The Vermillion Cliffs and Grand Staircase Escalante National Monument are full of beautiful sandstone formations created by weathering. We visited some of the most beautiful and otherworldly places here.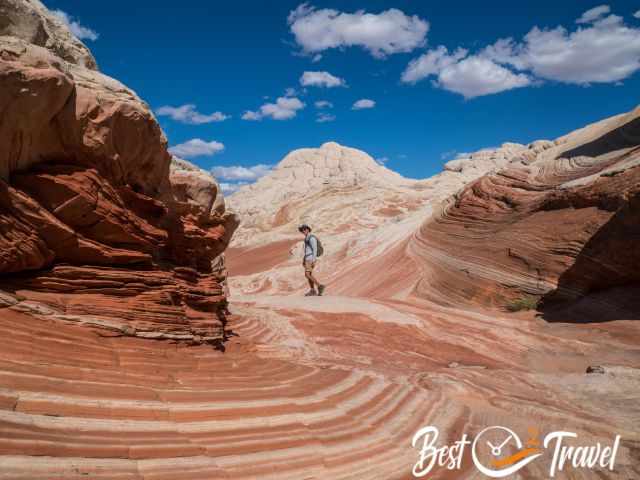 A dream came true to explore White Pocket and The Wave finally. My first attempt was more than 20 years ago, and finally, Markus won the lottery with just one shot. This is absolutely rare, and everyone congratulated him and suggested he should go to Vegas.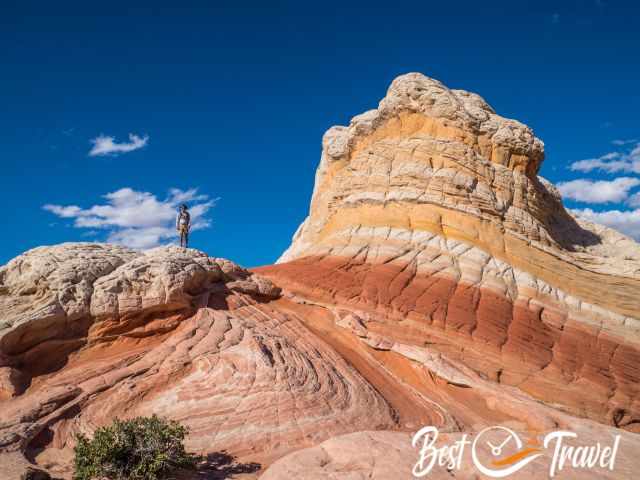 You need a 4 WD and experience for White Pocket, and we booked a tour guide. For The Wave, just a dry road and some driving skills are neede, and you get there in a 2 WD with high clearance.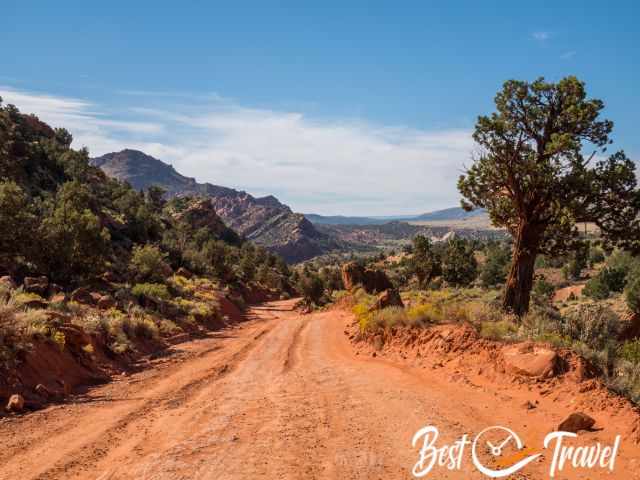 Both places are simply unique. Coyote Buttes North is much more than most people only check out. The permit is valid for 24 hours, and we returned to our car shortly before sunset. 
There are alternatives for the Wave, which belong to the Grand Staircase Escalante National Monument. Under the Trump administration, many places lost their status, and a vast area is next to Yellow Rock for sale.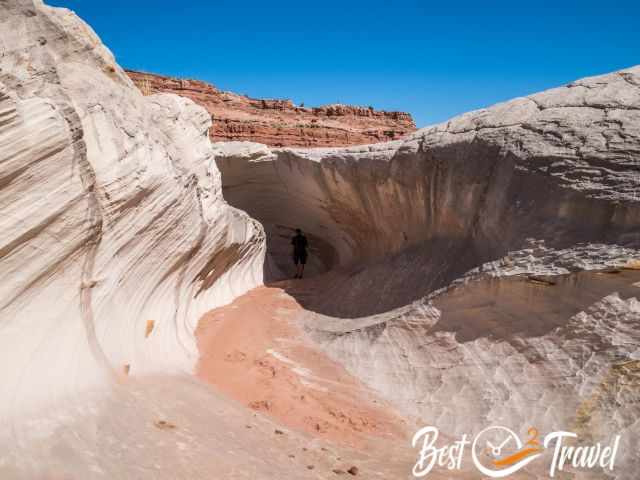 We checked out Yellow Rock for the second time, located between Kanab and Page and walked or rather ran through Nautilus. This region is simply breathtaking.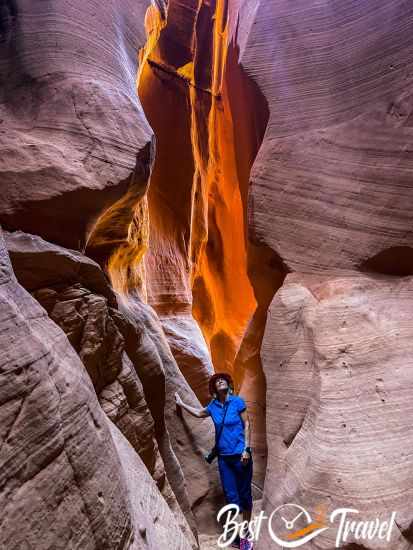 If you are in Kanab and Page, you must check out a slot canyon, but instead of the super busy Antelope Canyons, we booked a tour into the Antelope Valley and four smaller canyons. We were a group of four and had plenty of time to soak in the beauty and for taking pictures.
And our next adventure is waiting for us on the gravel Cottonwood Canyon Road.
Fifth Stop Australia - Cairns to Brisbane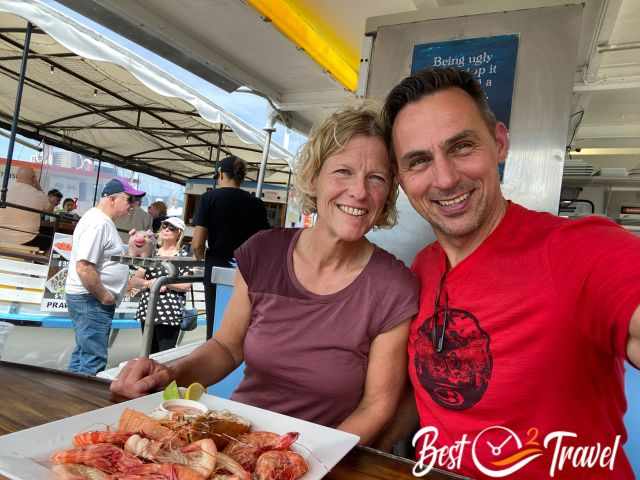 Our last visit to Australia was before the pandemic. Prices increased a lot, which also mentioned a lovely couple from Sydney. When we arrived in Cairns, we were starving.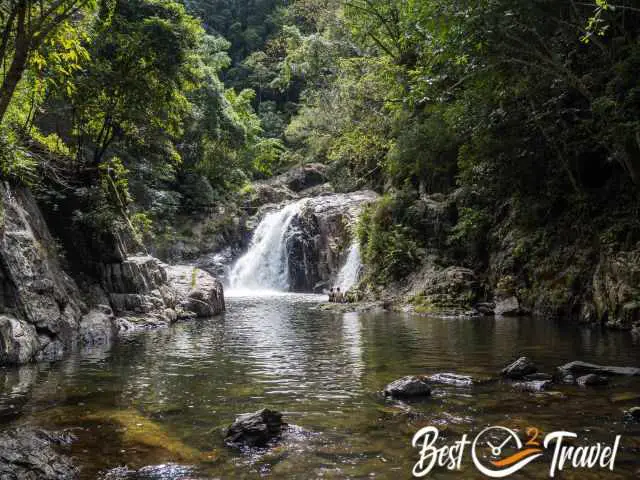 We found a nice restaurant offering lobster, crabs, and prawns at the harbour, but a reservation was essential 😣. This nice elderly from Sydney invited us to share the table with them. That was the perfect start for our one month in Queensland. 
Daintree - Wet Tropics - Great Barrier Reef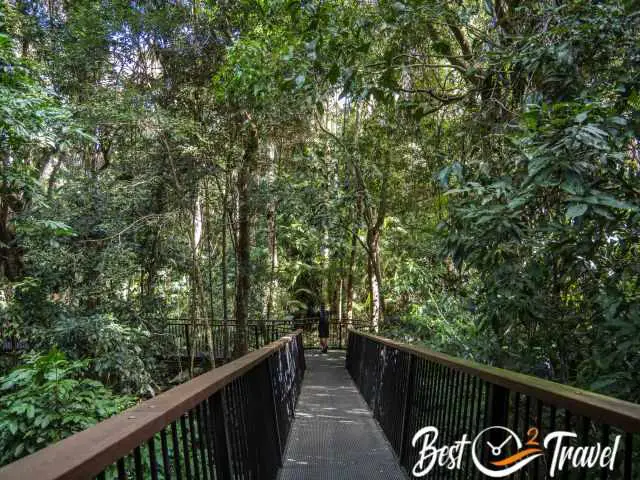 We are mainly here to explore the Wet Tropics and the Daintree rainforest, maybe spotting a Cassowary, the Great Barrier Reef, and the humpback whales.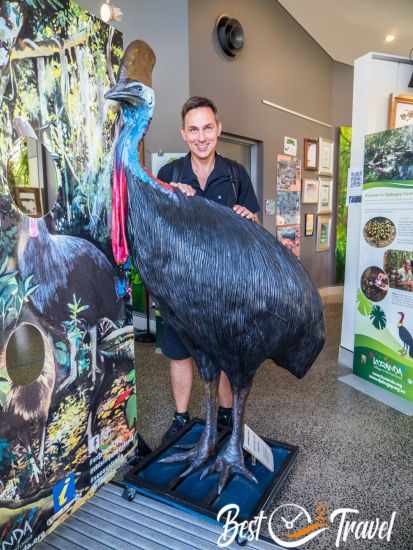 The Wet Tropics and the Daintree National Park are absolutely impressive and protected as UNESCO World Heritage Site. Nevertheless, where there is rainforest, there is rain even in the drier season.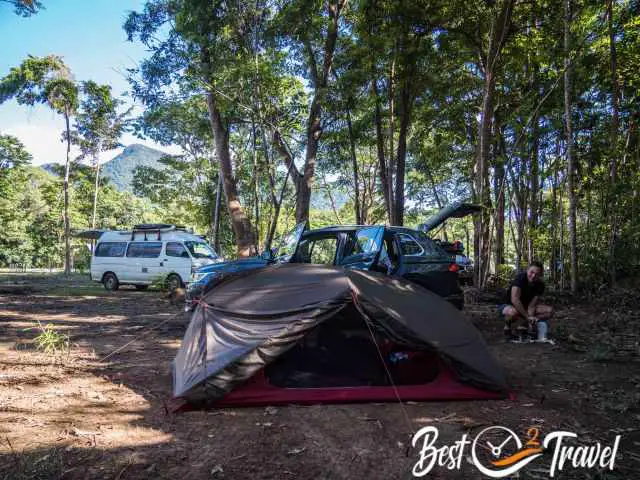 It frequently rained before we arrived and just stopped upon our arrival. These old-grown trees and giant strangler figs are amazing.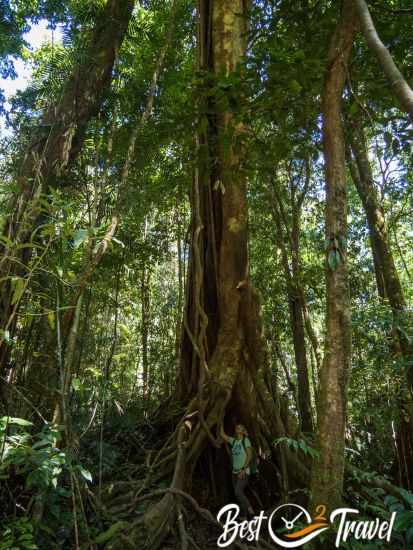 However, the Daintree is fragmented. Again and again, we drove through bare areas where cows graze, tea and sugar cane plantations occur, or plots of land are sold. The animals, and especially the Cassowary, do not know these borders. A property still covered with virgin forest right next to the National Park is for sale for 250,000 AUD. That irritates us.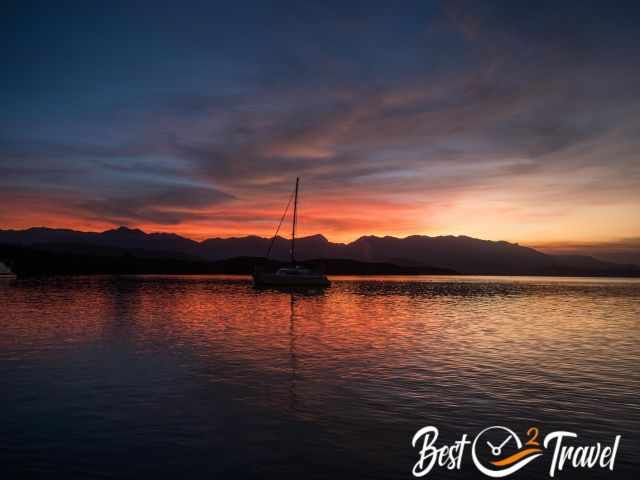 You may think this is a fantastic sunset, but it was caused by pollution from sugar cane. It grows in tropical regions like Queensland or the Caribbean.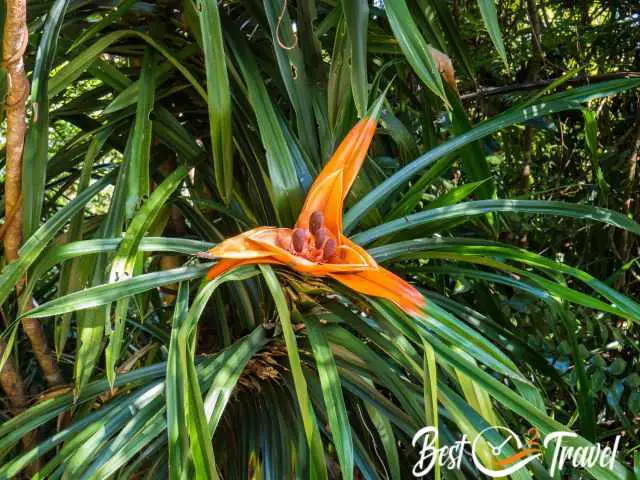 No worries, we enjoy our three months off, but with climate change, heat waves, and devastating forest fires, we take a more critical view today.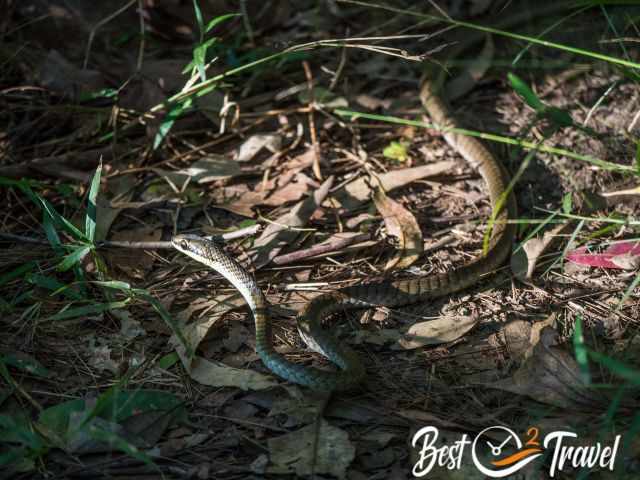 Of course, we were delighted by the excellently laid out boardwalks through the rainforest and swamp with mangroves. We were lucky and saw a Cassowary and a curious-looking snake lying on the path in the afternoon but none of the salties, unfortunately.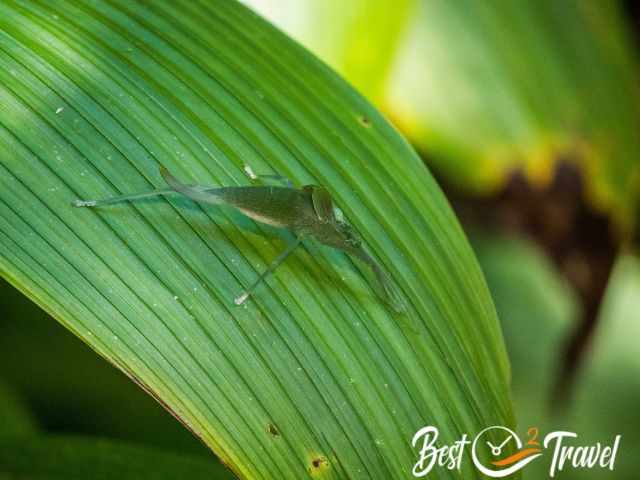 We watched the snake on our hiking path and gave her time to decide we are not a threat and she moved away.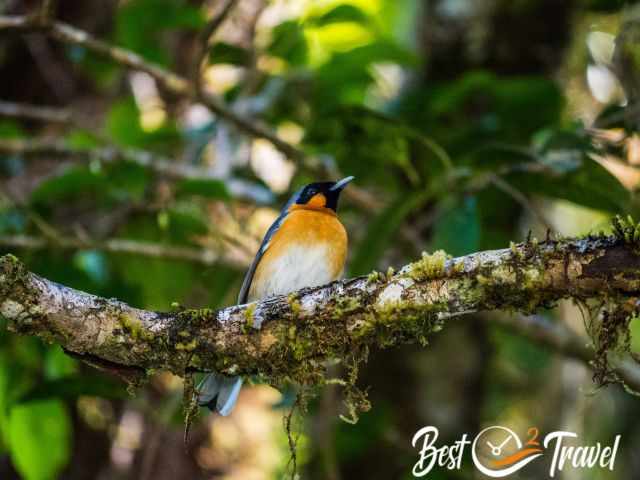 Croc signs are everywhere, and swimming in the sea in the Daintree is prohibited, but we didn't spot any. Many of the plants are poisonous to humans and also to wildlife. The animals have partially adapted, and some birds too.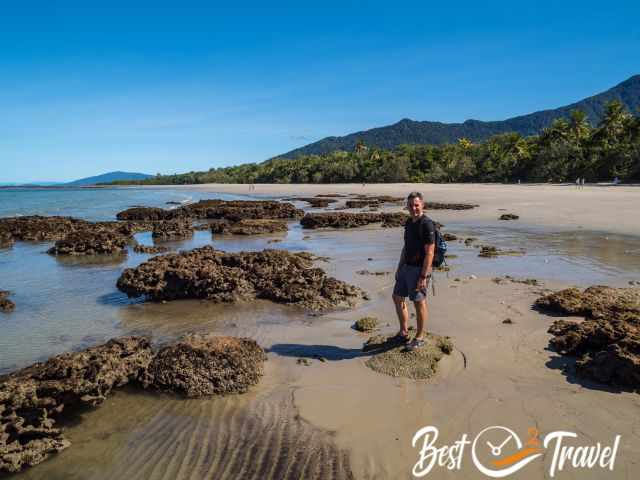 The beaches are magical, and you feel like you are in paradise when the rainforest meets the coral sea. You can quickly spend weeks here, so nine days in the Wet Tropics and the Daintree is less than scratching the surface.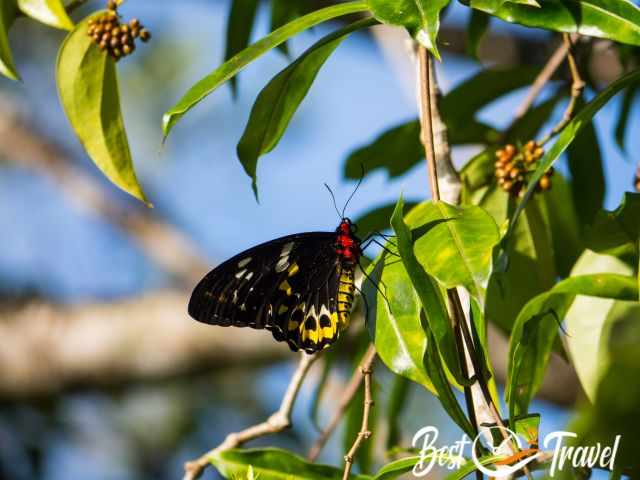 Mossman Gorge is another part of the Daintree and is again owned by the indigenous people. A huge parking lot is outside to protect the forest, and you take a shuttle into the park. This way, no more jungle had to be logged.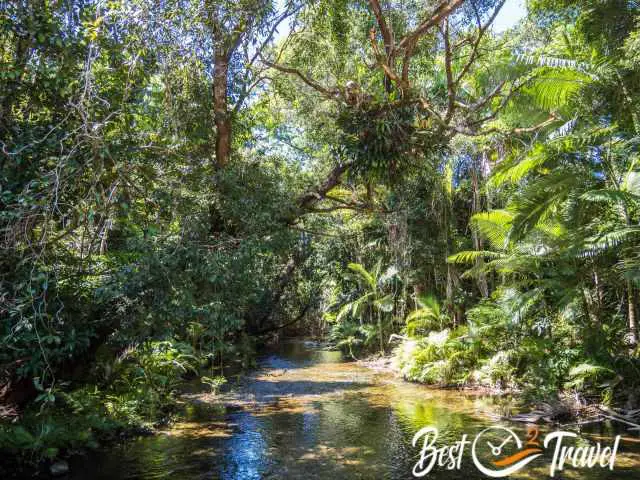 The river in this gorge is terrific green, the crystal-clear water, the trees are unique, and if the weather is good, you should pack your swimsuit because you can swim in the river and the pools. Markus could not resist.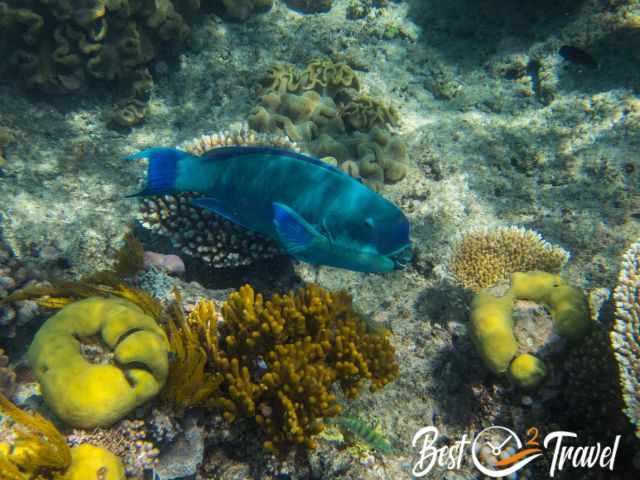 My birthday present to Markus was a tour to the outer reef of the Great Barrier Reef, where corals are still relatively well-preserved, the sea is colder, and box jellyfish don't occur during this season.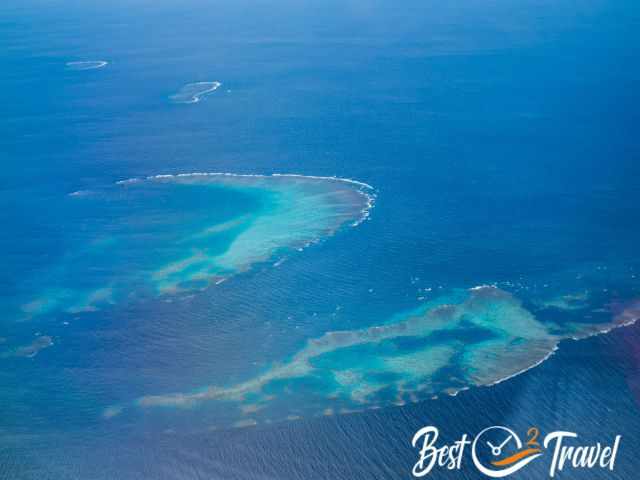 The Great Barrier Reef, the most extensive reef system in the world, stretches from the far north at Cape York for 2,300 km until Fraser Island.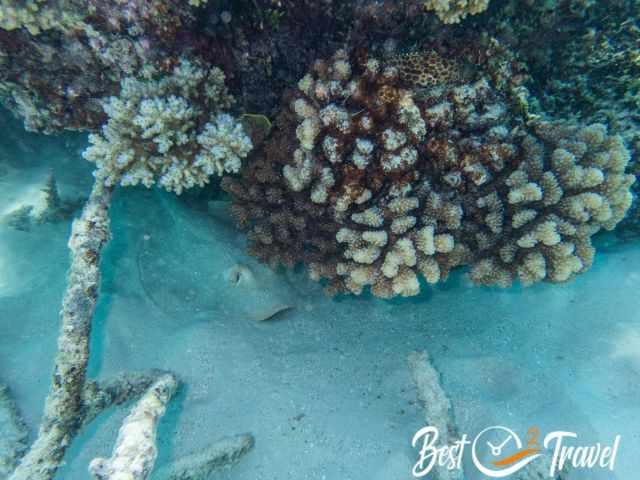 How beautiful the reefs must have looked once. This was a fantastic and exhausting day with plenty of humpback whale sightings, three times snorkelling, always one hour at three different parts of the Opal Reef, one of the furthest outer reefs on the continental shelf.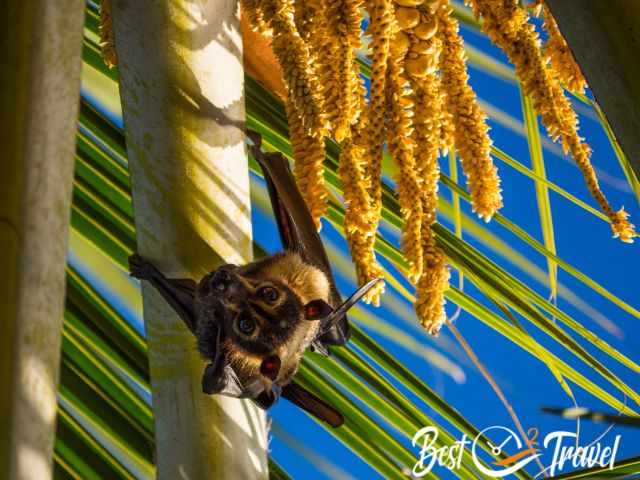 We continued south of Cairns and finally returned to the Wet Tropics, our beloved rainforests. Getting accommodation is tricky at weekends when the weather forecast is excellent, and we ended up in a laid-back small town, "Babinda", which took us back to 1950.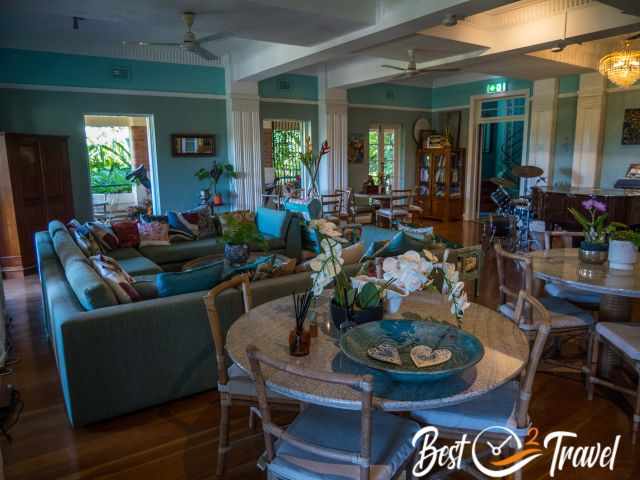 We spent the night in a lovely house, the former nurse quarter of the town's hospital, with wonderful hosts.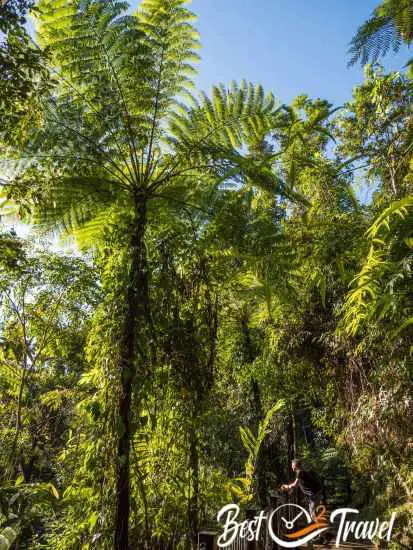 It was a short drive to the Babinda Boulders, part of the Wet Tropics, and the park is famous for a huge swimming pool or water hole fed by a creek.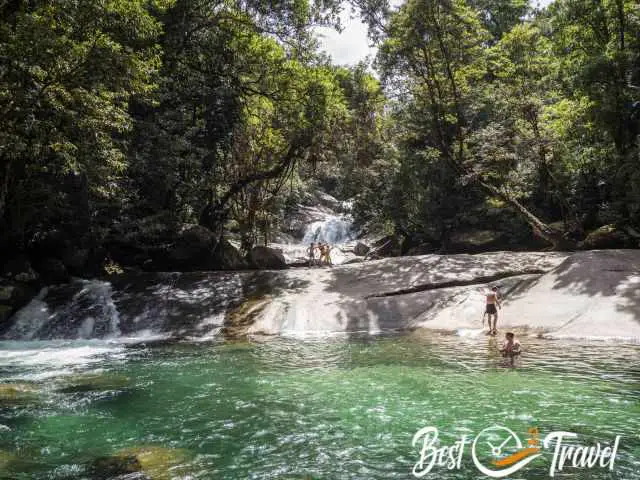 There are plenty of such pools, and just another 15-minute drive away is the Josephine Falls. Here you are able to slide on the butt down the rocks that are smooth due to erosion.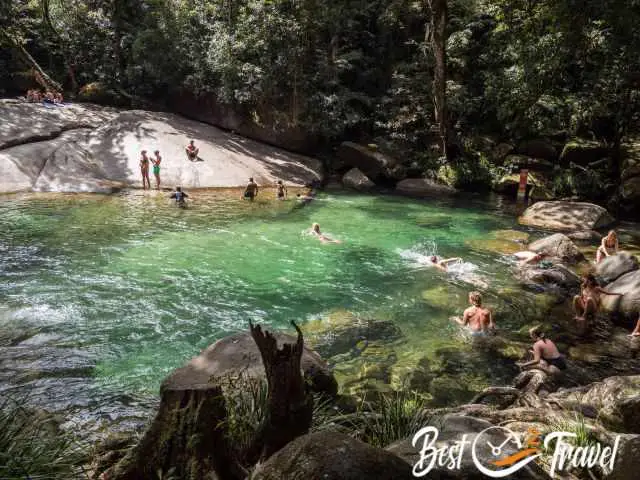 Of course, everybody had enormous fun here; while swimming, you are surrounded by rainforests. These natural pools and swimming holes are popular and a great alternative to the sea. Here, high-up swimming is croc-safe. Nevertheless, the water is chilly, below 20°C/68°F.
Etty Bay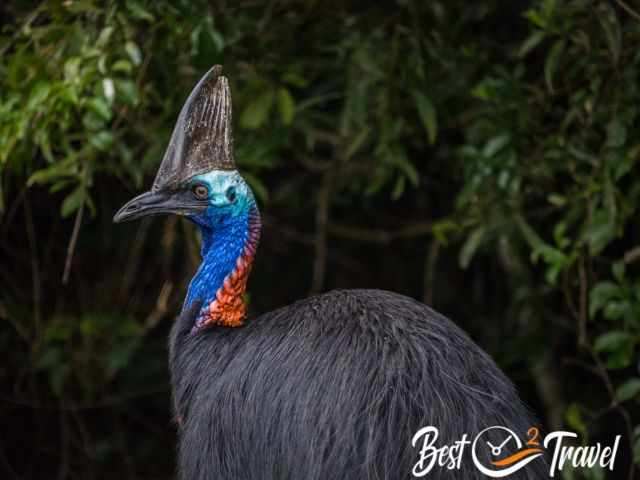 Our next stop was Etty Bay, famous for Cassowary sightings, and we couldn't believe our luck. We got up before six; yes, we managed it that early and were rewarded with a Cassowary couple early morning and a younger one at the beach around 9 am.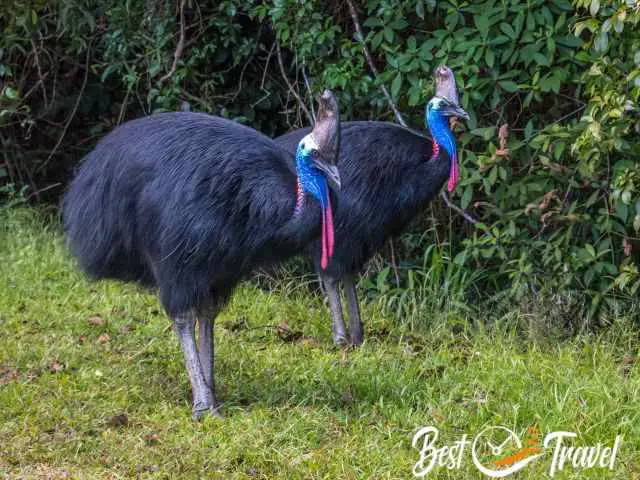 The next day, we even spotted five Cassowaries, three around Etty and two nearby. The highest chance is early morning before nine and in the late afternoon.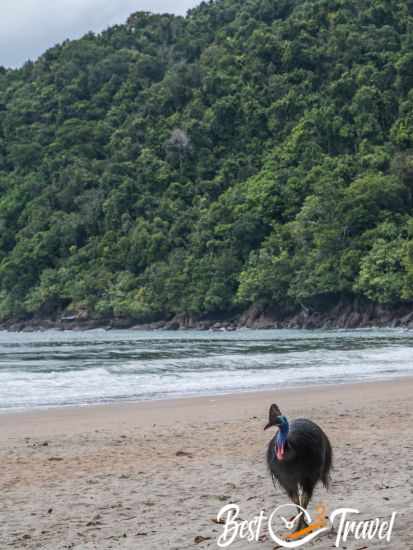 Do you wonder why we saw so many of them when there are estimated to be only 1,200 Southern Cassowaries? First, it was our safari experience; the timing is essential, but the second reason frustrates us. The loss of tropical rainforest habitat for plantations and private properties, to say it bluntly for profit, is the reason. Intensive sugar cane growing and coal mining in the hinterland are significant businesses in Queensland.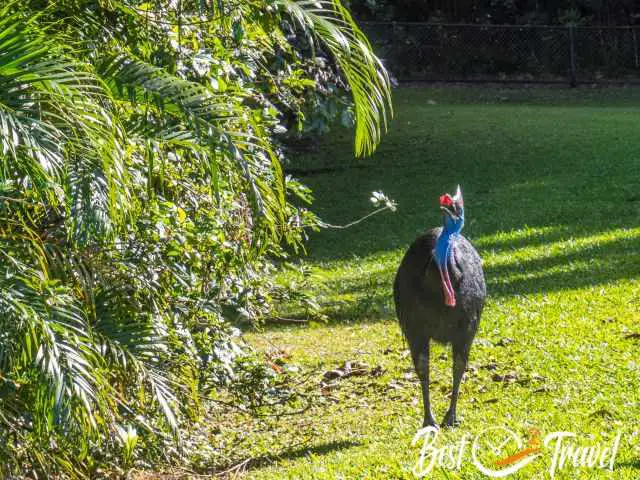 The easily accessible flat land is cleared, and only the hills and more valueless land are classified as National Park here. In search of food, the Cassowaries are forced to cross roads, walk across grass areas, and along sugar cane plantations until they reach the next rainforest. Heavy-loaded trucks pass by at high speed.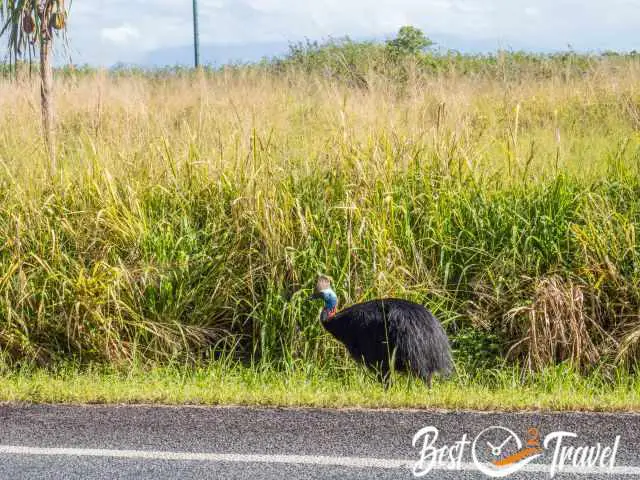 I do not judge about the past, but today, with our knowledge and what happens worldwide with our climate, logging primary forest is a crime IMO. Cassowaries are classified as vulnerable, but they will be extinct in the future if the government does not stop the sell-off.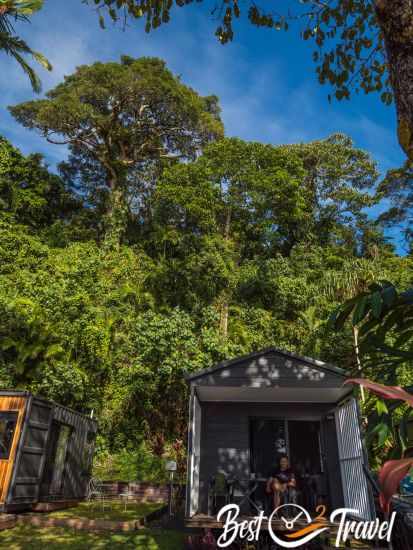 More about the Cassowaries in Queensland, when and where you are able to spot them.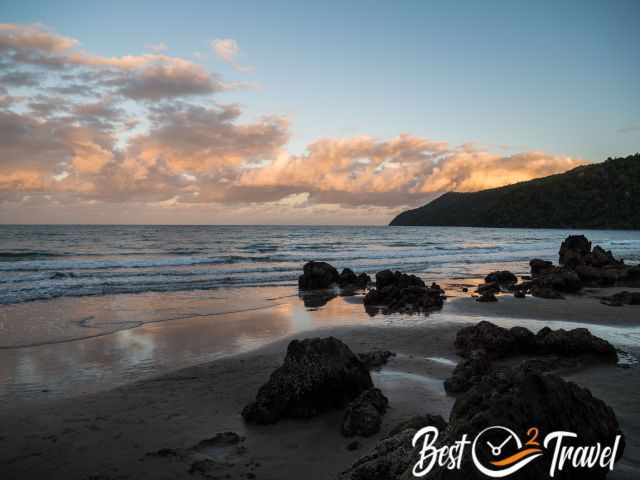 Whitsundays
Whitehaven Beach, one of the top 3 beaches in the world, was on my bucket list for decades. We had booked a tour far in advance, and it turned out to be the best on offer here in the Whitsundays.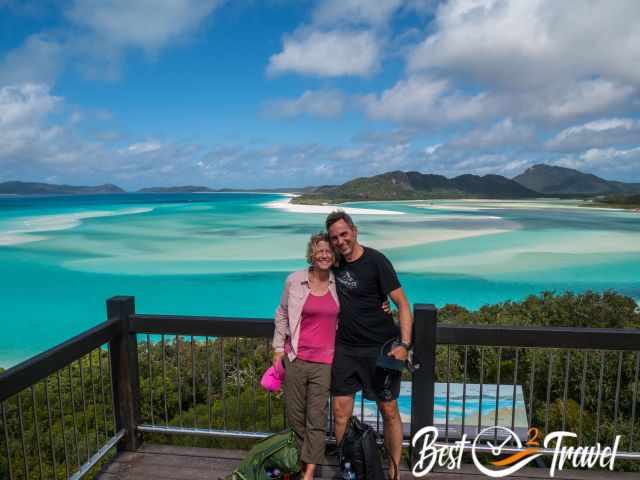 We went snorkelling and enjoyed the National Park, beach and rays in the shallow water. Whitehaven Beach is definitely a remarkable place.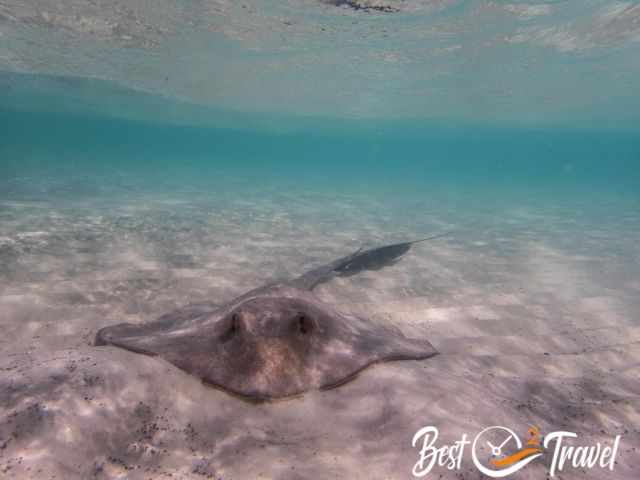 Afterwards, we were spoilt with a BBQ buffet and beverages. The crew of the Camira Sailing boat ran the extra mile for their guests on the catamaran sailing boat.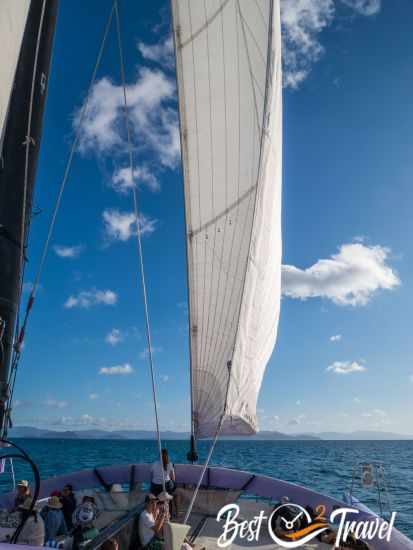 We are hooked on snorkelling, but getting a pure snorkel trip at different locations is offered on private charters only. However, we explored parts of Airlie Beach and the Conway National Park on foot.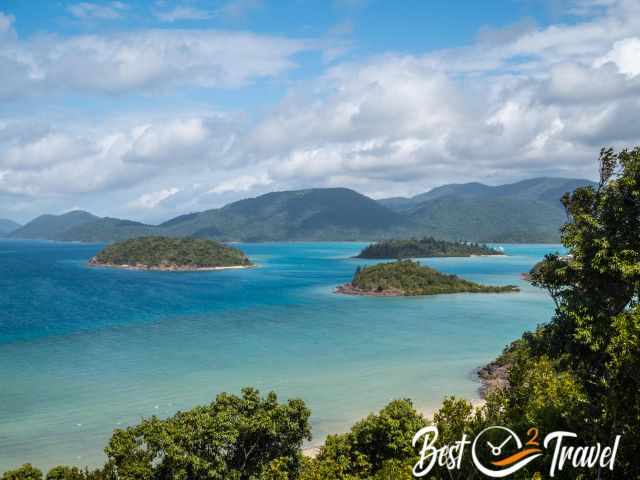 A colleague of Markus's asked if we can still digest all the experiences. He was right, and a little break was doing us good. We prepared delicious seafood dishes almost daily wherever we were. The fish and prawns are of an excellent quality.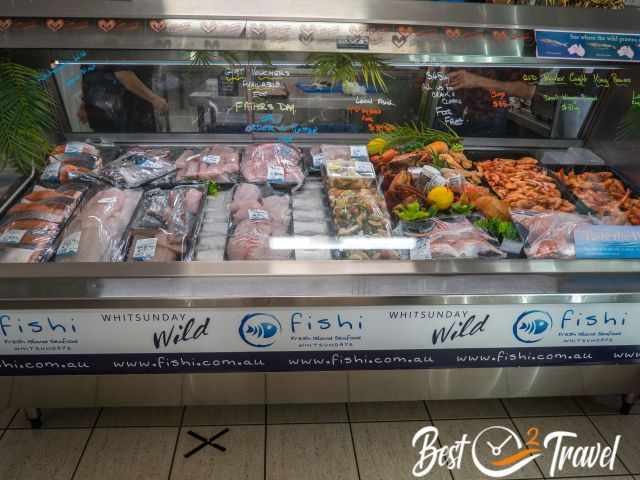 There are still four more tours here in Australia at the beautiful coast planned, which we will do soon. Best of all, we meet up with our friend Rik from Melbourne. He will celebrate our silver wedding anniversary with us.
Kangaroos on the Beach at Sunrise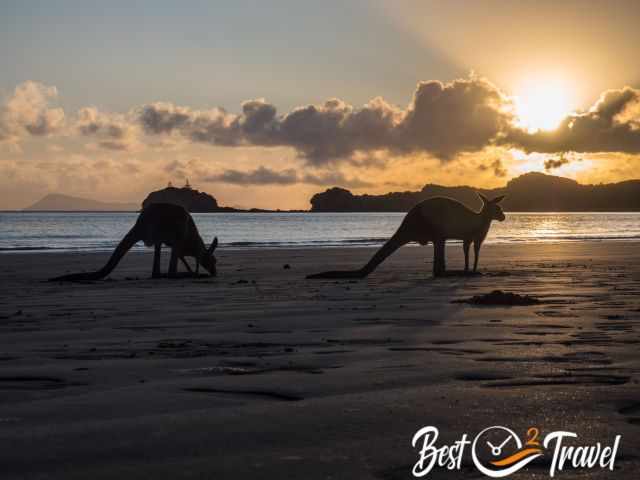 We headed south to Burnett Heads, an 8 ½ hours drive – 750 km. This country/continent is immense, and we planned three days for the entire journey.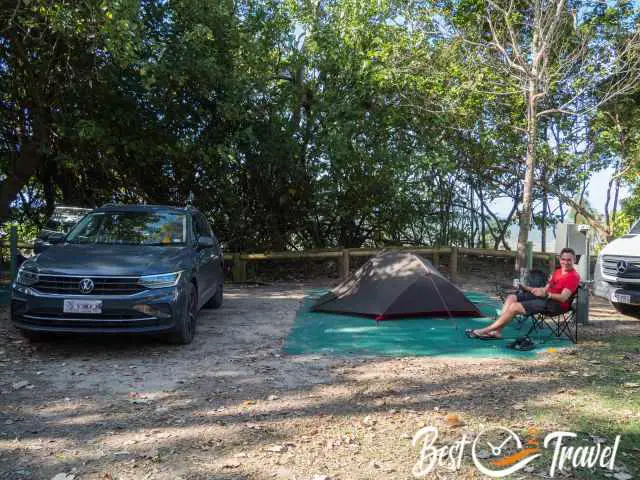 By accident, we crossed the Cape Hillsborough National Park at the coast and camped next to the beach for one night. What a fantastic park full of wildlife, great walks and the icing on the cake, kangaroos at the beach at sunrise. More about the kangaroos at sunrise and the Cape Hillsborough.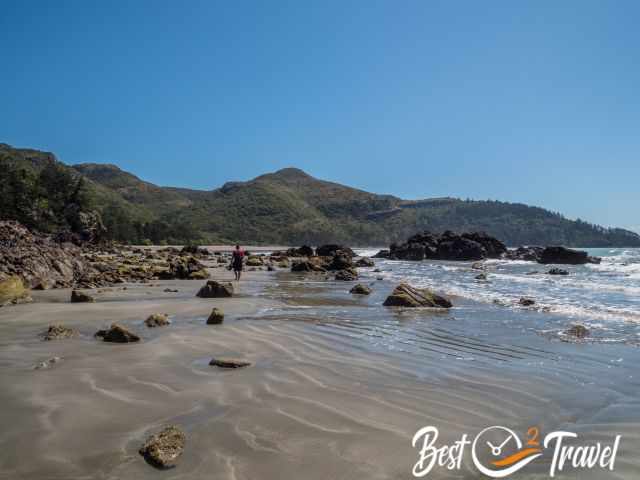 We behave like Australians going to bed before ten and up around six for the kangaroos even earlier. It is already pitch dark at 6 p.m. in winter. This is the best way to get the most out of your day. I even went swimming in a pool before breakfast.
We learnt here that there are eight different types of stingers, jellyfish that can kill you – photo of the eight, the sizes and how toxic they are.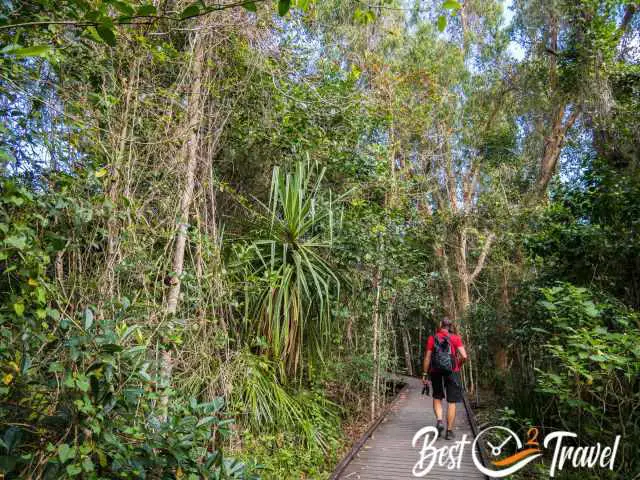 Therefore, most of the paradise beaches are not busy. It is advised to go to the sea with a stinger suit only. We are almost entirely covered in our neoprene gear, including a hoody – a picture of my wetsuit. We access the sea during guided tours to the Great Barrier Reef only.
Lady Musgrave Island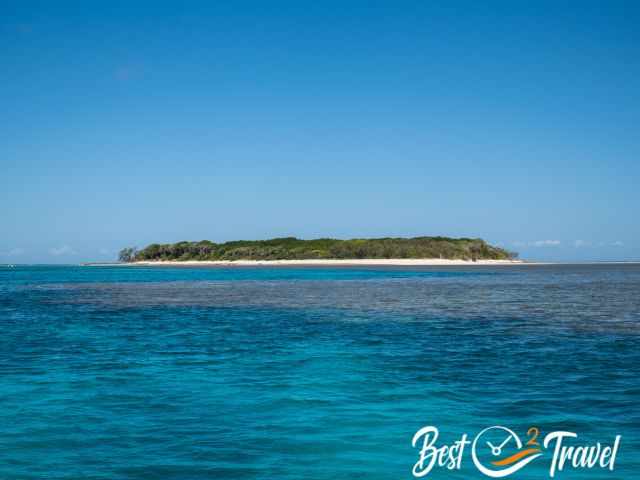 The second southernmost reef and island of the Great Barrier Reef. This was our best Great Barrier Reef snorkel and dive experience. This is a magical place. The reef protects the lagoon which has a size of 1000 acres.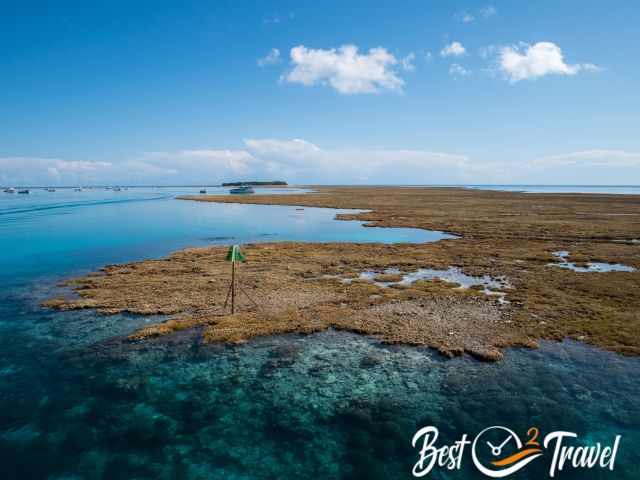 The corals still shine in all possible colours because the water is colder in the south. We have seen giant turtles, a ray, and incredibly many fish in the crystal clear water.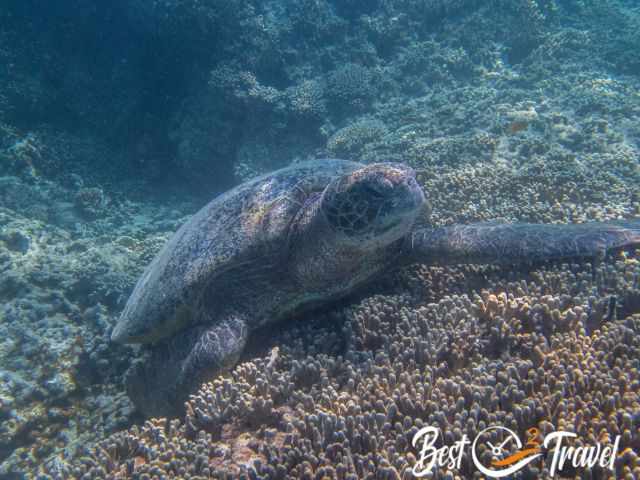 Lady Musgrave Island is fascinating and a heaven for bird watchers. We spotted brown boobies, and in most of the trees were nesting black noddies.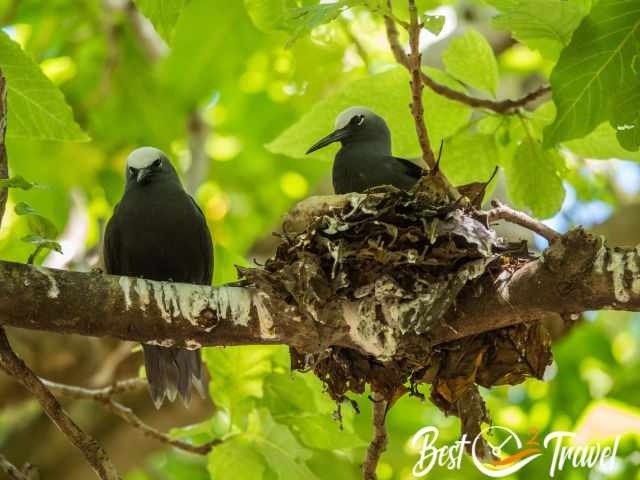 Now comes the story, like being in a BBC documentary. The Pisonia trees are the nesting habitat of the black noddies coming from Papua Neuguinea, and these trees kill the black noddies with their sticky seed pods.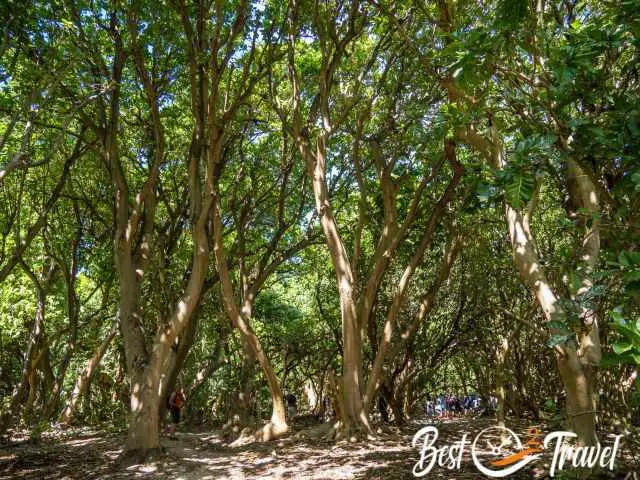 This island turns into a cemetery for them in summer. Mother Nature is sometimes cruel, but the birds fertilise the soil, and the trees need this nutrition.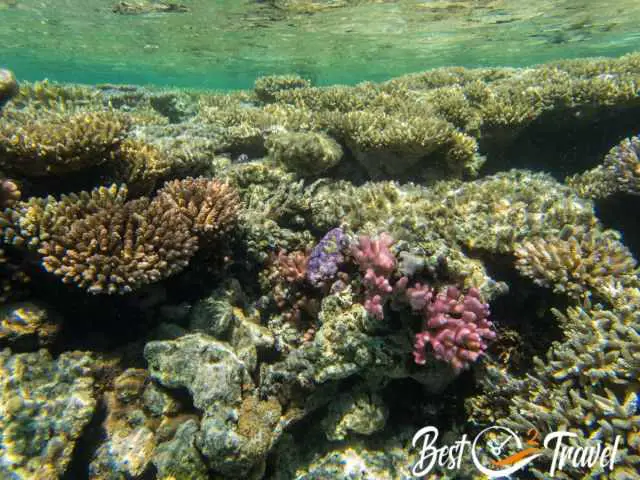 If there is one place I would love to go back for an entire week, it would be Lady Musgrave in December, when you are able to witness the serial killing and nesting turtles. 
More pictures below.
Fraser Island and the Humpback Whales in the Hervey Bay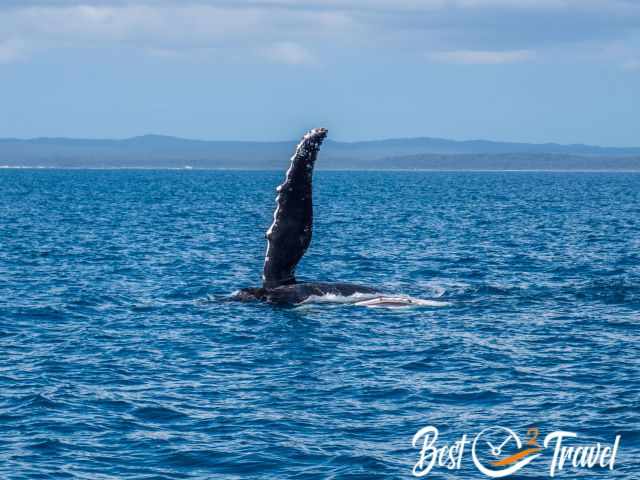 Hervey Bay is the "entrance gate" to K'gari (spoken Gari), previously known as Fraser Island, and for the humpback whales in this bay. We finally met up with our friend Rik from Melbourne after four years and had a fantastic time together.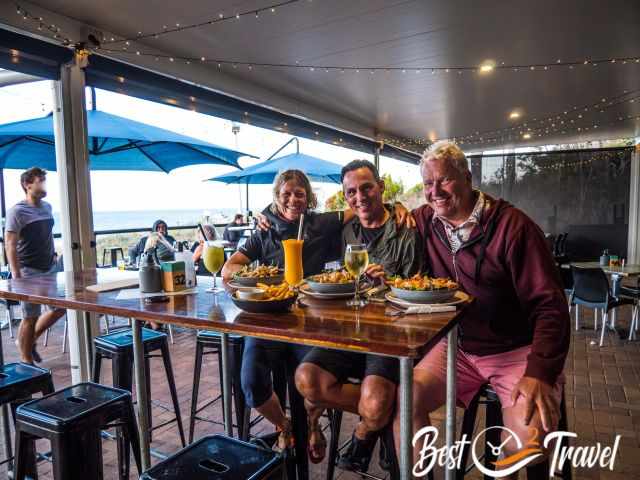 This weekend was our wedding anniversary, where nature treated us with many surprises.  We enjoyed the sunny summer weather, although it was officially the beginning of spring in Australia. Here, spring starts on the first of September.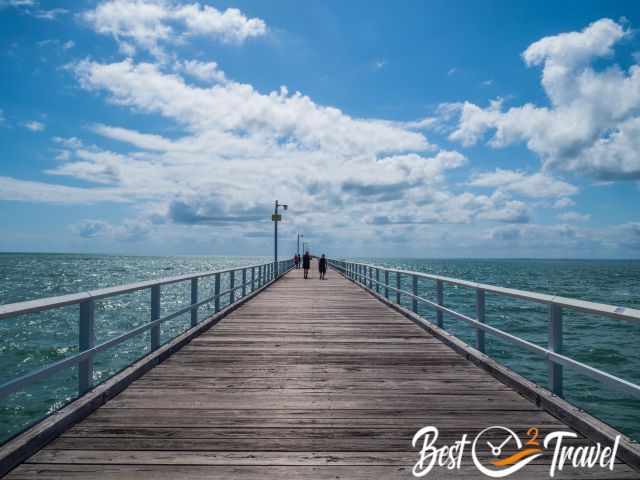 Our first tour to the whales and K'gari was cancelled due to strong winds, but it couldn't stop us from having a great time together at the beach and a great restaurant.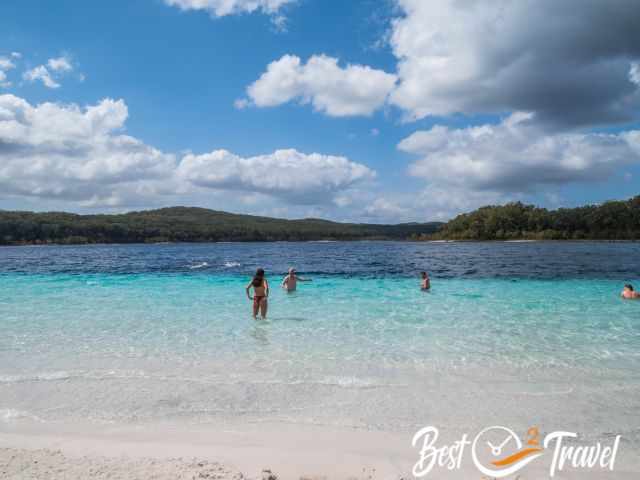 Our private Fraser Island tour with just four people and our guide, Hans, was outstanding. This island is 123 km long and the largest sand island in the world. We went swimming in the purest water ever. The Lake Mckenzie or Boorangoora is fed by rainwater. The colours of the lake were mesmerising, and Hans went there with us first.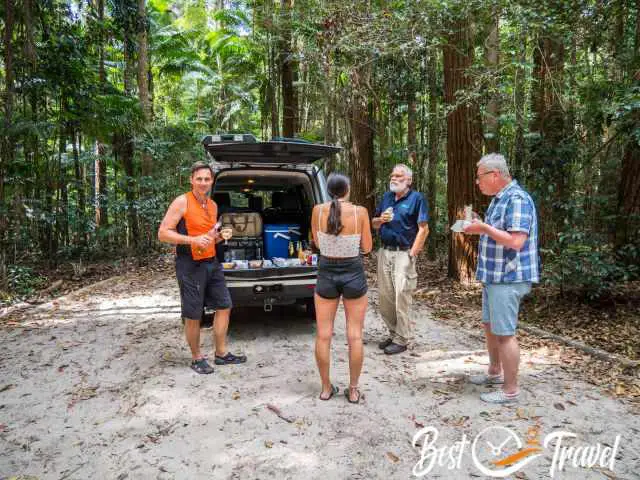 After an excellent morning tea, he dropped us off for the Pile Valley hike through the rainforest.
Afterwards, he provided lunch before we continued to the Seventy-Five Mile Beach, where you are able to drive on with a max speed of 80 km/h. That was great fun.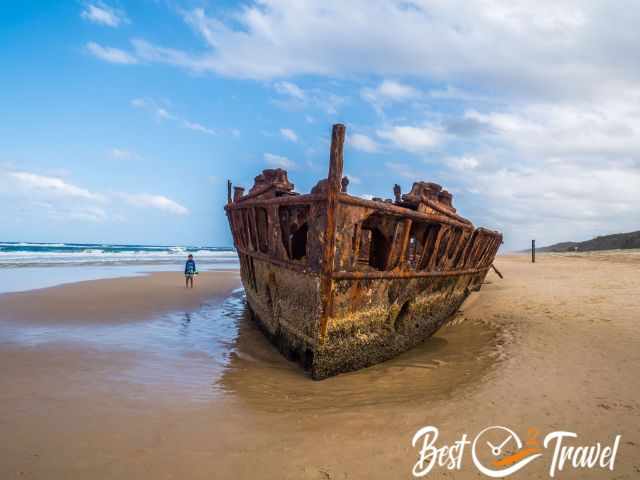 Rik and Flore from France had a big wish to see a wild Dingo, and surprisingly, we got three in total, which is absolutely rare. Even Hans was excited about the two feeding on fish at the beach. K'gari Island is definitely a Must-Do in Queensland, and we all left the island with a big smile.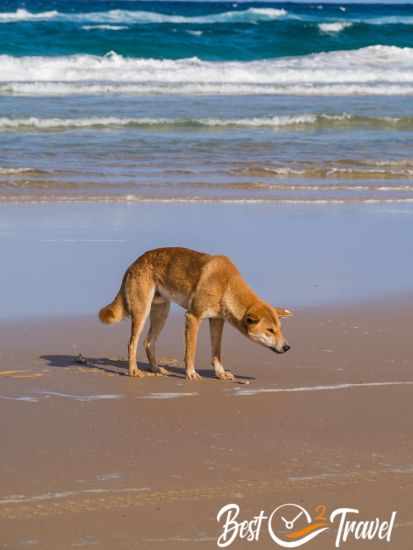 Going on a whale-watching tour usually means seeing a few swimming whales, but Hervey Bay is so different.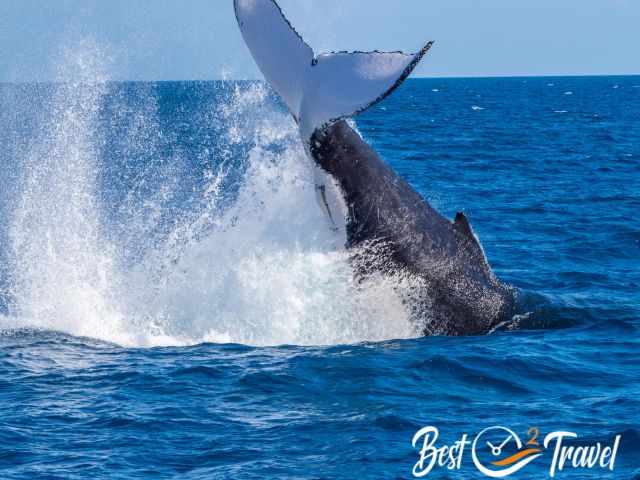 What we experienced here was the icing on the cake in Queensland during our one-month journey and, indeed, will never be topped again.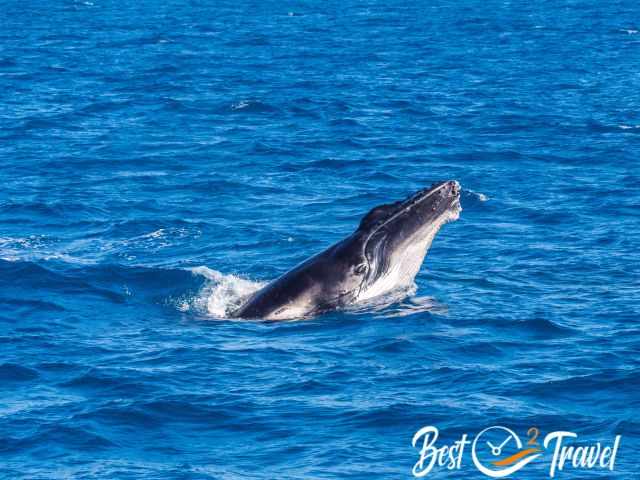 We spotted plenty of whales breaching, spy hopping, and slapping, and they came curiously close to our boat. The tour we chose was special; when other tour operators left, they provided lunch and continued to other whales.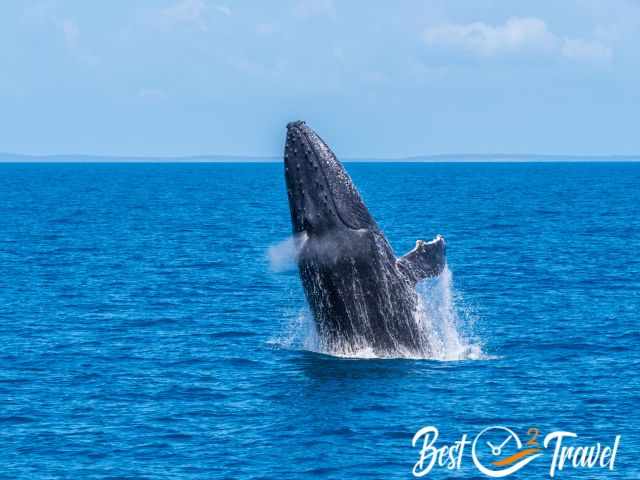 Nevertheless, it was respectful whale-watching, letting the whales interact with us.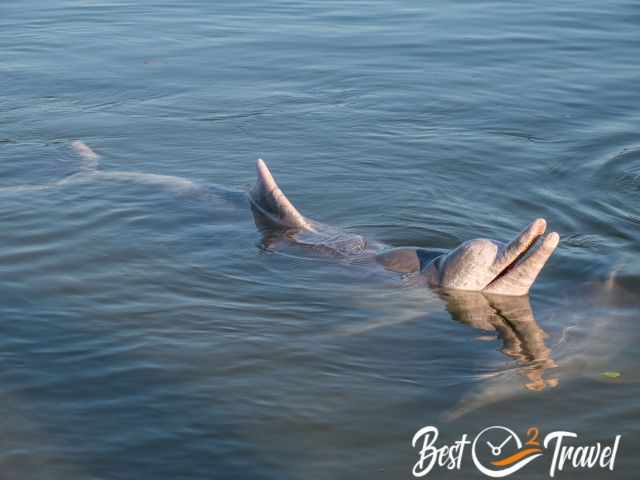 Thanks to a recommendation from our neighbour in the Tasman Camping Park, we were spoilt with another unique experience: seeing humpback dolphins in the wild. There are roughly one thousand in Australia, and we saw four adults and a young one. Thanks, Geoffrey! More about the dolphins here soon.
Noosa National Park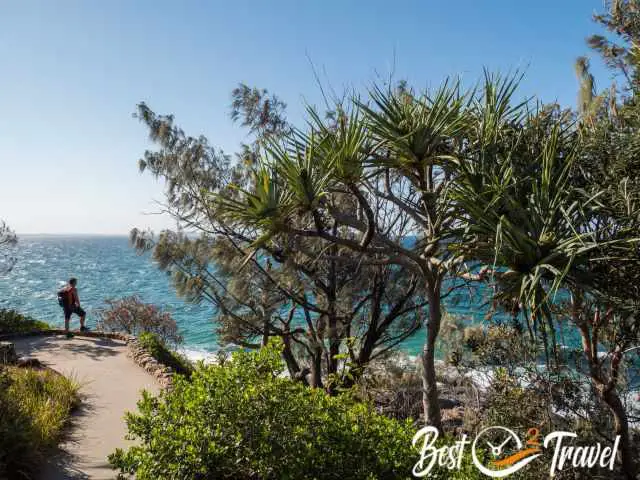 Our next stop was the Boreen Point Campground and Noosa National Park.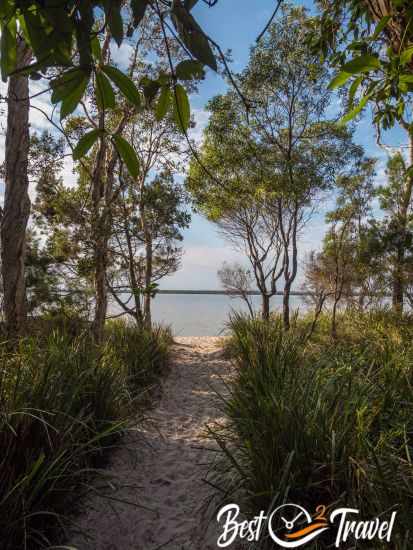 We chose this campground because of the excellent reviews, and this was the best and most beautifully located site we got during our month-long journey.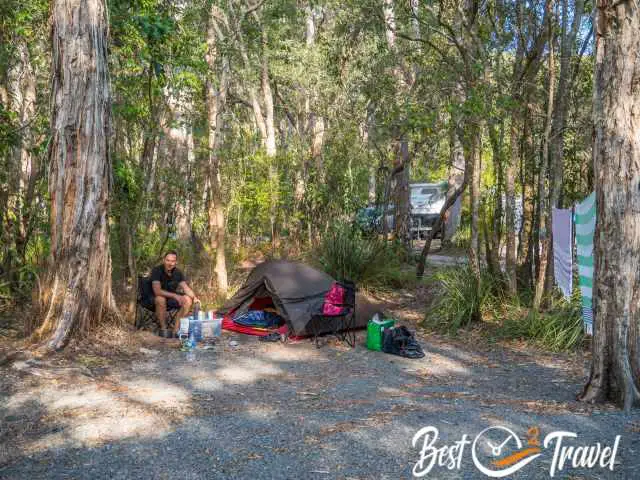 This is an excellent spot if you like to escape the crowds and stay in spacious sites in nature.
We came here to hike in the Noosa National Park along the coastal path and to check out the Fairy Pools. Noosa is exceptional; the coastal walk with a fresh breeze, the lush vegetation and beautiful beaches are worth visiting, but the pools are not.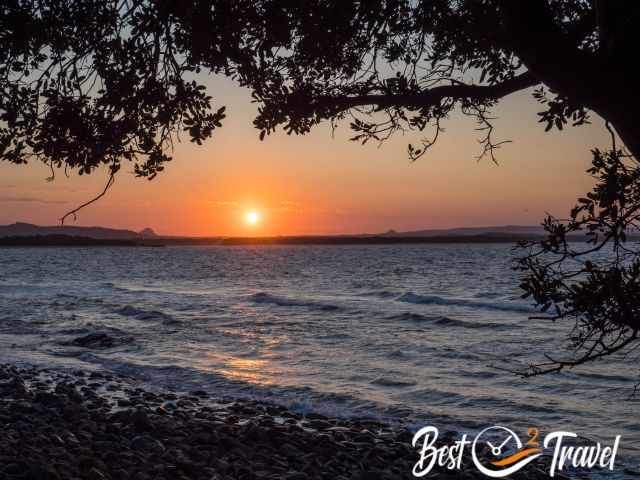 They are far too dangerous and overhyped on social media. More about Noosa and these pools will be in an additional article soon.
Mary Cairnscross Scenic Reserve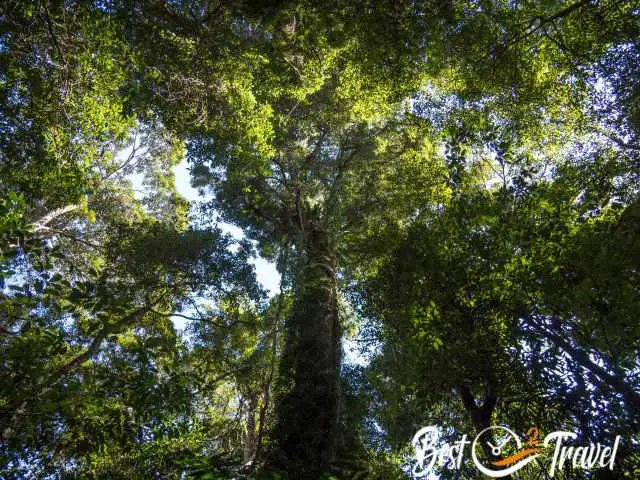 Our journey through Eastern Australia was soon ending, but we checked out a patch of rainforest on our journey to Brisbane first.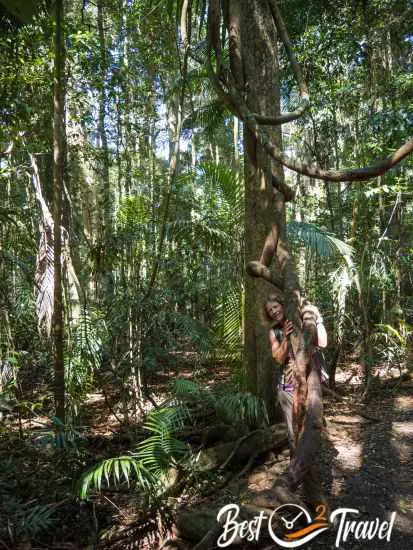 The walk through the rainforest was 2 km long and usually took less than one hour, but it took us several hours. We have rarely seen such giant strangler figs and red cedar trees.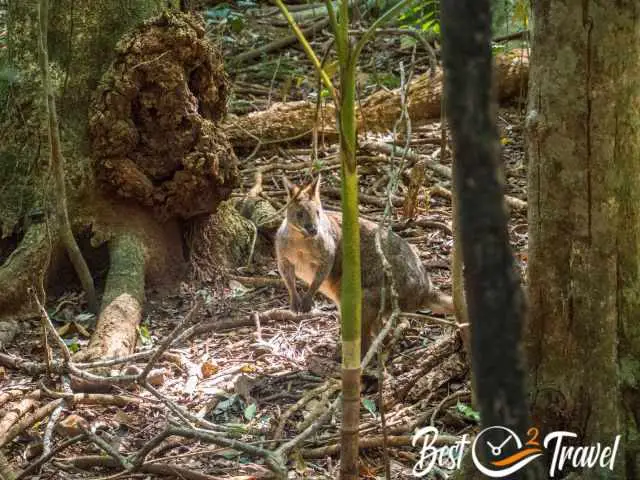 Pademelons occur here, and we spotted several in the bush. The Mary Cairnscross Scenic Reserve and the sound of different birds were the perfect last stop in Australia.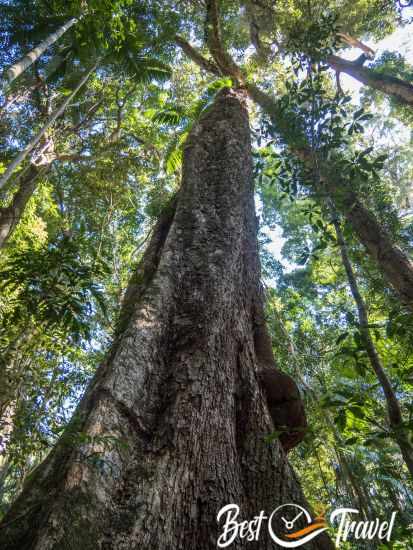 This highly valued timber attracted the first European settlers in Australia in all rainforests, and red cedar is rare nowadays.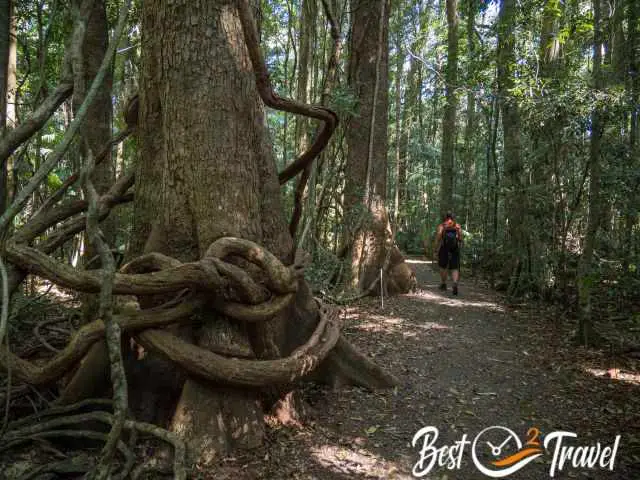 Our month in Queensland was outstanding. We rarely experienced so many adventures, diverse landscapes, and National Parks in such a short time. It is a slow pace here, and evenings are quiet in winter. Due to the short daylight hours, most people went to bed early and woke at 6 a.m. when the sun rose.
Fourth Stop Singapore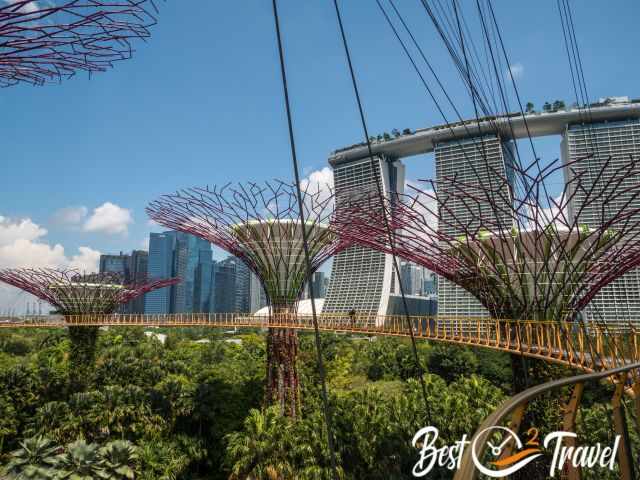 This city is overwhelming, impressive, and fantastic, one of our top five must-visit cities. Usually, we prefer the woods, and here you can walk through the lush rainforest and spot colourful birds, and ten minutes later, you are taking the underground back.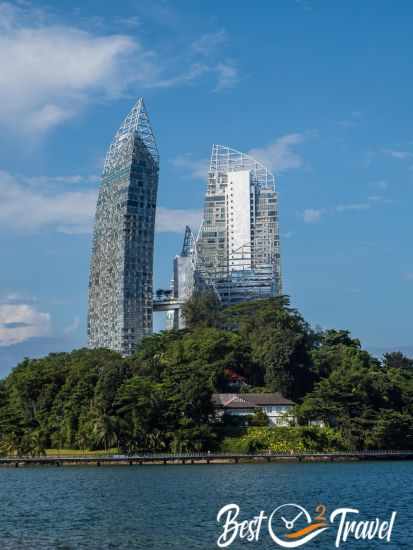 When we arrived at Changi Airport, it took us less than 30 minutes until we left the airport, including immigration and picking up the luggage. Taking the underground was also simple, you just take your credit card, and you get access instead of buying a ticket from a machine or booking it online.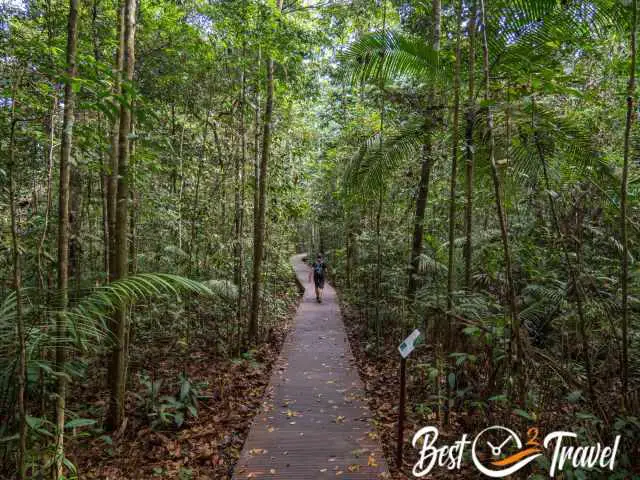 We didn't need a rental; it all worked excellently, even getting to Nature Reserves and into rainforests. It is all so very sufficiently organised in Singapore.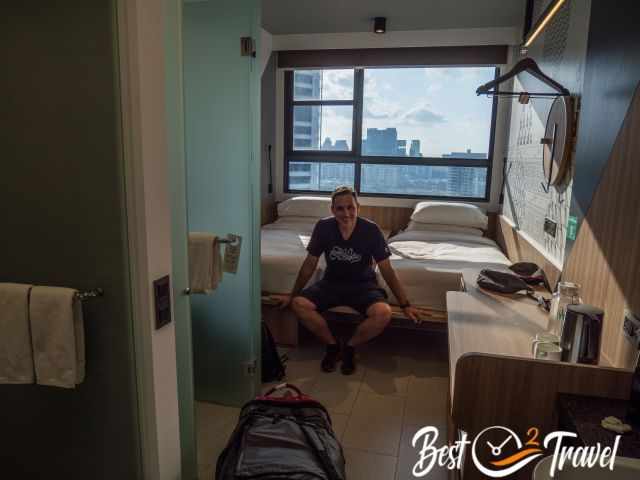 Housing is scarce in Singapore; therefore, hotel rooms must be space-saving and furnished. Our room was less than 20 sqm big, but we felt comfortable and slept fantastic here. The view from the 18th floor was great. Most hotels offer a garden for their guests in higher elevations.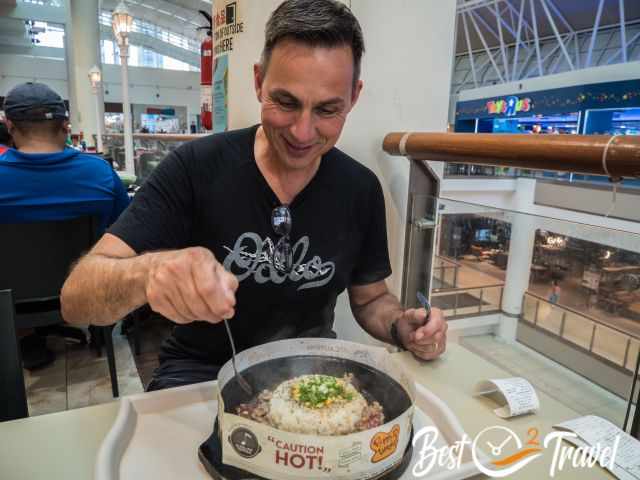 Our hotel, the Lyf Farrer, was next to the MRT (public transport system) and a massive mall in Little India, perfect for grabbing breakfast or an early lunch.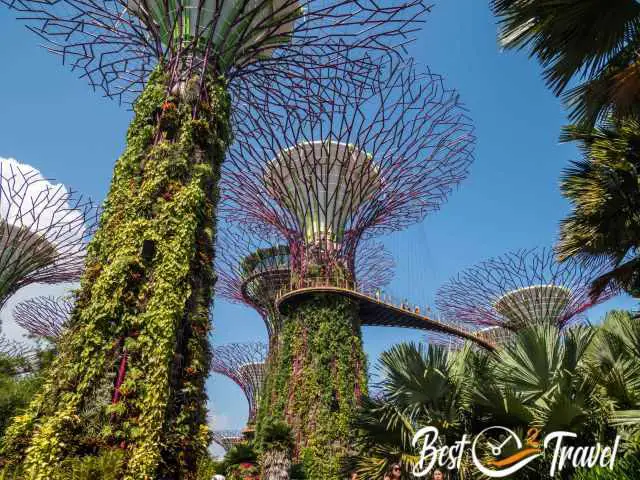 Of course, we first went to the Gardens of the Bay and bought tickets to all the sights there. This dramatic-looking "Supertree Grove" is from another world. One tree has an observatory deck offering excellent views, and between two others is a skywalk 22 m high.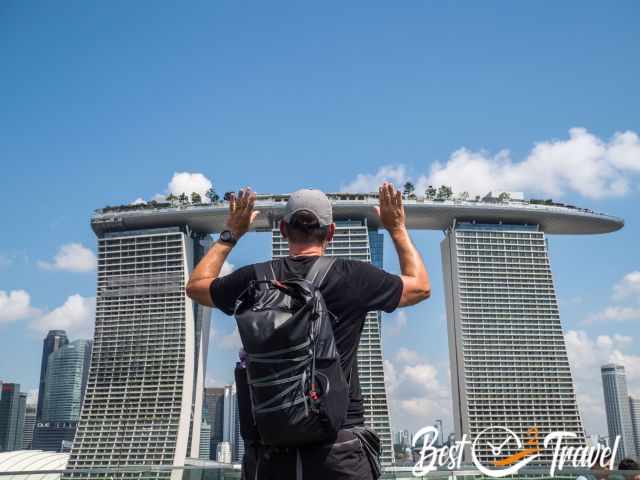 We visited the supertrees twice to watch the light and sound show the following evening. These "Supertrees" are one of the main attractions, and it gets crowded here from midday until night. Due to our night flight, we arrived early at Changi Airport and enjoyed the impressive architecture almost alone.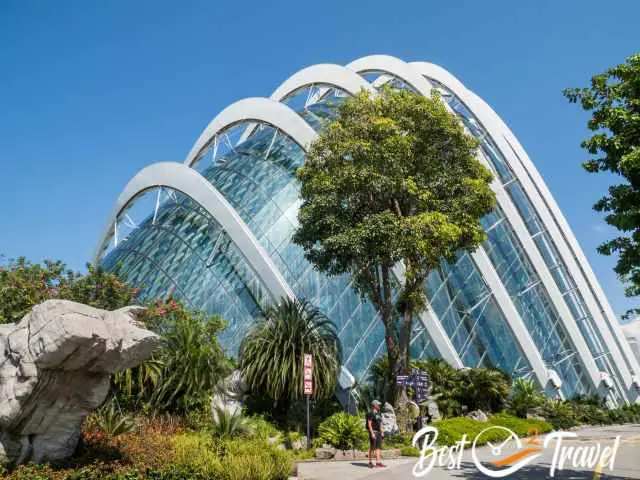 Another attraction is the glass-covered "Cloud Forest". When we accessed the monumental, architected masterpiece made of glass, we were surprised by the pleasant temperature inside because it was scorching outside with 33°C and 100% humidity.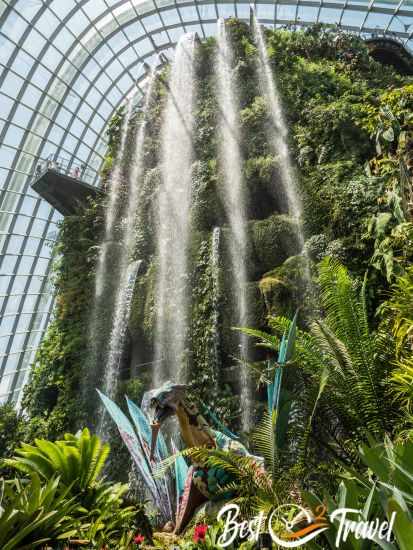 During our visit was an Avatar exhibition. Lots of these characters were placed around. Visitors are first welcomed by a massive 35 m high waterfall and immense trees inside. The entire construction, the trees, plants, fern trees, we felt like in a cool- temperate rainforest.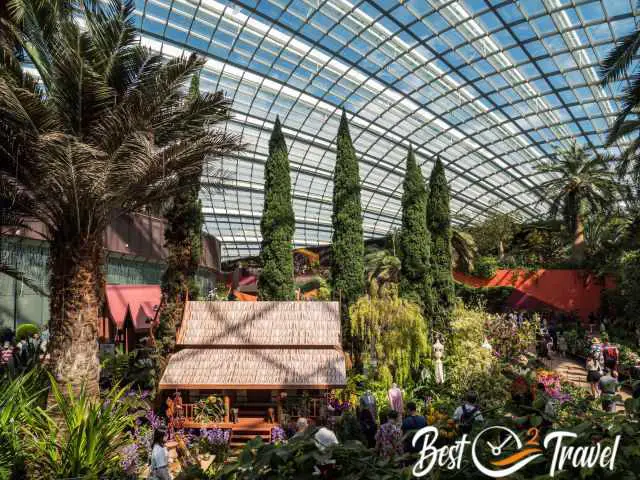 The "Flower Dome" is also a glass dome that contains plenty of ancient olive trees, baobab trees, plants from around the world and an orchid garden. The temperature in the dome was pleasant and cool compared to the heat outside.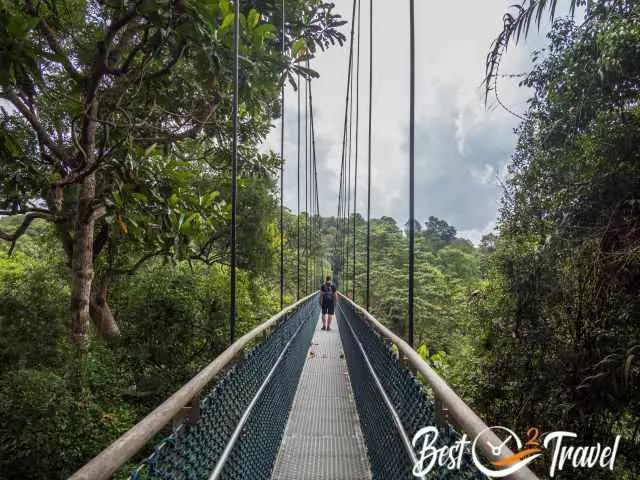 There is so much to see and do in Singapore that we chose a few locations that interested us most. A highlight for us was the MacRitchie rainforest walk in the Nature Reserve, which is easy to get to by bus in northern central Singapore.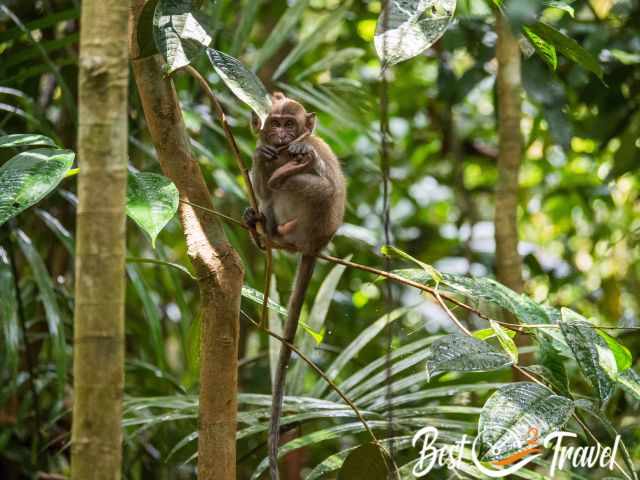 It is a popular local running track; not many oversea visitors walk here. This hike includes a Tree Top Walk on a suspension bridge and the Jelutong Tower, with excellent views of the canopy.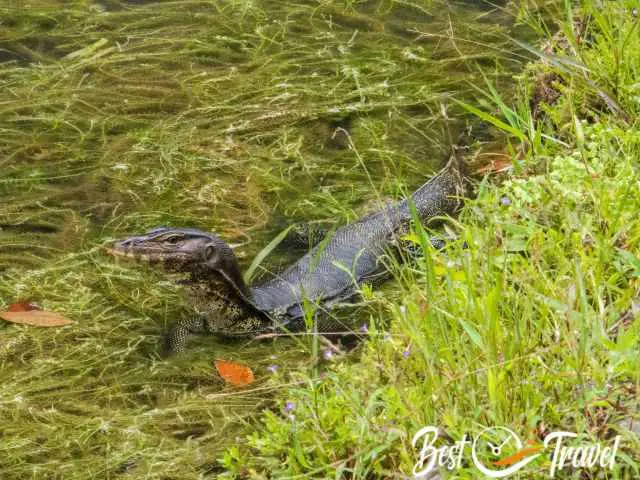 On the entire walk, it felt like hiking through different vegetation zones. When we reached the water reservoir again, we hiked along and through a swamp on a well-kept track and boardwalk.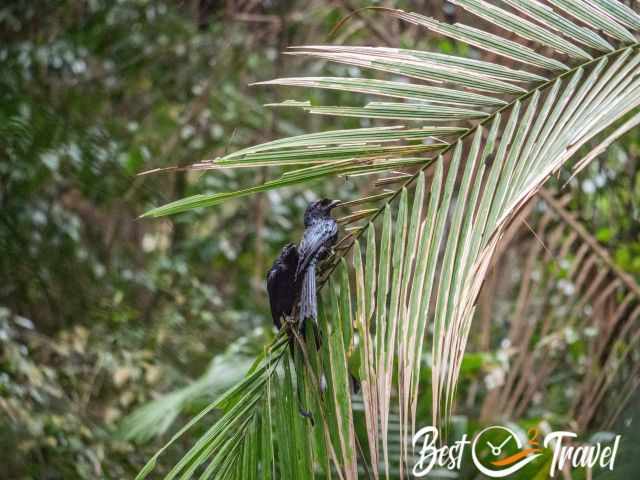 We heard and saw many birds, monkeys were around, and plenty of butterflies were swirling. Officially the trail is 9,5 km or 11 km long, but overall, with sightseeing in Singapore in the evening, we hiked almost a new record (Grand Canyon was 37k): 36,000 steps – 28 km. We were utterly exhausted, but it was so worth it.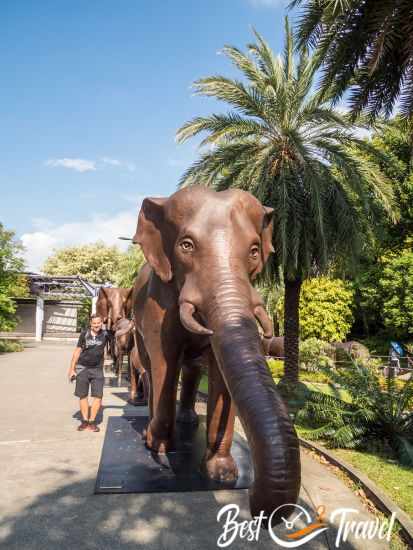 Singapore is a must-do. There is a great food variety, and the Singaporeans are super friendly and nice. We felt safe here all the time. More about this country and hike when we are back home. 
Third Stop South Africa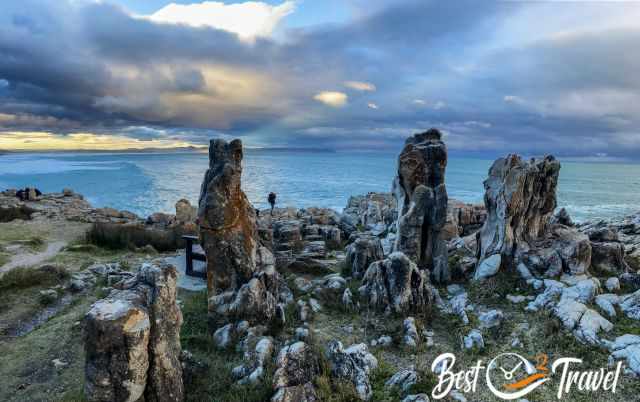 We were in South Africa during wintertime in the southern hemisphere. Most accommodations do not have heating, and we sat in our down jackets at our laptops.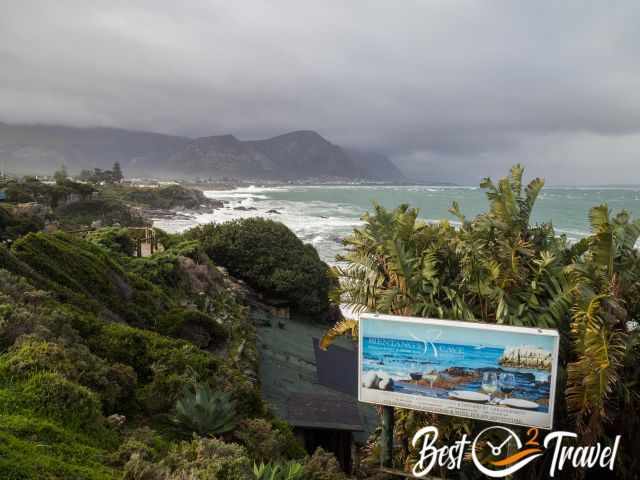 However, we were travelling with our warm winter-down sleeping bags, so we didn't care much. We were here to meet Paul, who developed this theme of besttime2travel.com with our friend Rik from Australia. 
Sedgefield and Knysna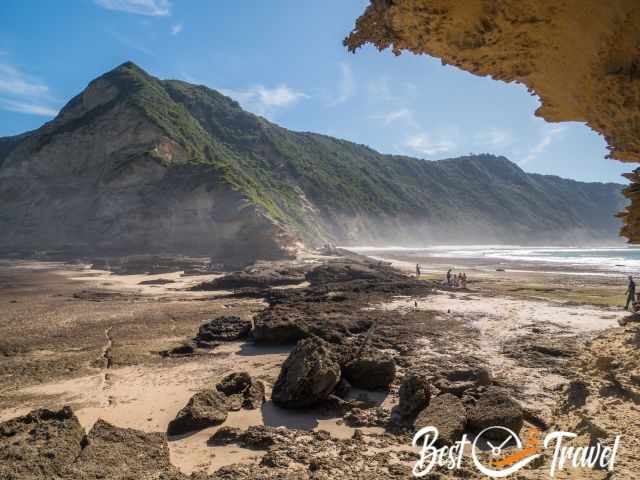 South Africa was fantastic, and as a friend told me, South Africa will treat you well. We regret that we left this wonderful country already. We only came here to spend time with Paul and Janet and, in addition to spot Southern Right Whales.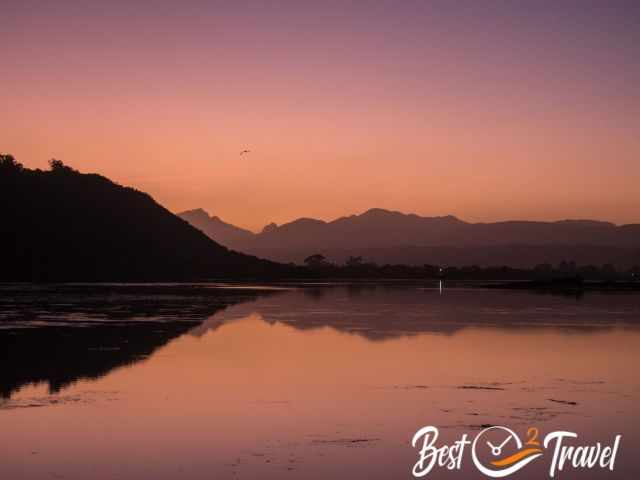 Getting to know a small town like Sedgefield and its residents with friends was a completely different experience, and they welcomed us with open arms. We came together for the sundowner each evening and felt like being part of the community. Rose, Brad, Allistair, THANKS!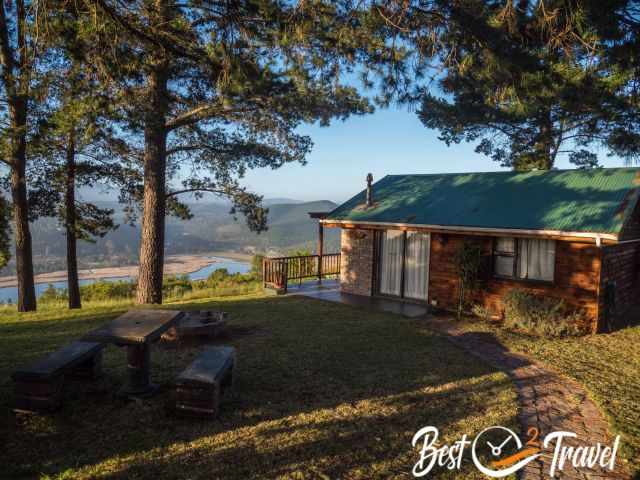 Our remote cottage on top of a hill with breathtaking views of the lagoon was the perfect place for us in Sedgefield.
Janet and Paul took us on a 4 WD track and showed us Jubilee Creek in the Knysna Forest.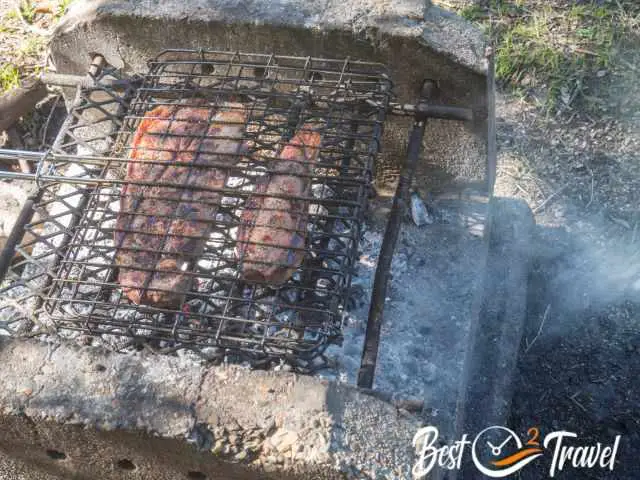 While they prepared a delicious "braii" a South African BBQ for us, we hiked along and through a creek to a waterfall.
We were amazed by this lush and thick rainforest.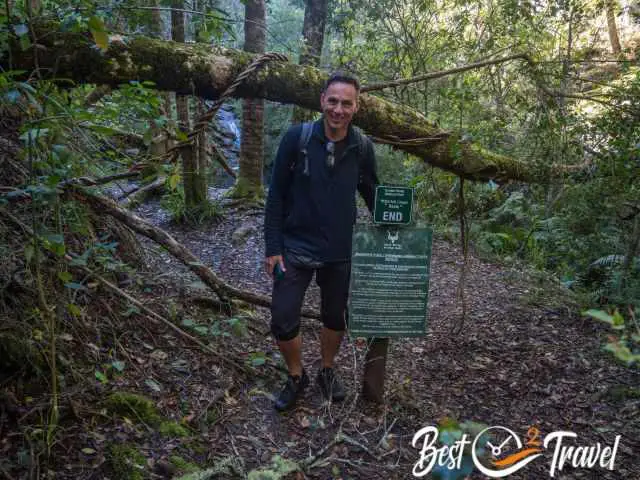 What a memorable day we will never forget. Here is more information about Jubilee Creek, the picnic area and the walk along old mines.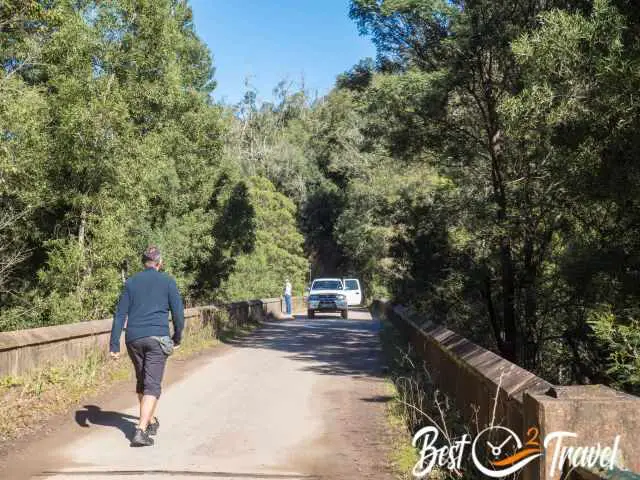 Sedgefield is situated along the Garden Route but is not busy. The beach and a massive rock formation called Gericke's Point were other excellent spots we explored during low tide.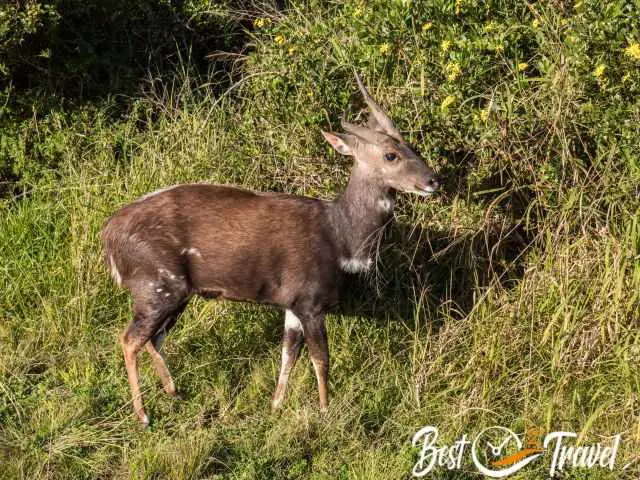 We spotted plenty of birds and wildlife more than expected.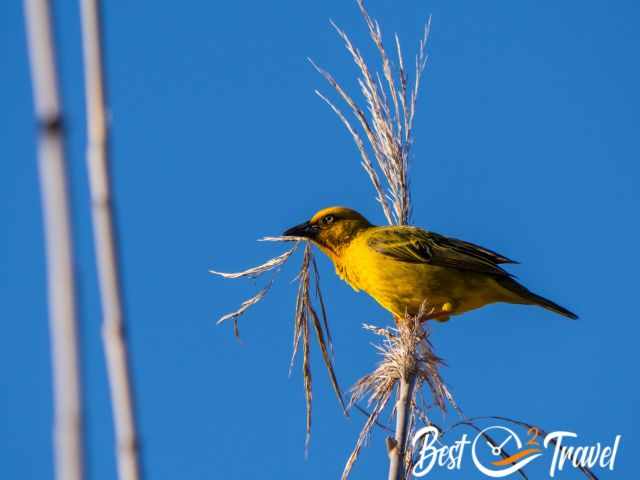 We thought we would know all the beautiful places along the Garden Route, but there are many more. Swartvlei Beach and Gericke's Point and also Jubilee Creek were amazing.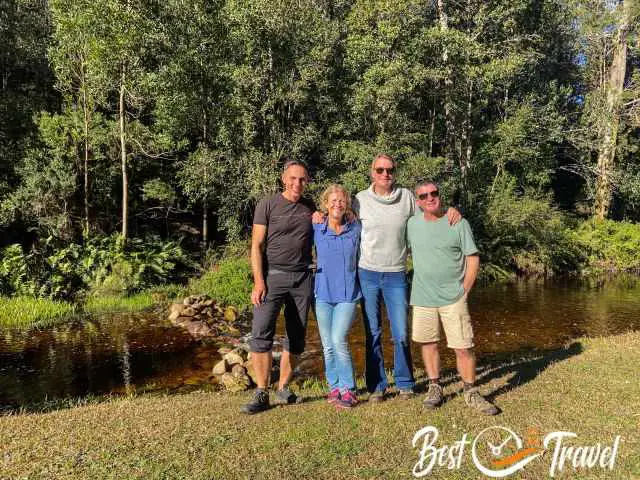 It was great to meet Paul and Janet. Meeting friends around the world means a lot to us, making our trip memorable.
Hermanus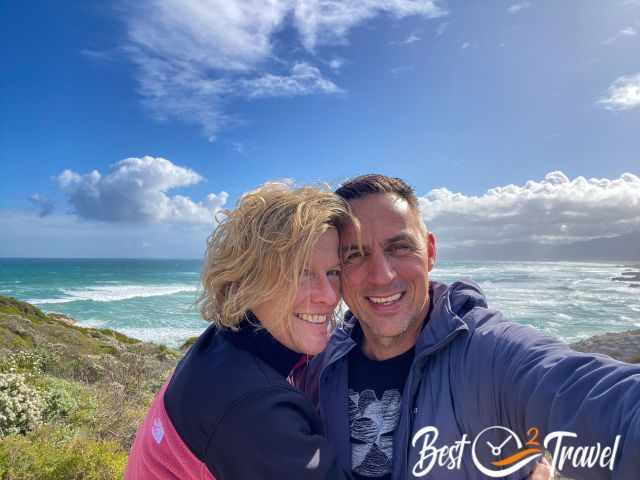 Wintertime is the best time for whale watching from Hermanus, and yep, we were right. On the way back to Cape Town, we went on one of the best trips ever. However, before we were able to take part in such a trip, we ran through a thriller. Our first stay in Hermanus was windy and rainy, and all tours were cancelled.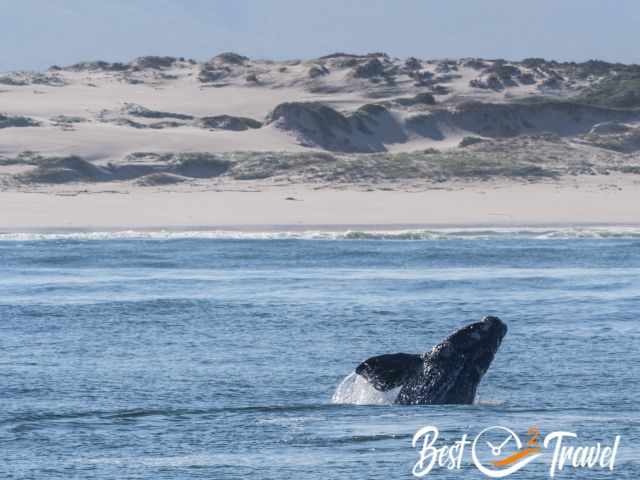 On the way back from Sedgefield, we gave it another try, and the weather plus swell were perfect. We couldn't get our car out of the garage when we left the rental cottage. An unforeseen load shedding prevented us from opening the garage. Luckily, we got the car of the cottage owner borrowed.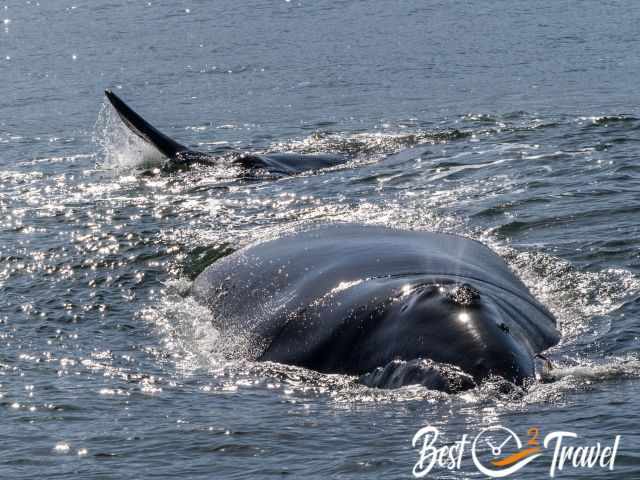 The Southern Right Whales come to Hermanus for mating and give birth in Walker Bay. This place, indeed, did not disappoint. We spotted plenty of whales close to the shore during our whale-watching trip. It took only 15 minutes by boat to reach the bay, and suddenly we were surrounded by breaching males, flapping young ones and mothers with their calves.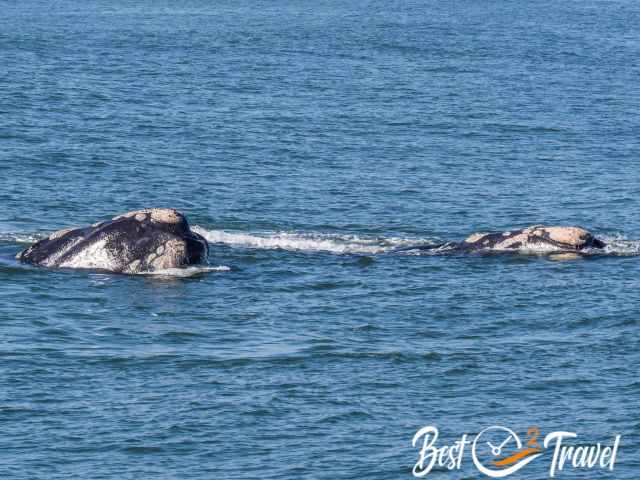 Curious? Also, for Hermanus, I will add an additional guide on when to spot whales and which ones, where to stay and, importantly, whe to eat excellent seafood.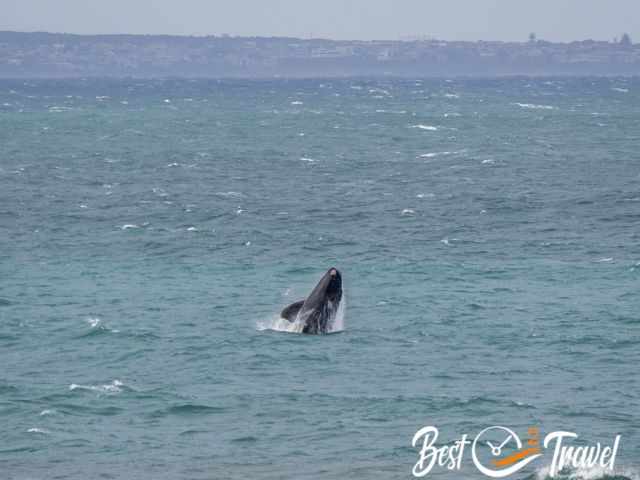 Wintertime is southern right whale season here in Hermanus. Rain or shine, you are able to see them in Walker Bay from land.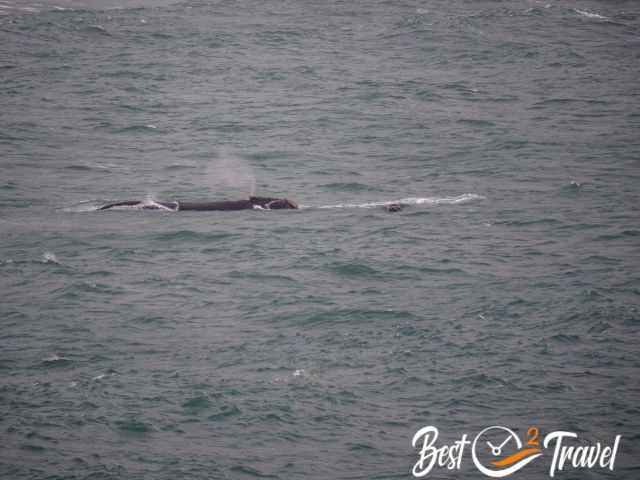 There are plenty of outlooks; some are accessible by car, some on foot on the cliff path. We already spotted plenty of whale moms and their calves and jumping males.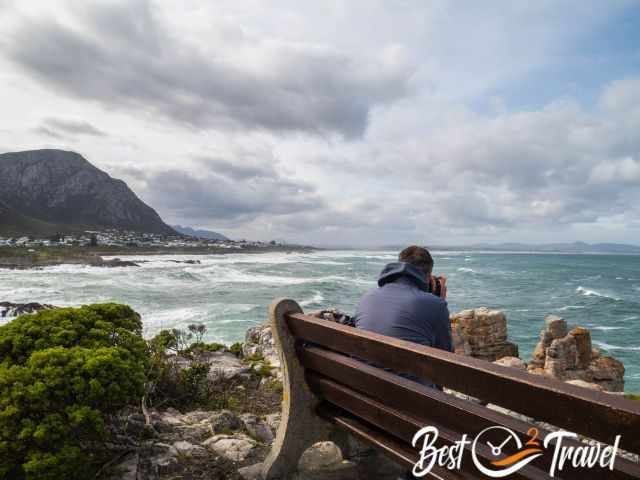 We have two favourite viewpoints; one excellent to watch them out of the car - it is really cold here, and one from the coast.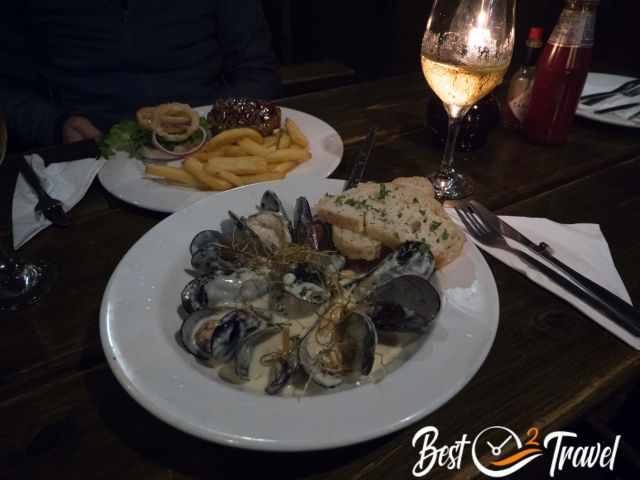 Travelling on a budget works excellently here in South Africa.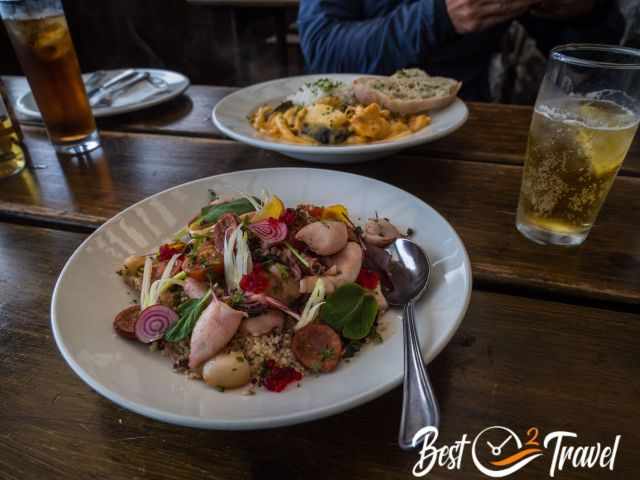 I usually do not use the word cheap, but here it is, and we spoil ourselves with excellent seafood and meat.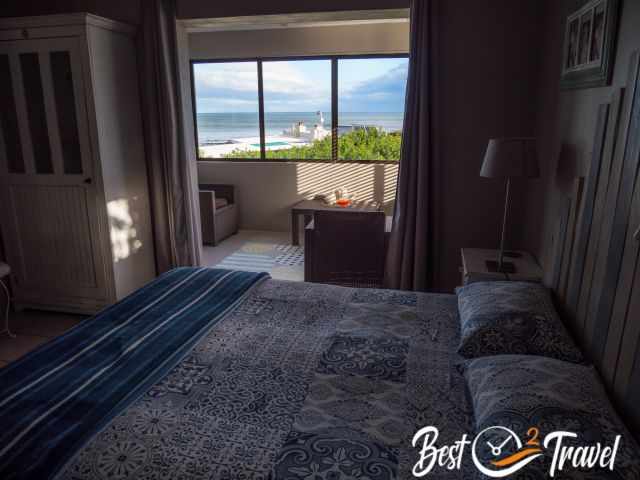 Our self-catering apartment is huge and offers an excellent view out to the sea. We can't wish for better despite the cold temps and rain. However, the weather forecast looked great for the upcoming week.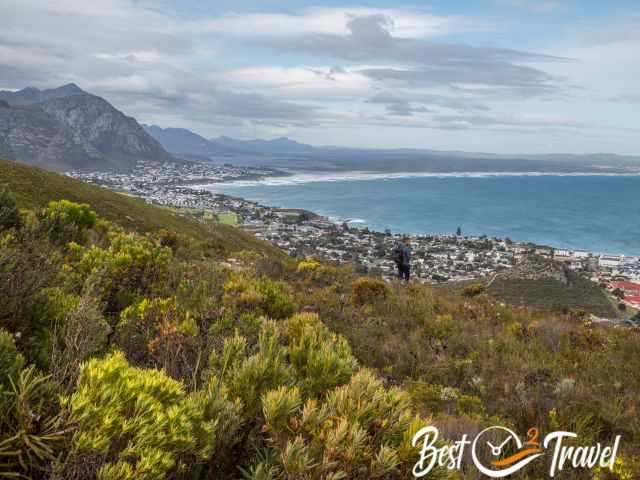 We drove up to a hill on the Rotary Way Drive for an excellent view of Walker Bay and hiked in the Fernkloof Nature Reserve in the afternoon to see more of the typical Cape vegetation and proteas.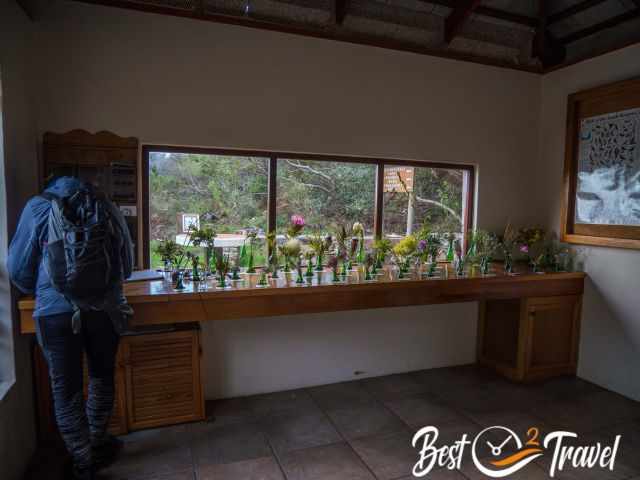 Of course, we tried out another restaurant, and Markus ate sushi, and I line fish. The weather was not excellent, so we needed to treat ourselves with delicious food.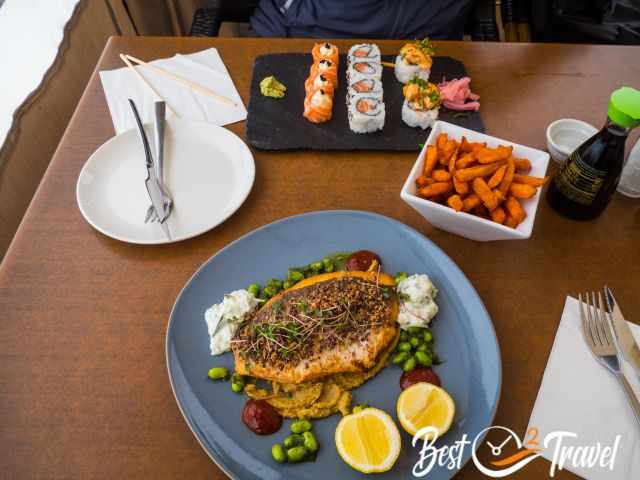 Our Essential Gear Tip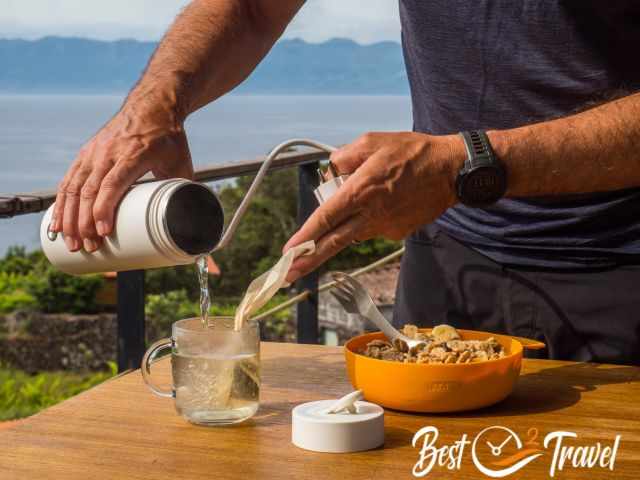 You probably know it too, you just want to prepare a coffee or tea, but there is no kettle in the accommodation, or you have no gas available at the campground. But you have electricity in most cases, and we have found the perfect solution on the road.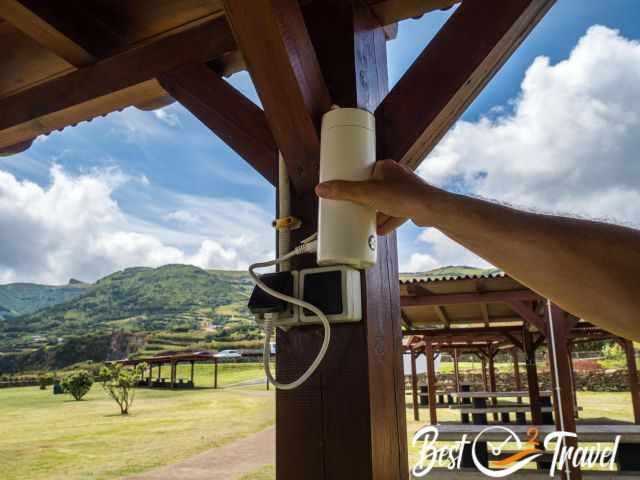 Heating up water on the go with our new electric smart cup became so easy. In less than 5 minutes, you can get a bottle of boiled water. Order the kettle from Amazon for the USA 110 V or Europe and the rest of the world,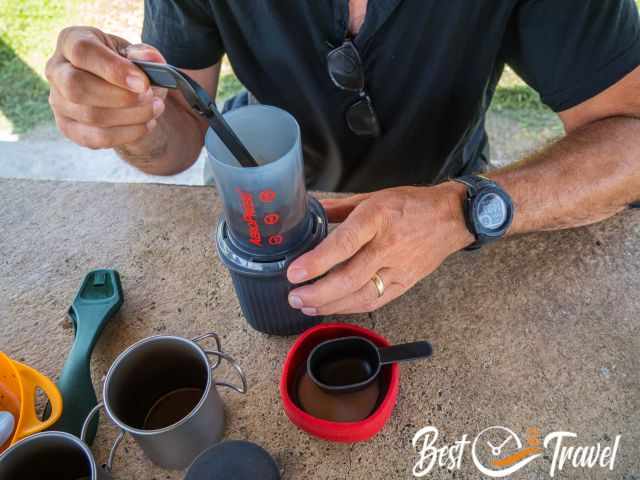 Enjoy a hot drink or dehydrated meal wherever you are. It is lightweight, operates safely, and automatically stops heating when the water runs dry, or there is no water in there.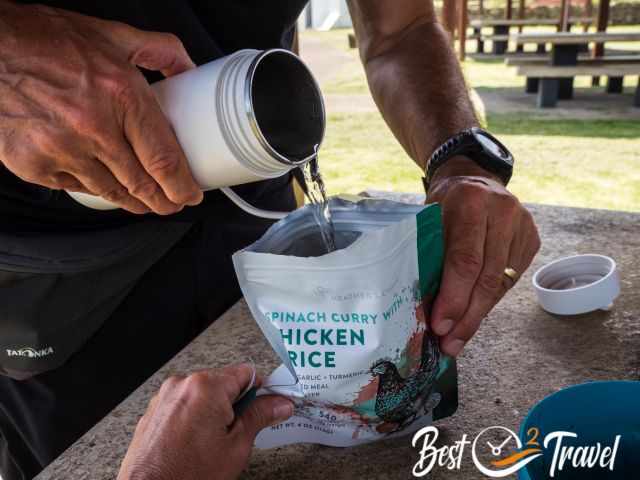 Our new kettle provides us with a lot of quality time on our journey.
Second Stop Azores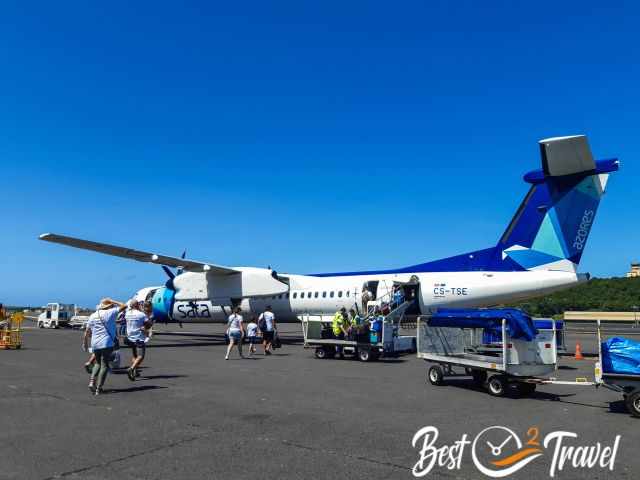 After that, we continued to the Azores. The Azores and Madeira have simply done it to us. These islands are all of volcanic origin and utterly different. There are 9 Azores islands; four we already know, and three more are on our program. If you want to know more about the Azores, follow the link above.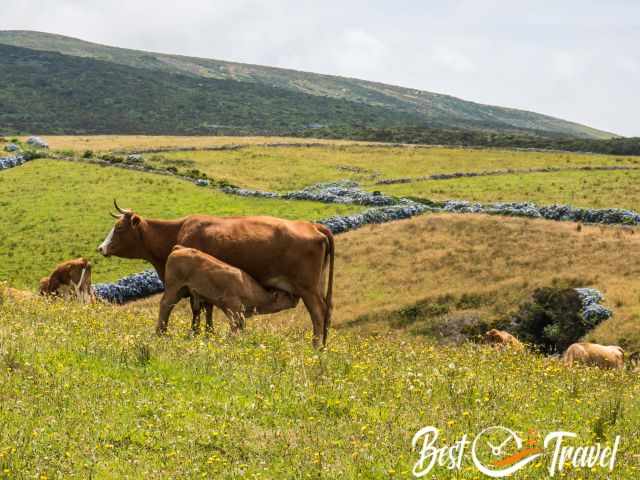 More than half of the Azores' population works in agriculture, which primarily means livestock and dairy farming. The agricultural sector is the most important economic sector in the Azores. Dairy products (mainly cheese) and live cattle are the primary export products.
Sao Jorge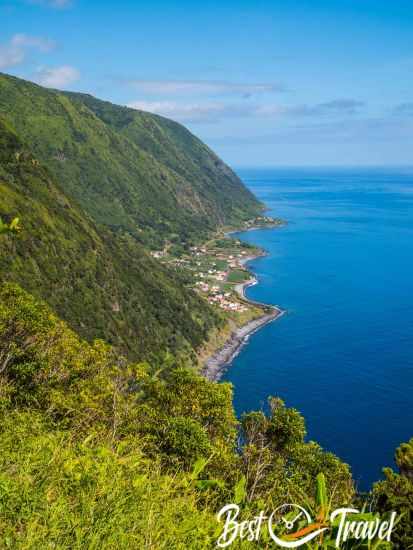 Every Azores Island has its own charm. One reason to visit São Jorge is surely the picturesque Fajãs. 
We are first on the beautiful island of Sao Jorge to see the majestic Pico from the south side. After only one day in Sao Jorge, this island has done it to us with its beauty, sheer cliffs, lush vegetation, and an impressive night active bird.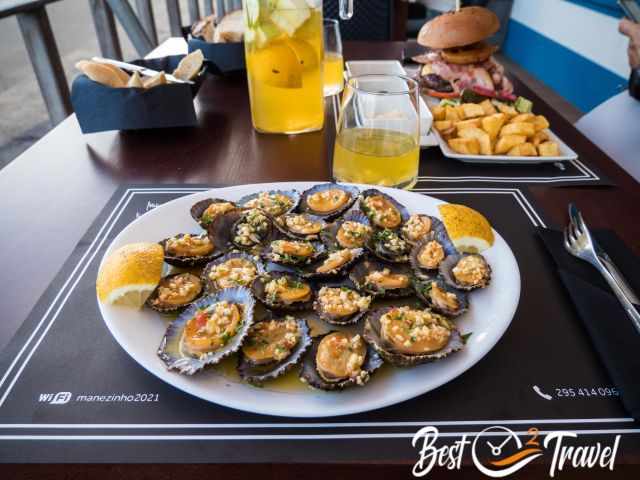 We had an excellent restaurant within walking distance. When we walked back after dinner to our self-catering cottage in the night, we heard plenty of screaming birds and all with different sounds and vocals and loud.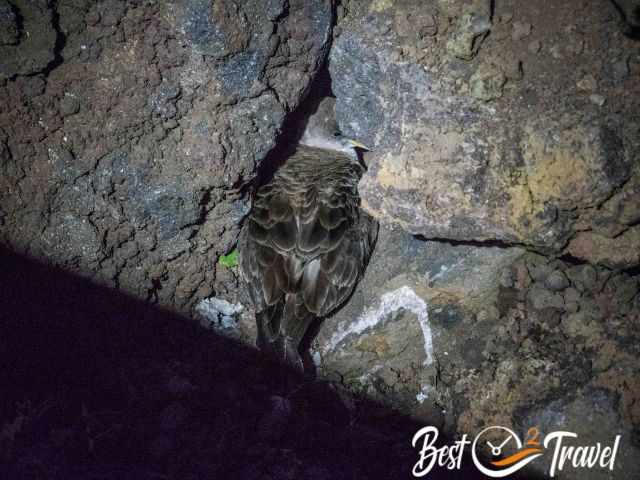 We figured out this is the Cory's Shearwater which visits the Azores from spring to fall for mating and breeding. You can hear their birdcall in my additional Sao Jorge article.
It was the right decision to go to the Azores while mainland of Europe experienced scorching temperatures. It is pleasant, with temperatures around 24°C/75°F in the shade. The sea temperature is awesome, 21°C/70°F, and we have a great natural swimming pool accessible by steps and ladders.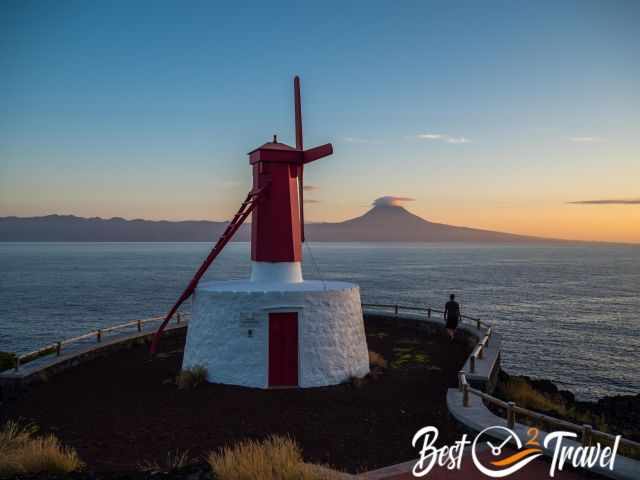 Luckily, we were in Sao Jorge for an entire week and knew why. The first days were fantastic, and we could see Pico all the time, but then we were forced to take a break because it poured heavily. However, in the late afternoon, we decided to give it a try, and we went to another Fajã in the north, just half an hour's drive.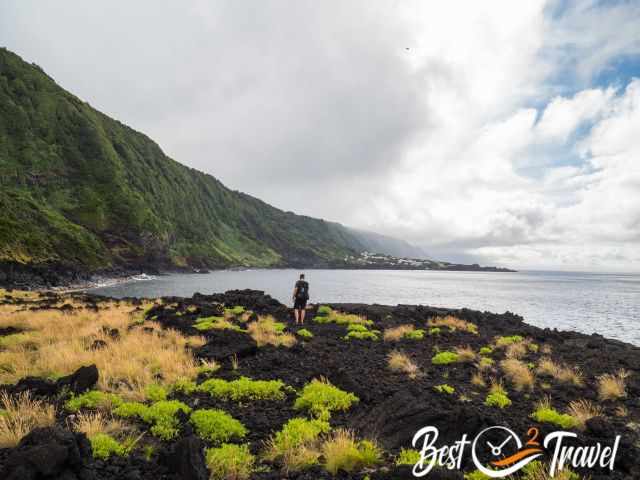 The topography of Sao Sorge is like a high plateau and tiny coastal plains called Fajãs, and we were right. It was cloudy and rainy everywhere, but the sun was shining where we went to. The Fajã da Ribeira da Areia turned out to be one of the most breathtaking places here. Writing a detailed guide about Sao Jorge wasn't planned, but this island deserves it. Sao Jorge is one of the most beautiful Azores islands, and we are addicted to this bird sound.
Sao Jorge Detailed Guide and Pictures
Flores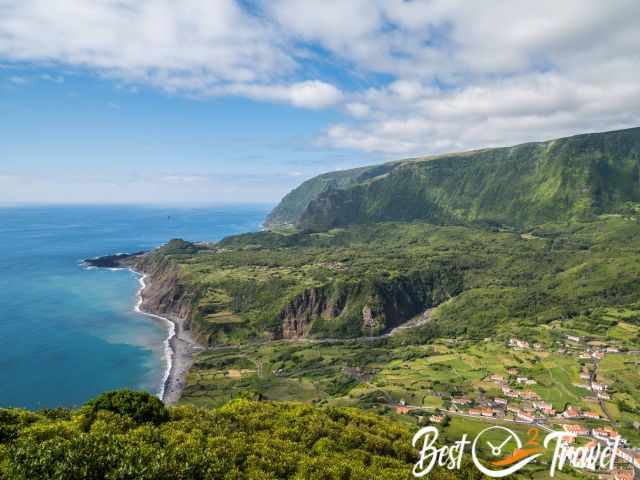 Flores belongs to the western Azores Islands. Getting here is always a little challenging. There are direct flights available from Sao Miguel and Faial, but due to a festival, it took us an entire day, and we had to change the plane three times from Sao Jorges to Flores. However, we were curious about this lush green island and its waterfalls and it did not diasppoint.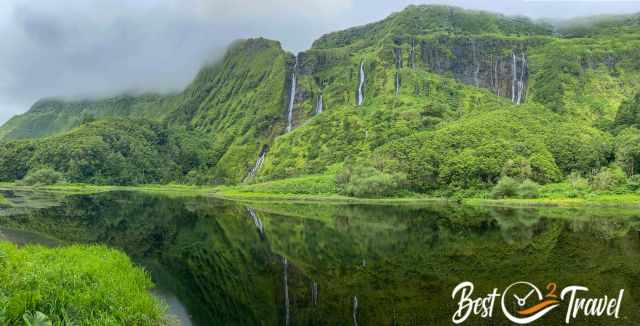 Who needs Hawaii when you can have the Azores? Flores is absolutely breathtaking a sea of green in all shades and a tremendous landscape. Flores is the wettest island of the Azores therefore, the weather decides where to go. We decided first on the most famous spot, "Poço Ribeira do Ferreiro". Look at this picture; it really looks like that and even better.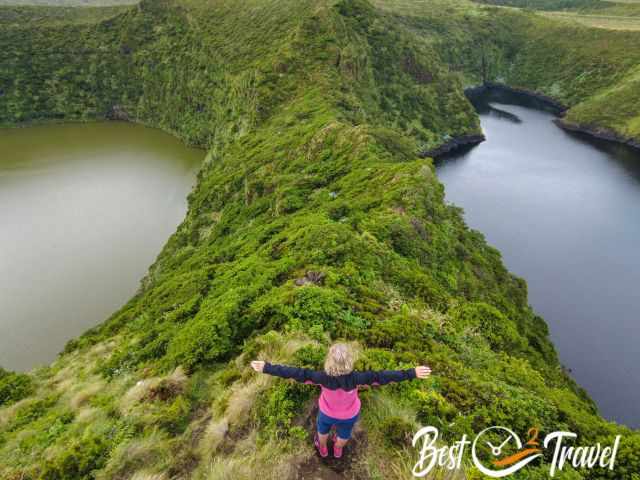 Another highlight is the lakes in the hinterland at higher elevations. These lakes we completely covered in clouds and fog during the day, and we took our chance when it cleared up on our way back to Santa Cruz das Flores where we stayed for three days before pitching the tent in Faja Grande.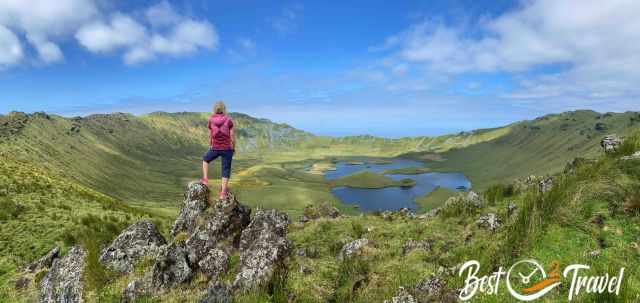 If travelling to Flores, visiting Corvo for a day is a MUST. Corvo is the smallest Azores Island and is famous for its huge caldera on top of the island. We were lucky and chose the absolute best day for such a trip. The weather was great, and the tour company, a smaller one where we booked the transfer, were top-notch.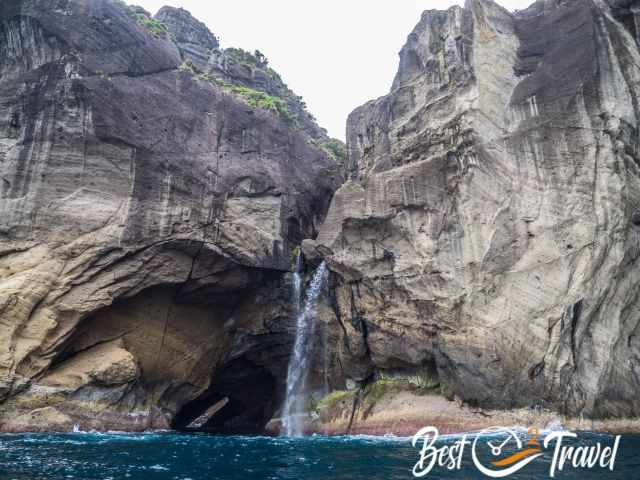 First, he showed us some waterfalls and caves of Flores, he stopped for us for the dolphins and the same on the way back, and the icing on the cake was a sperm whale. We approached the whale in silence and slowly.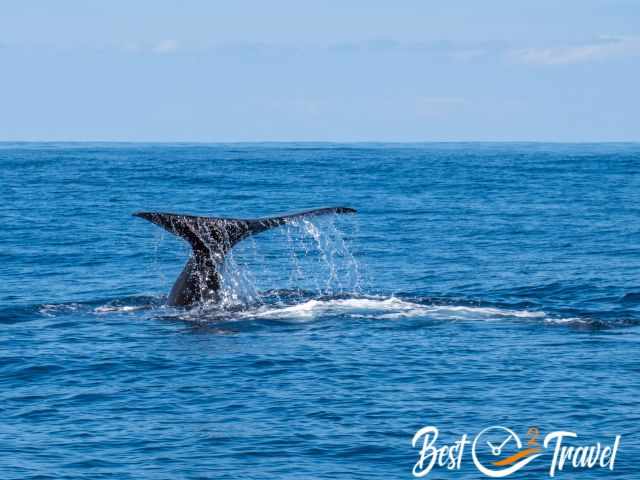 We could hear the whale breathing. This was the perfect day, and we paid just 40 € per person.
Flores and Corvo Island - Things to Do and Pictures.
You may wonder how the Azores can be compared to Hawaii, but all are volcanic in origin and in many ways very similar, only that the Azores are much less expensive. We prefer to eat where the locals go, and our starter is always a "sopa do dia", the soup of the day, which is homemade and costs between 1,50-2,50€.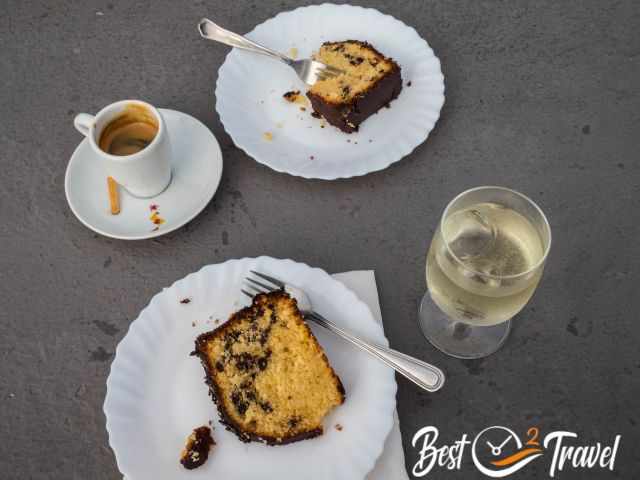 Terceira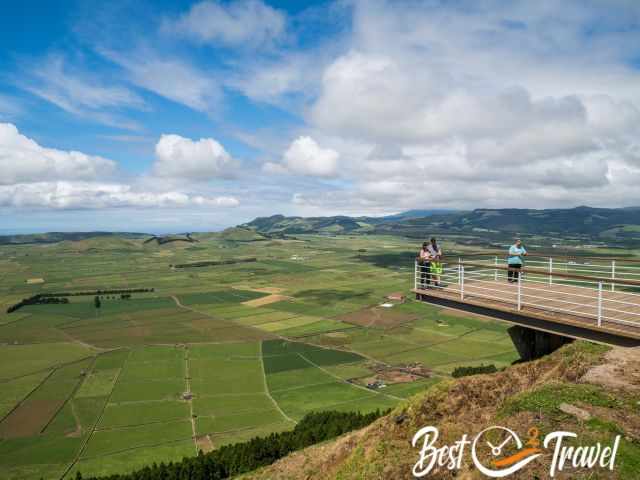 Our last island in the Azores before we continued to South Africa. It is our second visit to Terceira, and again, we figured out some exceptional hikes through lush forests like Hawaii or Tasmania.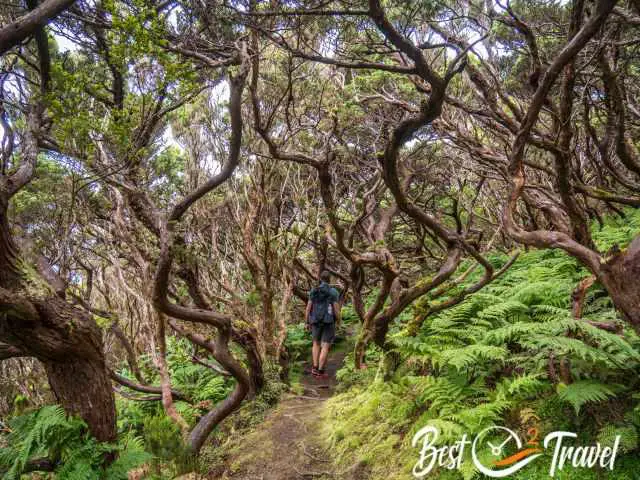 We couldn't resist and visited Algar do Carvao, an amazing vertical cave, again. We found another excellent hike in higher elevations, offering spectacular views into a caldera. Although our second visit, it was worth coming here.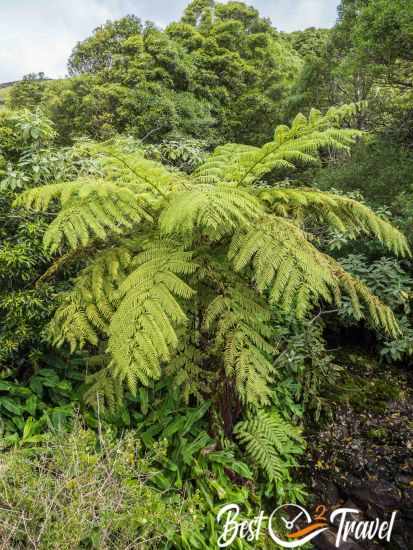 More about Terceira, where we explored forests, caves, went swimming and enjoyed some of the best seafood dishes in my additional Terceira Guide.
We visited seven of the nine islands in the last two years and spent six weeks in the Azores. Do you wish to know which ones are our top 3? More soon here.
Portugal - Lisbon - Our Second Home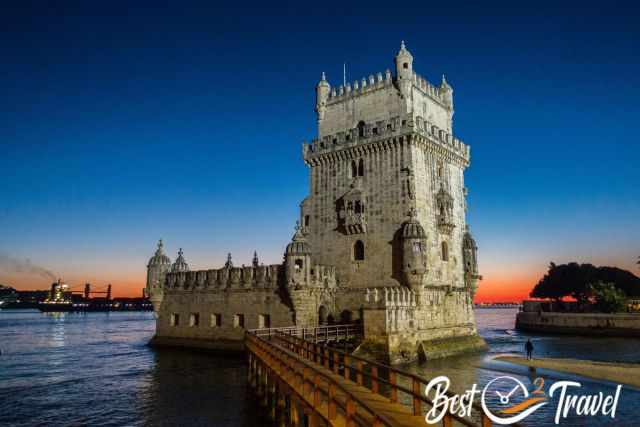 First, we went to our second home in Portugal, Lisbon, where we got many hugs and kisses. The Portuguese like to kiss a lot, and we love their warm nature and, of course, the Portuguese cuisine. 
First Stop Estoril - Cascais, Close to Lisbon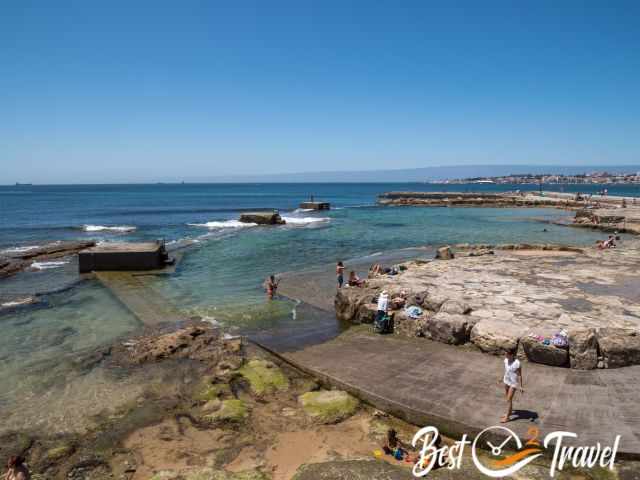 A day at the sea at our beloved second home in Estoril. A beautiful 3 km long beach promenade between Estoril and Cascais has natural swimming pools, beaches, restaurants and bars.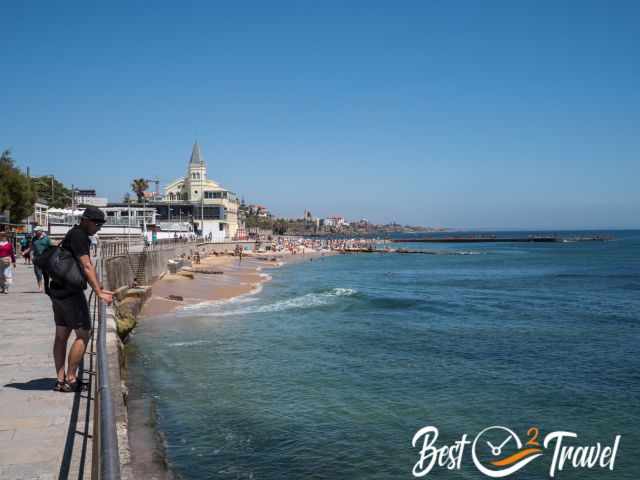 Enjoying the summer at the Atlantic, great food and a long walk was the perfect start for us.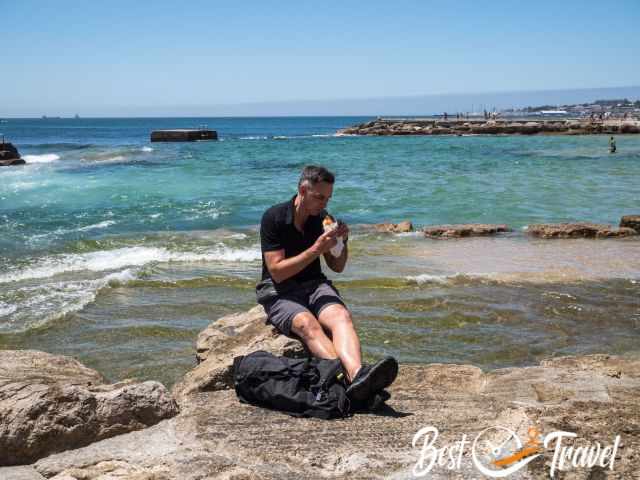 What can not be missed here is a "Bolas Berlim", filled with a delicious cream and is much tastier than the "Berliner" in Germany.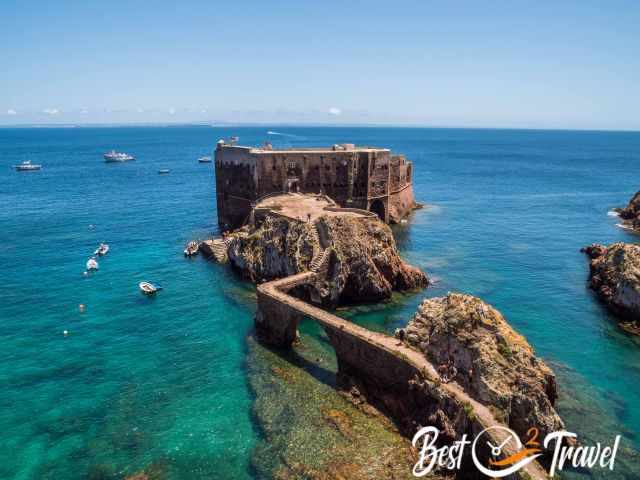 Berlengas Islands had been on our bucket list for a decade already, but getting here needs a bit of planning because only offered from the end of spring to fall, and good weather is important.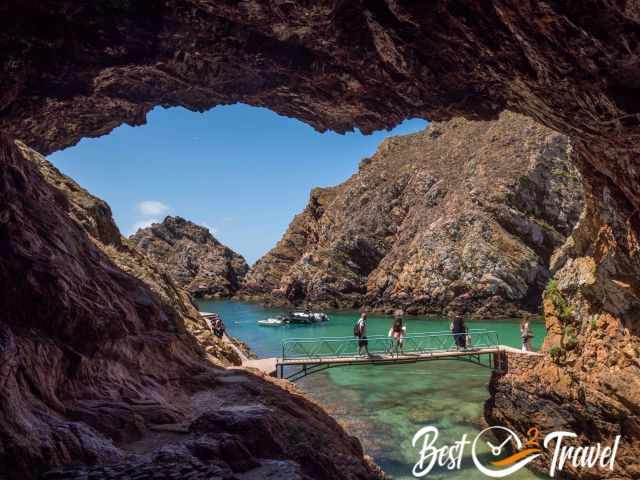 We were very fortunate because all tours were cancelled the week before due to storms. Of course, this was a bumpy ferry ride, and luckily, we did not eat much for breakfast.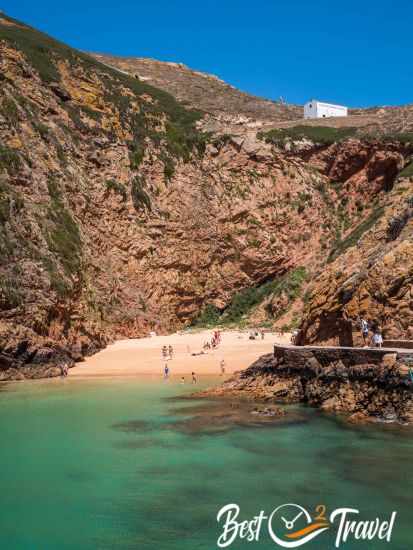 Most famous are the picturesque fortress São João Baptista and the beach Praia do Carreiro do Mosteiro, and we were truly amazed by the crystal clear water, the fishes, and the nesting birds.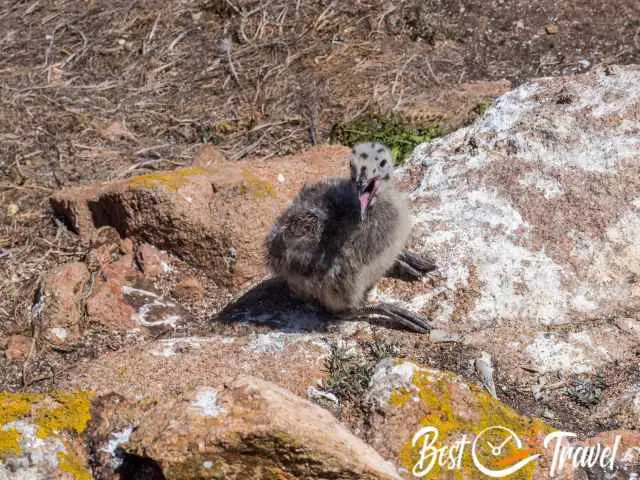 Although very touristy, we really loved it here. And, of course, we also swam in this green water, as seen in our YouTube short. More details and pictures from our trip in my Berlengas Guide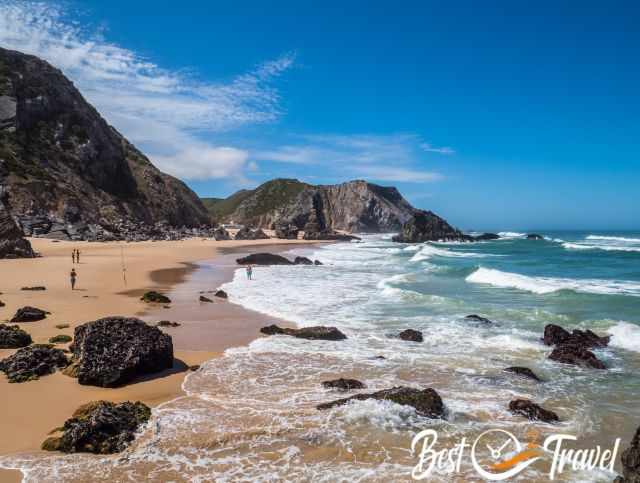 When we are near Lisbon, we usually visit some of our favourite places and a restaurant all close together. Rarely, however, have we had such a perfect day.
We first visited Adraga Beach - Praia da Adraga at low tide. Only then the beach is spectacular with its rock formations, caves and a hidden beach.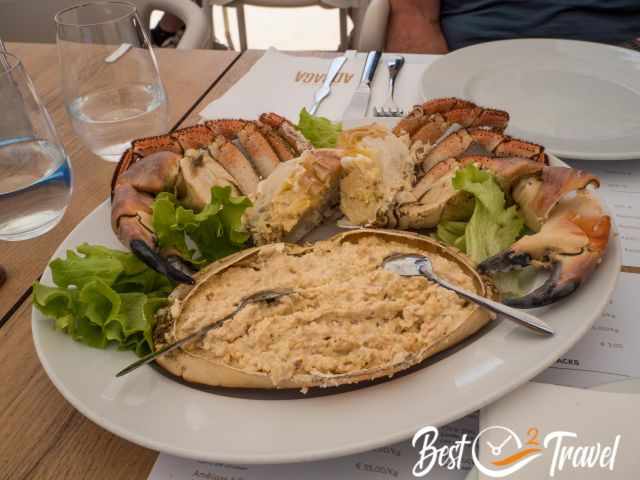 Our lunch at Adraga Restaurant was one of the best we ever had in Portugal; it was a 2 1/2 hours feast. Curious? Check out the menu and what we paid for our feast here.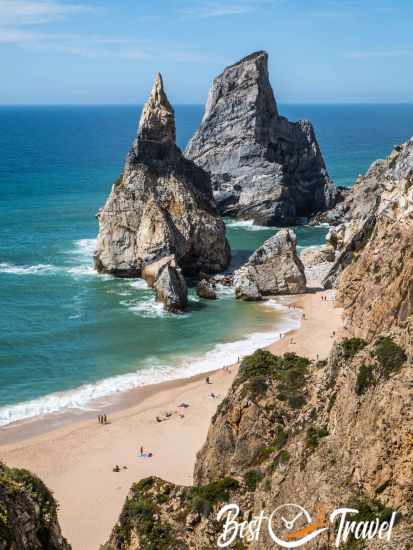 Afterwards, we visited the hidden Praia da Ursa or Ursa Beach and watched a spectacular sunset at Cabo da Roca.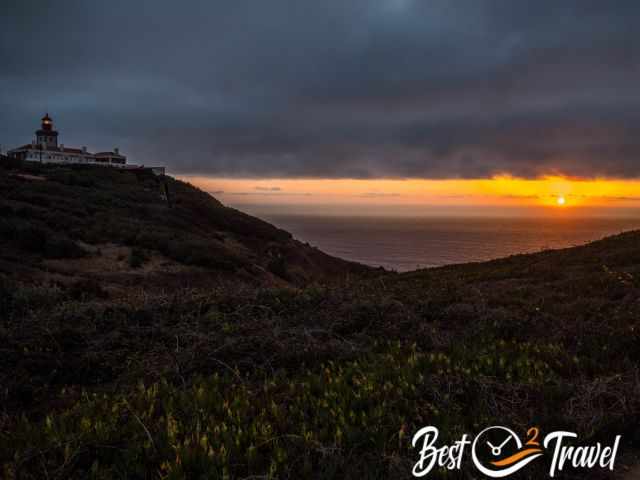 This was truly a remarkable day which you are able to see in our next YouTube Short, and video soon.
Location and Tips
Cairns
Australia

Follow us on our trip around the world here, be part of our journey and subscribe to our YouTube Channel to watch our highlights. Explore five continents with us.
We think we have to live now, not postpone everything until later. We don't know how long we will be able to stay on this planet. Our life is finite. My thoughts are with my best friend from school, who passed away on Saturday, July 1.